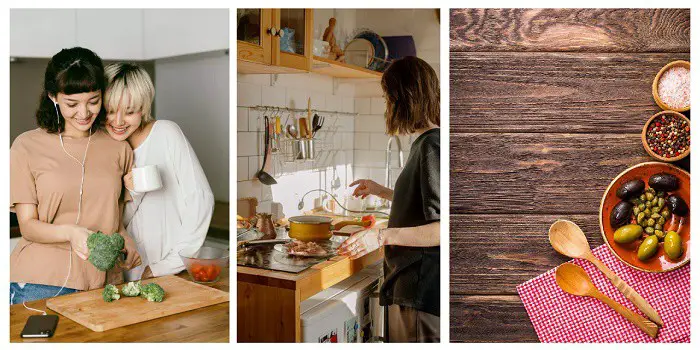 The wooden worktop is best suited for your kitchen no matter whether you want to get a traditional or a modernized country look.
However, the question is which wood material should you choose for your kitchen worktop?
Unfortunately, there is no straightforward answer to this question as there is a huge variety out there; and picking the one will depend more on personal preferences, budget, and many other factors.
Although oak is arguably one of the best-known hardwoods for kitchen worktops, it can be difficult to protect if you happen to choose thin oak veneers for your counters.
Plus, this type of wood can shrink and can even crack if you do not clean them properly. The staining can also darken over time and can give an unattractive two-toned look.
For these very reasons, many people choose to pick a different wood type for their kitchen worktops rather than oak.
To make things easier we will get an idea about the most common options that are available on the market.
These are oak, walnut, beech, and maple.
1- Oak wood worktop
Oak is one of the best hardwoods that is commonly used in the manufacturing of wood worktops all over the world. 
Oak is well known for its natural beauty, appealing grains, and warmth. Also, it symbolizes strength and eternity.
Not only is this naturally grainy material good-looking but also, it's tough enough to resist all the wear and tear.
Additionally, an oak wood worktop in your kitchen matches perfectly with oak kitchen cabinets and is, therefore, the most appealing.
You will be glad to know that there are more than 500 species of oak that can be found all over the world. All of them are hard, strong, heavy, and dense. The most common species are however sourced in Europe, North America, and Japan.
One of the best benefits which makes oak an ideal choice for most homeowners is its highly diverse and durable nature.
This means it is available in a range of different colors, making it easier for you to choose from very light to dark natural color options. Also, when cared for properly this scratch-resistant material can last for very long.
Because of the high tannin content found in oak, the worktops made from oak are highly resistant to infestations caused due to insects and molds.
2- Walnut wood worktop
Walnut is another preferred wood for kitchen worktops as it's a highly durable and strong material.
No matter whether it's an English walnut you choose or black and white walnut wood, these come with a most appealing straight, regular grain.
Especially if you are looking to get a highly polished look to make your kitchen look modern, this is a great option to choose.
3- Iroko wood worktop
Iroko wood is a kind of tough, dense, and very durable which is ideal for use in worktops.
Because it's mainly sourced from the east and west coasts of Africa, it's also called African Teak. Just like teak, it also comes with irregular grain and a coarse texture.
The main benefit of using this wood for busy kitchen countertops and islands is it is resistant to changing temperatures and moisture.
4- Beech wood countertop
Beech wood is also a hard-wearing, strong, and highly durable wood option for kitchen worktops. It's resistant to temperatures and moisture as well.
Beech wood also features a fine grain along with an appealing course texture that makes it look unique.
All in all, if you are looking for a weatherproof wood option for your kitchen islands, beech can be a good option for you.
5- Maple wood for butcher block
Maple is among the best and most popular choices when it comes to choosing wood for butcher block counters. It's hard enough and comes with clear grains that can be stained beautifully with rich colors like cherry or red.
With that said, choosing the right kind of maple is important if you are picking the wood for butcher blocks and kitchen countertops.
Since maple countertops will need regular maintenance, you will need to pick the hardwood (rather than softwood).
Obviously, you will need to pay a bit more for these types as hard maple is expensive because of its beautiful natural grain and durability.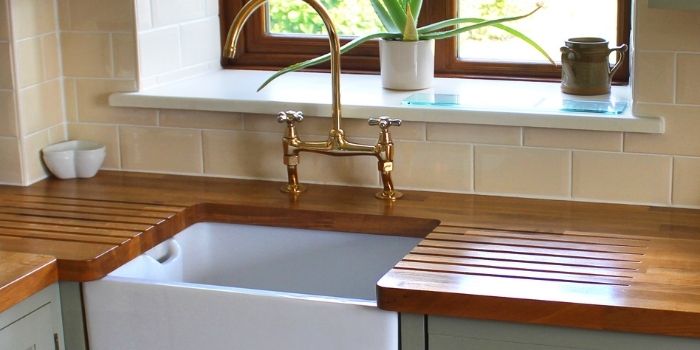 So, which is the best-suited wood for a kitchen worktop?
With all the above things in mind, you may be wondering – which wood option is the best-suited one for you!
Well, there are a few things you may need to consider to make the best judgment. These are:
a) The color you love to have:
The color you desire to have is one of the most important things to look at when choosing the right wood for worktops.
While oak worktops and beech wood are good to have for light shades, if you want to get the darker shade you should pick walnut wood.
b) The grainy look you like to have:
All the wood materials come with their own unique grainy appearance. For instance, if you get an oak worktop, you have the option to choose either regular or irregular grain.
But with beech, you will most probably get a regular and straight grain.
Walnut comes with varied grains and should be chosen with care according to your personal preference.
c) The budget you have in your mind:
Oak and beech wood worktops are best suited for you if you are on a budget.
Walnut wood on the other hand can cost you comparatively more and should be chosen if you have a good budget for your kitchen renovation project.
In the end, choosing the right material for your kitchen worktop is most important and you should do proper research on the wide variety available before you pick one.
Make sure you consider your personal preferences, budget, and durability so that the wood worktop you choose lasts for a long.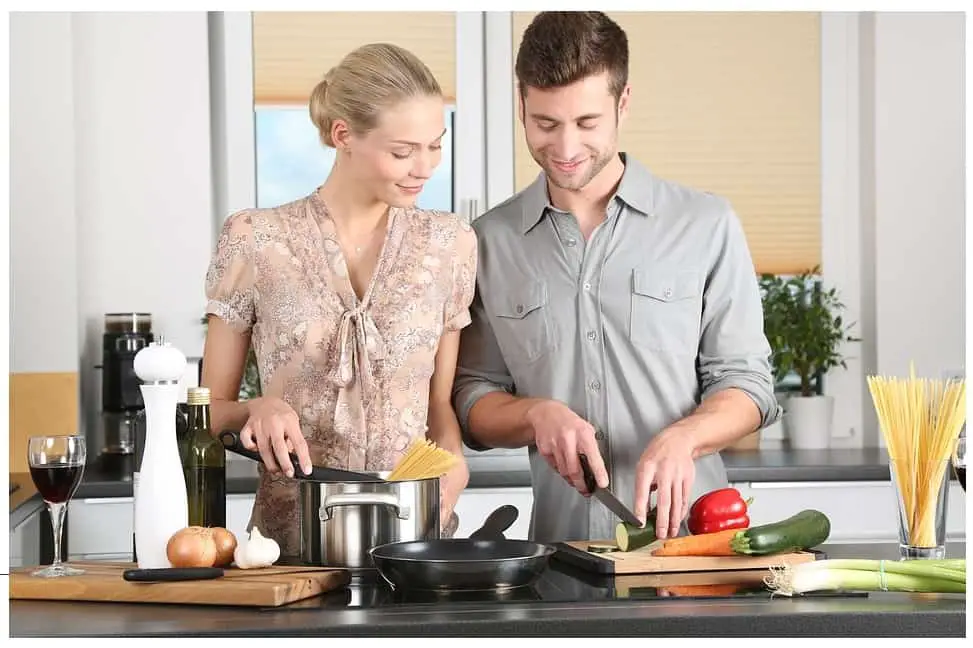 ---
What are the Benefits of Using Wood Worktops in Your Kitchen?
With changing times and modernization, a range of newer materials for kitchen worktops have been introduced in the market.
Not only granite, marble, and laminate but also solid wood are the most preferred ones for today's generation.
Among all the different materials, solid wood is a material that still holds its esteem among the masses.
It's the best option for those who are looking for a trendy kitchen that's an amalgamation of rustic as well as traditional looks.
Reasons why solid wood kitchen worktops are considered the perfect match for your kitchen are:
1- Adds uniqueness:
Natural wood is known for its grainy structure and marks that make it unique.
The fact is, you will never find any two wood pieces to be the same. And for this reason, if you prefer wooden worktops as a countertop for your kitchen islands most probably it will be completely unique to you.
2- Stylish and beautiful:
Solid wood worktops look good with most color schemes and kitchen styles.
The good thing about using wood is it does not go out of style. This means if you want to get timeless beauty in your kitchen without worrying about going out of fashion, wood is the material you should choose.
3- Looks better as it gets older:
Unlike other kitchen countertop materials that get a faded look with time and usage, solid wood worktops look even better with age.
For most of the wood materials and species, the color of the wood deepens with age. Hence, if well looked after and properly maintained you can keep them looking brilliantly natural and trendy for years.
4- Eco-friendly and hygienic:
The wood material, when chosen from a reputed store, is completely eco-friendly in nature.
Due to the natural anti-bacterial properties of the wood, it's great for those who are concerned about the germs and bacteria in the kitchen area. Make sure that you seal the material properly using non-toxic mineral oil or stains.
5- Stronger, safer, and durable:
Generally, solid wood worktops are stronger and highly durable. Compared to other materials it does not crack when you put extra pressure and weight on them.
Due to this quality wood is ideally a preferred choice for most kitchens where you need to place heavy utensils, appliances, and other kitchen accessories at all times.
6- Adds positive energy all around:
One of the most prominent reasons to use a wood worktop in your kitchen is its natural wooden material which comes with lots of positive energy.
By using your wooden kitchen island as a dining table, you can enhance the bonding between the family members.
The husband and wife can use it for cooking together while children can enjoy sitting and snacking on a chair next to them.
In addition to adding positivity, a wooden worktop also adds warmth to your kitchen. Unlike other materials like marble or stone, wood is warmer to the touch.
It's especially useful during the winter months or for places with colder climates.
7- Easy to maintain and hide imperfections:
Although wooden worktops may develop scratches and imperfections with regular usage, they can be easily maintained to hide the imperfections caused.
You can get them sanded and polished to make them look new again.
This is generally not a viable option if you use materials other than wood.
Again, taking good care can make them last longer, while maintaining your wooden worktops ensures that you get them sealed properly.
This will make your worktops water and bacteria-resistant.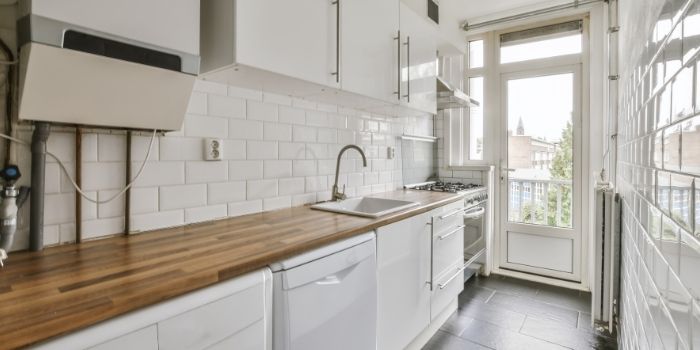 Few Disadvantages of Using A Solid Wood Worktop
As with any other material wood worktops also comes with certain drawbacks.
Although the pros outweigh the cons, you should definitely consider them while installing a wooden worktop in your kitchen.
Requires regular oiling and resealing to keep them in good condition. If not, wood may become porous over time and the germs can get into them easily.
If not maintained on a regular basis, water spills can also cause great damage to the wood islands by making ugly marks on them and swelling the wood.
Putting very hot pans and utensils can also cause scorching marks on the wood. however, these marks can be easily removed with light sanding and reoiling.
Chopping vegetables directly on the softwood material can sometimes leave scratched and dented surfaces. You may need to use a separate chopping board to avoid these marks.
Final Thoughts
The kitchen is one of the most important places that comes to notice by many people who visit our house. It's also a place where you spend a large part of your day.
No doubt to enjoy working there you want your kitchen to look nice and be clean.
However, the truth is it becomes dirty with regular usage and therefore, needs some refurbishment after some time.
One great way to change the look and freshen up the beauty of your kitchen is by transforming the kitchen islands and worktops to a wooden look.
A large beautiful wood kitchen island is important in any kitchen as it allows you to work better and increase productivity. Also, if you have a large kitchen island you can use it as a mini dining table.
This means you and your family can easily make use of it to dine (in place of the main dining table) unless you have a large family or additional guests at home.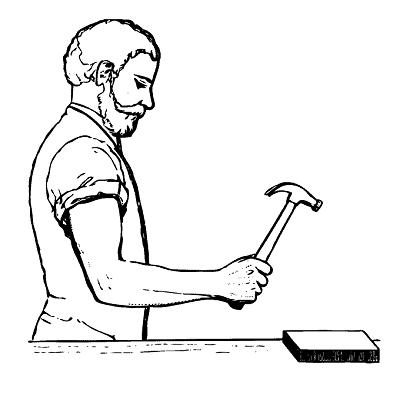 Hi, I am Mark Garner a professional carpenter, woodworker, and DIY painter. I live in the small city of Peoria, Arizona as a semi-retired woodworker. I have started this blog with a simple motive to help you with my wood experience in this sector. If you like to know more about what I love doing and how it all got started, you can check more about me here.