Our bedroom is a special place where we find relaxation and refresh after a hard day of toil – the cozy feeling can increase if you add the right wood furniture and interior to your bedroom.
With that said, you must be careful and creative while decorating your bedroom with contemporary wood furniture.
If you think you don't have a sense of decoration, getting the services of an interior designer is most recommended to achieve the perfect look for your private room.
However, if you want to go via the DIY route while picking the wood furniture for your bedroom, below, I have a few steps and tips that will help make a choice much easier.
How to Choose the Right Bedroom Furniture?
Modern bedroom furniture is available in wood and metal types, in which wood gives warmth and a great look to your bedroom.
If you want to bring an exclusive style into your bedroom, then choosing wooden bedroom furniture pieces is better.
What special impact the contemporary wood bedroom furniture gives is the refined look and cozy feeling.
When picking the right set, here are a few easy steps you can follow…
Step 1- Take the room measurements right
Your bedroom size matters the most when selecting the perfect wood furniture for your private room.
So, as a first step, have the exact measurements of your bedroom to choose the right size of furniture that can accommodate your space,
If you have a smaller bedroom, make sure you choose the furniture accordingly, so the space does not look too crowded.
Step 2- Add the vital components and style you want
The two vital components to be included in the list of modern bedroom furniture are the dresser and bed.
It is tricky to choose the right bed and dresser; because you will need to place the furniture in one corner of the bedroom to get enough space to walk around.
Regarding the wooden dresser for a small bedroom, you can choose a round model or an oval-shaped chest of drawers.
When it's time to pick the bed, various styles of wooden furniture are launched into the market, such as a queen size-6 piece bedroom set.
This set includes a chest of drawers, a mirror, a bed, and two nightstands. Though it does not include a bed mattress, you will get robust wood construction from this bedroom set.
Besides this, you should also check for the STYLE you want your bedroom to look like. While most people love to go for modern chic styles, many still want to go for classic style furniture in their bedroom.  
Step 3- Go for ready-made bedroom furniture sets
Gone are the days when people wanted to have costly furniture in their homes. Today furniture means to be minimalist and straightforward.
Since people look for ways to keep their home interior simple and uncluttered at all ends, many readymade bedroom furniture sets are launched into the market.
Many of these come with streamlined designs, elegant patterns, and great wardrobe designs. Shopping online can complement your modern bedroom with stunning designs like these.
When choosing these readymade furniture sets, consider the lighting in your bedroom (whether it's dim or bright).
Because if you prefer reading good old books in your bedroom (rather than spending a romantic evening with your spouse), the readymade furniture sets you choose can make a significant difference.  
Step 4- Match your room color with the furniture color
You must remember to keep your bedroom wall color on par with the wood color.
Wooden furniture sets are available in Mango wood, Sheesham, Rosewood, and Teak. All these wood types have their natural color. And it's good to choose the one that matches well with your other bedroom accessories.
You can also decorate your bedroom with bright-colored curtains and bed lines to match your furniture.
Step 5- Keep your budget in mind while buying a furniture piece
Buying furniture of the best quality and one that is most affordable can be a challenging task, particularly for people who have a limited budget.
If you have a low budget, you may need to research various nearby stores and seek help from friends and colleagues before buying furniture for your room.
Compare prices of furniture offered at every store and consider the amount charged for delivery.
Can You Build Your Own Bedroom Furniture?
Yes, you can, but before you begin furniture making, you must decide what type of furniture you want. This may seem like a simple task, but there are many options to choose from.
For example, you could focus on making chairs, tables, chests, or cabinets. Or, you could specialize in a particular type of furniture, such as a master bedroom or a children's bedroom.
Once you know the type of bedroom furniture you want to make, you can start researching the best way to construct it.
This will involve learning about different woodworking techniques and choosing the right tools.
Make sure to check that you have everything on your list before you start working. Taking a few minutes to gather all the necessary supplies can save time in the long run and help prevent frustration.
Once you have the tools ready, some of the basic steps you will need to follow will include:
Sketch out your design
Cut the wood to size
Drill holes and attach the pieces together
Sand down any rough edges and finish the product as per your liking
With patience and practice, you'll be able to create beautiful pieces of furniture that will last for generations.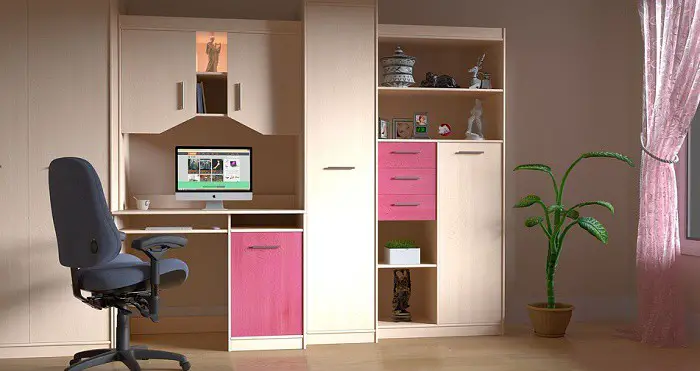 ---
Selecting the Furniture if You Work from Home in Your Bedroom
Even if your life is out of control, your home workspace does not have to be.
Many spend quite a bit of time in this area of the home, especially those that work from home – if you have a regular job, wouldn't it be nice to sit down in a space dedicated to paying your bills or even doing some work?
Not only does your home office furniture need to be functional and aesthetically pleasing, but it also needs to be solid and sturdy.
You want your bedroom with a desk layout to stand the test of time; otherwise, you'll purchase office furniture every few years.
1- Consider the space
Before aesthetics or quality issues are discussed, space should be considered.
Figure out what your needs are and only purchase items that you need. You don't want to overwhelm the space, nor do you want it to look empty.
First, take all the necessary measurements, including the locations of doors and windows. They may obstruct the furniture. Many like a nice view, so you may want to place that desk near the window.
2- Check the comfort level and storage
Regardless of how much time you'll spend in your home office, you want to be comfortable.
Whether you'll spend 30 minutes per day or a few hours, you want a comfortable chair that is also pleasing to the eye and complements the rest of the furniture.
Ergonomic chairs that are height-adjustable are always great choices.
Storage space for work from furniture is always essential. So, consider how many drawers and file cabinets you'll need for the office desk.
While choosing the proper storage, make sure to choose the right size to have adequate space to maneuver around.
Also, ask yourself a few questions…
What type of surface material do you prefer?
Do you want an L-shaped one or just a simple desk?
Do you want a glass top, melamine top, or wood top?
These are all these things you need to consider and be comfortable with before making the purchase.
3- Check the quality and style you want
You got the size and style down, and now it's time to discuss overall quality. It's really what's on the inside that counts when it comes to any furniture, even office furniture.
If it's going to fall apart within a year or two, is it worth the hassle?
Check for construction details. Also, pay particular attention to the frame and keep in mind particleboard is not the same as solid wood.
If the price is too good to be true, will you be satisfied with your purchase over time?
When it comes to style, it's a matter of personal preference. Some prefer the simple, straight lines of contemporary styles, while others prefer a bit of ornamentation inherent in traditional furniture.
One important question you should consider asking yourself is if the chosen style blends with the rest of the home decor in your home.
You don't want it to look like it belongs in your home.
Final Thoughts
With space becoming a major constraint for most of us, it is imperative to consider the amount of space required for wood furniture in your home.
Keep your taste and budget in mind while buying furniture for your most special room, i.e., bedroom.
Also, remember your work does not end after buying the perfect furniture for the bedroom. You will need to put in a lot of hard work in cleaning and maintaining furniture to keep it attractive for guests.
So, before buying furniture, ensure it's easy to clean and maintain so that it continues to look elegant for a long.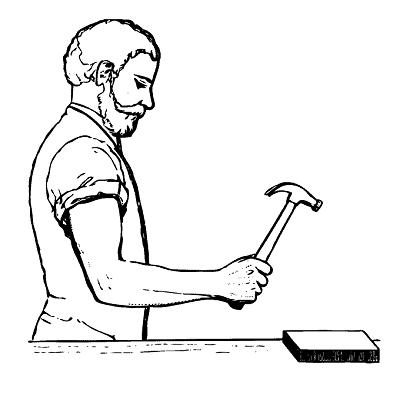 Hi, I am Mark Garner a professional carpenter, woodworker, and DIY painter. I live in the small city of Peoria, Arizona as a semi-retired woodworker. I have started this blog with a simple motive to help you with my wood experience in this sector. If you like to know more about what I love doing and how it all got started, you can check more about me here.