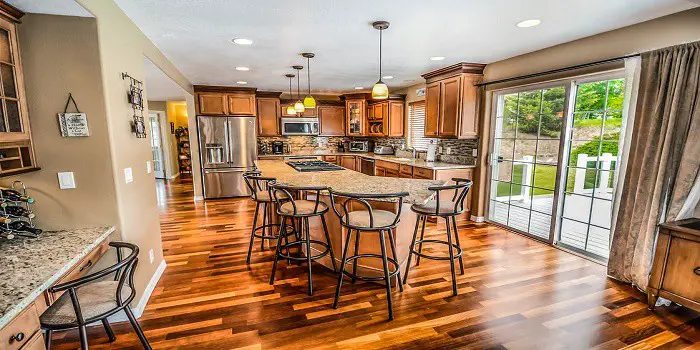 Anytime you choose to remodel your home or kitchen, you want to ensure that it becomes a more comfortable place to live and spend time.
You may want to do it yourself if you are using easy-to-use materials.
But when it comes to something such as hardwood flooring, you need to be very careful so as to avoid any costly mistakes.
The very first thing when installing hardwood floors is you need to understand the different types of hardwood flooring that exist so you can get just what you are looking for.
Types of Hardwood Floors
Hardwood flooring is ever-lasting, it's environmentally friendly and economical too.
The very benefit of wooden flooring is that every time you look at the flooring surfaces and do not get that sufficient sensation of ideal flooring, you do not have to change it.
You can basically select to refurbish it. Refurnishing flooring is not challenging work. And at the same time finding a flooring contractor is not a complex job either if you look for them online.
All you have to do is choose the right kind of hardwood floor you desire to replace it with. Here is a list of all the different types of hardwood flooring you can get for your home.
1- Solid
Solid wood flooring, as in name, is made of solid wood throughout its thickness.
Its generally made of wood species such as oak, walnut, maple.
Solid hardwood installation materials come in unfinished and prefinished varieties.
When you choose the unfinished option your hardwood floor installation expert will have to sand, stain, and seal them.
This can be quite some work and DIY enthusiasts can have a hard time attempting this.
However, the best thing about it is that you have the opportunity to give it the exact stain color you desire.
Another benefit of choosing these hardwood flooring materials is the planks come in a variety of widths starting from three inches to eight.
However, there are only two thickness options, a half or three-quarters of an inch.
Prefinished hardwood flooring is already sanded and sealed by the manufacturer which means the installation process is very quick.
Also, you do not need to worry about the odors or harmful fumes when staining them.
2- Engineered
The second type of hardwood flooring material for your kitchen or home is engineered wood which can easily be mistaken for laminate.
This is normally produced using adhering layers of real wood but it has a laminate veneer, whereas true laminate is actually not wood.
The greatest benefit of engineered planks is that they are actually more durable than their solid wood counterparts even though they may not be as durable as acrylic-impregnated hardwood planks.
Engineered hardwood flooring looks like real wood and is incredibly stylish.
These also come in a variety of colors and it is more resistant to moisture and changes in temperature which means you do not need to worry about the shrinking or swelling of the wood.
The downside of using engineered wood is it's not very good for the outdoors.
While it can add value to your home, it can easily fade due to UV rays and will require more maintenance.
3- Acrylic-impregnated
Although the two types of wood flooring in the house, mentioned above, are most common there is a third variety called acrylic impregnated that is getting popular.
This type of hardwood floor installation has some color and a sealant that is infused throughout the plank.
These items are referred to as finish on the piece and it is part of the material.
Acrylic Impregnated hardwood floor is highly durable and is commonly found in commercial projects, but there is no harm having it used at home.
You can find them in a wide variety of colors so that you can pick the shade that matches your decor best.
Acrylic impregnated wood flooring is also hard and highly resistant to scratches & moisture, making it an ideal floor installation product for homes with children and pets.
The only downside of this wood floor is its high cost.
Plus it cannot be refinished or colored simply because the wood is infused with acrylic resin.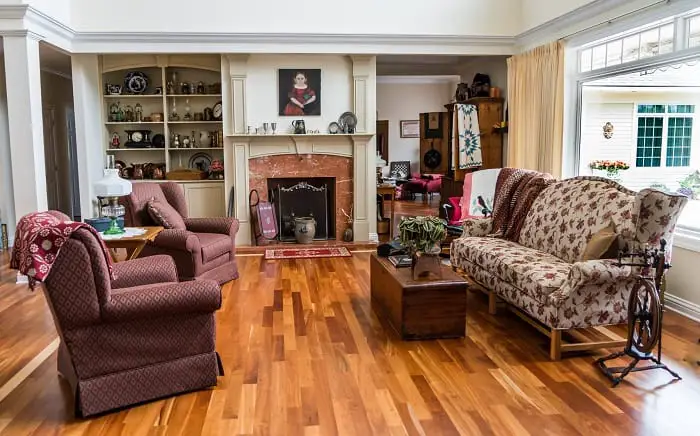 ---
Hardwood Floors: Pros and Cons
Hardwood floor is faster than and not as expensive as some people assume it could be.
Before you decide to replace your existing floors with hardwood flooring, you need to consider the following pros and cons…
| Pros | Cons |
| --- | --- |
| Looks Beautiful | Pricey |
| Easy installation | Can be noisy |
| Easy maintenance | Vulnerable to scratches |
| Healthy and valuable | Susceptible to moisture damage |
| Comes in a wide variety | |
How much does it cost?
One chief reason why many people decide not to install hardwood floors in their house is the higher price compared to many other cheaper options.
Typically, your wood flooring will cost anywhere from $5 to $15 per square foot.
While this is just an average, the amount can increase or decrease depending on the following:
The type of hardwood flooring
Your location and the retailer you buy from
The buffing, staining, or other finishing you choose
On average if you choose to buff or stain, your hardwood floors can cost additional which can be between $3.50 to around $7 extra per square foot.
With all that said, wooden flooring is long-lasting, can be refinished and repaired, unlike laminate flooring.
Which makes them worth your investment even when the initial costs are higher than others.
---
Soft Wood vs. Hard Wood Floors?
With regards to the area and the use you put it to, you can go for either hardwood floors surfaces such as oak, walnut, ash, walnut, cherry, mahogany, or soft hardwood floors surfaces, for example, wood, beech, fir, and birch, etc.
Both look wonderful and will add to the furnishings of your home.
But real wood alternatives are a little bit more costly than softwood.
So it would be a better idea to use hardwood floors in places with high visitors (for example passages, foyers, etc), as it is more resilient and immune to usage, and softwood in fewer visitor's locations like your bed area.
a) Hardwood Floor is a Showstopper
Hardwood flooring is actually one of the biggest first impressions that anyone gets the moment they step into your house.
It can take so much space that it actually frames the entire room.
Every discerning homeowner wants to show off a chic piece of art that is not tacky, chipped, or outdated; the same applies as the reason to consider hardwood floor refinishing.
No matter what kind of look you want to give your house, nothing is more adaptable than a hardwood floor.
Whether you want to give it a classic, intimate, darker, or lighter, just a little sanding, bleaching, and applying a new stain will dictate the mood of the home.
b) It's Highly Durable and Long Lasting
Another thing that I like about hardwood floors is that just like a cat; it can have nine or more lives, thanks to a process that is known as hardwood floor refinishing.
Whether you are going to do sanding, polishing, staining, and bleaching, or waxing your hardwood floor, even the smallest change becomes easily noticeable.
When most people decide to spruce up their homes in preparation for an upcoming important function or preparing to sell it, they will do anything to ensure that their value gets enhanced.
As long as you have this classic floor, hardwood floor refinishing gives it a new lease of life.
c) Hardwood is Still Desirable and Affordable
The demand for hardwood floors has continued to rise even with the advent of newer flooring options; we are yet to see the last of this classic flooring option.
This means that your rental house that has a hardwood floor will go for more; selling a house with a hardwood floor definitely adds to the value of the home.
As long as you take care not to get the floor wet so that it ends up warping or with other issues that come as a result of water damage, hardwood floors are still affordable.
It is actually cheaper to install a hardwood floor than doing carpet installation which has to be reinstalled afresh when it starts wearing out.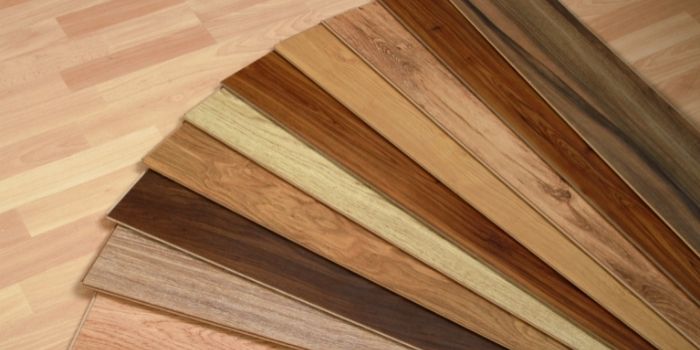 ---
Are Laminate Floors and Carpets Better?
Laminate flooring is slowly becoming the new favorite kid on the block and there are a number of reasons why this is the case.
Laminate flooring is available in looks such as wood, stone, or tiles; it is extremely durable and this makes it a perfect choice for a home where there are children and pets.
The other good reason why most homeowners are choosing laminate flooring over other flooring options is the fact that it is among the easiest and most affordable choices on the market today.
Laminate flooring snaps very easily over a padded subfloor and you don't need glue, grout, or nails.
What about carpet floors?
Besides laminate and hardwood, the carpet floor has continued to be one of the most popular flooring materials of all time thanks to its high comfort levels.
Carpet flooring becomes especially practical during the cold winter days when it imports warmth on your feet.
Carpet installation is also not too difficult or time-consuming because it only needs a power stretched and several other accompanying materials.
For carpets that are placed in spots where you believe there is going to be a lot of foot traffic, the installers will normally use some glue in order to avoid buckling and stretching in the future.
With carpet flooring, you only need to be careful to do the vacuuming for loose fibers and ventilate the room every 48-72 hours until you get rid of the new carpet smell.
Final Thoughts
House flooring is one of the most important tasks to consider when you are planning for home improvement or remodeling.
Once you have picked the right type and done your hardwood floor installation, there may not be a clearly visible difference between the three types of planks.
Between those three, you want to choose something that you can afford and what will also go with your lifestyle.
Families that have children and pets should try to select a material that will be more durable to withstand the abuse.
Share the post "What are the Different Types of Hardwood Flooring for House?"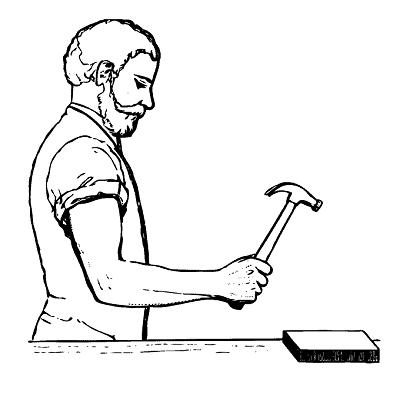 Hi, I am Mark Garner a professional carpenter, woodworker, and DIY painter. I live in the small city of Peoria, Arizona as a semi-retired woodworker. I have started this blog with a simple motive to help you with my wood experience in this sector. If you like to know more about what I love doing and how it all got started, you can check more about me here.