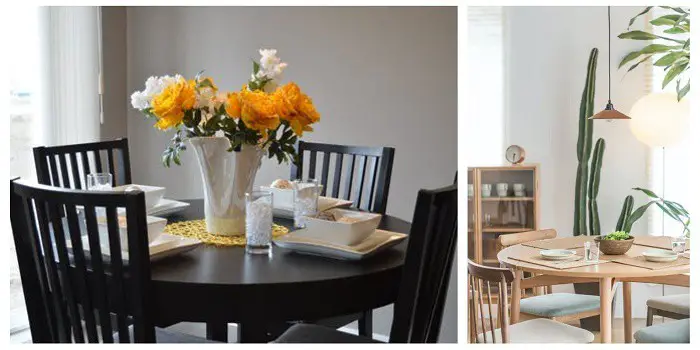 If you are looking to upgrade your dining room but are on a budget, then painting your oak table and chairs is an inexpensive alternative.
When you compare the cost of a DIY painted oak table with chairs to purchasing new furniture, you can save a considerable amount of money.
Plus, in just a few days, you will have your 90s dining room furniture updated that will look brand new. 
When painting, keep in mind you should not go cheap on getting the right paints and materials even if you are trying to save money.
After all, the cost of the paint and materials needed is just a fraction compared to purchasing new furniture.
7 Steps to Painting Your Oak Dining Table and Chairs
Let's start with what you will need to paint your oak table and chairs in the dining room is the following…
Primer, Paint, Paintbrush, and Paint Roller
Coarse Grit Sandpaper, Painter's Tape, and a Tarp
After you have most of the materials, you will need to get the proper paint.
You may also want to get a polyurethane gloss finish and polyurethane brush, but these items are optional.
What follows are a few easy steps and tips you can use to get started and achieve better results.
1- Get the Right Paint
The type of paint you need to get for painting the dining room table and chairs will depend on the look you are trying to achieve.
Also, remember that, unlike the paint on the walls or ceiling, this paint will come in frequent contact with you and those that sit at your dining room table.
So, here are a few options.
a) Standard:
If you want a standard look, then the best paint for oak tables/chairs to get is non-toxic acrylic with a semi-gloss or satin finish.
There is more prep work involved with this type of paint, but it is long-lasting, tough, and will look great on your furniture.
b) Vintage:
If you are looking for more of a retro look, you should consider a type of paint such as chalk paint.
This type of paint is currently in favor right now in large part because it is non-toxic and simple to apply.
If your dining room has a vintage appearance, then chalk paint on the furniture is a given.
Now that you have what you want, you are ready to start with the remaining easy steps toward painting your oak dining room table and chairs.
2- Set a Time to Get Started
Because you will need to work on this project continuously, you will need to set aside a minimum of four days of working time in a row.
This allows for enough time to prep, prime, paint, and dry.
Your goal by setting aside four continuous days is to provide enough time to get the job done.
Plus, you will have some spare time to correct any issues that arise.
3- Clean & Prep
Wipe down the entire table and chairs with a dry cloth to remove all dust and dirt.
Then, apply a grease remover to the table and chairs.
Remember, if the dining room chairs and the pedestal dining table are anywhere near the kitchen, they will probably have some grease on them.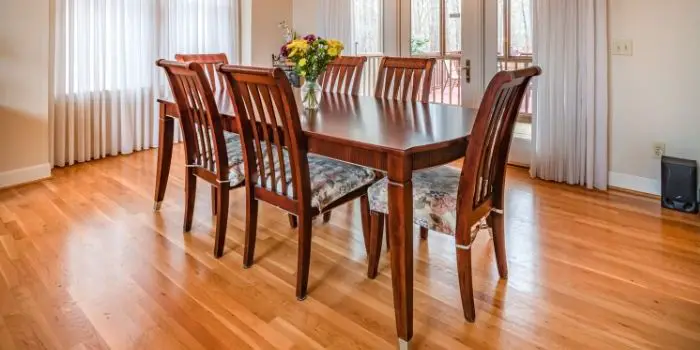 4- Sand the Table and Chairs
You are now ready to sand the surfaces of the table and chairs to prepare them for painting.
First, lay down some tarps under the table and chairs so that you protect the floor.
Next, use painter's tape to cover any area that you do not want to be sanded or painted.
Once you are ready, sand all the surfaces of the table and chairs. You do not need to remove all the old finishes. You just need to roughen up the surface so the new paint will stick.
This means that you do not have to remove any details in the wood itself; just roughen up the surface.
5- Prime the Furniture
Once the sanding is complete, wipe the surface with a cloth to remove any grit and start applying the primer.
The primer is different than standard paint because it has a sticky surface that allows the following coats of paint to stick better.
Apply the primer in even strokes and completely cover the area that will be painted.
If there is detailed work on the oak tables or chairs that is too small to be covered with a brush, consider using a spray version of the primer instead.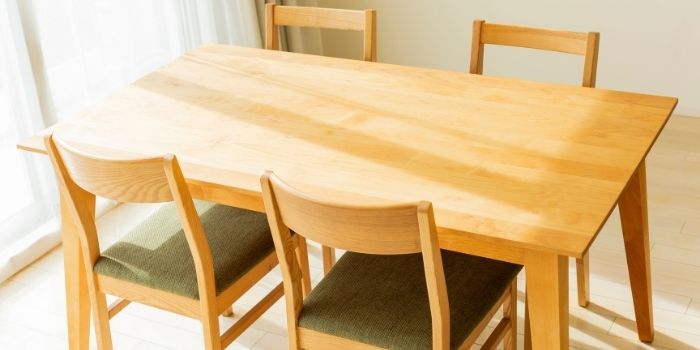 6- Apply the Paint
Once the primer has dried, add your first coat of paint.
Let that coat dry, and add a second coat. This should be sufficient to cover the tables and chairs adequately.
Be sure to use even strokes to get an even finish if you are using a paintbrush or a roller.
IMO, while a brush or roller is nice, sprayers may be better, especially for getting the fine details.
And adding multiple thin coats will provide the extra protection needed as the table and chairs will be used frequently.
7- Add the Glossy Finish
Speaking of finish, once the paint fully dries, you can add the semi-gloss or satin finish to the table and chairs if you desire. If you are happy with the paint without the glossy finish, you are through.
But adding the polyurethane finish with the polyurethane brush will provide an extra layer of protection along with a stunning gloss that really brings out the table and chairs.
Be sure to dust the table and chairs thoroughly before applying. Otherwise, you may wind up with unsightly brushstrokes and marks that are challenging to fix.
Let it sit and dry for 48 to 72 hours, depending on the instructions. Add some extra time if required. It's better to add a few hours than sit on a chair that's still wet.
---
What Colors to Paint Your Kitchen Table and Chairs With?
Picking the right paint colors for kitchen tables and chairs seems to be so daunting.
And for that reason, most homeowners go with that traditional natural look of wood.
But trying something new is always a great idea if you really want to add warmth to your space.
Some of my favorite paint color combinations that I have used before for recoloring painted oak dining tables and chairs include
White kitchen table with colored chairs like red, blue-green
Kitchen table in the green shade with light blue- and olive-colored chairs
The black table – pairs beautifully with the blue and green family chairs
Dark red table with black or gray chairs in the dining room
The lime green table – matches the chairs with raspberry red
Believe me; there are endless options you can try.
And why not? You can always repaint it if you don't like the look after a few weeks or months.
Also, you can add contrasting paint colors for dining room walls with oak furniture with shades like cherry red, ochre yellow, rusty orange, vivid blue, deep teal, and many more.
These all can add to the warm hues in oak to make your overall space look brighter as well as comfortable.
Just keep in mind the overall size and design of the chairs and the table (like round, rectangle, square, or any other).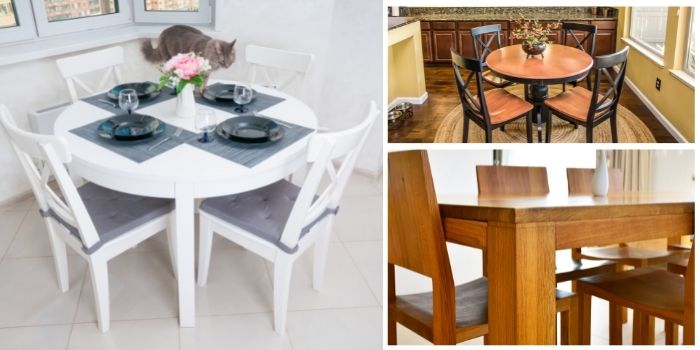 ---
Buying New vs. Repainting Your Furniture Dining Room Table and Chairs
There are good reasons to use the paint option, even if you have plenty of money for new oak furniture.
A new color alone is enough to change the appearance of your dining room area. But you will need to know what you want to change to select the right paint for the task.
a) Different Look:
You can drastically alter the appearance of your dining room by going with the opposite color that is currently on your furniture.
Go light if you have dark paint, and vice versa.
In just a few hours, you can completely change the look of the furniture and the dining room itself.
b) Go Big:
If you want the furniture to really stand out, choose a bold color such as red, deep green, or yellow.
These colors are quite modern and make the dining room table and chairs quite bold and eye-catching.
If you are looking for that modern touch, going with bold colors is the answer.
c) Hide Dents and Dings:
A darker color will help hide the scratches, dents, and dings in your old dining room furniture.
It will also create a uniform look that will augment the appearance of the furniture as well.
If you have older furniture, you can give it an aged look by combining shabby-chic paint and some scuffing methods that will look great.
You can make your dining room furniture look brand new when you get the right materials.
Final Thoughts
Painting your old dining room table and chairs is not easy.
But it's not very tough either if you follow the right steps and techniques.
After you have followed the above painting steps, be sure to check the results first to see if they are fully dry before breaking out your new-looking furnishings.
In less than one week, you have changed not only the table and chairs but the look of your dining room.
Now it's time to enjoy your dining room table and chairs makeover!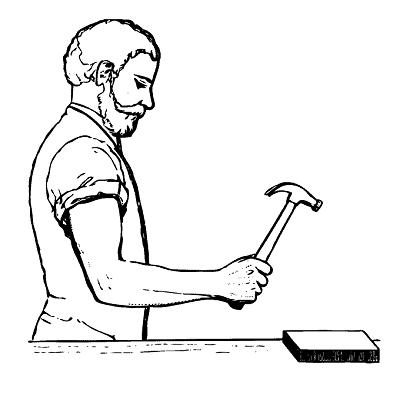 Hi, I am Mark Garner a professional carpenter, woodworker, and DIY painter. I live in the small city of Peoria, Arizona as a semi-retired woodworker. I have started this blog with a simple motive to help you with my wood experience in this sector. If you like to know more about what I love doing and how it all got started, you can check more about me here.