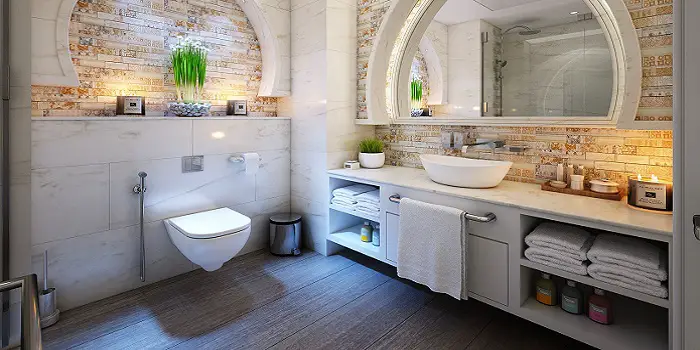 Bamboo floors are tremendously popular these days among builders, renovators, and homeowners due to their eco-friendly nature.
Not only in your bedroom and living areas, but you can also use bamboo material in your bathroom and kitchen to give these areas a fresh, unique appearance, just like hardwood.
As long as you can finish and maintain the bamboo floors well, you can make the material last for decades without worrying about the moisture and humidity in your bathroom.
With that said, before you choose bamboo for your bathroom floors, there are a few advantages and disadvantages of bamboo bathroom flooring you need to know.
So, here is my quick analysis which is based on my personal experiences with bamboo floors in my bathroom…
Benefits of Installing Bamboo Floors
One of the greatest advantages of bamboo floors in your bathroom is it is one of the most sustainable building materials that can complement your bathroom design.
Bamboo flooring is highly durable and can last for 20-30 years, provided you choose the quality planks with a proper warranty.
Also, the material is easy to clean and maintain with just a mop and soap water solution.
A few other reasons why I like Bamboo are:
It's Eco-friendly and greener
Less expensive than the hardwood bathroom floor
High-quality, thicker bamboo floor veneers can be refinished, stained, and polished easily.
Drawbacks of Bamboo Floors in the Bathroom
Probably the most common disadvantage of choosing bamboo comes down to its limited shades available.
Thin bamboo material is hard to refinish. Plus, cheaper bamboo planks can attract insects and can wear down soon.
Moreover, if not sealed properly, bamboo floors are susceptible to water damage due to high humidity in bathrooms. This can really be a concern for many homeowners.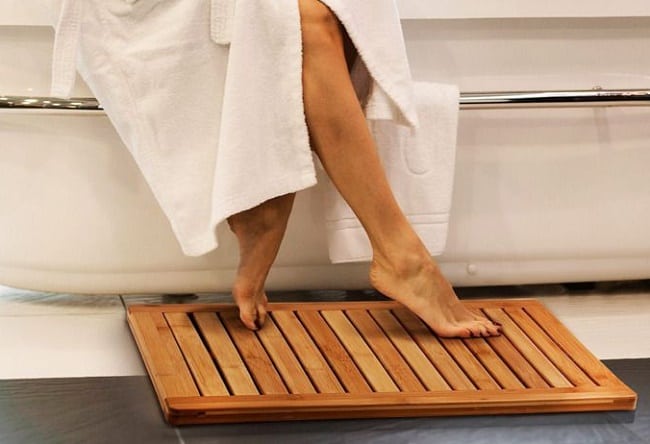 ---
Can You Use Bamboo As Bathroom Floor Mats?
Yes, bamboo mats are widely available that can be either used as bathroom floor mats or put in the shower as a shower mat.
Usually, it comes with lattice designs and patterns that allow the water and air to move freely.
A few benefits that you get from using bamboo bath mats include:
Inexpensive
Won't tear or fade easily
Dries quickly after the shower
Prevents slippage in the shower
Convenient to use and move around
Not only do the bamboo mats for the shower provides your bathroom with an aesthetic appeal, but also a wonderful shower experience.
Since the material does not absorb water, it won't foster the growth of mold and mildews in your bathroom.
Plus, it helps in keeping the odor away in your restroom.
The good thing is you can use these versatile bamboo mat designs even outdoors, like a beautiful decorative piece in your backyard or a poolside area.
However, if you are using them outdoors, make sure you plan for routine cleaning of mats to keep them in good condition.
How to Clean?
Cleaning your bamboo shower mats is simple. You can just follow these steps…
Rinse the mats with a mix of warm water and dish soap
Use a scrubber or a wire brush to thoroughly clean the debris or dirt
Once cleaned, wipe the mat using a dry towel and leave it open to dry naturally
Do not wash your bamboo shower mats in a washing machine or a dishwasher.
These machines won't clean the mat but can cause damage to them.
After you have cleaned the mat, you can consider using food-grade mineral oil over them to upkeep its beauty and shine.
Alternatively, oils like teak oil, tung oil, linseed oil, or clear varnish can also be used to refinish your old bamboo floor mats.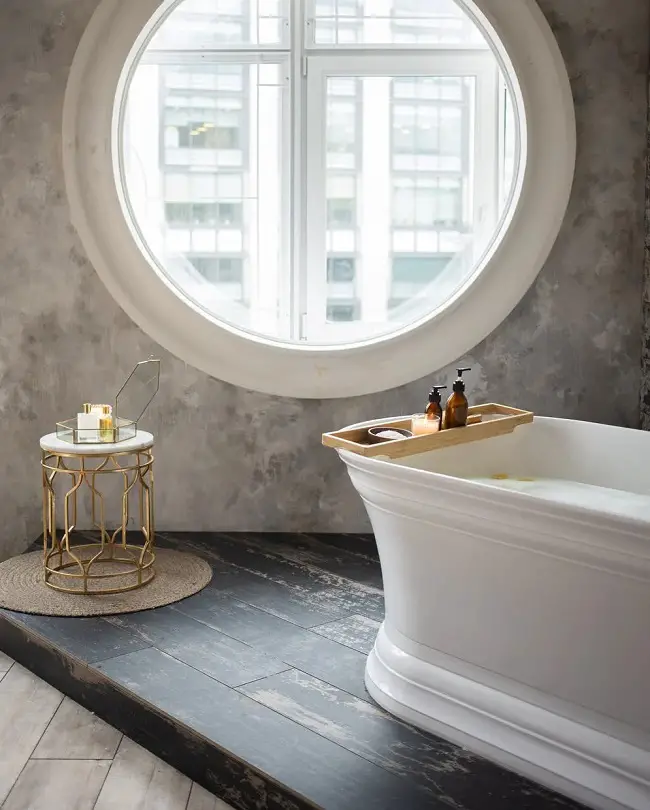 ---
What are the Different Types of Bamboo Flooring?
Although it appears to be wood, bamboo is a type of grass that is made up of tough, durable fibers.
The material has been used in construction for more than thousands of years and is still admired by construction companies and developers.
Homeowners who want to "go green" when building their houses also prefer using bamboo, thanks to its non-toxic and environmentally safe properties.
When in the market to pick bamboo floors, typically, you will find three types of bamboo flooring options. These include:
Vertical
Horizontal
Strand-woven
Strand-woven is comparatively more expensive and less prone to scratches and damage. Plus, due to the interlocked weave of bamboo fibers, it's tougher and more durable.
Strand-woven bamboo floors are therefore an ideal choice for those looking for a solid sustainable bathroom floor.
---
Choosing the Sustainable Bamboo Floors for Your Bathroom
Cutting and preparing the bamboo plant for floors is usually a long process that involves:
Cutting down
Shredding to separate fibers
Bonding them into a sturdy piece using heat, pressure, and adhesives
While bamboo floors are a low-cost sustainable option for bathrooms that also reduces the need to harvest exotic hardwoods, their manufacturing processes can many times be unregulated.
This means that there are several brands and companies that use toxic chemical-based substances like adhesives, stains, polishes, and finishes.
So, if you are concerned about the traces of formaldehyde emission and need to get sustainable bamboo material that is 100% non-toxic, it's very hard to find one.
To ensure your bamboo bathroom flooring material is ecologically safe, it's good to confirm that the material you are selecting comes with FSC certification and is approved by Forestry Stewardship Council.
Also, make sure that the tone of the bamboo floor you select enlightens the overall bathroom design.
Final Thoughts
While the good outweighs the bad – when it's about bamboo floors in the bathroom – it's really important for you to do your homework well and pick the high-quality material with less toxicity (if not 100% non-toxic).
No doubt, you will need to be prepared to spend more, but the long-term benefits you get will then be on a higher end of the spectrum.
Rather than penny stocks, it's more like a safe investment that pays dividends for years.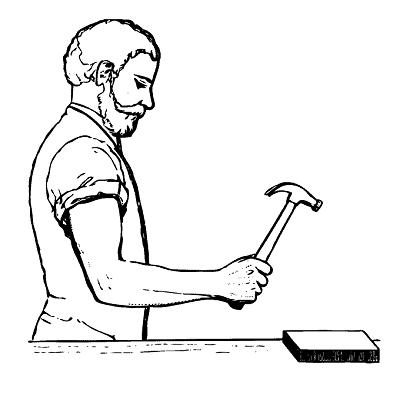 Hi, I am Mark Garner a professional carpenter, woodworker, and DIY painter. I live in the small city of Peoria, Arizona as a semi-retired woodworker. I have started this blog with a simple motive to help you with my wood experience in this sector. If you like to know more about what I love doing and how it all got started, you can check more about me here.