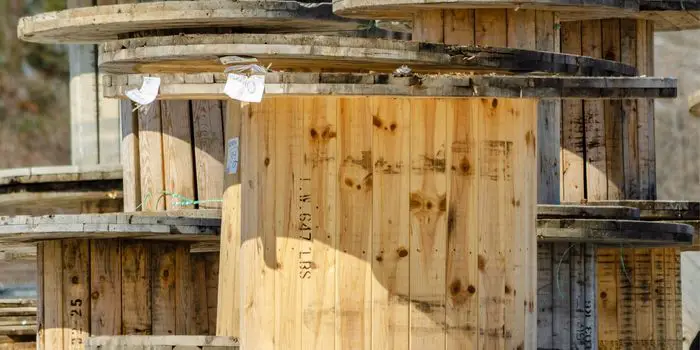 Wooden wire spools are something that can be found easily and for free if you know where to look.
If you have ever seen a wooden cable spool lying around and wondered what you could do with them, wonder no more.
We have some fantastic pieces of advice, plans, and ideas for you that will turn those spools into amazing pieces of furniture or decor items.
Wooden Cable Spool Projects
There are so many things that you can do with wooden cable reels. From stools, tables, chairs, see-saws, and wall art to planters, there are plenty of options you can choose from.
The pictures and videos we have shared here will tell you how great they are for crafts and DIY projects.
So, let's get into those ideas right here…
1- Cable Spool Bookcase
A unique bookcase for your home library is something that you can make for yourself using an old wooden cable spool. Just cut the spool in half and then screw it to a base.
You can make it as tall or short as you want and then fill it up with your favorite books.
The detailed tutorial here will guide you with all the instructions that can be easily followed to make one.
2- DIY Cable Spool Coffee Table
This cable spool coffee table idea by HomeTalk.com is simple enough to follow. All you will need is some reclaimed fence wood along with the cable spool.
The top of the table can be decorated in any way you want, and then it can be stained or painted to match your home décor.
You can even cover the sides and make built-in storage for keeping all your stuff.
3- Cable Spool Table and Chairs Set
This one is a great set for your backyard decoration. You can use it to serve your guests or to spend some cozy time with your partner on the weekend.
All you need is three small and one large cable spool to make this set.
4- Wire Spool Outdoor Dining Table
Want to make some good use of the discarded electrical wire spool?
This combo of industrial chairs and a wooden wire spool is a perfect mix. Use the set as a dining table for your decking area.
It will surely offer you a chance to have a great time with your family. Just do not forget to waterproof outdoor wood furniture before you use it.
5- Electrical Cable Spool End Table
This is the design inspired by simple farmhouse design ideas, and it looks just gorgeous.
Cut the wooden spool into half using a saw, and then use it as an end table in your drawing room. The half-cut spools will look like a drum and will offer a great look to your room.
This will also provide you with an extra storage option, as you can use the spools for keeping different things.
The best part of this design is that you can make slight changes to turn it into a coffee table or a dining table for your backyard.
Below you can find a helpful video on how you can use a giant industrial spool to make something functional and beautiful.
6- Gorgeous Living Room Bar with Half Table
Building an awesome bar in your living room corner is one of the best ways to stay connected to family and friends.
If you have some old wooden cable spools, use them to make this beautiful corner bar with a designer half table to serve the drinks. The step-by-step guide here will tell you all you need to do.
7- DIY Cable Spool Headboard
Want to repurpose those old cable spools lying in your garage or workshop?
Making a headboard for your bed is one of the best ways to do it. This will give a rustic and shabby chic look to your room that you are surely going to love.
The simple tutorial here will guide you through the step-by-step process so that you can make one for your room.
8- DIY Wire Spool Clock
A time well spent on making something beautiful and functional is always worth it.
This clock made from a wooden wire spool and an old clock movement is one such example. The best part of this project is that you can make it as big or as small as you want.
You can also personalize it by adding numbers or letters of your choice.
9- Salvaged Wire Spool Stool
A small stool is always a great addition to any kitchen, bathroom room, or dressing room as it can offer both style and function.
This stool made from an old wire spool is not only easy to make but is also very cheap.
You can even use it as a plant stand to spruce up your indoor or outdoor space. The complete step-by-step guide is available here that can be followed even by a novice.
10- A Tiny Dog Bed for Small Dogs
This dog bed made from an old wooden cable spool is the perfect size for small dogs.
The spool has been painted and upholstered, and then a mattress and pillow have been added to make it extra cozy.
This would be a great project for anyone with a small dog who is looking for a unique and stylish way to keep their pet comfortable.
11- DIY Wire Spool Swing
Want to get a budget-friendly playful swing for your toddlers on the porch or backyard? This wire spool swing is the perfect solution.
Not only is this spool easy to make, but it will also only take a couple of hours out of your day. Plus, you can get creative and paint the spool in any color you want.
The image shows how the simple spool is converted into a more playful designer swing by just adding a wooden horse toy.
12- An Old Wooden Spool Duck House
Yet another excellent design you can make out of old spools is a duck house.
If you love ducks and chickens and have a few around your property, this would be a great way to provide them with shelter.
The design offered by instructables.com is simple but effective, and it would be easy to customize to your own needs.
You can use the same instructions to create a beautiful birdhouse in your garden if you want.
13 – Spool Shelter for Goats and Other Animals
This is, again, a beautiful, attractive design for animal lovers.
While providing some extra shade and shelter for your goats, this spool shelter also keeps them entertained with a swing or toys nearby.
You could easily adapt this design to work for other animals as well, such as rabbits, hedgehogs, or even guinea pigs.
14- Kid's See-Saw from Cable Spool
Above is an exciting video that shows a homemade wooden wire spool see-saw teeter totter for kids.
Using an old cable spool, some basic carpentry skills, and a few other materials, you can make this delightful playground equipment for your children in no time.
This would be a great weekend project, and your kids are sure to love it.
15- DIY Wood Cable Reel Race Car Track
Want to add some games to your backyard or indoors? This spool car track is an excellent choice.
Unlike the traditional plastic ones, this DIY track is more durable and can be used by both kids and adults.
You can use any small toy cars to race on this track, or you can even make your own wooden cars.
16- Wonderful Spool Wall Art and Decor
An old wooden spool can be easily converted into a wall decor with added shelves and hooks like the one you see here.
You can use this idea to make a key holder, jewelry organizer, or coat rack. This is a great way to add some extra storage to your home while also making a unique and stylish statement.
17- Small Spool Wreath for All Occasions
Want to make your home merry, cheerful, and bright; this easy DIY Christmas craft project is just for you.
Unlike other projects on my list here, this beautiful and colorful wreath is made with small reel spools, and it can be customized for any holiday or season.
You could also use this same idea to make a wreath for your front door, a wall hanging, or even a centerpiece for your dining room table.
18- Upholstered Cable Spool Ottoman
Creative minds can turn anything into an ottoman, and this design is no different. This particular ottoman is upholstered and would make a perfect size for seating in a small space.
If you want, you could easily add some storage to this ottoman by adding a removable lid or some baskets underneath.
The complete blueprint and instructions are available at hometalk.com for you to check out. So there's no excuse not to get creative with your old wooden spools.
19- Low-Cost Wood Spool Mirror
Salvaged wooden cable reels, drums, or spool tables can all be a problem if you want to use them as coffee tables in your home. The best way to avoid those pesky legs is to attach the spool table top to a mirror.
This design is extremely elegant and would make a great addition to any room in your home. You could even add some storage to this mirror by attaching some shelves to the back.
20- Wooden Spool Planter
Old wooden spools are the perfect size for small succulent plants or herbs.
This easy DIY project is an excellent choice to add some greenery to your home while helping the plants look more beautiful and blooming.
If you are among the most creative people around the world, you can customize the look by adding some stencils or designs to the spools before adding the plants.
Paint them in vibrant colors, and keep them upright, vertical, or tilted, the choice is yours, and the options you have are limitless.
21- Electric Wire Spool Pallet Bench
Outdoor seating is a must if you have a backyard or patio, and this bench made from a recycled pallet and an old electric wire spool is the perfect solution.
This bench is extremely sturdy and can accommodate multiple people at a time if you build and keep more than one.
The best part is that it won't cost you a fortune to build, and you can find all the materials for this bench at a local hardware store with tutorials over here.
22- Cable Drum Rocking Chair DIY
Rocking chairs are great for relaxing on a porch or patio, and this design made from an old cable spool is no different.
The chair made in a DIY way can be extremely comfortable and sturdy if done correctly.
You can find the tutorial for this project over here, and all you need is an old spool, some fabric, and a few other materials that are easily available at a local hardware store.
If you don't want to use one, you can create and gift to a friend or family member who's an expecting parent.
23- Salvaged Wood Spool Fire Pit Table
What's more fun than gathering around a fire pit with family and friends this winter?
This design takes it one step further by adding a table to the mix.
This particular design is made from an old wooden spool, but you could use a metal one as well.
The table is the perfect size to accommodate all your firewood in between, and the best part is that it's extremely easy to build in a day.
24- Rustic Cable Spool Retail Shop Display
Looking for some creative retail display ideas for your boutique or shop?
This design made from an old cable spool is the perfect solution.
It's rustic, unique, and extremely easy to make.
Over here, what matters most is the variety of products that you can display on the spool.
You could use it to display clothes, jewelry, or even pottery. The choice is yours, and the options are endless.
25- Cable Spool Reading Nook
If you love reading books and magazines but have little space to arrange or display your personal library, this wooden spool design is perfect for you.
This reading nook made from a cable spool will allow you to display all your favorite reads in one place while freeing up some much-needed space in your home.
The design is extremely easy to make, and you can paint it in whatever color you want.
The one shown here is beautifully painted with white chalk paint to get that unique distressed look.
25- Mosaic Spinning Table From Discarded Reel
Discarded wire reel can also be turned into a beautifully crafted mosaic spinning table if you can add a spin mechanism to it.
The mosaic top can be made from any colorful and vibrant ceramic tiles that need to glue down onto the surface of the reel.
This is a slightly more challenging project that may take a couple of days to finish. But it's worth the addition to your space when completed.
27- Rustic Wine Rack from Reclaimed Wood Spool
How can I forget something for wine lovers (because I myself am one of them)?
If you prefer spending your evenings sipping on a glass of wine with your partner or friends, this rustic wine rack made from an old wood spool is the perfect addition to your home.
You can use it to display and store all your favorite bottles of wine in one place while adding a touch of rustic charm to your space.
The particular design shown above in the picture is extremely easy to make, and all you need is an old wood spool, some reclaimed wood, and a few other materials that are easily available at your local hardware store.
If you want, and if you are a bit more skilled in woodworking, you can go one step ahead to create a beautiful wine rack with a giant clock using an old cable reel and pallet.
Below you can check the detailed videos with all the instructions and the step-by-step process to complete the design.
Used Electrical Cable Spools – Buying Tips and Ideas
Now that you know what empty wooden cable spools can be used for and what they are actually worth, it's important for you to understand how to buy them and the things that you need to keep in mind while purchasing old wooden cable spools.
a) Its weight and size
The first and foremost thing you need to consider while buying old wooden cable spools is the weight and size of the spool.
Wooden spools come in a variety of different sizes (from small thread reels to giant cable wire spools).
The diameters of the arbor holes on commercial wooden reels are usually between 2 and 5 inches (5 to 13 centimeters) average diameter is 3 inches (7.6 centimeters).
The drum core may range from 3-4 inches in diameter to 3 feet or even more, whereas the flange diameter may vary from 30 inches to over 100 inches.
The transverse of the industrial wooden spool may range from under a foot to around three to four feet.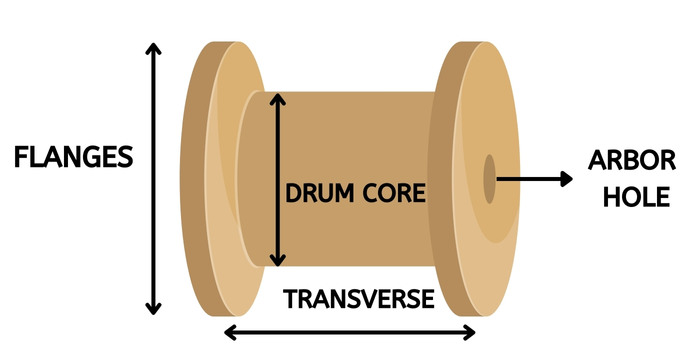 As a general rule, the larger the spool, the more it will cost and the more weight it will carry.
Typically a large wooden spool can weigh from 340 lbs to 1100.
So, when you use them for anything, ensure they may not put you or anyone else in danger.
b) The type of wood used
The second thing you need to look for while purchasing old wooden cable spools is the type of wood used in its construction.
For making wooden spools, birch or poplar plywood is generally used.
Plywood is generally a cheaper and lightweight option as it's an engineered wood that is made by gluing together layers of wood veneer.
Normally these cable reels are made to be used only once and then destroyed. So, it's not necessary that the spools you'll find will be made from high-quality wood.
But if you are looking for something durable and long-lasting, you should go for the one that is not too damaged, splintered, or cracked.
You can always paint or stain them to make your project nicer and more long-lasting.
c) The place to buy the cable drums and the price
The third and most important thing to look for while purchasing old wooden cable spools is the place you are getting these drums from.
Do not ever try to get the reels if you know it's being used or owned by someone.
The best place to get these drums for free is from the power or telephone company. You can contact them and simply ask if they have any cable drums that they don't need and want to get rid of.
But, if you are not too lucky to get them for free, the next best place to look for them is online on sites like eBay, Facebook Marketplace, or Craigslist.
Just type in key phrases like "wooden cable spool for sale" or "empty wooden spools" in the search bar, and you'll get a ton of results.
While making a purchase, make sure to check the pictures carefully and ask a few questions to the seller. It's important to know the dimensions and the weight of the spool before making a purchase.
The price of the cable reel you get from these places can vary a lot depending on its size, weight, and condition.
A small wooden spool may cost you around $10 to $15, whereas a large wooden spool can cost you up to $50. So, don't forget to haggle a bit to get the best deal possible.
Final Thoughts
I hope the above information has clarified what old wooden cable spools are utilized for, how much they may be worth, and where to locate the right spool for your project.
When you have got them, just make sure to use your creativity and imagination while repurposing these spools, and you'll be able to create some amazing things.
Display them in your home, garden, office, or shop. Who knows? Maybe you'll even be able to sell them while displaying them artistically.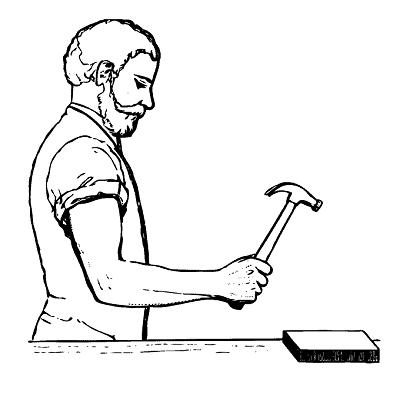 Hi, I am Mark Garner a professional carpenter, woodworker, and DIY painter. I live in the small city of Peoria, Arizona as a semi-retired woodworker. I have started this blog with a simple motive to help you with my wood experience in this sector. If you like to know more about what I love doing and how it all got started, you can check more about me here.