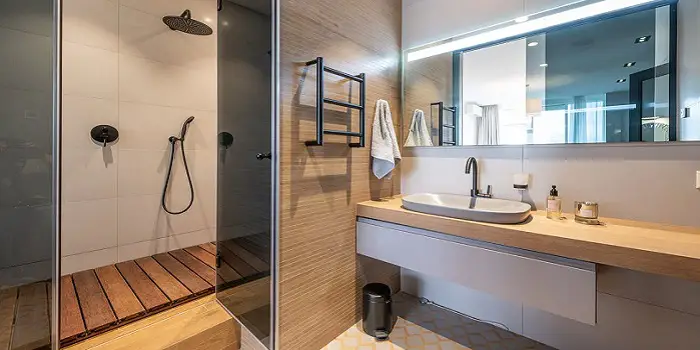 Teak is a tropical hardwood tree species that are highly popular and much in demand because of its properties.
Not only it's one of the most elegant and durable woods out there but also resistant to pests, moisture, shrinkage, and rot. That's the reason, it's widely used for all kinds of furniture as well as floors including shower floors.
The only problem with teak wood is it doesn't grow in many climates – because it mostly prefers moist, warm tropical climates.
And due to the basic law of supply and demand, it's one of the most expensive wood to buy.
No matter what – if you are already impressed with the beautiful look and durability of teak, the teak shower floor is definitely a way to go.
But before you make your final decision, it's crucial to know more about them including their advantages and disadvantages.
Teak Shower Floor
| Advantages | Disadvantages |
| --- | --- |
| Durable | Expensive |
| Beautiful | Difficult to maintain |
| Water-resistant | Not completely waterproof |
| Rot and bug resistant | Needs regular oiling and polishing |
Before discussing the pros and cons in detail, let's start with some basics and history about teak shower floors.
What is a Teak Shower Floor?
If you think that "teak shower floor" is a shower floor made of teak, I am sorry, you are wrong.
It's rather an insert for a shower floor that is chiefly made of teak wood.
Usually, these inserts are made into slats that can either be placed like one solid piece of slat or can roll out like bamboo matting.
Just in case you need them, gorgeous-looking teak shower floors can also be customized the way you want depending on the size and shape of your shower.
A Bit of History
It was long ago when Asians used teak wood for building their homes and furniture.
They even used the bark of wood in their tea to cure fever, headache, and other body pain.
A sailor who visited Southeast Asia traded this wood to Europe where it was found the strongest wood they have ever seen before.
And because of its durable water-resisting nature, they started using the teak in their ships.
Later when metal ships were replaced with wooden ships, the teak was used for making outdoor furniture and also for shower floors.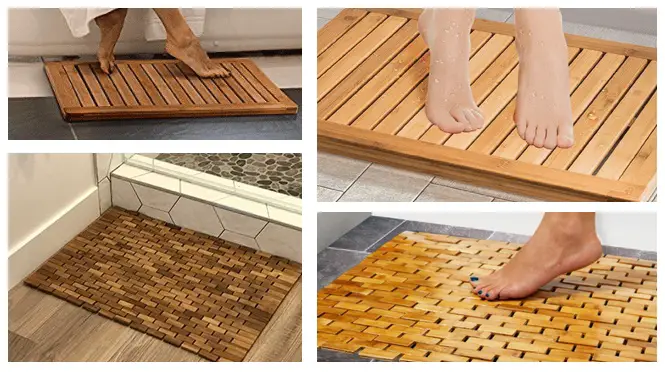 ---
Pros and Cons of a Teak Shower Flooring
No doubt, teak is awesome for home use. But when installed as a shower floor, there is a list of pros and cons you need to keep in mind.
The Pros
a) Durable:
Since teak is very strong, it's certainly resistant to scratching or chipping. This allows them to last for a longer period of time compared to other wood types.
b) Natural and beautiful:
Teak looks not only beautiful and elegant but also natural and eco-friendly. Especially if you care for the wood, polishing and oiling them regularly, can serve you for a long leaving a gorgeous rustic feel in your bathroom.
c) Resistant to water and insects:
Teak shower floor inserts are highly water-resistant. This means it will not swell or rot like other wood varieties very soon when exposed to moisture or water, provided you have sealed and kept it well-protected.
Teak wood is also pest-resistant because of its hard-to-penetrate and water-resisting qualities. And that simply means you need not worry about the cockroaches, termites, and other bugs nesting in your bathroom and creating holes in the wooden shower floor.
The Cons
a) Not 100% waterproof:
Although water-resistant, teak is NOT impermeable. This simply means water can still pass through without staying for long or causing any major harm to the wood.
With that said, if you allow your insert to sit for long (without taking them on and off), bacteria and mold can grow below the insert, which can be unhygienic.
b) Can be difficult to clean and maintain:
Using your regular bathroom cleaner isn't safe for cleaning and maintaining teak wood. So, you will need to get a specific cleaner for them.
Also, you will need to care for them on regular basis (by applying oil and polish), especially if you need to look them nice and beautiful.
This may sometimes require spending a lot of time and money on your end.
c) Comparatively expensive than other woods:
While this isn't a major concern for many, teak is among the most expensive woods available on the market today.
It's hard to find them cheap, and even worst if you try to, you can even be tricked while buying them if you are not careful.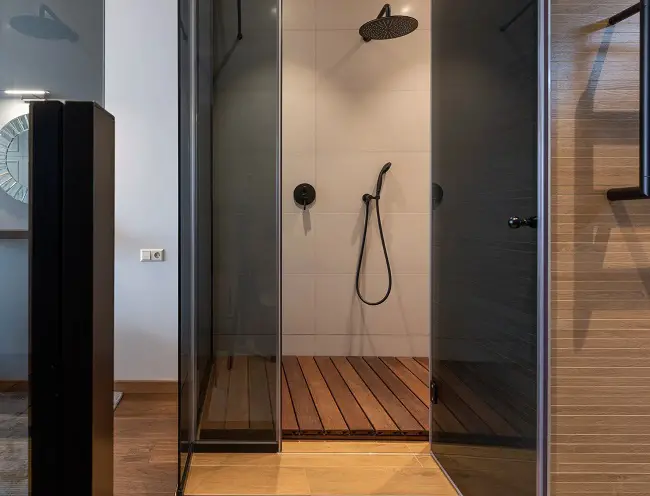 ---
How to Make a DIY Teak Shower Floor Insert?
As a DIYer, if you want to make and install your own teak shower floor, that's an awesome idea.
All you will need is pre-cut boards (or slats), your measuring tape, a handsaw, and some screws.
Step 1 – Measure
Start by measuring your shower floor.
Write it down on a piece of paper so that you do not forget the measurement while cutting the boards.
Step 2 – Plan
When planning, it's good to create a diagram of everything you have in your head.
Taking time in doing this will ensure that you are all set to go without making any big mistakes.
After you have drawn a diagram, you will need to plan ahead and follow these steps to get started:
Lay the slats on cardboard, leaving about half an inch between each of them
Leave about half to one-inch space on the sides
After laying, measure and mark everything on the cardboard beneath
Step 3 – Cut and screw the slats
Once you are done with all the planning, it's time to finally cut the boards.
Cut the slats using a handsaw and lay them to check if they fit nicely
Create bracing boards for the back and lay the cut slats on them to mark
Next, screw the slats securely into the bracing boards, and you are all done
If you desire, you can finish your DIY-made teak shower flooring with paint, stain, oil, or polish and get them ready for installation and usage.
---
Polishing and Maintaining Your Teak Wood Shower Floors
As I already mentioned, caring for your teak shower floor is important to maintain them in tip-top condition.
Do not place your insert all the time in the shower.
And at least once a week, check for the growth of any molds or mildew.
To remove any grime, molds, or bacteria, brush lightly and clean it up using a soap and water solution. Then rinse off under fresh running water and finally allow the teak to dry completely.
Besides this weekly maintenance task, you will need to polish the wood to maintain its beautiful shine.
For polishing, you can follow these steps…
Scrub and clean the wooden floor insert using a soapy water solution
Apply a bit of teak oil to the wood and gently rub the surface with a piece of rag
Allow the teak oil polisher to set for 1-2 hours
Finally, polish the dried oil with a rag in circular motions until you notice a shiny wood surface
The teak oil will not only refinish and shine the wood but also will also protect the wood shower floor to thrive for a long.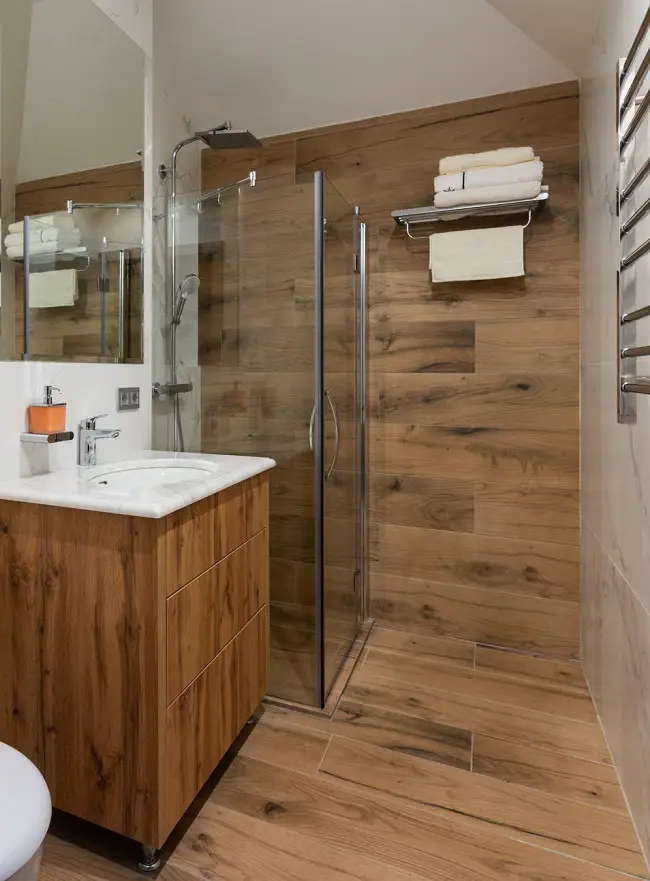 ---
Other Wood Shower Flooring Options – If You Do Not Like Teak
Although teak is recommended for its various attributes, there are a couple of other alternatives you can choose for your wood shower floor.
Since these substitutes are also durable and water-resistant, they will work well if you do not like teak for some reason.
1- Cedar
This wood grows in colder climates where there is moisture and snow. It can therefore resist harsh conditions when used in bathrooms.
 2- Bamboo
It's not only easy to install but is eco-friendly, strong, and sturdy as well.
However, unlike teak and cedar, the bamboo floor is not very resistant to moisture.
So, I would recommend buying engineered or solid wood as they are not very susceptible to water damage.
3- Composite
Composite wood is, although not 100% natural, it's great to have for your shower flooring material because of its waterproof nature and fire-resistant properties.
Plus, these are aesthetically pleasing and easy to install and maintain as well without worrying much about the degradation and detrimental effects of environmental changes.
Besides the above, you have options like white oak, which is an amazing water-resistant hardwood.
And, Hinoki which is, again, a water-resistant Japanese wood traditionally used in saunas.
These are all great to use for your bathrooms and showers where the wood is regularly exposed to moisture.
Final Thoughts
Hopefully, the above article has shed some insight on why (and why not) you should get a teak shower floor.
I am sure it will help you make a better decision to relish all the goods without worrying about any bad.
In case you plan to choose teak wood for shower floors, make sure you get them installed well and care for them on a regular basis to enjoy the benefits for a long.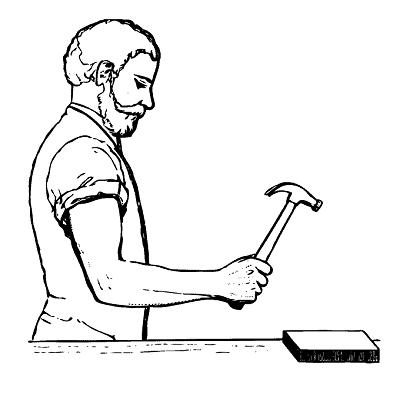 Hi, I am Mark Garner a professional carpenter, woodworker, and DIY painter. I live in the small city of Peoria, Arizona as a semi-retired woodworker. I have started this blog with a simple motive to help you with my wood experience in this sector. If you like to know more about what I love doing and how it all got started, you can check more about me here.