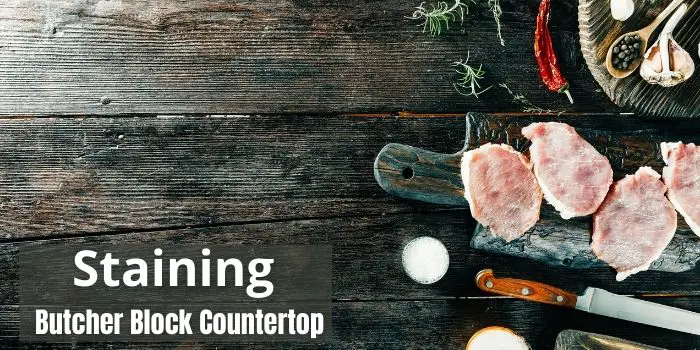 A butcher block (also called butcher's block) is a specific type of wood surface for kitchen tables, countertops, or islands that is similar to cutting surfaces found in butcher shops.
Simply put, it's a kind of heavy-duty chopping block typically laminated with hardwood.
Staining, sealing, and refinishing your wooden butcher block countertop not only keep it stain-free but also from getting damaged fast due to regular slicing and dicing on wood with knives.
And fortunately, the process of staining your butcher block is as easy as 1-2-3.
Prep the surface
Stain the wood and
Finally, seal the wood
What follows is a step-by-step guide that will help you finish your butcher block kitchen top, along with some maintenance tips and guidelines.
Preparing Butcher Block
Mostly a butcher block countertop you purchase for installing in your modern kitchen comes unfinished.
This means for protecting, finishing, and coloring them as per your liking; you will need to do some prep work. This should be done by…
a) Filling Cracks and Seams
The very first step is to fill the cracks and seams in the butcher block so that no meat or foodstuff could get stuck into them. To fill the gaps in the wooden butcher block, you can simply mix some wood glue and wood shavings.
Then press and fill the mixture with a putty knife or your fingers into the cracks, gaps, or holes you notice. Remove any excess glue with a scraper and allow it to dry for an hour.
b) Sanding the Butcher Block
Next, you need to lightly sand all the sides of the butcher block (the top, underside, and edges of the countertop).
For sanding butcher block, use 220- or 320-grit sandpaper with a sanding block.
Lightly sand the surfaces until you get a smooth finish. Then wipe the wood with a tack cloth to remove all the dust.
If you already have your countertop installed in place, it's good to use a sawdust extractor tool. This will prevent your place from getting covered with sawdust.
c) Conditioning Your Butcher Block
Finally, to prepare the wood for staining, you need to condition the wood with a thin clear coat of wood conditioner or butcher block oils.
These will help you in applying the stain over the countertop more evenly and smoothly.
Plus, wood conditioning also helps in blending the grains evenly and does not make your countertops look blotchy.
After applying the conditioning oil, allow the surface to dry and sand the surface lightly one more time.
Wipe clean the surface to remove dust, and put painter's tape at places where you do not intend to apply the stain. Now you are ready to stain.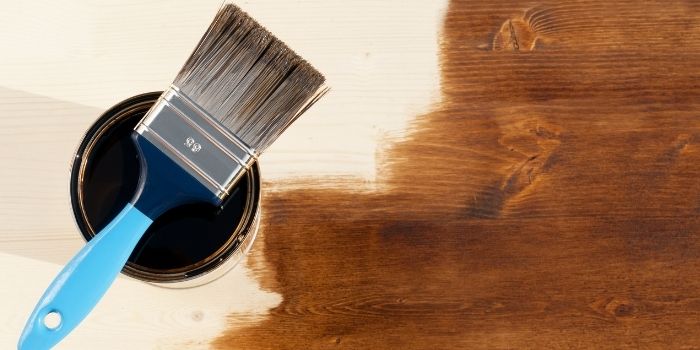 ---
Staining Butcher Block Countertop
For finishing butcher block countertops in your kitchen, two types of wood stains are available. And the very first step here is to choose the right type of stain.
An oil-based stain that is exceptionally durable. It soaks deeply into the wood to make the surface moisture and scratch-resistant.
A water-based stain emits less odor and will dry faster. Unlike some oil-based stains, these do not leave a yellowish finish.
Both these stains for butcher block countertops come in a variety of colors to choose from.
Once you have picked the stain, try the color on the underside of the countertop material.
If you are satisfied with the shade, proceed with staining your entire countertop.
Begin by staining the top and sides of the butcher block with a bristle brush.
Wipe away any excess stain with a rag and allow the stain to dry for a few hours.
When dry, sand the surface lightly to smooth and remove any blemishes.
Stain and sand the surface two to three times more to achieve the depth of color you like.
Remember, not all stains are food safe, which means while preparing food on your butcher block countertop, these stains can seep into food which can be dangerous.
And for that reason, many homeowners prefer using wood oil or mineral oil (like Watco) to finish their countertops.
These oils are food safe and will soak into the wood to provide clear natural color.
If you plan to apply oil, remember that cooking oils (like olive, vegetable, or nut oils) aren't recommended for butcher blocks or cutting boards as they can go rancid and can cause adverse reactions in people with allergies.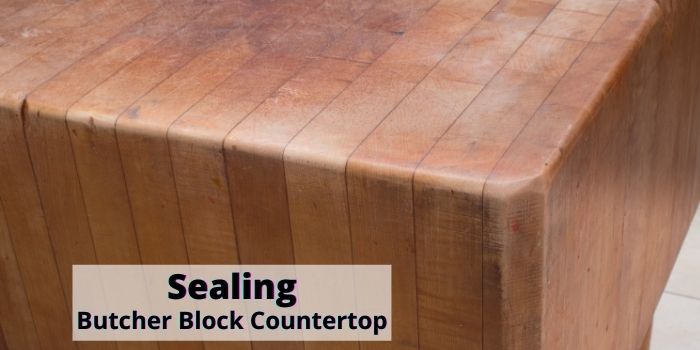 ---
Sealing Your Butcher Block After Staining
Sealing your butcher block countertop is the final step, and it helps in adding an extra layer of protection.
Also, a sealant like polyurethane will brighten the oil-based stain finish better and will prevent your countertop from looking duller.
When picking the sealant for the birch butcher block countertop, look for a food-safe sealer either in matte or gloss finish.
Apply your chosen sealer over the wood surface with a foam brush and allow it to dry for a few hours before you apply another final coat.
Keep in mind that you need not apply a wood sealer over a butcher block that is finished with mineral oil.
Butcher block oils such as food-grade mineral oil and tung oil are naturally food-safe. They are already good sealers and will provide the needed protection without applying any other sealants.
What they don't provide is the color you desire. So, if you need to recolor your countertop to your liking, you will most likely need to apply the stain and then a clear sealer.
---
Maintaining Your Butcher Block to Keep it Looking Fresh
Butcher block counters are always exposed to materials like blood and guts (literally).
So it's important to keep your butcher block countertops clean and tidy.
And doing so isn't very tough unless you give the chance for stains and food residues to get absorbed.
Then it can be challenging to clean your cutting board and butcher block.
For regular cleaning and maintenance, you can use your traditional kitchen stuff like mild-dishwashing soap, undiluted vinegar, or lemon.
Perform daily cleaning with soap, water, and a sponge.
Disinfect your butcher block at least once a week with vinegar.  
Sprinkle coarse salt and rub with half of a lemon to remove any stubborn stains you have on the butcher block.
Just in case vinegar or lemon doesn't work, you can use a bit of baking soda to clean the wine spills and meat stains.
FAQs
What color to stain the butcher block?
The best color to stain the butcher block is a light walnut. This will help to bring out the natural grain of the wood and make it look more professional.
If you are looking for a more rustic look, then a dark stain would be better. But keep in mind that it will be harder to keep the butcher block clean if it is a darker color.
Do you need to seal both sides of the butcher block?
Yes, it's a good practice to seal both sides of the butcher block. This will keep it from warping and cracking over time. It will also make it easier to clean and keep bacteria from growing on the surface.
How do you prevent water stains on your butcher block?
The best way to prevent water stains on your butcher block is to apply a layer of mineral oil before use.
The oil creates a barrier between the water and the wood, preventing the water from seeping in and causing stains. You can reapply the mineral oil as needed to keep the butcher block in good condition.
Final Thoughts
Butcher block countertops are common these days in the kitchen. Not only because of their functional properties but also for the classic appeal and décor they offer. And to protect them from getting damaged soon, staining, sealing, and refinishing them properly is the best option.
While the process isn't very tough, you should make sure that you use the right type of products and follow the steps carefully to make your kitchen and countertop space look beautiful.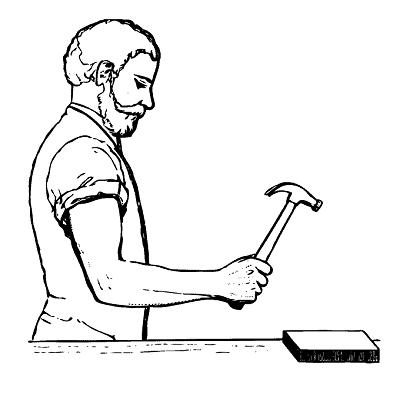 Hi, I am Mark Garner a professional carpenter, woodworker, and DIY painter. I live in the small city of Peoria, Arizona as a semi-retired woodworker. I have started this blog with a simple motive to help you with my wood experience in this sector. If you like to know more about what I love doing and how it all got started, you can check more about me here.