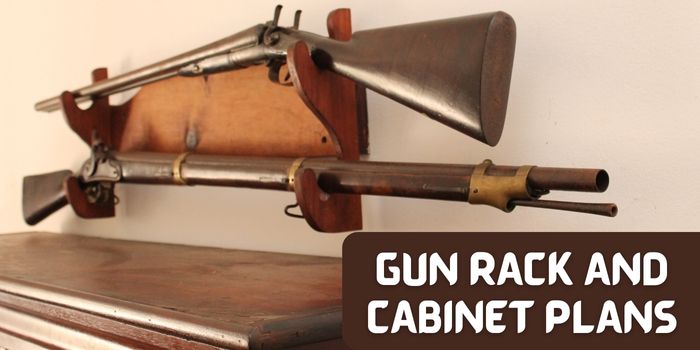 Owning a pistol or a rifle comes with the responsibility of storing it in a safe and secure manner.
A gun rack or a cabinet is, therefore, important, and it's an excellent way to store your firearms, ensuring that they are out of the reach of children and protected from the elements.
The problem is most gun racks and storage safes you will find on the market are ridiculously expensive. And not everyone would love to throw away a couple of hundred dollars on something like this.
That's why I've put together a list of DIY gun rack and cabinet plans you can build on your own.
If you do not want to invest huge amounts in buying a gun storage rack, these will hopefully help you save some money while still giving you a great way to store your firearms.
Simple Gun Rack Designs
Please note that these gun rack plans are for informational purposes only, and I strongly recommend you seek professional advice before building one yourself. I am not responsible for any damages or injuries caused by the misuse of these gun racks.
1- Outside Standing Gunrack by Instructables
This is one of the simplest and easy-to-follow ideas I could find.
The plans, blueprints, and ideas you will find here at Instructables are easy to understand, and it's a relatively simple project that can be completed in just a few hours.
All you will need is some plywood pieces to build this vertical gun rack, and it can easily be prepared for under $100.
With this rack at home, you can display your rifles along with fishing rods or any other equipment you may have.
2- Dave's DIY Rifle Rack for $20
If you are looking for a more detailed explanation in a video format, this could be the right DIY gun rack plan for you.
Dave takes you through the step-by-step process of building a wooden gun rack that looks gorgeous for under $20.
This, I think, is one of the most affordable gun racks on this list. So, you can employ the instructions to build this one if you are on a strict budget.
Pls. note: The video you will see above is around ten years old. Today the price of materials has gone up, so it will cost you a little more to build this particular gun rack.
But you can get it done for under $100 maximum.
Looking at such a low price, do not get surprised that the design is quite basic.
If you need to store more than a few guns, this is the perfect solution for you, where the rack can hold up to six rifles positioned vertically.
3- Modular Wall-Mount Gun Rack
Shane Critelli, in this video, shared his process and planned to construct a cheap modular wall-mount gun rack out of wood.
This is more like a gun hanger that can be installed in your gun room or a shop to display your collection.
The beauty of this design is that it can be easily customized to your liking and needs.
Shane claims that it can be used to support any type of firearm with perfect alignment. So, it's a great gun rack design that is worth checking out.
4- Rod's Horizontal Rifle Gun Rack Plans
Unlike other sites that promise free gun rack plans but deliver subpar instructions, poorly illustrated pictures, and zero follow-throughs, Rod's Woodworking Shop provides high-quality 3D photos and detailed step-by-step instructions.
These features make it easy for anyone to follow the DIY gun rack plans and successfully create their own gun racks.
The gun rack itself is basic, yet it is appealing in terms of accommodating three rifles and does not take away from them.
The rack, on the other hand, provides a simple area to display your weapons while not detracting from them.
A tiny storage box sits at the bottom of the rack, ideal for pistols or gun accouterment.
5- The Unknown Cat's Inexpensive Gun Rack
This design by The Unknown Cat is a little more unique as it has a bit more character to it and can overcome the problem of those who have guns of different heights.
Unlike most gun rack designs that are built for accommodating rifles of a specific height, this design would be great for those who have handguns, long guns, or even shotguns.
This gun rack is the perfect space-saving solution for small homes or minimalist collectors.
6- Gun Locker 75's Large DIY Gun Rack
If you're looking for an extra-large wooden gun rack that can fit your entire collection, look no further than Gun Locker 75's tutorial.
This plan is perfect if you have a large garage or hunting lodge.
You can adjust the length of the gun rack to fit any size room. And don't worry if you've never built anything before – this gun rack is so easy to make even a beginner could do it.
All you need are 2x4s and utility hooks for building this design.
The butts of the beds sit right on the ground, which is one significant disadvantage of this plan, I think, but it shouldn't be an issue if they're kept in a room with no children or animals.
7- Easy Build Pallet Gun Rack with Bottom Storage
This is a gun rack made from pallets, which makes it an inexpensive solution for those on a budget.
In addition, this design has the added benefit of bottom storage for your ammo or other gun accessories.
By looking at a picture alone, you can guess how easy the design is to follow, and the finished product is both functional and stylish.
If you're looking for a gun rack that's both cheap and easy to build, this is the one for you.
8- DIY Wooden Rifle Stand for Outdoor Display
In the picture, you can see how it displays different rifles of different sizes, which means that this gun rack can accommodate various types of firearms.
You can put it around your decking areas or in your garden. It's a great way to show off your gun collection to your friends and family.
9- DIY Rustic Corner Gun Rack Made for Six Rifles
If you are a little short on space in your home, this gun rack is perfect for you. It takes up very little space and can hold six rifles in the slots provided.
The disadvantage to this design is you can not use this to store other long-handled tools such as shovels and rakes (as it's possible with a few other options on this list).
This is because it has a specific slot at the bottom that's designed to hold the rifles.
10- Rotating Gun Rack with Well Polished Solid Wood
This one is a very sleek and stylish gun rack that would look great in any home. It is made from solid wood and can accommodate over five guns.
The best part about this gun rack is that it is on a rotating base, so you can easily access your guns when you need them.
The well-varnished aged look is what inspired me the most to add this to the list.
Although it's not very easy to make a design that looks exactly the same on your own, you can at least get the idea.
It's a great gun rack for those who want something that looks good and is highly functional. If you want, you can also refinish your old rack in a similar manner to make it look newer.
11- Wooden American Flag Concealed Gun Cabinet
Want to get something more functional and private? Build a concealed cabinet instead of the rack.
This design by Workshop 1776 is perfect for those who want to keep their gun collection hidden away but still close at hand.
The flag design makes the cabinet beautiful, and it hides the cabinet perfectly. It even has a shelf inside for ammunition or other gun accessories.
This is a great option if you're looking for something more than just a gun rack.
12- Raw Cedar Gun Cabinet Storage
This stunning raw cedar wood gun cabinet is a bit advanced in terms of beauty and storage.
You can build it much like a closet or a showcase that can accommodate more than eight long guns, as well as have space for other gun accessories at the bottom cupboard.
The glass doors also give it a more luxurious look allowing you to display the collection while keeping them out of reach.
13- Rifle and Gun Cabinet Inside the Mirror Frame
I truly love this idea and the design behind it. If you don't want anyone to know that you even have a gun cabinet, then this is the one for you.
It's completely hidden behind a full-length mirror and can accommodate up to five rifles and guns combined.
14- Handgun and Magazine Storage Behind the Clock
Purchased a new Glock 17 handgun or have some AR magazines to hide and keep safe? Why not try this awesome idea?
Since gun safes are often not foolproof, it's a good idea to have an extra place to store your valuables that doesn't seem to be noticeable by anyone.
This design is perfect for those who want to hide their small guns and ammunition in plain sight.
The best part is that it's not only for guns, but you can use it to store other valuables such as jewelry, money, or important documents.
15- Hidden in Wall Gun Cabinet With Hidden Keypad
This is also an awesome design I found at instructables.com. The detailed instructions make it easy to follow, even for beginners.
The best part is that a hidden keypad can be installed in it, so only you will know the combination to open it.
This particular design is great if you want to have a hidden gun cabinet that's completely out of sight – mainly for those who want to keep their gun collection hidden but still close at hand.
16- DIY Picture Frame Secret Hidden Gun Safe
Nothing beats a picture frame that opens up to reveal a gun cabinet.
This video tutorial shows you how to create a small DIY gun cabinet that looks like a typical living room picture frame.
You may personalize your own compartment cabinet for your handguns, pistols, brass ammo, and other valuables like jewelry as desired.
17- Easy DIY Gun Cabinet by Life Less Ordinary
The easy DIY plan here covers everything you need to get started on making your own gun cabinet, from measurements to design and blueprints.
You don't need any expensive materials either; this video will show you how to make a great DIY gun cabinet without spending a lot of money.
18- DIY Air Rifle Cabinet from OSB
Have a collection of air rifles? This simple yet effective design is perfect for you to keep your air rifles close by without taking up too much space.
The video tutorial only uses a sheet of OSB (oriented strand board) and some screws to make this cabinet. It's a pretty straightforward build that anyone can do with just a few tools.
And since the materials used are so inexpensive, this is a great project for anyone on a budget.
19- DIY Gun Rack Made From Reclaimed Barn Wood
Reclaimed wood is something that's becoming more and more popular in DIY projects. And for a good reason- it's unique, has character, and is often cheaper than new lumber.
Jeff from Home Built Workshop has a great video tutorial over here that shows you how to make a gun rack from reclaimed barn wood.
This gun rack is made entirely from reclaimed barn wood, and it has a really cool rustic look.
The design is not very simple to build, but it only requires a few pieces of wood and some basic tools. The end result is, however, a really cool gun rack that would look great in any home.
20- Gun Cabinet Plan by Myoutdoorplans
Myoutdoorplans has a very clean and clear plan over here that shows you how to make a gun cabinet of your own that can hold your guns safely in one place.
The design is pretty simple, and the construction is pretty straightforward as well.
This particular gun cabinet plan is designed in such a way that it won't take up too much space in your room either.
For building one, you'll need pieces of plywood and timber, as well as tools like a drill press, hammer, framing square, and tape measure.
21- Bookshelf with Hidden Rifle Storage
This bookshelf is the perfect way to keep your guns hidden but easily accessible.
The hidden compartment is large enough to store a few rifles, and the bookshelf itself can be used to store other things like books, ammunition, or other gun accessories.
The best part about this design is that it looks just like a regular bookshelf, so nobody will know that it's actually a gun rack unless you tell them. And I am sure you wouldn't 😉
22- DIYeasycrafts Floating Shelf Secret Hidden Gun Safe
This secret access floating shelf is one-of-a-kind since the front and sides fold away, making it quick and simple to get to the contents.
The hidden gun safe shelf plan here is also rather simple to follow, and it provides all the materials list and plans for your convenience.
It takes less than two hours to make it, and all you need is a drill, skill saw, table saw, wood, and some hardware to complete this project.
23- Repurposed Pallet Gun Cabinet Plan at Hometalk
Want to get the advantage of a wardrobe/armoire and a gun cabinet all in one? This storage space for your arms and ammunition is made from pallets and is easy to make.
By following this simple image-based tutorial, you can build your very own gun cabinet using nothing but repurposed pallets.
24- Metallic Gun Safe with RFID Lock
Cut Weld Build brings a nice gun-safe option to build on your own if you want to get extra security and are skeptical about using the timber.
The video above will explain in detail how to make a metallic safe for your weapons.
Complete with welding the various components of the safe and how you combine them, as well as an RFID lock and hinges.
Despite missing a voiceover, this is a good video for anybody interested in storing their guns in style.
25- Sliding Top Coffee Table with Hidden Storage
This coffee table is a really creative concept. You've got what looks like a regular coffee table, but when you slide the top, you see your cache of weapons.
For safety reasons, you may want to consider putting a lock or security mechanism on the table.
But with this easy-to-build design of the concealed gun coffee table, if you ever need access to your weapons quickly, there's no obstacle to doing so.
26- The Old Filing Cabinet for Guns
A file cabinet is one of the most important pieces of furniture in an office. It is not only used to store documents but also other valuables like guns.
If you have an old one lying around, rather than discarding it, you can upcycle it into something just as useful, like a gun cabinet.
All you need to do is remove the drawers and build a rack inside before reusing the drawer fronts to create a solid door that resembles multiple drawers.
It's a great way to repurpose an unused item.
27- DIY Build Headboard Gun Safe
The picture here will show you how to turn your old unused bed headboard into a gun storage space.
If you want, you can also get the headboard customized while purchasing a new bed.
If you want to keep your guns close by while you sleep, then consider building a headboard with a hidden compartment or buying one.
28- Hidden Gun Storage for Queen Size Bed
This is another good example of how you can create hidden gun storage in your queen-size bed.
The video goes into detail about the construction of the bed and how to incorporate the secret gun compartment into the design.
29- Sliding Storage Gun Box Under Bed
Storage idea for guns under your bed is an exciting idea, isn't it? As long as you can keep the storage out of sight, it will work just as well.
This type of under-the-bed gun storage (shown in the video above) can be done with a few old dresser drawers and some hardware.
You can make it as big or small as you want and even add a lock for extra security.
By making a DIY under-bed gun safe, you can also create custom gun holders for each of your firearms.
This will secure them in place and prevent movement inside the safe, allowing you to store more guns overall.
30- DIY Under Stair Hidden Gun Safe
Under stairs, hidden storage drawers, shelves, and cabinets can be easily made by following the awesome blueprint here presented by Instructables.
I think this is the most secret of all the plans revealed till now.
Because it seems like just a regular cabinet from the outside, but in reality, it is a super-secret gun storage space that nobody would ever think to look in.
You can even design and decorate the space from the outside, making it look like a simple wall without any space to further the illusion.
This is truly a brilliant idea and very well executed.
31- Simple Foam Made Mick Gyver's Pistol Rack
This is the simplest and cheapest of all designs above.
Most gun racks are designed for long guns, but they aren't the only weapons that need to be stored and shown.
You may make a pistol rack for little money in this Mick Gyver's YouTube video. This video is very informative, and the final product can securely hold up to seven pistols or other small handguns.
Although it isn't the most attractive of gun racks, you may easily customize it to make it seem more visually appealing.
But considering its basic design and low price, this gun plan cannot be beaten.
Before You Build a DIY Gun Rack and Cabinet
While building a gun rack is a great idea to save good money, there are certain important things you should consider.
First and foremost, your safety is always the number one priority. If you have small children in the house, make sure that the gun rack is out of their reach.
If you decide to build a DIY gun safe, it should meet the set standards, like having safer door hinges so that an intruder cannot remove the gun safe door.
You should also consider building a locked cabinet to store the guns in to ensure that only authorized persons have access to them.
Another thing to consider is the type of wood you use. If you live in a high-humidity area, then using hardwood like oak or cherry is not a good idea as they tend to absorb moisture and swell. Softer woods like pine are a better option in such cases.
Finally, you should also ensure that the gun rack is stable and does not tip over easily. It should be securely anchored to the wall so that it does not fall over if somebody bumps into it.
Share the post "30+ Gun Rack and Cabinet Plans [Blueprints for DIY Build]"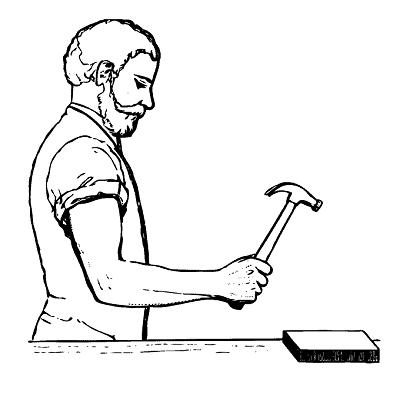 Hi, I am Mark Garner a professional carpenter, woodworker, and DIY painter. I live in the small city of Peoria, Arizona as a semi-retired woodworker. I have started this blog with a simple motive to help you with my wood experience in this sector. If you like to know more about what I love doing and how it all got started, you can check more about me here.