Maple wood floors are ideal for contemporary open spaces that require more consistency. Thanks to the subtle grain patterns with the light natural finish of the wood that provides a decent cleaner-looking surface.
Many homeowners consider maple wood a great alternative to oak because it's harder. However, considering the fact that the material is prone to scratching, it's essential that the surface is treated with a protective coat like shellac, especially when it's subjected to heavy footfall.
What is shellac, and why should you use it for finishing wood floors?
Shellac flakes are a natural gloss product (extracted from insect secretions) that can help achieve the desired protection along with a finish that lasts for a long.
It's basically a wood-finishing product that has been used for decades.
Back in the past, people used them when modern polyurethane glosses were not so popular.
There are still purists who prefer using soft and pliable shellac flakes due to their kind of amber look and aesthetic feel.
If you are one among them who desire to refinish your wood floors with shellac, here is a DIY guide with step by step process that can help.
How to Apply Shellac to Wood Floors?
One great advantage to shellac wood floors is you do not need to strip off your floor to remove all the glossy finishes.
Provided you prepare the shellac flakes properly, they can adhere well to the surfaces and can be directly applied without stripping the floor completely.
Step 1 – Prepare
Before starting with the project, prepare yourself by putting on rubber gloves.
Then with a 200-grit sandpaper block, lightly sand the floor to make shine dull.
Vacuum clean the floor and wipe down the surface with a dampened cloth in water. Allow it to dry.
Step 2 – Dissolve shellac flakes
Break up the store-bought shellac flakes into small pieces with a hammer.
In a small bucket, dissolve one pound of dry shellac flakes in one gallon of denatured ethanol or rubbing alcohol to get a well-thinned one-pound cut.
Alternatively, you can use methanol to dissolve shellac, but it will tend to evaporate quickly.
While mixing shellac and alcohol, prepare enough solutions that can cover the entire floor in one thin coat.
Step 3 – Apply the first coat of shellac
Using a bristle paintbrush, apply the diluted shellac to the floor.
Starting from the farthest corner of the door, brush the floor slowly.
Make sure you apply a thin, even coat of shellac without creating any bubbles.
Step 4 – Let it dry and sand
After you have applied the shellac to the entire floor, let the floor dry for about six to eight hours.
Then sand it using a 400-grit sandpaper block or a superfine #0000 steel wool.
Make sure you buff the shellac finish very lightly to dull the shine and fix any raised wood grains.
Vacuum the floor and use a tack cloth to wipe away any sanded dust from buffing.
Step 5 – Apply successive coats
Once the surface is clean, examine your polished woodwork closely to check if there are any areas that are not covered properly.
You should be targeting these specific areas while applying successive coats of shellac.
Using a paintbrush apply the second coat of dissolved shellac as you have done in Step 3.
Let the second coat dry, sand the area, clean, and then reapply the shellac.
For achieving a good shine and finish, you will need to apply at least 3 to 4 coats of shellac.
Repeat the steps until you get the smooth finished look you are happy with.
After you have applied the last coat, allow the topcoat to dry for about 24 hours before you use your floor.
TOP TIPs:
It's good to apply multiple thin layers of shellac than applying 1-2 thick layers.
Several thinner coats will produce far better results.
Also, if you desire to achieve a satin finish (rather than a highly glossy look), you can buff the top coat lightly with steel wool.
And then, apply a bit of a thin layer of non-silicone paste wax with a cloth.
---
Pros and Cons of Using Shellac
Shellac wood finish is prepared by following a unique process, and it comes with various benefits along with a few drawbacks as well.
So, let's check them out if you plan to finish your wood floors and furniture with shellac resin flakes.
Advantages
Quick-drying time
Ultra-beautiful & glossy
Available in a wide variety of colors
It can be wiped on, brushed, or sprayed
Creates no unpleasant smell or toxic fumes
Superior adhesion with excellent hardness – can be sanded as well
It's FDA-approved — safe for food utensils and even for coating children's toys
It's a great sealer that can also seal in finishing contaminants such as silicone, waxes, dirt, and oils
Scratches and other minor surface imperfections can easily be repaired by re-applying the shellac
Disadvantages
Shellac flakes have a short shelf life after its mixed with alcohol
It can show scratches pretty fast and often requires waxing the surface
It's sensitive to heat and will start to soften at about 150 degrees F – which means hot items can easily mar the surface
The shellacked surface can get stains, blemishes, and scars when it comes in contact with water or strong alcoholic beverages.
Above all, the shellac wood floor finish is not resistant to alkaline compounds and alkaline chemicals such as lye and ammonia.
These are usually found in household cleaning products and can discolor the surface quickly if not used cautiously.
---
What to Look for When Buying Shellac?
When buying dry shellac flakes from the nearby store, it's important to look at the "cut" of shellac.
In simple terms, the "cut" of shellac is the strength you get when you dissolve one pound of shellac flakes or buttons in a gallon of alcohol (equivalent to 120 grams per liter).
For instance, two pounds of shellac flakes thinned with one gallon of alcohol produces two-pound-cut shellac.
And four pounds of shellac flakes thinned with a gallon of alcohol produces four-pound-cut shellac.
While advanced woodworkers prefer to mix and use their homemade shellac (for its high quality), there are also pre-mixed commercial preparations of shellac that come at a 3-lb. cut.
Most of these premixed polishes are ready for immediate application and require no prior preparations.
And hence it's an ideal recipe to use for beginners who do not want to get into the hassle of mixing and dissolving shellac flakes.
---
Maintaining and Repairing Shellac Finishes
High moisture and humid conditions can damage a shellacked wood surface faster.
It can develop dull white spots due to water, but following a few tricks, you can easily fix and remove them.
On a piece of rag, sponge, or scrubbing pad, takes a bit of alcohol.
Rub it lightly to remove the spotted shellac layer.
Then using a brush, apply a coat of shellac finish to get an even layer.
If there are dings or scratches developed, you can repair them by filling the scratches with some leftover shellac.
Buff it lightly, and add a thin coat of shellac layer to get the surface repaired.
---
How to Remove the Old Shellac Finish of the Floors?
It's a matter of time before the shellac finish gets old, looks dull, and you think of removing it.
When you need to strip the shellac off of wood, you basically have two options, either reapply the polish or stain/paint the wood.
No matter what's your plan, removing the shellac coat is easy.
You will, however, need to start by confirming the old layer you are trying to remove is shellac and nothing else (like lacquer, polyurethane, etc.).
Apply a bit of denatured alcohol (dipped in a rag) onto an inconspicuous wood area.
Let it sit for several minutes, then touch the spot with a piece of rag.
If the finish feels sticky – it's shellac. If it doesn't feel sticky – it's probably lacquer.
After you are sure, use a soft cloth dipped in denatured alcohol to remove the shellac finish.
For removing the lacquer, you will need to use a lacquer thinner – it's a great paint and finish remover for wood.
Rub the rag of denatured alcohol over your woodwork in circular motions
This will soften the shellac to make the layer sticky and sludgy
The softened shellac layer can now be removed with a clean piece of cloth or a dull scraper knife
When stripping shellac out of wood, make sure you work in small sections at a time.
And if you notice the shellac layer not getting softened, give the alcohol some more time to work before wiping or scraping the shellac off.
Final Thoughts
Unlike polyurethane, the shellac finish isn't very tough.
Plus, it does not hold up as well to foot traffic, moisture, and other environmental conditions.
But there are many advantages to applying the shellac on your maple, walnut, or oak wood floors in addition to the rich, luxurious, and pleasing natural look you get.
If you are planning to give your floors a good touch-up and classic refinished appearance, make sure you keep the above steps in mind and follow them earnestly.
Share the post "How to Refinish a Maple Wood Floor with Shellac Flakes?"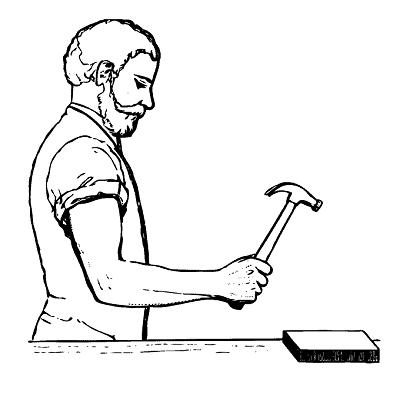 Hi, I am Mark Garner a professional carpenter, woodworker, and DIY painter. I live in the small city of Peoria, Arizona as a semi-retired woodworker. I have started this blog with a simple motive to help you with my wood experience in this sector. If you like to know more about what I love doing and how it all got started, you can check more about me here.