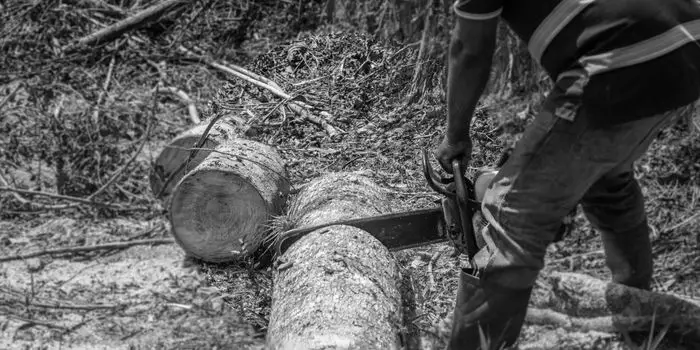 Wood logs from trees are one of the most versatile natural resources. You can use them for fuel or make furniture, tools, buildings, etc.
The good thing is they are easy to come by – all you need is a chainsaw and some patience – and they are often free.
If you're searching for something interesting to start right away with tree logs, I've compiled a list of wood log DIY projects below.
These easy project ideas utilize logs and will not require you to turn them into planks first, yet they will preserve all the natural beauty of the log form and structure when completed. I am sure you will be going to love them.
DIY Log Projects and Ideas
As you will see in the list below, there are lots of cool ideas and methods that can help you add logs to your home decor.
So without any further ado, here are all the fantastic things you can make with tree logs.
1- Log Footstool
The first one on my list is highly functional and unique.
It's shared by Mother Daughter Projects on Hometalk and their Youtube channel. So, you can get written text and video tutorials on making it.
The footstool is something that's always welcomed in every home. Plus, this particular design is comfy and would look great in any room of your house – from the bedroom to the living room.
You can even put them beside your workplace or a work table to relax your feet while you work.
The most exciting thing about this design is its secret storage compartment inside. Anyone would rarely come to know about it until you revealed the secret.
So, if you're looking for an innovative and functional way to use your tree logs, this is it.
2- DIY Engagement Ring Box
The second wood log project on this list is both unique and small, taking inspiration from being outside the box.
It won't take more than an hour to make this with a few screws, sandpaper, glue, and other cheap materials.
Not only for rings, but you could also use this same technique for making a jewelry box out of smaller logs.
Here at ruffledblog you can get more information if you're unsure where to start. They have provided a complete step-by-step tutorial with photos.
3- Tree Stump Side Table
Emily from The Wicker House has shared this excellent project idea at Hometalk here; I am super impressed with the design and beauty.
You should definitely check this out if you are looking for ways to make an awesome log side table without spending a fortune.
The light-colored wood log and the design made on it by the black marker are impressive. You can go creative and make any design on it.
You can create this project by simply finding a tree stump, cleaning it up, and adding some natural finish.
4- DIY Outdoor Log Bench
Tree trunk cut and designed into a gorgeous bench – doesn't that sound like a great idea for your garden or backyard?
You can create this awesome bench within an hour with some simple supplies like screws, a saw, and a drill.
This is one of the best ways to use your tree trunk logs meaningfully.
The design can be modified according to your needs. You can either go for a curved design or a simple straight one like the one in this picture.
5- Wood Log Staircase
This one will need some professional help if you want to set it up in your home. But the idea is super exciting.
A wood log staircase can bring a naturalistic charm to your home. Also, it would be a great idea to use some old tree logs for this staircase/step project.
If you want to take on the challenge of creating a simpler design, here is one great tutorial here by Freshome. You can make one for your log home, and it will look great.
6- Small Table for Home Library
If you love reading books in your home or office, then this project is for you. All you need is a small log and sawing skills. You have a beautiful and unique table for your home library.
The design shown here is simple, sleek, and easy to create with just any type of wood log. Glue a piece of circular glass as a top to go with it.
7- Natural Tree Log Recliner
For a rustic bedroom, living room, study room, kid's room, or even a home office, this contemporary farmhouse-style recliner or chair made of tree logs is a great idea.
This would require some wood-cutting and carving skills, but the end results can be super amazing if you do it right.
The best part about this design is that it can go with any kind of interior style and decor.
8- Relaxing Log Lounger
A perfect project idea for the summertime – a log lounger.
This one is incredibly easy to make and doesn't require any particular skills. The design would look fabulous in any garden or indoors, and it's extra comfortable with cushions to prevent a sore back.
You can customize the curve and size of the wood log to fit your needs and a preferred lounging position.
9- Outdoor Bed or Swing
There's nothing more relaxing than an outdoor swing set on the weekend. It's all that you want after a long hard week at work.
And if you can add a bed to it, then it would be the best spot to enjoy some quality time with a book or your partner.
This idea is super cozy and can be created with some old pieces of tree logs, a few chains, and a rug or mattress.
Make the holes and tie them with a rope or chain. Your outdoor bed swing is ready.
10- DIY Christmas Art Decoration
OH Dear, Santa, Please come down the chimney tonight.
This is one of the cutest and most beautiful ideas to make a DIY Christmas decoration with tree logs.
You can either carve out Deer, Santa, Pumpkin, Hocus Pocus, or any other character on the log and then paint it.
Or simply write down your wish list and decorate it accordingly to place them inside or outside in your yard for decoration on Halloween.
11- Half Log Candle Holder
If you have a Forstner bit, then making a candle holder is as easy as 1-2-3.
Simply cut a tree trunk in half lengthways, use the Forstner bit to bore out holes for your tealight candles, and treat the wood accordingly.
You can opt to coat it with wax if you want the woodgrain to show through or go with varnish for a more polished look.
Or don't even bother varnishing, cleaning it up nicely, and leaving it natural as it adds rustic charm.
12- Coat and Hat Rack
For fashion-conscious people who have a good collection of branded coats and hats to display, this project is definitely a great idea.
All you need to do is find a good-shaped tree log and cut it into such a way that it can be installed as a whole unit on the floor or on the wall.
You can use this as a coat rack or for holding your hats, scarves, jackets, bags, etc.
13- Wood/Log Owl Decorations
This one is so darn cute that I cannot resist adding it to the list.
You can use tree logs or fallen branches (of different sizes) to create these beautiful owl decorations for your home.
Cut a few of them into slices, paint them, and use them to make the eyes.
To make the eyes more attractive, glue small twigs behind them. Add some dotted feathers for an extra touch. Then, use bark for the wings.
14- Wood Log Cluster Coffee Table
Want to add a uniquely designed coffee table to your living room that cannot be seen anywhere else? This is an excellent idea.
Collect a bunch of small tree logs, clean them up, varnish (or not), and arrange them in any way you want. This will become the base of your coffee table.
For the top, you can use a large slice of a tree trunk or a big piece of glass cut to size.
15- Fireside Log Sofa Table
A rustic sofa table or a console table for your home can be made similar to this interesting and easy idea.
Take a long and sturdy tree log, cut it into 2 or 3 pieces, and use them as the legs of your sofa table.
Add some decoration with smaller pieces of logs at the bottom of the table legs if you want (as shown in the image above).
For the top, you can either use a bigger tree slice nicely cut and carved or any other kind of tabletop material such as glass.
16- DIY Rustic Desk with Tree Log Legs
Found some thin tree logs and want to make good use of them?
This rustic desk idea is great to try. Simply use the logs as the legs of your computer desk and pair them with any kind of tabletop material.
A simple plywood board painted with white chalk paint can be a good idea here.
This can be made into a home office desk, a kids' homework station, or even a dining table.
17- Handcrafted Wood Slab Stool
This 3-legged thick wood slab stool can be made for decorative purposes in your home or even for extra seating when you have guests over.
To make it stable and strong, use three pieces of tree logs, branches, or hairpin legs.
If you are using solid wood, cut them to the same length and attach them to the bottom of the wood slab with glue, screws, or nails.
The top can be left natural or sanded down for a more polished look.
18- Wood Slices DIY Wall Art Decoration
Wood logs and wood slices can be put to decorative use for your walls, as well.
A creative way to display small wood slices is by making a wall art arrangement or an accent wall out of them.
Just make sure you have enough slices cut before beginning this project; it will require many wood slices.
Another option is using smaller pieces to create wall hangings or artwork like the video below, which you can then place around your house in different locations.
19- Wood Log Planters for Garden
Want to give your succulents and cactus plants a bit of rustic look? These hand-crafted wood log planters are perfect for that.
Use any size or type of tree logs you want and simply make a hole in the center of each log for planting.
Don't stop with only one, but make a bunch of them in a variety of different sizes and styles (as you see in the image).
You can either leave them as they are or paint them in any color you want. These make for great housewarming gifts, as well.
20- Rustic Lanterns Or log lamp
Wooden floor log lamps are amazing to add some extra decorative lighting to your indoor or outdoor.
This great tutorial will help you work through all stages – the guide is easier than it sounds.
You will need some tools like a saw, measuring instruments, and others, as well as some supplies such as paint, wires, and electric lights.
21- DIY Tree Stump Bookends
Bookends made with tree stumps are a creative way to spruce up any bookshelf.
For this specific project, you need a tree stump (or two, depending on the size), a drill, and some paint.
Start by drilling a hole in the center of each stump, then painting them any color you want.
Once the paint is dry, simply place your books in between the two bookends. This is a great project for kids to try as well.
22- DIY Wood Slice Clock
This wood-slice clock is a creative and unique way to keep track of time. And it also makes your wall or desk look great.
The best part is that it's easy to make with just a few supplies like tree logs, a clock mechanism, and some paint or stain.
23- Tree Log Pet or a Birdhouse
Love to see the Blue Jays, Purple Finch, and Mourning Dove coming to your place in the morning. What's a better idea to install a bird feeder in your backyard?
But buying an expensive one from the market is not a good option when you can make it yourself with some imagination and creativity.
Just take some tree logs and carve them like a birdhouse. It would look fantastic in your backyard and also save you some money.
You can get the same inspiration to get a lovely house for your dog or a cat indoors if you want.
24- Tree Log Wine Bottle Holder
For easy access or to just show off your collection, build a wine rack from repurposed tree logs. This wine holder can be easily installed on the floor anywhere you want and is easy to make.
The best thing is it looks great with any type of decoration and gives a natural touch to your indoors if you install it creatively beside your bar table.
25- Log Slice Lazy Susan
This DIY log slice lazy susan with led lights is a project that is easy to follow with all the instructions provided over here.
Not only does this live edge lazy susan help you move food around conveniently while serving (with a bearing that ensures that it moves smoothly), but it also has LED lighting to set the mood for your guests.
26- Log and Stumps Picnic Table
A nice picnic table is a must-have in every house, I think, as it can be used in so many ways other than just eating outside.
Especially if you have some extra space in your backyard, you should definitely make a kind of this log and stump picnic table.
It's easy to make, and it looks great if you add some colorful cushions for the seats. This table can also come in handy during parties as an extra eating or serving space.
27- Creative Nut Bowls
Nut bowls for your kids, pet, or decoration purposes can be made very easily with some tree logs. Just cut the logs into equal pieces and make a hole in each one big enough to put a nut in.
Then, paint the bowls any color you want and let them dry. These creative nut bowls can also be used as a unique and thoughtful gift for someone special.
28- Tree Trunk See-Saw for Kids
Seesaw has been, for centuries, one of the most popular outdoor games for kids. And what's a better way to make one than using some tree logs?
This project is a bit more complicated than the others on this list because of the mechanism to hold in the middle, but it's still doable if you have some basic carpentry skills.
Your kids will love this see-saw, and they'll definitely enjoy playing with it for hours.
29- Rustic Vanities and Mirror Frame
Rustic vanities made from natural wood are the perfect addition to your bathroom if you can craft them well.
Especially for log homes, the lovely set can serve as a beautiful decor piece as well as be very functional.
30- Pen, Pencil, and Smartphone Holder
Have you ever wondered how pens, pencils, art brushes, and even smartphones can be easily organized and stored in a creative way using some tree logs?
Just cut the logs into equal pieces, make a hole in each one big enough to fit the objects, and paint them any color you want.
You can also use these pen and pencil holder stands as a unique and thoughtful gift for someone special.
Final Thoughts
There are plenty of things you can do with tree logs, as you can see.
So, if you have some tree logs lying around, don't throw them away – put them to good use and make something beautiful and functional out of them.
Who knows, maybe you'll even find your new hobby in woodworking while practicing these great do-it-yourself wood log/stump ideas.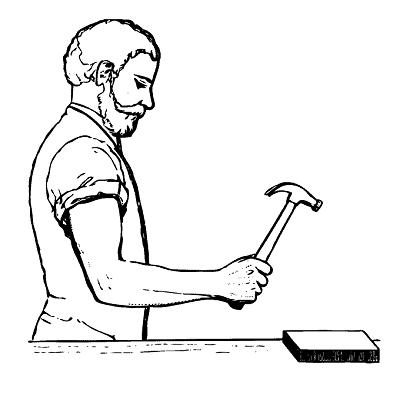 Hi, I am Mark Garner a professional carpenter, woodworker, and DIY painter. I live in the small city of Peoria, Arizona as a semi-retired woodworker. I have started this blog with a simple motive to help you with my wood experience in this sector. If you like to know more about what I love doing and how it all got started, you can check more about me here.