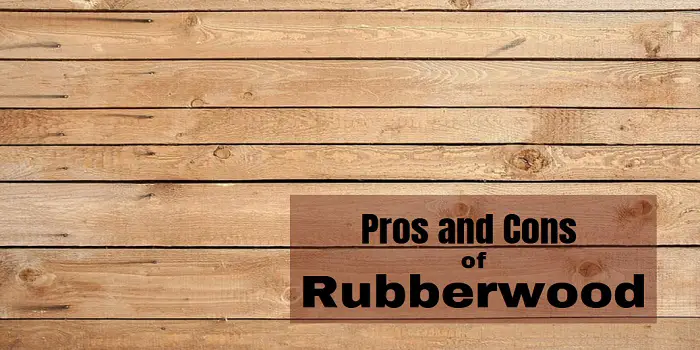 Many people believe it's a kind of elastic wood, much like a "rubber."
But the truth is rubberwood is a type of real wood that comes from the Pará rubber tree (Hevea brasiliensis), hence its name.
These trees are usually tapped for latex (basic raw material that is used in the manufacturing of natural rubber). They are mostly found in Asia, Africa, and some parts of South America.
The extraction of latex starts from the rubber tree at about 9 years. And it continues until 30 years.
At the end of the lifecycle, when the trees are unable to produce latex, they are harvested for rubberwood lumber.
Since the wood is only produced after the trees reach the end of their production cycle, it's considered an environmentally friendly, sustainable forest product.
However, there are some pros and cons to consider before deciding whether or not to use rubberwood in your home.
Let's get into them right below…
Rubberwood
Scientific Name:
Hevea brasiliensis
Tree Size:
75-100 ft (23-30 m) tall
1-3 ft (.3-1 m) trunk diameter
Janka Hardness:
960 lbf (4,280 N)
Type:
Hardwood
Odor:
It has an unpleasant sour odor while being worked
Specific Gravity (Basic, 12% MC):
.49, .59
Common Uses:
Interior millwork and kitchen woodenware (cutting boards
Advantages of Rubberwood
Rubberwood (also called "parawood" or Malaysian oak) offers a wide range of benefits which makes it a popular choice for home furnishing retailers.
From cabinetry and furniture (such as desks, tables, and chairs); to kitchen accessories (like cutting boards, knife blocks, and much more), rubberwood is today used for making a variety of different household goods.
Also, because it glues well, it's useful in making tabletops and chair seats where small pieces or large panels need to be glued.
Some additional benefits that come with rubberwood include:
1- Beautiful:
Rubberwood has a beautiful, distinctive grain that can add visual interest to any space when used as furniture.
Also, the natural color of rubberwood is light brown, which turns into a medium to dark color after being exposed to the light and kiln drying process.
Sometimes darker with medium brown streaks and pinkish tints are also seen, so it rarely requires any additional finishing.
2- Durable:
Rubberwood is strong and durable, making it a good choice for furniture and flooring.
Although rubberwood is strong enough for furniture, it is less dense than most hardwoods, so it's lightweight and easy to work with.
It doesn't warp or crack easily during manufacturing, making it highly resistant to changes in humidity.
It's also resistant to pests and decay, which makes it a long-lasting option.
3- Cost-effective:
Another reason why rubberwood is getting popular is it's not as expensive as other types of wood, such as rosewood and teak.
It's also cheaper than many tropical hardwoods, making it a more affordable option for industries that manufacture plywood, saw timber, veneers, particleboard, etc.
While it is more expensive than softwoods, rubberwood has the added benefit of being stronger and more durable.
4- Sustainability:
Rubber trees don't require fresh water or soil to grow since they are grown in rubber plantations.
They also benefit the environment by absorbing carbon dioxide and producing oxygen during photosynthesis.
Wood itself is considered a sustainable resource because it's fast-growing and requires only sunlight, rain, and shade for cultivation.
5- Easy to work with:
No matter whether you want to use power tools or need to work with some basic hand tools, wood from a rubber tree is relatively easy to work with.
That's the reason it is well-suited for an array of different woodworking projects.
It's super easy to saw and smooth rubberwood, you can easily drill or nail into it, and it's also great for turning molding and joinery projects.  
6- Takes stains well:
Rubberwood can be stained any color, so it's easy to customize the look of rubberwood furniture.
It can also be painted in any color to make it appear like cherry, oak, or walnut.
It's important to note, however, that different stains and finishes may affect the durability of the wood.
So, if you are considering painting or staining, do it properly and seal the wood correctly for a long-lasting finish.
7- Naturally resistant to heat:
Yes, you heard it right.
The wood from a rubber tree is naturally resistant to heat which means if something hot touches the surface accidentally (like a burning cigarette), it can easily withstand fire and burning.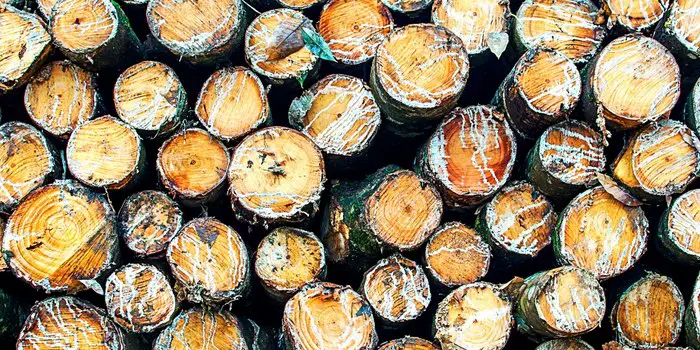 ---
Disadvantages of Rubberwood
Despite all the advantages of the most versatile rubberwood, it does come with a few drawbacks as well.
These include:
1- Perishable:
Although Rubberwood is generally durable, it can be susceptible to insect damage.
Especially without proper care and maintenance, the wood can deteriorate quickly and become perishable.
Rubberwood is also susceptible to fungal rot or heart rot.
So, it's important to avoid exposing rubberwood furniture to moist conditions or large fluctuations in humidity or temperature, which can damage the wood's cellular structure.
2- May trigger allergies:
Rubberwood is a type of wood that contains latex – so it can cause an allergic reaction in some people.
If you have a latex allergy, you should completely avoid using rubberwood furniture or products made of this wood.
Also, bear in mind that to make rubberwood long-lasting, it is most of the time undergoes a Kiln drying process and treated with harsh chemicals, which can be toxic for many.
3- Isn't great for outdoor use:
While rubberwood is strong and durable, it's not recommended for use outdoors.
The wood can become brittle in extreme weather conditions and is vulnerable to insect damage.
Additionally, rubberwood is a lightweight wood, so it can warp or twist if it's not properly supported.
So, it's important to use brackets or other supports to keep rubberwood furniture from warping.
And listen.
Rubberwood can be extremely slippery if water, oil, or other liquids are accidentally spilled on it.
This is due to the kiln-seasoned process, which shrinks the pores of the wood while increasing hydroplaning.
---
Is Rubberwood Synthetic Rubber – How Much Does it Cost?
No, rubberwood is not synthetic rubber. The name of the wood comes from the "latex" that grows in the tree throughout its life in very small quantities.
The rubber wood is solid and not rubbery at all. It is a blonde color that is similar to maple, which makes sense considering its texture is also similar to maple though it is a bit coarser.
Although the cost of rubberwood furniture varies by manufacturer and quality, the price of finished wood is typically about the same.
In general, you can expect to pay anywhere from $320 to $350 for a 10x2ft piece of rubberwood which comes out to be less than $20 per square foot of finished wood.
If you choose to buy unfinished rubberwood, you may have to pay less amount.
The Final Thoughts
Due to its lightweight, beautiful finish, strength, and durability, rubberwood is a good choice for furniture and flooring.
It can withstand everyday wear and tear, making it a practical option for use not only in homes but also in offices.
If you are considering lumber for new construction or renovation, make sure you go through all the benefits and drawbacks it offers before making a final decision.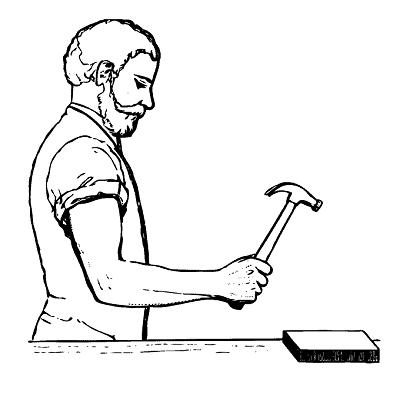 Hi, I am Mark Garner a professional carpenter, woodworker, and DIY painter. I live in the small city of Peoria, Arizona as a semi-retired woodworker. I have started this blog with a simple motive to help you with my wood experience in this sector. If you like to know more about what I love doing and how it all got started, you can check more about me here.