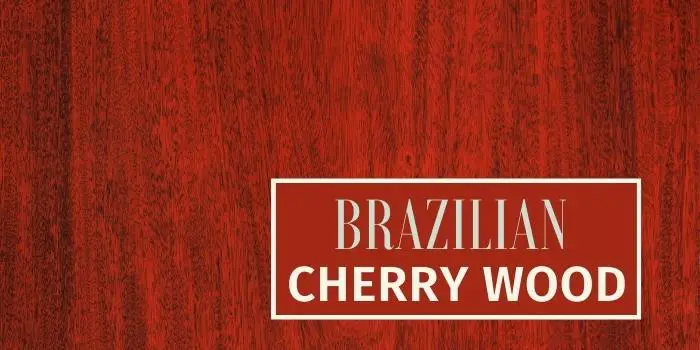 Brazilian Cherry Wood (also known as Brazilian cherry, Jatoba, West Indian locust, or Courbaril) is an exotic, beautiful hardwood with rich, varying shades of browns and reds throughout the plank.
The harvested wood can vary in quality from light sap to heavy figure, but all contain the deep rich color that makes this type of floor stand out from others.
Brazilian Cherry was known for being a bold and beautiful choice in innumerable houses from 2000 to 2005.
However, Brazilian Cherry Wood is today becoming out of style, due to the dark, vivid colors and red undertones with contrasting dark grains it possesses.  
With a wide variety of colors and wood options these days, there are not many people who like this dark orange to a reddish-brown tone for their wood flooring.
With that said, if you like deep colors like red, and dark browns there is nothing wrong with Brazilian Cherry Wood.
However, here are some advantages and disadvantages to consider before installing Brazilian Cherry Wood flooring or furniture in your home:
Advantages Of Brazilian Cherry Floors
It does pay to have a good understanding of the type of lumber if you are considering it for your home renovation.
For Brazilian cherry timber, let's start with the pros…
1. Warm Design
Brazilian Cherry Wood is a beautiful and warmly designed floor that will add beauty and elegance to your home.
The varying shades of browns and reds in the wood offer a rich, natural look.
The grain patterns are also very attractive, and they can help to brighten up a space.
Furthermore, you can get wood from a variety of types and styles like prefinished, engineered, laminates, etc.
2. Tough & Durable
With a Janka hardness rating of 2350 Brazilian Cherry Wood is one of the toughest hardwoods available on the markets.
As long as the wood is cleaned and treated on a regular basis, it won't warp or change color.
The wood is resistant to dents, scratches, and can withstand a lot of wear and tear.
The natural finish on the wood will also help to protect it from spills and other messes, making it a good choice for high-traffic areas.
The wood will also resist fading in direct sunlight, making it a good choice for furniture that will be placed outdoors or in sunny rooms.
3. Cost
Brazilian Cherry Wood is a little costly but is still a very affordable flooring option for most budgets.
It's more expensive than your average wood, but it is also made of high-quality material that will last the test of time.
Since so many people are used to hardwood choices that are cheap and easy to find, this may be an issue if you are on a strict budget.
On the plus side, since the wood has such high-quality material, it will last a long time, making it worth the cost.
4. Adaptability
Brazilian Cherry Wood is easy to adapt to any decor.
The rich color of the wood will also help to make a small room look bigger and more open.
Also, the wood does not have prominent knots or graining that will distract from the floor's overall design.
5. Can be Refinished
If you get bored of the color of your Brazilian Cherry Wood floors, or if they become damaged over time, you can always refinish them.
It will match most woods and can be stained in either light or dark colors, making it versatile for any room in your home.
The process is not overly difficult, and as long as you have the right tools and knowledge, you can do it yourself.
Disadvantages of Brazilian Cherry Floors
Although Brazilian Cherry Wood is a good value for the price, it is still more expensive than most other types of wood.
Few other drawbacks that you should consider before picking this timber option include:
1. Not Versatile
Since Brazilian Cherry Wood is a kind of dark wood, it may not be ideal for every space in your home.
It can be overpowering in a small room, and may not be the best choice for a hallway or other areas that are frequently used.
You'll need to take into account the size and layout of your home before making a decision about whether or not to install this type of wood.
2. Water Damages
Unlike other woods, Brazilian Cherry Wood is susceptible to water damage and rot.
This means, if you are not careful, your floors could become warped or stained if they come into contact with any type of liquid.
If you need to use this wood, it is important to place mats at all entrances to your home and to clean up any spills immediately.
You may also want to consider using a wood sealant to help protect your Brazilian Cherry floors from any potential damages.
3. Hard to Maintain
Brazilian Cherry planks and laminates are not very light-colored.
Plus, the grains and imperfections on the floor are often darker than other types of wood.
This means that if you do not keep your floors clean (and even sometimes if you do), dirt and dust will be very much visible on them.
For preventing the dirt and to keep the floors looking their best, you'll need to sweep or vacuum your floors on a regular basis.
While this isn't the problem always, but it can really be a headache for many homeowners.
Final thoughts
Brazilian Cherry Wood has been a popular wood flooring choice amongst homeowners for years.
The wood's natural color may complement the most decor and come with the ability to make a beautiful statement on its own.
By refinishing the wood, you can even give it a new look and extend its life for many more years.
While Brazilian cherry sounds like an exotic option for your home, the prices really are not all that exotic. Plus, the deep red tones of the wood are not the favorite for all.
So, it may not be the best option if you are wanting a floor that will not stand out as much.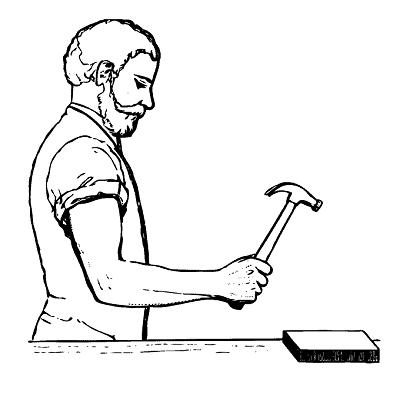 Hi, I am Mark Garner a professional carpenter, woodworker, and DIY painter. I live in the small city of Peoria, Arizona as a semi-retired woodworker. I have started this blog with a simple motive to help you with my wood experience in this sector. If you like to know more about what I love doing and how it all got started, you can check more about me here.