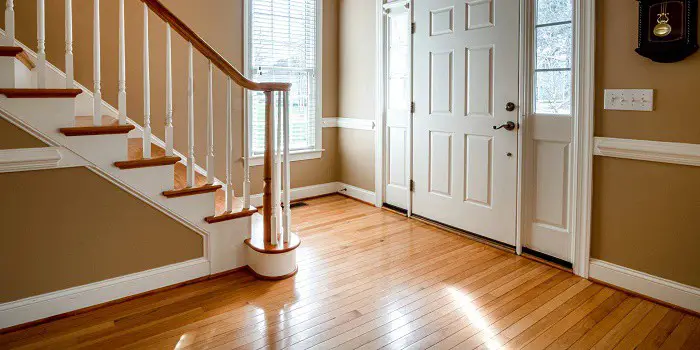 Traditionally most floors in houses were made of concrete. But today, depending on personal preferences, the room or space that needs to be covered, there may be other materials used.
Some of these flooring materials include tiles, wood boards, cork, linoleum, vinyl, plywood, and so on.
While plywood is great when used for cabinets and other vertical surfaces, it can also be a great flooring material as well.
The reason why plywood is getting popular worldwide as a flooring material is its affordability, flexibility, and easy installation process. Plus, it's available in various designs so that you can use choose the one that matches your home décor perfectly.
That said, plywood is less durable than most other flooring materials, such as hardwood.
So, you should either avoid using plywood for all your rooms or should consider sealing them with something like epoxy paint.  
But can you use epoxy paints and floor coatings for plywood floors? Is it safe, reliable, and durable?
Well, epoxy floor paint can act as an excellent plywood coating, provided you know how to apply it properly.
In simple terms, you should be employing the right preparation steps and application strategies – failing which epoxy paint application on plywood can be a complete failure.
How to Epoxy Your Plywood Floor?
When it comes to applying epoxy flooring coat, there are quite a few other aspects as well, apart from the chemical and technical side of things.  
Some of the things that come into play when you are going in for epoxy floor coating are:
the right temperature for the application of flooring
the right ratio for hardeners and resins and any other additional material such as texture, stains, and colors
allowing the epoxy coating to be applied in the right time duration and given enough time for curing as well
Besides the above, you should always start applying epoxy to wood floors from one far corner and then move towards the exit point of your room. This way, you will avoid getting trapped within the wet epoxy floor paint.
When you are ready to paint your floors, you can follow these easy steps…
Step 1- Sand the plywood
Sanding your plywood floors lightly is essential to prepare the plywood for painting by ensuring that the wood will accept the epoxy paint well.
Remember, already-finished wood floors do not allow proper adhesion if there is an old coat of varnish or sealer over it.
These coatings should be sanded/stripped using a palm sander.
Step 2- Apply the primer
Much like sanding, applying the primer is also important for promoting better adhesion and getting the right finish.
Particularly if you have a bare plywood floor, you should spend enough time preparing the plywood before applying the epoxy paint.
Apply a coat of acrylic latex primer using a roller.
If you have a larger floor area, I recommend using an extension pole for a roller which will make your paint job easier.
After you have applied the latex primer, allow three to four hours for the wooden floor to dry before it gets ready for paint application.
Step 3- Mix the epoxy paint well and apply
Stirring the 2-part epoxy paint well is important to mix the two components (resin and catalyst).
If you do not mix them well, your epoxy paint can go streaky or tacky.
In a 5-gallon bucket, pour the epoxy floor paint
Mix it well for about five minutes using a wooden stick or a paint stirrer
Apply the epoxy paint using a paint roller that comes with a shed-resistant nap cover
Keep in mind that epoxy will begin to dry, get hardened, and get cured quickly (within an hour or two). So, if possible, you should apply the paint to your entire plywood floor in only one session without taking a break.
Tips and Precautions
Well, you no longer have to make an extra effort to take precautions when you are working with epoxy paints and resins.
Some (like keeping your windows open) are literally free of charge.
Often people like to wear a plastic apron when working with epoxy as it protects the body from getting smudged in epoxy and also prevents any accidents from happening in the workspace.
However, if you are ready to take the risk, then go ahead- you will not risk anything with respect to your own health by wearing your casual woodworking apron.
Put on your gloves
You have wide options to choose between metal mesh, canvas, and leather. However, none of them is a good option when working with epoxy paints.
The epoxy paint may have a reaction with the material that the glove is manufactured from. Hence, I suggest keeping several pairs of nitrile gloves with you when working. It is a chemically inert material that doesn't react with the paint.
What if you have epoxy on your hands?
First thing, don't panic!
Epoxy will not cause any harm if you wash it off instantly. You can keep a box of baby wipes with you so that you can wipe it away without any fuss.
Once you have gotten rid of the mess, use soap and water to clean the rest (if your hands are still sticky- make use of a pumice stone).
What not to do with epoxy paint on your hands?
With epoxy on your skin, never use acid or solvents to remove it.
They may harm your skin in their own manner, and you also have a possibility that epoxy may react badly with them and create more trouble rather than solve it.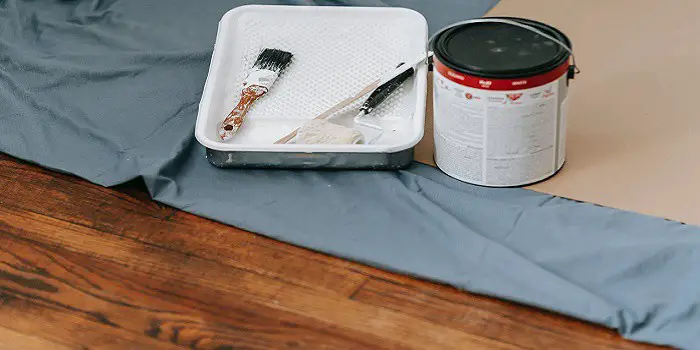 ---
Why Use Epoxy to Paint Over Plywood?
Epoxy paint is basically a 2-part coating that combines resin and catalyst to get a durable coating that can withstand a great amount of friction, abrasion, and resistance.
Perhaps the biggest option of going in for a 2-part epoxy floor paint is the fact that it can be applied on top of existing wood floors as well.
When it comes to epoxy floor coating, there is absolutely no denying the fact that it is becoming a very popular and versatile choice today.
According to experts in the field, various homeowners, commercial establishments, and even factories are now going for an epoxy coating for various reasons.
But one thing that you must take care of is the fact that epoxy is not too highly scratch resistant.
So, if you were to drop something particularly heavy on this floor, then you may see cracks beginning to develop.
But on the other side, very few flooring options come close to the toughness and good looks that an epoxy floor coat can deliver.
The PROS:
Among many advantages, epoxy floor coating offers some specific advantages such as:
Cost-effective
Easy to customize
Easily maintained and cleaned
Waterproof and chemical-resistant 
A good degree of being eco-friendly
Almost total imperviousness to weather conditions
Ability to handle a lot of abrasions, cleaning chemicals, and so on
The CONS:
With many advantages, epoxy floors come with a few disadvantages as well. A few of them are:
Costly maintenance
It can be very slippery when wet
Emits strong fumes when applied
Can get cracks on high-impact areas
The installation and removal process can be tough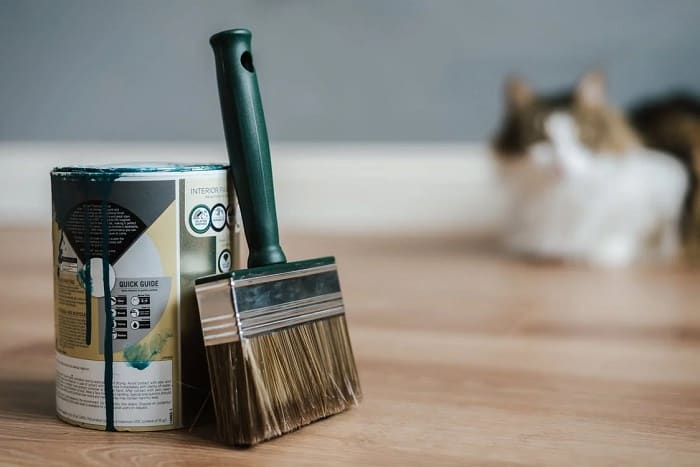 ---
What are the Types of Epoxy Floor Coat Solutions?
There are tons of epoxy products available on the market.
But if you are choosing the one for your plywood flooring, make sure the product is designed specifically for use on these types of wooden surfaces rather than just hardwood.
When it comes to epoxy floor coating, you can choose between heavy-duty coating, thin coating, and self-leveling systems.
Self-leveling simply means that this coating is able to fill existing and tiny crevices and cracks that may be there on the old floor. The result is an ultra-smooth finish.
A thin coating will suffice if it is simply a decorative overlay to a plywood floor that is already well-maintained.
Normally, heavy-duty coatings are applied for commercial establishments and industrial areas.
This is necessary simply because it will see a lot of traffic, not just by way of footfall but also machinery.
Thus, depending on where the epoxy coating needs to be applied, you can always choose between different options, and the result will be a very good-looking space indeed.
Choose between a clear coat or color
If you like the look of your wood, it's good to use a translucent epoxy resin or a clear coat of epoxy.
Or if you need a bit darker color, for example, to complement your wooden stairs or for subfloors, you can prefer epoxy resins that are pigmented. These are designed to be used as paint or a stain on wooden surfaces.
Next, you'll also need to consider epoxy fillers for fixing the cracks, nail holes, or gaps in the floor – before you paint them over.
---
Epoxy Or Polyurethane: What's Better for Wood Floors?
When it comes to deciding between epoxy flooring versus polyurethane floor coatings, I would say both of them come with their own unique characteristics and strengths.
So, both of them would be suited depending on different applications and specific requirements.
In general, epoxy-coated floors turn out to be harder and more brittle
Whereas wood floors, when coated with polyurethane floor coating, will be highly elastic, flexible, and resistant to scratches
That's the reason you'll often find urethane resin coats applied on floors with heavy traffic areas.
One other reason why a PU floor with a multicoat polyurethane is more desirable is its better resistance to extreme temperature changes due to its ability to expand and contract.  
However, a urethane coating is comparatively more sensitive to humidity than epoxy, which makes epoxy a good option for areas that are prone to get impacted by moisture.
FAQs
Can you epoxy paint over vinyl flooring?
It is possible to apply epoxy paint over vinyl plank flooring as well as linoleum tiles and panels, but it can be a difficult material to work with, and it is not always easy to get a smooth finish with it.
If you are not experienced with working with epoxy paints, you may want to consider hiring a professional to do the job for you.
Can epoxy floor coating be used over the wood subfloor?
Yes, you can use epoxy floor coating over wood subfloors.
However, it is important to make sure that the wood is clean and free of debris before you apply the epoxy. Otherwise, the epoxy may not adhere properly to the surface.
You will also need to sand the surface of the wood subfloors before you apply the epoxy. This will help to create a smooth surface for the epoxy to adhere to.
Final Thoughts
When a resin and a hardener come together, it can result in something known as epoxy, which finds many applications in the world. One of these applications is in the form of an epoxy floor coating.
Although latex and acrylic paints are the preferred choices for coating plywood, epoxy floor paint can be used for enhanced finishing if you follow the right steps and techniques.
Plus, the epoxy coat is highly tensile and hard when fully cured. So, you do not need to worry about cracks or chips as long as you maintain them properly.
Share the post "How to Apply Epoxy Paint on Plywood Floor – 3 Easy Steps"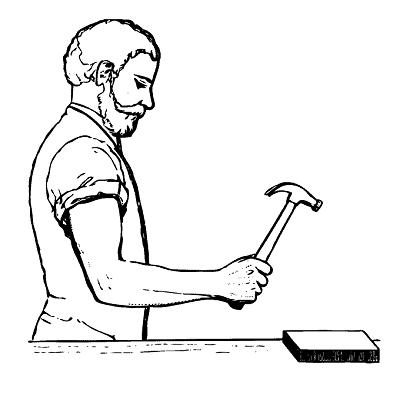 Hi, I am Mark Garner a professional carpenter, woodworker, and DIY painter. I live in the small city of Peoria, Arizona as a semi-retired woodworker. I have started this blog with a simple motive to help you with my wood experience in this sector. If you like to know more about what I love doing and how it all got started, you can check more about me here.