Cypress wood has been used for thousands of years in shipbuilding, so it is well-known for its water-resistance properties.
Due to these properties and because it is easy to work with, cypress wood has also become quite popular in building outdoor furniture, garden structures, deck, siding, and more.
But being a softwood, the cypress is subject to dents and dings, so you will need to craft the furniture carefully when using this wood.
Also, it's essential to clean and seal the wood by applying the paint, stain, or clear sealant annually to prevent the wood from fading.
Can Cypress Wood be Painted?
While Cypress can accept paints and stains readily, clear sealers are mostly preferred for keeping the stunning appeal of its natural honey-like hues.
Clear sealers like polyurethane, when applied carefully and by following all the instructions, can deliver timeless beauty to Cypress that lasts for a long without swelling or shrinking.  
If you are picking any other finish (other than paint, stain, or clear sealer) for your Cypress wood structures or furniture, I would recommend consulting your retailer or paint supplier first before trying them out.
Cleaning Cypress Wood Before Refinishing
Cleaning and sanding the Cypress wood is important to prepare it for getting the wood sealer varnish or paints well.
The easiest way to clean your old Cypress wood furniture is by using warm soapy water and a scrub brush.
If the wood is heavily soiled with black marks, mildew, or molds, consider using a chemical wood cleaner product such as trisodium phosphate (TSP) cleanser, bleach, or oxalic acid for washing.
To use oxalic acid for cleaning, you can follow these steps:
Wear a face mask along with eye protection and rubber gloves
Dissolve 1 to 4 ounces of oxalic acid in 1 quart of warm water
Scrub the stained wood with a brush and then rinse thoroughly with fresh water
It's worth noting that if your old wood is already stained or sealed, remove all the paint using sandpaper. Be sure you do not over-sand the surface; otherwise, the wood will lose much of its desirable look and properties.
If the area you need to remove the paint is large, you can use an electric sander, a chemical wood stripper, or a heat gun to make the process easier and faster.   
TIP: In case the wood surface has a coat of sealant that is still in good condition, a light buffing with fine steel wool or sandpaper is all you need for preparation.  
Clean off all the sanded dust and allow the wood to dry completely before you proceed to paint or stain.
Also, pressure washing shouldn't be used at high pressure for woods like cedar or cypress. It can damage the wood.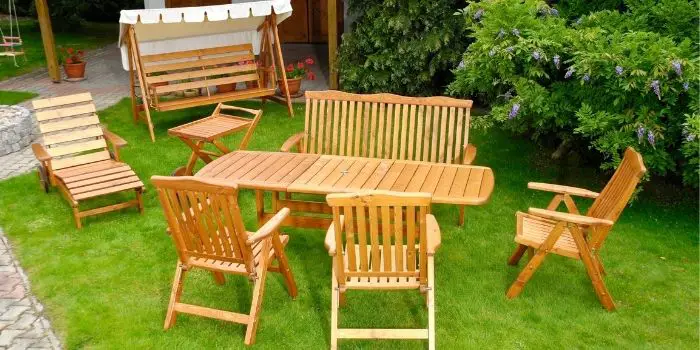 ---
Painting Your Outdoor Cypress Wood Benches
For painting the Cypress wood, start by using a high-quality stain-blocking primer.
Using a regular synthetic- or natural-bristle paintbrush, apply the primer along the grains to get a tighter seal and adhesion for the paint.
Liberally cover every surface of the cypress benches around the perimeter, edges, and underneath, including the legs and handrails.
Also, don't forget to stain the top and underside of the tabletop if you need to refinish the table nearby.
After the primer is completely dried, apply at least two coats of paint on the cypress using oil-based interior or exterior paint.
It's good to pick the paint that a paint manufacturer specifically recommends for use on exterior wood siding.
Tips for Staining Your Old Cypress Wood Furniture
Cypress is a wood that takes wood stains very well.
However, do remember that if you plan to apply a semi-transparent stain, it will not last as long as paint.
Most of them will only provide protection for around 18 to 24 months, after which you will need to re-stain your deck.
Pigmented stains (solid color stains) will last longer, but they will also change the color of your cypress wood furniture so it is important to choose the right shade of stain.
When staining outdoor cypress wood furniture, always use penetrating oil-based stains for the best results.
What Colors are Best to Choose for Outdoor Furniture?
Light colors reflect heat more than dark colors, making the wooden benches less susceptible to damage due to shrinking, warping, checking, or loosening screws and nails.
So, it's good to choose opaque light colors for weatherproofing your outdoor benches made of cypress wood.
Colors like white, light tan, beige, etc., will work great rather than darker colors like black, navy blue, etc.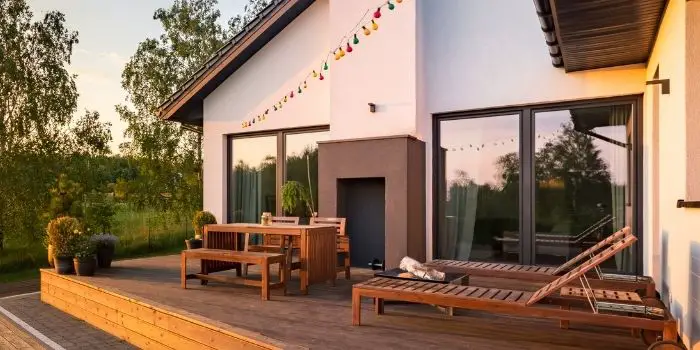 Sealing Your Cypress Wood Structures for Natural Finish
If left unsealed, painted (or stained) cypress lumber will fade fast, leaving a silvery grey color within a few years.
Applying a coat of exterior varnish (urethane) is therefore recommended to protect the light-colored beautiful wood.
If you want, you can apply any other clear wood sealant (such as tung oil) that can preserve the beautiful natural color of cypress wood outdoors.
Do not use polyurethane varnish to finish outdoor cypress wood. It's generally a good finishing product for indoor usage.
While varnish should be applied with a bristle paintbrush in 2-3 thin coats, oil finishes can be wiped on with a rag or sprayed with a garden sprayer.
Make sure you allow each coat to dry before applying the subsequent coats. Also, sand the surfaces lightly between each coat to get a long-lasting smooth, lustrous finish.
TIP: When applying the sealant, be sure to cover all exposed edges, corners, and other delicate parts for more uniform coverage and a quality job.
Final Thoughts
Cypress wood is relatively rare these days, which makes it quite expensive.
Although its natural oils help it resists insects and rot, you should keep them clean and sealed, particularly if you are using the wood outdoors.
When using outdoors (for benches, tables, or chairs), also keep in mind not to place the sealed wood on soil because that promotes rotting.
Overall, Cypress wood material is an excellent choice, provided you do not mind the extra expense and maintenance it needs to upkeep its natural beauty and strength.
Share the post "How to Seal Your Cypress Wood Benches for Outdoor Usage?"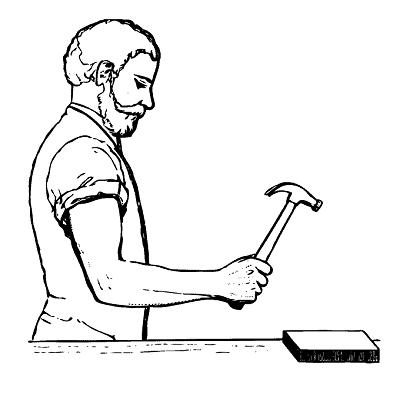 Hi, I am Mark Garner a professional carpenter, woodworker, and DIY painter. I live in the small city of Peoria, Arizona as a semi-retired woodworker. I have started this blog with a simple motive to help you with my wood experience in this sector. If you like to know more about what I love doing and how it all got started, you can check more about me here.