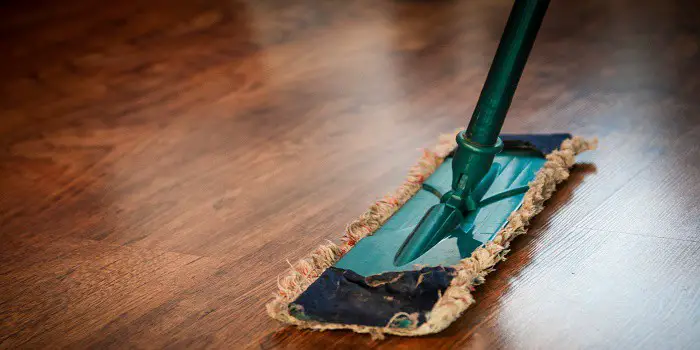 The reason why people choose hardwood flooring is it's durable and provides a rich classic look to the home.
Plus, it is relatively low on maintenance and has different variants suited to different parts of the home, depending on the dryness of the area.
With that said, hardwood floors can become gloomy, lose their natural charm, and can be an eyesore if not cleaned properly.  
This means if you desire to upkeep the shine and beauty of the wood floors in your home, it's essential that they are taken care of well from time to time.
If you think the process is time-consuming and hectic – using mineral spirits to clean hardwood floors can be a great solution.
Not only does the solvent eases your cleaning job, but it will help take care of your floors for decades until you plan a thorough refinishing.
Below is our step-by-step detailed guide, where I will be going to tell you how you can use mineral spirits for cleaning your wooden floors.
So, let's dive right in…
3 Easy Steps to Cleaning Wood Floors with Mineral Spirits
Before you start with anything, it's important that you keep your place well-ventilated.
Since the fumes of mineral spirits can be toxic, you should open the windows and doors in the room and turn on the fans.
Also, you will need to be safe by wearing safety gear like masks, glasses, and rubber gloves.
After doing all the preparations, follow these steps…
Step 1. Test for Mineral Spirits
Test the small area on your wood floor (that is not visible) for the mineral spirits.
Since there are certain types of softwood that cannot resist harsh chemicals like mineral spirits, you should not ignore this step to avoid getting your flooring damaged.
Apply some mineral spirits on your floor using a clean rag. Allow it to dry for a few minutes.
Depending on the reaction or stain, it shows you can make your decision whether it's safe to use mineral spirits or not.
Step 2. Clean and Rub the Floors
After you have done the testing and have confirmed, clean the floor with a mop or a vacuum.
Make sure there is no dirt, dust, or debris on the floor.
Now put some mineral spirits on a clean, dry rag that can clean surface finishes such as varnishes, urethane, and polyurethane.
Gently rub the rag into the hardwood floor until it cleans the stains and scuff marks.
Step 3. Clean the Additional Water Stains
Water stains can be a problem if your wood floor is waxed.
To clean the water stains, you can use fine steel wool and gently rub it over the water stain to roughen it up.
Then with a rag dabbed in mineral spirits, rub in a circular motion to get the stain off of the floor.
Next, apply a bit of wood floor wax to the cleaned spot – buff it gently to get the right finish.
Tips and Warnings
Work on only one small section of the wood floor at a time.
Get the traces of dirt, debris and stains removed completely from this section before moving to another floor section.
Also, when rubbing the floor, do it in a circular motion so that you do not damage the wood surface.
If there are natural wood grains seen, rub in the direction of the grain to upkeep its natural beauty and shine.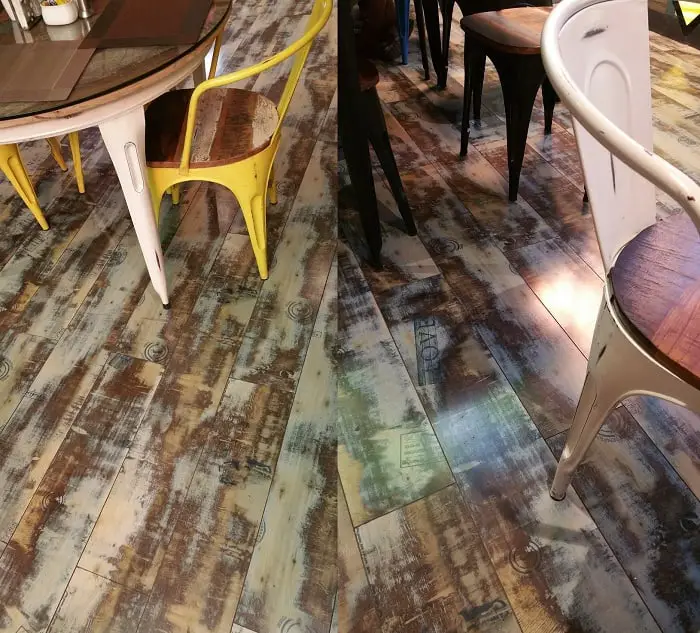 ---
Can You Clean Unsealed Wood Floors with Mineral Spirits?
Unsealed wood floors are meant to add a rustic appeal to your rooms.
However, they should be maintained properly as they lack the protection of wood paint and sealer that makes your hardwood floor long-lasting.
This simply means you should clean away any spills immediately and NEVER use any water-based cleaning product for these unsealed wood floors.
Solvents like mineral spirits can be effectively used for cleaning unsealed floors in your home as they are formulated with oil-based components rather than water-based ingredients that can be damaging to raw wood.
Whenever you want to clean unsealed wood floors using mineral spirits, just follow these easy steps…
Vacuum the unsealed wood floor, making sure that the dirt particles do not get deposited into raw wood
Fill a spray bottle with odorless mineral spirits and spray over the area of unsealed wood that needs cleaning
Using a microfiber mop, spread the sprayed mineral spirits in all areas, including the tight corners of your floor
After you are done mopping and cleaning the floor with mineral spirits, allow the floor to dry naturally for an hour
Depending on the temperature, mineral spirits will automatically evaporate in 15 to 30 minutes
You can then wipe the floor with a cloth dampened in water and allow it to dry for another half an hour
Remember, cleaning the unsealed wood floor panels in your bedroom or living room can make it look dull.
So, I recommend that you add a final finish of non-water-based wax with a soft cloth to give your unsealed wood a good shine.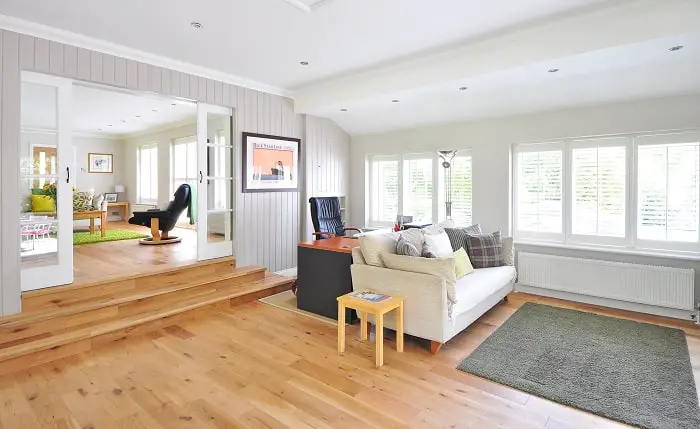 ---
How to Use Mineral Spirits to Remove Old Wax on Wooden Floors?
The best thing about using mineral spirits for cleaning is you can use this method to strip a variety of substances from your timber floor as well as wooden stairs.
These include old dried wax, dried paint, glue adhesive, caulk, black soot, etc., on different wood types such as oak, MDF, particleboard, laminate, etc., installed in your kitchen or other rooms.
Particularly if there is a layer of waxy build-up on your hardwood floor, it will regularly trap dirt and dust, making the natural color of wood look dull with time.
But the problem is – if the waxy build-up is already dried, it can become hard to remove.
The solvent and chemical ingredients that make up the mineral spirits are effective enough to break down this wax and dissolve the substance, which can then be wiped easily with a cotton cloth.
Although the process will require some elbow and grease on your end, once you are done, the floor you will be getting is clear and shiny as new.
Start by dusting the floor with a mop to clean any dirt and debris
Next, get a piece of cloth (about the size 3-by-3-foot) and dampen it in mineral spirits
Spread it over the waxy wood floor that needs cleaning
Wait for 5-10 minutes to allow the mineral spirits in the cloth to seep into and dissolve the waxy layer
Now take another piece of dampened cloth and wipe the wax along with mineral spirits
If you see the wax remaining on the floor, repeat the process once again and scrub lightly with a piece of steel wool
Finally, you must wash your hardwood floor with a wood floor cleanser and a mop. Then rinse with clean water and dry it with a piece of cloth.
Related Questions:
What are Mineral Spirits?
Mineral spirits (also called white spirits and petroleum spirits) are a type of petroleum-derived clear liquid.
It's basically a chemical formulation that is a mixture of aliphatic and alicyclic petroleum-based compounds.
Mineral spirits are mainly used as a key ingredient in paint and varnish that are used to coat surfaces to prevent abrasion, corrosion, and day-to-day wear.
Rather than as a cleaning agent, mineral spirits are chiefly used to clean paint brushes and rollers.
It's also used to thin the oil-based enamel paints to achieve the right consistency especially when the paints are applied via sprayer machines.
Are Mineral Spirits the Same as Paint Thinner?
Mineral spirits are comparatively more efficient and used in smaller quantities in comparison to paint thinner or paint lacquer.
Professional painters, artists, and DIYers usually opt for mineral spirits (over paint thinners) because of their more purified form and ability to function efficiently as a cleaning agent as well as thinning solvent.
However, a major benefit that a paint thinner enjoys over mineral spirits is that the former is more cost-effective to buy in bulk.
Though mineral spirits function the same as paint thinners with lower application quantity, with a major gap in the price difference between them, paint thinners emerge as a more budget-friendly option.
With that said, it doesn't mean one is better than the other, as both have their unique properties, making them usable in a plethora of situations, including oil/grease cleaning, skin cleaning, paint thinning & cleaning, etc.
Eventually, the decision narrows down to your preference because, technically, they both perform the same function.
The best solution to know which one is suitable for your next paint stripping or paint thinning work depends on the project itself and the budget.
What Can I Use Instead of Mineral Spirits for Cleaning Wood Floor?
White vinegar found in the kitchen is one of the best alternatives for mineral spirits when you need to clean your wood floors.
You can prepare a cleaning mixture by mixing one part vinegar with 10 parts warm water.
In a pinch, you can however use mineral substitutes like soap and water, turpentine, denatured alcohol, kerosene, and acetone.
To use this great disinfectant to clean your engineered hardwood floors, you can follow these guidelines:
Add around 1/2 cup of vinegar to a gallon of lukewarm water
Dip a sponge or a dry cloth in the mixture and wring it until its almost dry
Wipe your floor with this dampened sponge making sure no standing water or mixture remains on the floor
After cleaning with the vinegar and water mixture, rinse the wood floor with a clean mop. Wipe away all the excess liquid and allow it to dry.
Bonus Tips:
Use a wood floor polish after cleaning to get a good shine.
Add a drop or two of your favorite essential oil to the vinegar-water mix if you do not like the smell of vinegar.
Final Thoughts
While cleaning wood floors with mineral spirits is easy, it isn't the only safest option.
Remember that these solvents can leave an oily residue on wood floors and can even damage the wood (due to its aggressive nature) if not used correctly.
So, it's recommended that you follow the right tips and cleaning techniques with patience – to get the most desired results from your cleaning project.  
Share the post "How to Clean Your Hardwood Floors with Mineral Spirits?"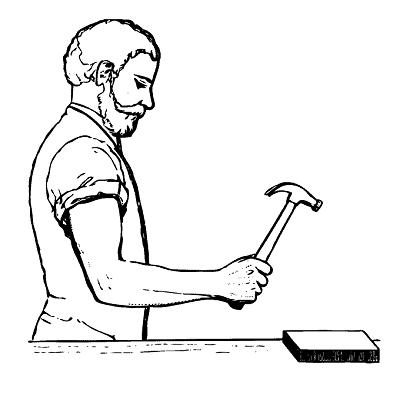 Hi, I am Mark Garner a professional carpenter, woodworker, and DIY painter. I live in the small city of Peoria, Arizona as a semi-retired woodworker. I have started this blog with a simple motive to help you with my wood experience in this sector. If you like to know more about what I love doing and how it all got started, you can check more about me here.