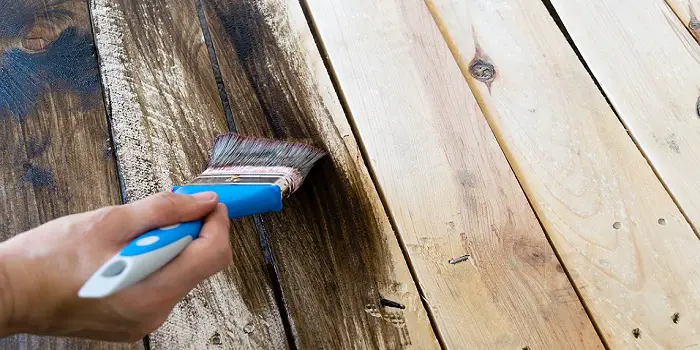 We paint different surfaces with different types of paints because each of them comes with its own unique attributes and will serve different purposes.
Some are there to provide just the additional beauty to the surface, while others not only decorate the surface but will also protect them firmly.
That said, wood paints are solely designed with a goal in mind which is to provide the wooden surface extra strength and protection along with enhanced beauty and attractiveness.
However, in many scenarios, people get tempted to paint their wood surfaces with other paint varieties, such as masonry paint or concrete paint.
If you are looking to paint your wood table, chairs, cabinets, or even your deck with masonry paint, it's completely fine.
Masonry paint is a type of versatile paint that is meant to provide protection to surfaces such as concrete, brick and mortar, stucco, cement block, and sandstone.
And since it works on porous surfaces such as concrete, it will also work well on a wooden decking area.
However, when doing so, make sure that you prepare the wood well beforehand, which means cleaning the surface, applying the primer, and then adding a coat of concrete paint.
Benefits of Applying Concrete Paint on Wood?  
The biggest benefit of applying masonry paint on outdoor wooden structures, patios, and decking areas is it keeps your wood pest-proof and rot-free.
No matter whether your home is made entirely of wood or it's only the siding and deck, using high-quality masonry paint will be good enough to protect these structures from destructive wood insects like termites that can easily eat away all the expensive wood very fast.
Not as beneficial as wood paints, but a few other advantages of using concrete paint on wood include:
1- Waterproofing
Rainwater, moisture, and snow can easily damage and rot your wooden structures like decks outdoors.
Also, it can cause ugly spots, increase mold growth, and crack very fast.
Applying a protective layer of paint can help avoid all these situations, no matter what paint type you have used.  
2- Blocks sunlight
Like rain and moisture, harsh UV rays of the sun can discolor and fade your decking area very fast.
Painting the wood will not only keep it from fading but also save you from the regular expenses of repairs needed due to the sun's damage.
3- Keeps interior cool
Much like decking areas, you can use concrete paints on wood surfaces indoors, like wooden doors or on hardwood roof ceilings.
By reflecting the heat better and creating a shade, it will help in keeping the interiors cooler.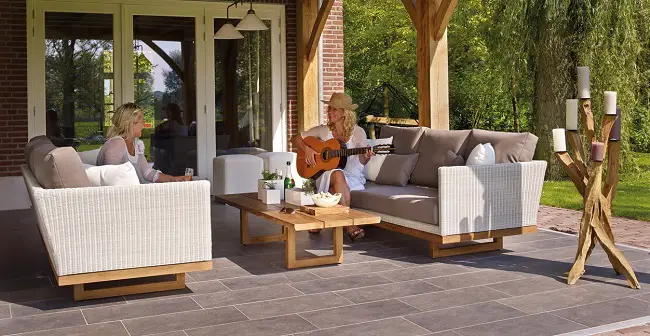 ---
Can Concrete Stain or Floor Paint Be Used on Wood?
Concrete stains can be an interesting and unique material to use for staining wood. It can create a weathered look or even a more natural look, depending on how it is applied.
Concrete stains can be applied to both indoor and outdoor wood surfaces. However, it's different from wood stains because it's thicker and is typically acid-based.
This means that concrete stains will chemically react with the wood surface and will completely soak into it while permanently changing the color of the surface.
It is, therefore, important to test the concrete stain on a small area of the wood before applying it to the entire surface to make sure that you are happy with the results.
Concrete floor paints are also a suitable option for use on wood, and they are not much different than regular wood paint.
Like wood paint, these are also available as an oil or water-based paints with a wide variety of color choices.
The only difference is that concrete floor paints are designed to withstand high traffic, and regular wood paints are not.
Also, it is important to ensure that the surface is prepped properly and the paint is properly diluted before applying it to the wood, as undiluted paint can result in a very harsh finish.
How to Prepare and Apply Masonry Paint on Your Deck?
Restoring your old weathered wooden deck, siding, trims, or outdoor wood furniture can be a lot of work, especially if you want to repaint them with masonry paint.
But it's worth taking all the effort as it allows you to enjoy your warm sunny days with your family and friends during cold winters.
To ensure you get the best-desired results out of your project, here are a few key steps you should follow…
Step 1- Cleaning
Prepping and cleaning your surface is important, especially if it has old, peeling paint.
But if your paint is in good condition, you will only need to clean the surface using trisodium phosphate (tsp) or a bleach solution.
PSP is good reliable degreasing and deglossing solution that can prepare the surface before painting. This will even kill off all the mold spores and will prevent them from occurring in the future.
Alternatively, you can wash the deck using a pressure washer; just make sure you use the right pressure to avoid damaging your wooden deck.
Step 2- Sanding
After cleaning the decking area, sand the wood evenly, covering all the surfaces as well as edges. If there is any peeling paint, make sure you strip them off whilst sanding the surface.
After you have sanded the surface, clean the sand dust using a clean cloth or a vacuum cleaner.
Step 3- Patch up Holes
Next, you will need to fix all the holes, dents, and cracks using wood filler.
You can choose an oil-based filler or a paintable latex caulk to repair the damaged sections of your deck.
After you have filled all the gaps, lightly sand the repaired area to achieve a smoother look.
Step 4- Prime the Surface
Choosing the right primer for exterior wood is important as it will help you to get a nice smooth finish.
Other than that, an exterior grade wood premier like KILZ will also help in the adhesion of the topcoat.
When you have chosen the right primer, apply it with a bristle brush or a paint roller evenly on the surface.
Step 5- Paint the Decking Area
After you have allowed the primer enough time to dry, it's time to apply the two coats of concrete paint to the wood surface.
You can do this exactly by using a paint roller or a bristle brush as you have done with a primer.
And that's it! Your decking area is now ready to have all the fun.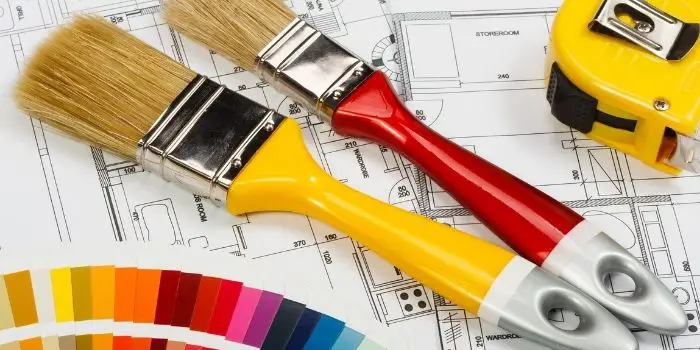 ---
What are the Popular Paint Brands Available to Buy on The Market?
Sometimes all it takes to breathe new life into your deck is a fresh coat of paint.
Paint is capable of covering up any unsightly blemishes and helping improve the overall appearance. It can also completely transform the space if you choose a bolder color.
Choosing the right paint for the job can seem tricky due to the fact that there are simply so many options out there.
Sherwin Williams, Benjamin Moore, and Dunn Edwards are among the most popular brands you can choose from. These brands of paint excel in durability and won't need to be constantly reapplied.
Sherwin Williams does have a slight advantage over Benjamin Moore and Dunn Edwards due to the ability of their paints to dry quickly. They also usually only need one coat of paint.
However, they are quite expensive at around $60 per gallon. On the other hand, Dunn Edwards has similar durability and costs only around $35 per gallon.
In the end, you'll need to decide if cost or longevity is more important to you.
FAQs
Can wood paint be used on cement?
Wood paint can be used on cement, but it is important to note that the results may not be as durable as if the cement was painted with specialized concrete paint.
Wood paint is not as tough as concrete floor paint and may not be able to withstand the wear and tear of high-traffic areas.
Can you use put concrete epoxy on plywood?
Yes, you can apply concrete epoxy over plywood without a problem.
In most situations, however, a flexible epoxy covering should be followed by a self-leveling epoxy mortar which will provide a much smoother and more professional-looking finish.
Can Sandtex masonry paint be used on exterior wood?
Yes, Sandtex Ultra Smooth Masonry Paint can be applied to exterior wood surfaces as long as the wood is dried completely, cleaned, and primed beforehand.
It is important to note that while this paint can be used on both wood and masonry, it is designed specifically for masonry surfaces and may not provide the same level of durability on wood.
Final Thoughts
Many homeowners apply concrete paint on wood for a variety of different reasons, and I think there is absolutely no harm in it.
Maybe you want your wood surface to look like concrete, or you do not have a wood stain available.
No matter what wood item you are planning to apply the paint on, make sure you follow the right steps and prepare the surface well so that the finish will last for an extended duration without peeling and flaking.
Share the post "Can I Use Concrete Paint on My Wood Decking? Answered"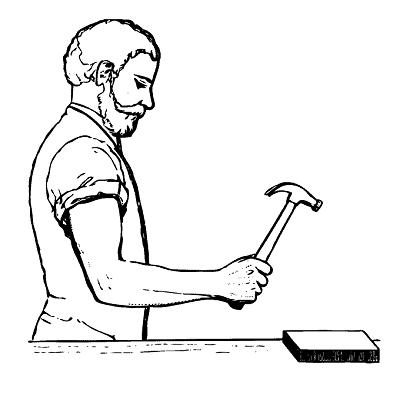 Hi, I am Mark Garner a professional carpenter, woodworker, and DIY painter. I live in the small city of Peoria, Arizona as a semi-retired woodworker. I have started this blog with a simple motive to help you with my wood experience in this sector. If you like to know more about what I love doing and how it all got started, you can check more about me here.