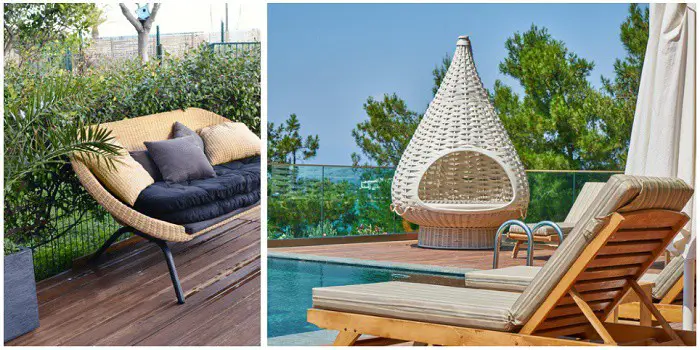 If you are looking for solid, durable, and attractive outdoor furniture, chances are you have looked at "rattan."
Rattan is a fibrous climbing vine often used to create furniture perfect for outdoor areas like the backyard, garden, poolside, decking area, etc.
But before you settle on rattan as the material of choice for your outdoor furniture, it pays to understand the advantages and disadvantages this material provides for you.
Advantages of Rattan Furniture
The most obvious advantage is that rattan is quite durable.
In fact, you may have noticed rattan furniture from the 1940s and 1950s at garage sales and used furniture stores that are still in good shape.
You may have rattan furniture passed down from your grandparents or great-grandparents that still does the job.
With just a little care, outdoor rattan furniture will be around for your grandchildren and great-grandchildren as well.
This is because, as a material, rattan is more durable and resistant than other natural materials such as leather or wood. No wonder it can last for a century with the proper care.
1- Environmentally Friendly
Purchasing rattan is more eco-friendly compared to wood.
While both materials can grow back, trees take considerably longer to grow compared to rattan vines.
The vines can be harvested every few years and continue to grow back, while trees can take decades before being mature enough to be cut down to create furniture.
2- Resilient
Rattan can resist sunlight and its UV rays that can fade and dry up wood and other material.
Plus, this material can undergo drastic temperature changes without weakening.
So, you can keep it on your porch or deck for the summer and winter, and it will still hold up.
Having said that, you still need to add a layer of protection with a coat of lacquer so that the material does not soak up the water.
Once applied, the rattan can sit out in the rain with no issues as long as the protection lasts.
3- Versatile
You can place the rattan furniture outside, but it is also well-suited for the bathroom, kitchen, and sunroom.
This is because rattan is quite a versatile material that can resist moisture quite well, so it keeps its durability and shape.
Plus, when weaved into an attractive design, it can fit different types of home décor.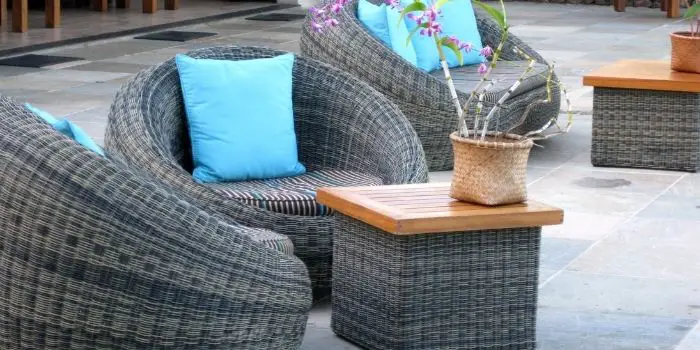 Disadvantages of Rattan Furniture
Of course, there are a few issues when it comes to rattan furniture when used outside.
This starts with the resilience and strength of the furniture itself.
The tight nature of the vines and how they are weaved, particularly for wicker furniture, means that it can be quite hard to sit on.
The same is true for wood, though. So, you may want to place a couple of weatherproof cushions on the chairs to add some comfort factor.
You can find a wide variety of cushions with different color combinations that add an aesthetic touch to the furniture and your patio, porch, or deck.
1- Loosening Fibers
While the fibers themselves remain strong, the weave may start to fall apart over the years unless you inspect it every so often.
This is because the thin nature of the vines allows them to slip and start to unweave from the furniture.
This will require some care and occasional repairs depending on how often the furniture is used.
You can prevent some of this by only purchasing high-quality rattan furniture that is designed to last.
While this is the more expensive approach, your furniture will last longer.
2- Maintenance
Even solid rattan furniture will require some maintenance to hold its shape.
Plus, you will need to do some cleaning and conditioning every so often if the furniture is left outside.
Over time, the UV rays from the sun, along with water damage from precipitation, will take their tolls, so you will need to add a coat of lacquer every so often.
At the turn of each season, you can add some oil to help keep the rattan vines solid and durable.
3- Styles and Designs
Perhaps the biggest issue with rattan is not the material itself but that it is limited in terms of the designs that can be created for furniture.
In other words, this type of furniture falls out of favor more often compared to leather or wood.
It is probably why you see rattan furniture up for sale at used furniture stores and garage sales around the country.
When people want to change their home décor, rattan furniture is often the first to go.
Even if the rattan is still in excellent shape, its unique style makes it subject to change more often than other materials.
The upside is that you can find often find used rattan furniture in quite a good condition on the cheap.
When people get rid of their old furniture, they often give it away. That means you can get a few choice pieces for very little money if you know where to look.
Of course, at some point, you may get tired of looking at the furniture as well.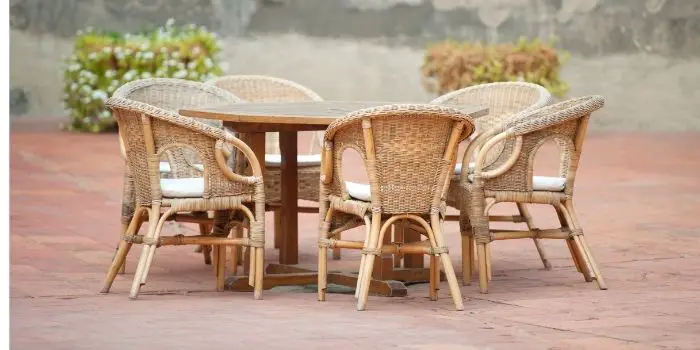 ---
How to Care for Your Rattan Garden Furniture?
The last thing you want is for the rattan to lose its shape, which causes your antique furniture to fall apart.
In addition to coming apart, rattan that is not well protected may be subject to mold and mildew infestation.
So, you will want to protect and clean the rattan when needed. A dry brush can remove loose dust, dirt, and debris.
You will need a brush that is stiff and with longer bristles, especially if the rattan is woven into a wicker pattern. The longer bristles will get between the weaves to root out the dirt and grime.
It is recommended that you brush the rattan regularly to keep it clean. Or you can cover the furniture when not in use.
Either way, keeping the rattan clean will reduce the chances of it falling apart from the presence of grime.
But to protect the material itself, an application of linseed oil is recommended.
Let the linseed oil dry, and then apply a coat of lacquer which will seal up the surface and keep the rattan solid for quite some time.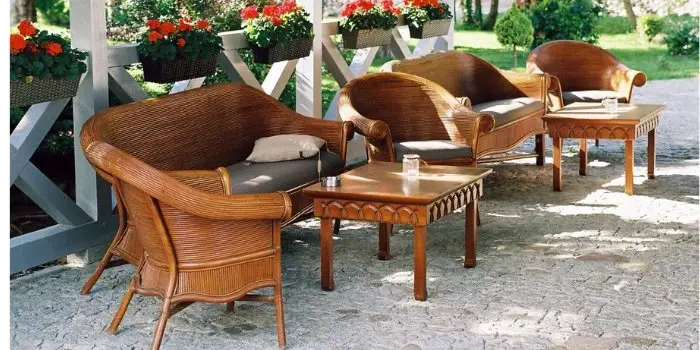 ---
Natural vs. Synthetic Rattan – What's Better for Garden?
You can find a wide variety of design options when you choose rattan garden sets.
From natural to synthetic, rattan garden furniture sets offer you the choice that is best suited for your needs. But it does help to understand the difference between natural and synthetic rattan garden sets.
Knowing the difference will help you make the best-informed choice.
The main and rather obvious difference is that natural rattan garden sets use natural rattan materials while synthetic rattan garden sets use artificially created materials such as resins or plastics.
What follows are a few comparisons that will differentiate natural from synthetic rattan garden sets.
1- Durability
This is where synthetic rattan garden furniture has the edge.
While natural rattan garden sets can be quite strong and last a long time under normal conditions, they are not well suited for the outdoors.
The elements combined with UV rays tend to break down natural materials far faster compared to their synthetic counterparts.
When properly kept, synthetic rattan garden sets are clearly superior in terms of durability compared to natural rattan garden sets when left outdoors.
If that difference is important to you, then synthetic should be the first choice for your outdoor rattan garden furniture.
But if is indoors, then the natural version will last about as long.
2- Comfortability
If you want comfortable seating in your garden, then both versions will work quite well. Both come with cushions that offer exceptional comfort while you sit in your garden.
The overall quality of the weaving and the size of the garden set will determine its comfort level.
In terms of which is more comfortable, natural, or synthetic, most people probably will not be able to tell.
It depends on factors that go beyond the nature of the material from which it is made.
3- Style & Design
Both natural and synthetic rattan garden sets come in a wide variety of styles and designs.
You can choose the shapes and designs that best appeal to your tastes.
So, in terms of their individual styles, you have plenty to choose from.
But most people tend to prefer natural rattan garden sets to be artificial or synthetic ones.
There is something about the natural look that is more appealing to most people.
It may be the overall quality and weaving of the natural materials that give it the edge over synthetic versions.
4- Care, Maintenance & The Cost
Both synthetic and natural rattan garden sets are easy to clean and properly maintain.
Using mild soapy water, you can quickly clean synthetic rattan garden sets easily.
This is because they are made to withstand water, so they will not be ruined by exposure.
Natural rattan garden sets are also easy to clean and maintain, but not as much compared to the synthetic versions.
You will need to put in a little extra maintenance to ensure that it does not get damaged by overexposure to water.
Adding a waterproofing material over your natural rattan garden furniture will help keep it in tip-top shape.
Also, you can apply a coating of lacquer, which will make it waterproof.
Finally, it's about the pricing of both materials.
Both natural and synthetic rattan garden furniture sets cost about the same.
Of course, the overall quality and availability of the materials will factor into the price. But both are about the same in most markets.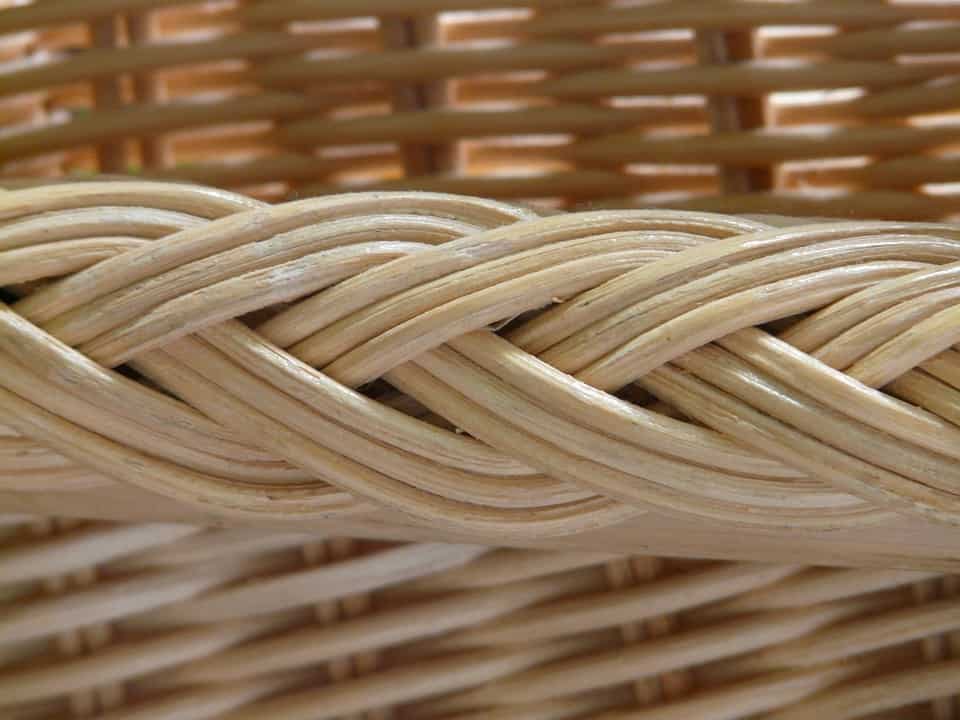 ---
Rattan vs. Wicker Furniture: Are They the Same or Different?
The main difference between rattan and wicker is that rattan is a material, whereas wicker is a pattern.
In other words, rattan is often woven together in a wicker pattern to create furniture, but that is not the only pattern in which it can be woven.
So, a wicker chair may be crafted from rattan, but rattan can be woven into patterns other than wicker.
The wicker weave is that of using reeds or cane materials and weaving them together, which creates a strong surface. Even thin wood can be weaved into a wicker design.
In addition to rattan, you can often find bamboo, willow, reed, and synthetic fibers in wicker furniture.
However, it is not surprising that so many people mix up wicker and rattan since they are often advertised as "rattan wicker furniture."
Since rattan can be weaved when heat and moisture are added, creating wicker furniture from this substance is not that difficult.
The rattan can be weaved into shapes well suited for chairs, side tables, and couches. Just keep in mind that wicker furniture can be made from other materials as well.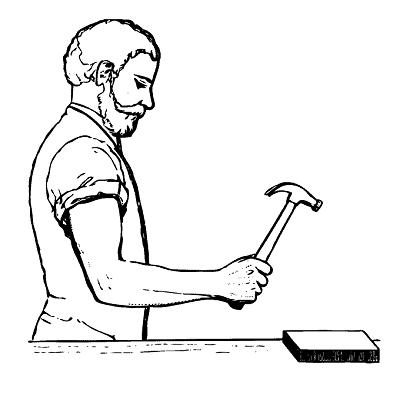 Hi, I am Mark Garner a professional carpenter, woodworker, and DIY painter. I live in the small city of Peoria, Arizona as a semi-retired woodworker. I have started this blog with a simple motive to help you with my wood experience in this sector. If you like to know more about what I love doing and how it all got started, you can check more about me here.