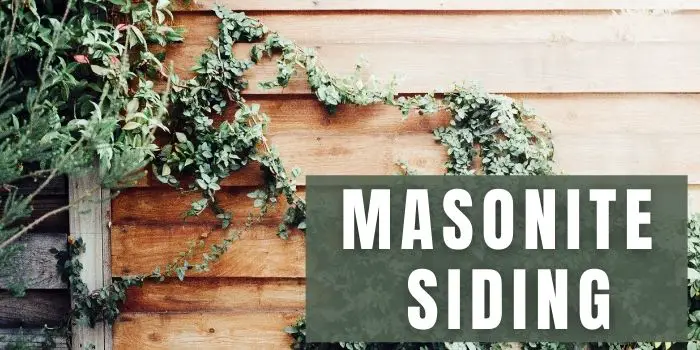 Sometimes known as hardboard siding, Masonite siding is an inexpensive option for siding that became popular in the late 1980s and early 1990s.
Masonite siding was manufactured out of wood fibers that were kept together with resin or glue using a compression and heat process.
The benefits of Masonite siding made it a common choice for siding, including its low cost and initial strength.
It is even less expensive than vinyl siding, which also helped it become so popular for years.
Unfortunately, there were some downsides to Masonite siding that some homeowners haven't considered before choosing it as their material of choice.
The problems with masonite were also the reason why the product was discontinued and is no longer in production.
Below, we have outlined a few of these issues to check out, along with some replacement tips and alternatives you can try.
But before that, let's take a look at what masonite is and the different kinds of masonite siding that were used to install it.
What is Masonite?
Masonite was a type of hardboard or engineered wood made of steam-cooked and pressure-molded wood fibers in a process patented by William H. Mason.
It's a material that is sometimes also referred to as Quartrboard, Isorel, hernit, karlit, torex, treetex, and pressboard.
Besides siding, Masonite was also used for projects such as interior walls, underlay for flooring, shelving construction, etc.
Masonite was typically formed to look like real wood, with a natural-looking grain and texture.
These Masonite boards come in different varieties based on styles that include lap siding, shiplap edge panel siding, and square edge siding.
When it needs to be refinished, there is also a variety of finishes to choose from, which includes pre-primed, pre-stained, and pre-painted.
Problems With Masonite Siding
Issues with Masonite siding began cropping up after being exposed to a lifetime's worth of elements on the outside of homes.
A lawsuit was filed against the largest manufacturers of Masonite siding, which allowed customers to be reimbursed for the damage that the product caused between the years 1980 and 1998.
After this lawsuit, Masonite siding was no longer produced. Below are a few of the common issues that homeowners have had even with a newly bought Masonite siding:
1. Blistering
Because Masonite is produced out of wood fiber, it can succumb to moisture damage through water retention.
Upon absorbing water, Masonite siding expands and creates troublesome curves and bulges.
The siding would be stiff and flat in an ideal situation, so if there is any buckling occurring, be sure to get in touch with a contractor to fix it.
As layers of the wood particles start to separate, blisters can also commonly form in Masonite siding.
If you notice the siding is getting soft and beginning to blister, the time has come to replace it.
2. Faulty Caulking
The areas between the edges of the Masonite siding and the siding itself need to be sealed before you install them.
Any faulty caulking can bring about moisture damage while also accelerating the need for replacement siding.
Be sure to check your caulking regularly and have it replaced when needed so that your Masonite siding lasts longer.
Also, masonite siding can avoid moisture damage by being painted on a regular basis. To paint masonite siding, use exterior-grade alkyd primer and then acrylic latex paint over the primer.
After the paint application, make sure that the coating is always totally intact in all seasons.
This can help prevent damage from external weather conditions and fungus.
3. Insect Infestations
Wood naturally attracts bugs, especially termites.
The wood fibers that are used to manufacture Masonite siding can even act as something of a magnet for bugs to come and cause a pricey infestation.
And the bad thing is termites can ruin not only the siding but also the structure of the home itself.
So, it is important to regularly inspect Masonite siding for insects and have them promptly exterminated.
Be sure to check your Masonite siding frequently so that when you see an issue, you can resolve it quickly.
4. Deterioration & Discoloration
Any cracks, holes, or chunks of Masonite siding that are missing indicate that there are issues.
Not only due to deterioration after getting them installed, but this can be a problem even if you have bought a new siding from an unknown or unreliable dealer.
Such a siding right away indicates that it needs to be replaced.
Also, when the siding begins to rot or decompose, the color shifts. Look out for even slight color changes and schedule an inspection if you notice any.
Keep in mind that a contractor can sometimes fix these problems for you by matching the look and style of your Masonite siding with a more modern option.
So, check with them to find out if you have something better available for a similar cost.
When to Replace Masonite Siding?
Although masonite siding is discontinued and nearly all manufacturers have stopped producing it, there are homeowners who still have this type of siding on their homes.
If your home has masonite siding, it is important to know when you should replace it.
There are several factors to consider when deciding whether or not to replace your masonite siding.
The first factor for replacement is the age of your siding.
Masonite siding has a lifespan of about 25-35 years. If your home is approaching or exceeding this age, it is likely time to start thinking about replacing your siding.
The second factor is the condition and appearance of your siding.
If your siding is cracked, warped, or otherwise damaged, it is important to replace it to protect your home from the elements. Even if your siding is relatively new, it may be time to replace it if it is in poor condition.
Also, if you are unhappy with the way your siding looks, it may be time for a change.
How Do You Know If You Have Masonite Siding?
Masonite siding and the structure of the home itself can be impacted negatively by moisture.
Wood rot rapidly spreads and creates costly repairs and remodeling needs.
If you already have an old masonite siding installed in your home, it's good to check them and get them replaced for something more durable.
To find out if your home has Masonite siding, take a look at the garage or attic.
Look for the tar paper from the back of the siding and find the manufacturer's name.
You could also seek out the American Hardboard Association code. Search them online and figure out what kind of siding the manufacturer of your siding makes.
What Can You Use Instead of Masonite Siding as An Alternative?
Either for a fresh install or replacing your masonite siding, Fiber cement siding (such as James Hardie®) is the best substitute material you can try.
It's a blend of cellulose fiber, Portland cement, sand, and silica.
Known for its exceptional curb appeal, durability, and long-lasting color, you will find this replacement siding product much in North America.
Another substitute you can try is vinyl which is a great waterproof and low-maintenance product for siding.
A few other benefits that come with this Masonite siding alternate products such as vinyl and fiber-cement include:
Requires less maintenance than wood
Comes with excellent warranty coverage
Much better looking than vinyl and aluminum
Non-porous and resistant to moisture, rot, and insects
Look like real wood, with a natural-looking grain and texture
Overall, if you want to avoid the disadvantages that come with Masonite siding getting it replaced with a Fiber cement siding like James Hardie® can be your best solution.
The estimated cost to replace masonite siding can be anywhere between $2.50 to $5 per square foot. This means for an average-sized home with 1,500 exterior square feet; the total cost might range from $3,750 to $7,500.
A few extra materials that will be needed for the replacement might cost extra depending on the condition of your house and location.
Final Thoughts
Masonite siding is still a material that is installed in hundreds of homes in the US.
If it was installed and maintained well throughout the years, Masonite siding might not show problems for some time.
Eventually, the weather will inevitably damage Masonite siding, and such problems will arise.
If the issues mentioned aren't dealt with quickly, they could quickly become expensive and end up with the need for major remodeling.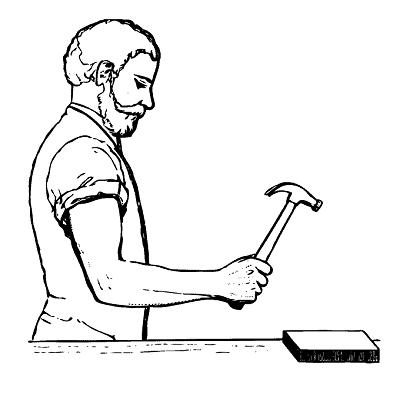 Hi, I am Mark Garner a professional carpenter, woodworker, and DIY painter. I live in the small city of Peoria, Arizona as a semi-retired woodworker. I have started this blog with a simple motive to help you with my wood experience in this sector. If you like to know more about what I love doing and how it all got started, you can check more about me here.