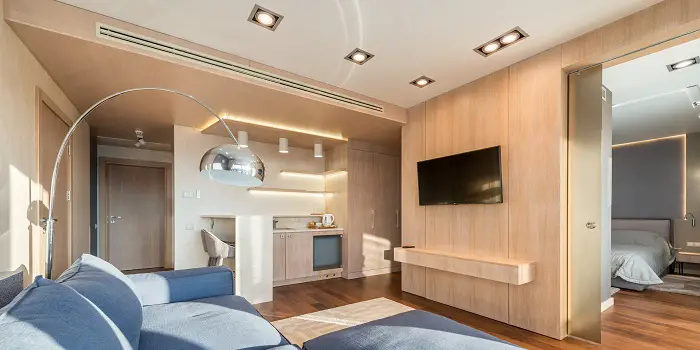 It happens to many of us when getting ready to paint or refinish furniture that we realize it is a laminate surface.
This means that using traditional paints or stains becomes problematic because they will not penetrate the surface like the real wood.
Yet you want to keep the laminate intact. And this is where you have the choice of using gel stains on your laminate furniture.
Gel stain can be used on laminate furniture (like cabinets, cupboards, desks, etc) because it does not need to penetrate the surface to work.
All you need to do is apply the gel stain in one coat, wait until it dries, and then apply another coat if necessary.
When that dries, you apply a clear coat finish, and you are through.
The only real downside is that it can take a long time before the gel stain dries. Depending on the humidity and temperature, it may take upwards of 48 hours before it fully dries.
So, if you have a strict deadline, it may be difficult to get the gel stain applied properly. 
How to Gel Stain Laminate Furniture?
Applying gel stain over your laminate wood furniture isn't very tricky.
All you will need is to follow the below steps strategically…
Step 1 – Clean
Before you can begin, you must clean and degrease the surface of the laminate furniture.
This means wiping away the dust, dirt, and other loose particles on the surface. Once that is completed, apply a degreaser to wipe away the grime.
The surface must be clean before you can apply the gel stain. Otherwise, the surface may chip or peel away.
Step 2 – Sand
The next step is sanding the surface so the gel stain can stick.
You'll want to use fine-grit sandpaper to do the job. 200-grit is recommended as it will rough up the surface just enough for the gel stain to adhere properly.
Avoid using lower-grit sandpaper as that may cause scratches that the gel stain will not cover-up.
Step 3 – Apply the Gel Stain
Now you can add the gel stain.
Be sure to choose a good gel stain brand like Minwax or General Finishes. These are suitable for all types of fake wood and veneer furniture including laminate, Formica, presswood, and fiberglass.
Use a foam brush because they can apply the gel in an even layer. Plus, you can just toss the brush away after it is done given how cheap they are to purchase.
You'll want to apply a light layer of gel stain on the surface in any direction you desire. Basically, you want the gel stain to cover the entire surface and then wipe away any excess.
Removing the excess is important because the gel stain needs to be as thin as possible to work correctly.
Given that it takes upwards of 48 hours to dry, the thinner the layer, the faster it will dry. Wiping away the excess will help thin the coat and lower the drying time.
In addition, you'll get rid of any lumps or bumps of gel that build up when you applied the coating.
When wiping away the excess, be sure to wipe in the direction of the wood grain.
If you do not want the underlying wood to be seen, then you should add several layers of the gel stain to properly hide the surface.
Just remember that it may take several days for you to add three or four coats to the wood.
Step 4 – Allow Proper Drying
It can take up to 48 hours to dry, even longer if the air is humid and warm.
A cool, dry place is preferable.
You may even want to run a fan nearby to help circulate the air, although do not blow it directly on the wood as it may add dust particles.
After 48 hours have passed, lightly touch the surface to see if it is tacky.
If it is, then you'll need to wait longer. If not, then you can proceed to the next step.
Step 5 – Clearcoat Finish
Without a clear coat finish, the gel stain will not last very long. It will begin to peel unless a clearcoat finish is applied.
If you decide to use a wax clearcoat, apply a layer of polyurethane or lacquer first. I have personally used Minwax Fast-Drying Polyurethane before and it works great over gel stains.
Once that fully dries, you can then add the finishing wax. When buffed, it creates a smooth surface.
Once the clearcoat has dried, it is recommended that you keep the use of the furniture light (for about 48 to 72 hours) so that the gel stain and clearcoat can fully cure.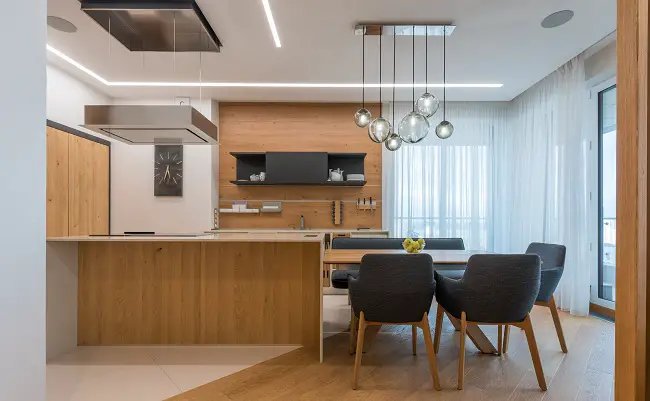 ---
Gel Stain vs. Regular Stain – What's the Difference?
The most obvious difference is that regular stain is like oil while the gel stain is more akin to pudding in terms of consistency.
But the differences are more subtle than its consistency.
What is Gel Stain?
This is a thick substance that is not liquid in nature. You apply it over the wood and it will create a stain.
The gel formula here allows you to use a foam brush or even cloth and rub the stain liberally into the wood.
Just keep in mind that the gel itself does not penetrate the wood, but instead sits on top adding a thin layer to create the illusion of a true stain.
In this manner, the gel is more like a paint that sits on top of the surface and does not penetrate the material.
Like paint, a gel stain is a binder that adheres to the surface of the wood. So, it can be removed just like paint as it does not go deep into the material.
Keep in mind that gel stain does have significantly more binders compared to standard liquid stain.
However, since liquid stain does penetrate the wood, it does not need as many binders. This is because the wood itself will turn a different shade or color.
It is not just a surface effect like you get with a gel stain.
Advantages
There are several advantages to using this product.
The first is that you do not need to prep the wood as much compared to using a liquid stain.
In other words, there is far less sanding of the surface as the gel applies easily with only a light sanding effort.
Other advantages include the following.
Fast Application: A foam brush, cloth or even a rag will do
Small Amounts: You use less gel stain to achieve the same effect as standard liquid stain
Fix Uneven Stains: You can apply gel stain to uneven areas where regular stain was used
Non-Wood Surfaces: Because it only covers the surface, you can apply gel stain to different materials.
Disadvantages
However, there are some trade-offs when using gel stains.
As noted, before, it takes a long time to dry.
You should expect it to take upwards of 48 hours or longer depending on the humidity and moisture.
Other issues include the following.
Sticky: Unless you wipe away the excess, it can remain tacky for quite some time
Messy: Gel stain can be problematic to clean up
Expense: More expensive compared to standard stain, but not by much
Blotchy: Unless you remove the excess, it can create a blotchy effect
What is Standard Stain?
Often called traditional stain, this is an oil or water-based stain that penetrates the wood and turns it into a different color.
It is the fact that the stain penetrates the wood instead of sitting on top that is the biggest difference between this and gel stain.
However, to get the stain to penetrate, you will have to vigorously sand the wood first.
Otherwise, the stain will simply sit on top and do nothing.
Water-based stains are easier to clean up and do not generate the odor of their oil-based counterparts.
However, many people prefer oil-based stains because they are more effective or at least provide a better appearance.
Be sure to wear a respirator when using oil-based stains.
Advantages
The most obvious advantage is that penetrating stains dry much quicker compared to gel stains.
This means that you can finish the job with far less time. Other benefits include the following.
Brings Out the Natural Beauty: Gel stains tend to cover the wood
Easy to Apply: You can use a brush or even a clean rag
Long Lasting: This is due to penetrating the wood itself
Less Expensive: Although this is not by much compared to gel stains
Disadvantages
Of course, there are some issues with standard stains that should be considered before making the purchase.
The most obvious con is that they can only be used on raw wood.
Plus, there are some other considerations as well.
Not as Durable: Gel stains tend to last longer
Blotchy: If you accidentally spread the stain unevenly, it can lead to an ugly result
Type of Wood: Some woods are not suitable for staining
Gel stains can be used on any type of wood since they only cover the surface and do not penetrate.
The downside is that the gel stain tends to cover the natural beauty of the wood, so you may have to look for alternatives.
Final Thoughts
The gel stain is a wonderful wood finishing agent that can be applied over a variety of different materials even if it's already stained or painted with paints like milk paint, chalk paint, or latex paint.
For laminate, it's not as absorbent as natural wood, so you should let the gel stain dry for a few days between coats before you apply the top coat.
Also, make sure you understand the differences between gel and standard stains that will help you make the best-informed decision about which one will work better for your project.
Be sure to consider all the options first before making your informed purchase.
Share the post "How to Apply Gel Stain Over Your Laminate Furniture?"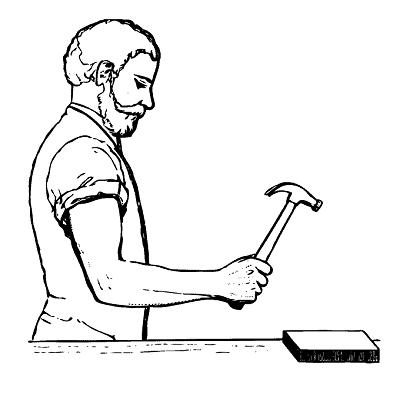 Hi, I am Mark Garner a professional carpenter, woodworker, and DIY painter. I live in the small city of Peoria, Arizona as a semi-retired woodworker. I have started this blog with a simple motive to help you with my wood experience in this sector. If you like to know more about what I love doing and how it all got started, you can check more about me here.