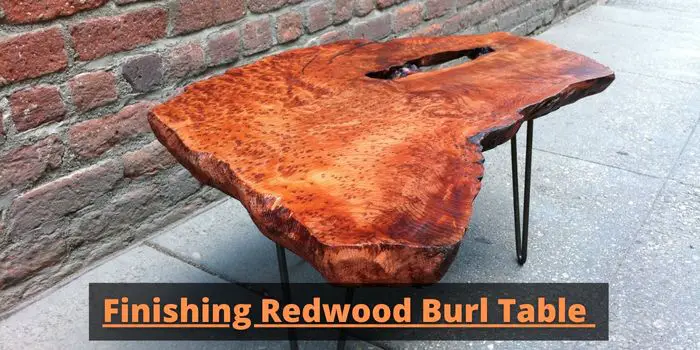 Working with Redwood knots and burls, ancient redwood, and even second-growth redwood may be daunting, but it does not have to be.
Since the beauty of the wood is in the grains and burls, figuring out how to best show that off while protecting it is essential when you plan to finish your redwood burl table or a slab for building one.
While there are several ways to finish, a high-quality finish will keep your redwood furnishings looking new for years.
Over time, many finishes will fade or yellow, and most are not tough enough to withstand minor dents and scratches in the wood.
So, in this blog post, I will discuss a few excellent finishing options that can be used to finish your vintage redwood burl table. Stay tuned, and let's get started…
Best Finish for Redwood Table
I think that the best finish for redwood tables and other redwood furniture is natural tung oil. You can opt for Minwax, Real Milk Paint, or Waterlox brands; they are great.
Tung oil gives burl wood furnishings a more natural look and feels, along with a less shiny surface (satin finish) that's much easier to maintain and care for.
Also, the hidden colors and interesting textures of the knotty burls revealed by 100 percent pure tung oil are simply adorable.
Remember that wipe-on oil finishes can also be used and reapplied whenever needed if you plan to refinish your outdoor redwood furniture, like a picnic table or a chaise lounge.
But putting on resin, spray lacquer, varnish, beeswax, shellac, or polyurethane finishes seems challenging on redwood, and it tends to darken the wood even more with time.
While you can use them for finishing redwood, the only problem is the long time to fully dry and cure. Also, you will need to apply too many coats to get the desired sheen.
Tung oil, on the other hand, only needs a few coats to get the same effect, and it will cure faster since it is a natural product.
Finishing Redwood Table with Tung Oil
A redwood table that is properly maintained can last for 25 to 30 years.
To keep your hardwood furniture looking like it did when you first bought it, sanding and refinishing will be necessary from time to time.
Although it may appear challenging to finish the redwood table compared to other kinds of wood, it is relatively easy.
Following the procedures outlined below will assist you in finishing your table best…
Step 1: Clean Your Redwood Table
If you are refinishing an old redwood table outside, giving it a good wash is essential. However, if it's a new unfinished one, you can generally skip this step.
Use a pressure wash or a garden hose with a spray nozzle attachment to clean the table.
Thoroughly power-washing your table will eliminate molds, mildew, and stubborn grime.
Find a pressure washer that has at least 1,500 psi for best results and if your table is in terrible condition, opt for a chemical cleaner as well.
Be sure to rinse all the soap, detergent, and cleaner off the table and let it dry for at least a day before moving to the next step.
Step 2: Sand the Redwood Table Surface
Remove any splinters from the table's surface and try to polish any flaws on the table's top using sandpaper.
To smooth out the table's surface and bring out the natural beauty of burls, use 120-grit followed by 220-grit sandpaper or even finer.
The corners and wood features of the table do not need to be sanded down because this surface is rough and has texture.
Next, wipe the table's surface with a lint-free cloth to remove dust.
It is essential to clean the table's surface before applying any finish because it can form bumps and flaws in the finished product.
Step 3: Apply the Tung Oil to the Redwood
To apply tung oil on the table, use a clean rag and pour a small amount of oil on it. Wipe the table's surface with the oiled cloth in long, even strokes until the entire table is covered.
Afterward, let the oil seep into the wood for about 15 to 20 minutes before wiping off the excess with a clean, dry rag.
You can apply as many coats as possible until you get the desired finish.
Make sure that once you finish the redwood table top, apply the final coat in a circular motion. This will help to blend the tung oil and create an even sheen.
Maintaining and Cleaning Finished Redwood Table
When you own a piece of redwood furniture, you also agree to yearly upkeep using finishes such as tung oil.
If you decide to use waxes or polishes instead, always test them on a hidden spot first.
Although Envirotex finishes are more durable, be careful not to use solvents containing alcohol or acetone, which might harm the wood grains and burls.
Harsh cleaning chemicals can also damage wood surfaces, so it's best to avoid using them.
You can dust most dirt and smudges off with a soft, dry cloth.
If you need to clean more thoroughly, use Murphy's oil soap or a citrus-based cleaner made specifically for wood. This will help keep your redwood furniture looking new.
Final Thoughts
The most effective approach to preserve the appearance of your redwood furniture is to use a high-quality finish such as tung oil.
While this isn't as long-lasting or attractive as an epoxy or resin finish, it is easy to keep up and highlights the color and personality of the wood.
If you want your burl wood furniture to last, take extra care when finishing it. This will also make refinishing easier if you need to do so in the future.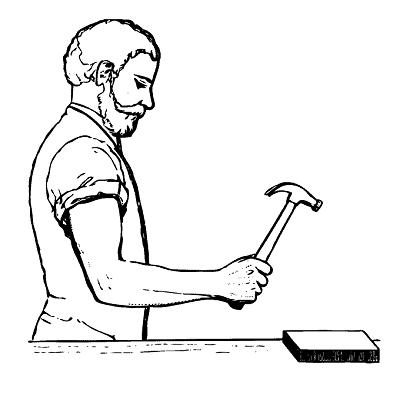 Hi, I am Mark Garner a professional carpenter, woodworker, and DIY painter. I live in the small city of Peoria, Arizona as a semi-retired woodworker. I have started this blog with a simple motive to help you with my wood experience in this sector. If you like to know more about what I love doing and how it all got started, you can check more about me here.