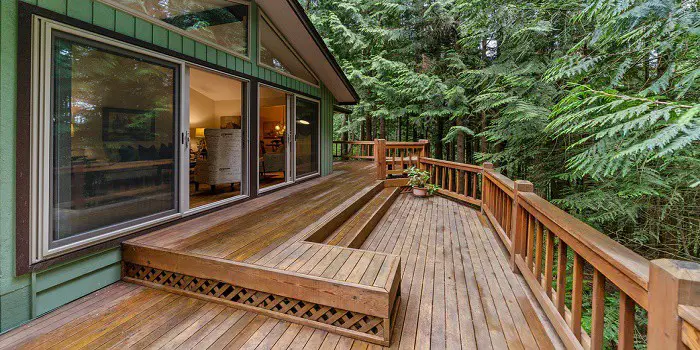 Epoxy paint is technically a latex acrylic product that comes with a small amount of epoxy in the mix.
The reason why homeowners, as well as contractors, prefer using this highly versatile, durable coating is it can withstand a great amount of duress even in high-traffic areas.
While epoxy paint is ideally suited for concrete and cement surfaces, such as floors in basements and garages, it can also be used as an exterior deck coating in addition to coating hardwood floors and tables inside.
Since epoxy deck coating is tough, strong, and more water-resistant than other traditional varieties of paints, it will help lengthen the life of your wooden deck surface by keeping it protected against environmental damage.
However, for the wooden deck to accept the epoxy paint nicely, there are a few important preparation steps you need to take care of.
Here in this step-by-step article, I will guide you through all those strategies that can help you put the clear epoxy deck coating without any adhesion issues.
How to Apply Epoxy Paint to Your Deck?
Before starting with your epoxy paint deck coating project, it's important to wear appropriate gear.
Epoxy paint comes with properties that can release toxic fumes while it's still in a liquid state.
So, get yourself protected by wearing a face mask, protective goggles, and nitrile gloves.
Now you are ready to follow the steps outlined below…
Step 1 – Sand the surface
Keep in mind that epoxy paint cannot be applied to the wooden surface if it's already with a varnish or sealer such as polyurethane.
For secure adhesion and a long-lasting epoxy coat, you must remove the old coatings first.
Using an electric sander, sand the wooden deck surface in the direction of the wood grain
Then with a piece of clean cloth (or vacuum), remove the sanded dust completely
If required, wipe the surface clean with a dampened cloth (in soapy water) to clear all the remaining dirt and debris.
Certain wood varieties can produce natural oil when sanding, so it's good to wipe it down with a paper towel or a cloth before moving to the next step.
Step 2 – Prime the wooden deck
Once the wooden surface is clean and dry, apply a coat of white acrylic latex primer with a power roller or a roller that has been attached to a pole.
Applying the primer before you apply the epoxy paint is essential as it prepares the surface to receive the paint well.
Especially if it's bare wood planks on your deck, you will need to apply at least 2 coats of primer to prep the surface.
Once you have primed the wood, allow 4-5 hours to dry the surface completely.
Step 3 – Mix and apply the epoxy paint
For getting a finish that is even and non-sticky, it's crucial that you stir and mix the epoxy paint well before application.
Mix the paint thoroughly for about 4-5 minutes using a wooden stick or a paint stirrer.
Then with your paint roller, start applying the epoxy paint to the wooden deck
Work on one piece of the wooden plank at a time and apply the paint in one go without taking a break
Remember, epoxy paint will dry quickly due to the small amount of epoxy resin present in it.
So, to achieve the right finish, you should apply the first coat quickly to the surface and allow it to dry for 4-5 hours.
Once the paint is dry to the touch, apply a second coat of epoxy coat with a roller as you did before.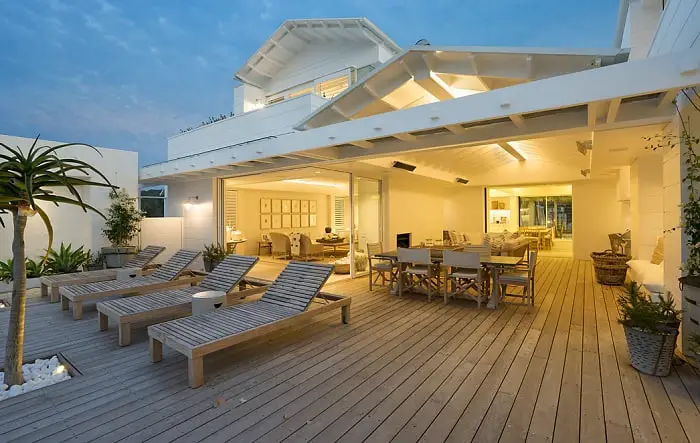 Tips and Warnings for Applying Epoxy Coating:
Consider applying 2-3 coats of thin clear epoxy paint layers on your wood deck to get the desired finish, shine, and adequate protection.
When buying the epoxy deck coating from the market, choose the best quality that comes with UV-resistant properties and can be used on exterior surfaces.
Read the reviews and check the testimonials before buying if you are purchasing the product online.
Although epoxy paint will dry quickly on the surface, it's recommended that you allow at least 3-4 hours between the coats and around 24-36 hours to cure the paint completely.
If possible, do not use your deck until the epoxy paint coating is completely cured on the surface.  
Also, keep in mind that using epoxy paint for wood decks can lift the wood fibers and grains of some coarser wood types.
So, depending on the type of wood you have on your deck, you may need to sand down the surface between two successive coats to get a smoother finish.
---
Pros and Cons of Epoxy Paint Deck Coating
Before discussing the advantages and disadvantages of epoxy paint, let's look at how it differs from epoxy coating.
While epoxy paint and epoxy coating are the two terms used interchangeably for one another, they are not the same.
Epoxy paint is just like paint that can be applied easily during a DIY project. Plus, it's comparatively cheaper.
Whereas epoxy coating is a 2-part coating made up of two parts — a resin and a hardener.
For applying this resin coating, you will mostly need professional help unless you are skilled enough to do it yourself.
Although epoxy paint is tougher and more durable than traditional latex paint, it doesn't hold up stains, chemicals, abrasions, or heavy foot traffic, as well as epoxy coating.
The good and bad of epoxy paints are as follows…
The Pros:
Easy to clean and maintain
Cost-effective and long-lasting
It can be added to your current deck
Resistant to dirt, heat, corrosive chemicals, and heavy shocks
The Cons:
When wet, it can be slippery
Need good preparation before application
It can be costly as well as labor-intensive to remove or change the color
Need frequent recoating to keep the surface looking good and to avoid chipping/cracking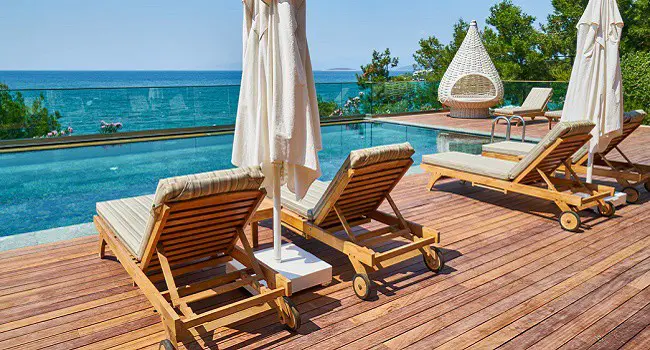 ---
Can You Apply Epoxy Paint to Your Wet Wooden Deck?
I remember when I planned to use epoxy paint on my wooden deck area – it heavily rained – soon after, I bought the paint from Amazon, and it arrived at my doorstep,
Immediately the first impression going through my mind was, "can I still use the epoxy paint today, or should I postpone it?"
The big question is whether or not you should use epoxy on a plank of wet or damp wood and whether there be any adhesion issues.
In simple terms, NO, you should not put epoxy paint on wood that is still in a wet condition.
Although there can be exceptions to this based on the types of epoxies and the type of wood you have, in my humble opinion, you shouldn't risk your entire project.
Even the small amounts of moisture in the wood can affect the curing time, finish, and durability of the epoxy paint – for which you are using it in the first place.
Plus, it will cause the epoxy to cure improperly, which can ruin your overall project at the end of the day.  
Applying epoxy paint to wet wood can also possibly crack and distort the coating because it can cause some shrinkage and warping when the wood dries.  
To avoid the problems, there are tools (like handheld moisture content readers) that can help you know when the wood is dry enough to apply the epoxy coat.
The reading in your MC reader that ranges from 5% to 12% can be considered sufficiently dry and a good sign to start coating.
If the %MC is higher, you should give a few days for your deck to dry further.
Final thoughts
Originally designed for industrial purposes, epoxy paint is an ideal choice for flooring and deck applications.
Not only it's a tough and durable protective deck coating but also easy to maintain as well.
Attributes like corrosion and chemical resistance make it a good product for highly trafficked areas like garages, warehouses, etc.
However, to enjoy all the benefits that come with this versatile paint product, it's important that you apply it with care and follow all the steps carefully.
It will then help you maintain your wood's beautiful shine and strength.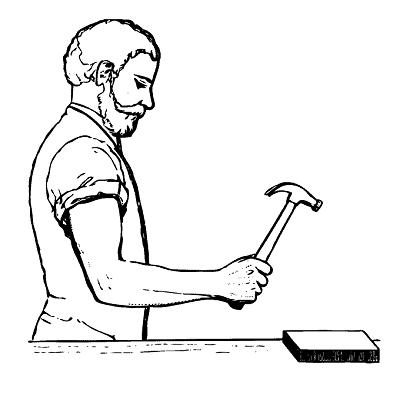 Hi, I am Mark Garner a professional carpenter, woodworker, and DIY painter. I live in the small city of Peoria, Arizona as a semi-retired woodworker. I have started this blog with a simple motive to help you with my wood experience in this sector. If you like to know more about what I love doing and how it all got started, you can check more about me here.