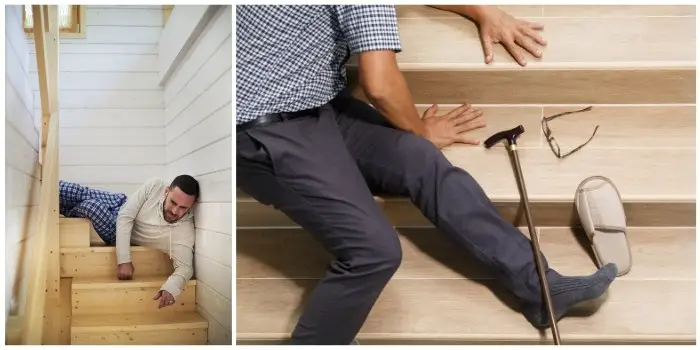 Wood stairs are an aesthetically pleasing choice for modern and contemporary homes alike, but they come with a catch: they can be dangerous.
Especially for kids, pets, and the elderly, wood stairs can be slippery.
If your children, seniors, or sleepwalkers happen to fall down the hardwood stairs, there is not enough cushion that can protect them.
So, if the safety of your family members is a prime concern for you, wood stairs (indoors and outdoors) may not be the best choice for your home.
But if you still want to offer a sleek modern feel to your home with wood stairs, there are a few ways by which you can stop them from being too slippery.
Making Stairs Less Slippery
Read on to learn how you can make wooden steps safer by making them less slippery.
1. Use Anti-Slip Floor Finish
Using an anti-slip finish can make your stairs safer without changing the natural appearance of the wood.
Using carpeting or treads can accomplish a similar goal but cover up the wood or its stain.
An anti-slip finish will instead protect you from any falls while keeping the wood on full display. They come in different formulas and are either water or oil-based, depending on what you prefer.
2. Use Anti-Slip Paint
If you want to add some color to your wood stairs while making them less slippery, there are many different anti-slip paints designed specifically for wood surfaces.
Highly textured paints offer better grip while also being weather resistant and generally more durable.
Because of this, they can be used for both interior and exterior applications.
3. Apply Anti-Skid Additives to Sealers
Additives are another simple way to make your wood stairs safer.
You can mix the additives into whatever material you were already going to use to finish the wood stairs, including stains, epoxy, oil- or latex-based paints, or other sealers to create resistance.
You can choose just how much texture you want in the finish by adding as much or as little of the additives as you choose.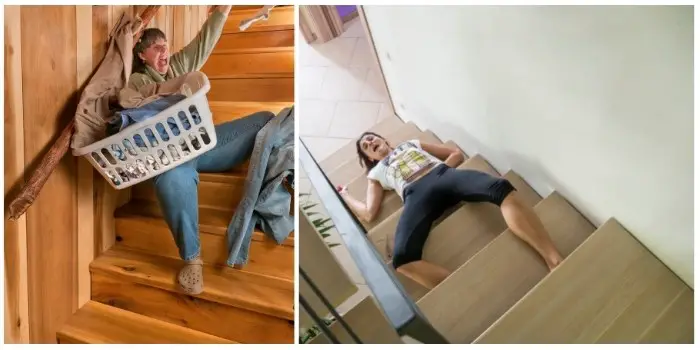 4. Use Non-Slip Aerosol Sprays
For a more budget-friendly fix, you can use an anti-slip spray on your wood stairs.
These sprays are formulated specifically for increased slip resistance on various surfaces, including wood while giving them a lighter texture.
This makes them friendlier to bare feet and paws while still getting the job done.
5. Anti-Slip Stair Tape
Stair tape is a durable option that is simple to apply and is available in many sizes and shapes.
Tape tends to be a more budget-friendly option for staircases and offers hard-wearing traction in different grits.
This type of product can be used both outdoors and indoors and offers great slip resistance in either setting.
There is, however, a downside to using this kind of tape. You run the risk of damaging the wood if you remove the strips and replace them.
Furthermore, they aren't the most visually appealing of the many options. Because of this, they are better suited for use in schools, commercial settings, and offices as opposed to in the home.
While stair tape does offer a transparent appearance, it is not the best choice for high-traffic stairwells in any setting. This type of tape shows dirt more easily and may be difficult to keep clean.
On the other hand, darker-colored strips, such as matte black, need less maintenance and attention.
6. Non-Slip Carpet Treads
Treads tend to be the most pet- and child-friendly option, especially when compared to tape.
They have a softer finish while still promoting better traction and grip, all the while protecting feet and paws from unpleasant, scratchy grit.
Treads are available in a wide variety of colors, finishes, and designs to choose from, making them as decorative as they are practical.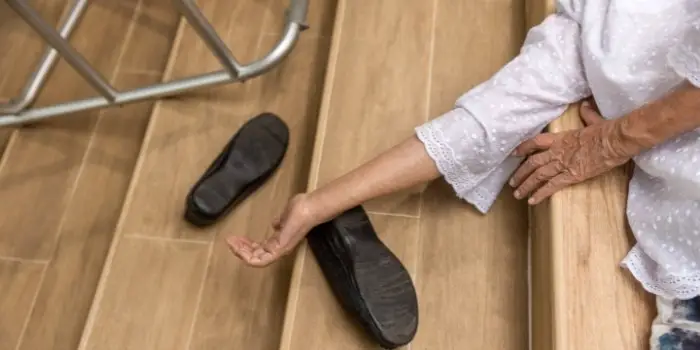 7. Clear Anti-Slip Stair Strips
Choosing clear anti-slip strips will still allow you to enjoy the natural wood on the stairs while providing the grip you need to avoid slips and falls.
Some people who have used them state that the clear strips can attract dust and dirt, but there are options on the market that allow you to clean them easily and keep them looking their best.
Clear stair strips provide the traction you need without all of the high grit of some other types of strips, making them both child- and pet-friendly.
8. Old Fashioned Stair Runners
Carpet runners are a tried-and-true way to make a wood stairwell safer while also bringing with them a beautiful visual appeal.
There are many designs and textures to choose from to suit the aesthetic of your space.
These products run the whole length of your stairs, and you'll commonly see them in opulent hotels running down a grand wood staircase.
Those who are not professional contractors could find installing a carpet runner to be quite tricky.
This is because the carpet runner has to match the stair measurements perfectly and will also need a knee kicker and pneumatic stapler alongside other special tools to get the job done.
Beyond that, proper underlays are also required for installation to make sure the carpet securely fastens to the wood.
With a carpet runner, only the edges of the stairs remain visible, so if you're bent on showing off your beautiful wood stairs, this might not be your option.
9. Use Overstep Stair Treads
If your priority is protecting your hardwood stairs above all else, stair strips and treads might not give you the total protection you need on the stair nosing or the edge of the steps.
Constant traffic from people and pets may cause the nosing of the stairs to wear down with time and damage the wood.
Bullnose, or overstep carpets, attach like strips and treads but fold over those vulnerable nosing sections to protect them. They are simple to install and take only a few minutes.
Can Laminate Go On Stairs – The Pros & Cons? 
Laminate can go on stairs, and many laminate flooring manufacturers sell pieces specifically designed to attach to the tread's front. These pieces can attach to the regular laminate planks and move to the edge of the stair to give a seamless look. 
Unfortunately, the process of installing laminate flooring on the stairs is a bit harder than installing it on the floor. Also, these surfaces can be very slippery, which means they can create a slip-and-fall hazard for anyone using them on stairs.
Stairs are one of the home areas with the highest impact, so your laminate stairs will need good preparation to make them less slippery. 
Also, you will likely have to cut the laminate to the size of your stairs, as they typically do not sell laminate flooring in specific stair-sized pieces. 
Advantages
Inexpensive stair solution
Incredibly durable once installed
Available in a variety of designs and colors
Disadvantages
Installation is time-consuming 
It can be hard to repair and install
It can be slippery, so make sure you prepare them well
The main advantage that laminate flooring has over hardwood is the price.
Hardwood can run between $20 to $30, while hardwood risers are usually $20. With 10 steps, that will run around $350.
Laminate on the same flight of stairs will usually cost around $200. This is because laminate nose pieces are only $20 instead of $80. 
Furthermore, even the expensive laminate will not likely cost more than $3 per square foot. It can run anywhere from $0.50 to $3 for every square foot.
Also, since laminate floors don't use an underlay, you don't have to worry about factoring that cost into your budget.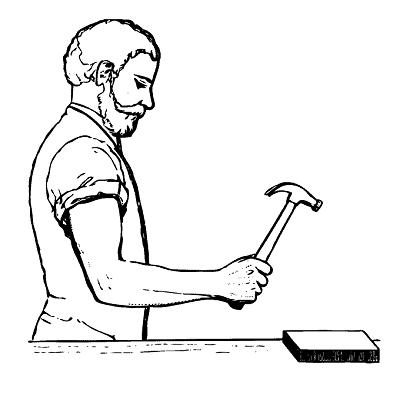 Hi, I am Mark Garner a professional carpenter, woodworker, and DIY painter. I live in the small city of Peoria, Arizona as a semi-retired woodworker. I have started this blog with a simple motive to help you with my wood experience in this sector. If you like to know more about what I love doing and how it all got started, you can check more about me here.