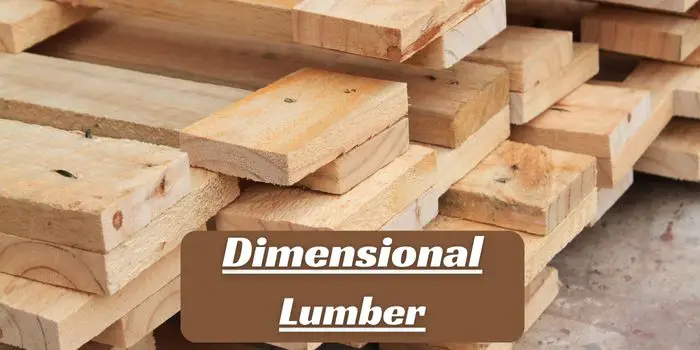 Used for many thousands of years as construction material, lumber is still a mainstay of many housings, commercial, and structural construction.
Until relatively recently, specific sizes of wood were cut straight from the lumber and customized to the project at hand. 
However, the creation of dimensional lumber changed all that, making the construction process far faster and more efficient.
This means that large-scale construction projects involving dimensional lumber not only save time but money and effort, which greatly reduces the overall construction cost.
But what is dimensional lumber, what is it used for, and what applications will it serve?
Dimensional Lumber
This is wood that is cut to a predetermined size – generally to a standard size of length, depth, and thickness.
The most common examples of dimensional lumber include the classic 2" x 4" or two-by-four and four-by-four or 4" x 4". However, the two-by-four is not the actual size but rather the nominal size of the lumber.
Because of the saw blade thickness and the milling processes used to create each piece, the actual size of a two-by-four is really 1 ½" by 3 ½".
To get the exact size, you subtract a one-half inch from the length and width. The exception is 1" nominal width boards where you subtract one-quarter of an inch.
The type of lumber that can be used varies considerably, although most types include fir trees such as the Douglas, Hern, and spruce pine, along with the southern yellow pine.
The dimensional lumber is sawn, planed, and sometimes even further manufacturing is performed depending on the results that are desired. 
It should be noted that other types of lumber, such as plywood or sheeted lumber, also come in predetermined sizes but are not referred to as dimensional lumber. 
A Brief History
The creation of dimensional lumber can be traced back to the 1870s when lumberyards began producing two-by-fours, two-by-sixes, and the like.
However, this pre-cut form was not called dimensional lumber until the 1920s. 
The term dimensional lumber was created to separate the wood used for construction purposes as opposed to the corded wood used for fireplaces.
Dimensional lumber was created as the building industry expanded around the world. By creating wood pieces in standard sizes, the goal was to cut the cost and minimize the amount of waste that was common when customizing wood for specific uses. 
Dimensional lumber was also better suited to the evolving balloon-framing style, which was taking over from the traditional post-and-beam used in older houses. 
Uses of Dimensional Lumber
Dimensional lumber has a wide range of applications. In fact, it is the versatility of dimensional lumber that makes it so desirable for so many different projects.
The most common uses of dimensional lumber include the following. 
Construction
Manufacturing
Industrial Applications
Concrete Forms
Creating & Packaging
Trusses and More 
What makes dimensional lumber so versatile is that it can be used for applications such as the creation of concrete forms quickly and easily.
Some specific uses for dimensional lumber that you may see on construction and other sites follow. 
1- Floors & Ceilings
You'll see plenty of six-by-twelve or eight-by-twelve-dimensional lumber used for support of floors and ceilings.
However, for areas that need additional support, this will add four-by-fours to create the bracket and frames.
Of course, you can augment the support by using metal brackets that are resistant to damage and stress. 
Dimensional lumber is often used for hardwood flooring as well as flooring of most types.
If you want a more elegant type of hardwood flooring based on dimensional lumber, then it is best to go with rough versions instead of the treated ones. 
2- Furniture
Both furniture and cabinets use a considerable amount of dimensional lumber.
You can create outdoor stools and chairs using four-by-fours or six-by-sixes for the best results.
For indoor uses, you can create dressers and large cabinets using the desired dimensional lumber sizes. 
3- Post and Beam
This uses heavy dimensional lumber, normally posts that are 4.5" or larger, which is designed to carry heavier weights.
Because of their thickness and ruggedness, they are less susceptible to damage from water or moisture. 
4- Wall Framing 
If one application for dimensional lumber stands out from the rest, it is the use of this product for the wall framing of single and multi-family homes.
A framework for a typical room will consist of two-by-fours or sometimes four-by-fours. In addition, one-by-twos are needed for the creation of the frame. 
5- Wall Paneling
Another popular use of dimensional lumber normally requires six-by-twelve or eight-by-twelve planks.
The wider the plank, the better the results. However, you can use whatever size is best suited for the situation. 
If the form required is a standard size, then all that is needed is to select the proper number of pieces, cut them where necessary, and then create the form.
This saves time, effort, and money when such applications are needed for construction sites.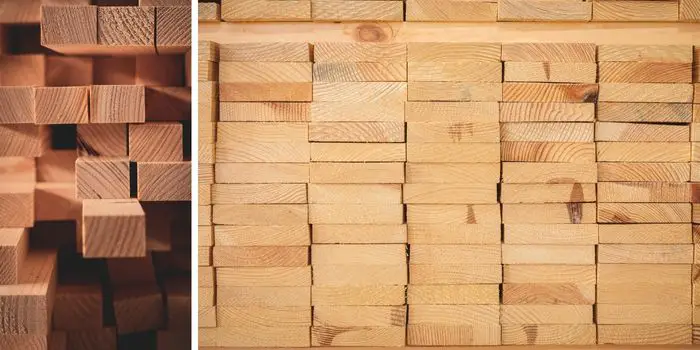 Why Choose Dimensional Lumber?
First, the sheer availability of dimensional lumber makes it almost a no-brainer to choose for many different projects.
Its overall quality, size, and quantity mean that you can get what you need while saving money. 
It is considerably easier to shape wood when it comes to predetermined sizes that are close to your needs compared to having to work with larger, non-standard sizes.
For creating frames, dimensional lumber cannot be beaten in terms of overall strength and versatility. 
You will need to measure out the amount of lumber needed and then choose the size that best suits the situation.
That will give you a rough estimate of the price for your project. Plus, even scrap pieces of dimensional lumber that are leftover can still serve a useful purpose. 
Where to Purchase Dimensional Lumber? 
If you are constructing a home, building furniture, or need specific sizes of wood for a project, then you will need to shop at the right place. 
For large projects such as the construction of a home, it is best to order the lumber through a contractor, lumber supplier, or lumber manufacturer.
In other words, these are wholesale operations that can provide a discount over retail outlets when ordering large amounts of dimensional lumber. 
However, if you only need smaller amounts for renovation projects, building furniture, or other woodworking applications, then your local lumber store or retail outlet is the place to get the dimensional lumber.
They will have the quantity you need, and you can choose from the various sizes that are available.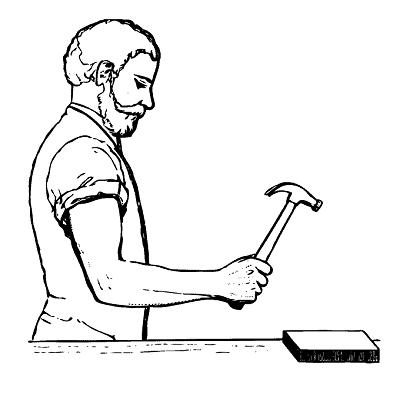 Hi, I am Mark Garner a professional carpenter, woodworker, and DIY painter. I live in the small city of Peoria, Arizona as a semi-retired woodworker. I have started this blog with a simple motive to help you with my wood experience in this sector. If you like to know more about what I love doing and how it all got started, you can check more about me here.