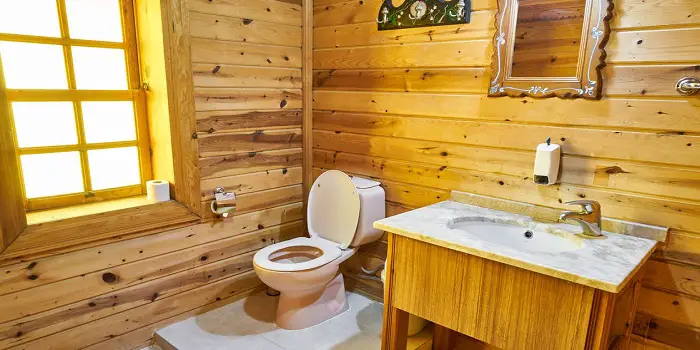 The toilet seats made of wood look beautiful and classy. They are usually made up of strips of wood that are built around a wood core to make the natural grains of wood visible.  
Enameled wood is basically wood that has been painted and finished with enamel paint. The goal here is to give the wooden toilet seats a smoother finish that resembles plastic.
If you are looking to replace your toilet seat or need to buy a new one for the apartment you just moved in, most likely, you have come across these two different options that include enameled wood and plastic seats.
In short, if you are looking for a more durable toilet seat with a wide range of color options to choose from, you should get a plastic toilet seat.
But if your ultimate desire is to get solid designs, sculptured models, a luxury feel, and a variety of hinges, you should definitely choose enameled wood for your toilet seat.
Wood vs. Plastic Toilet Seat
| Wood Seat | Plastic Seat |
| --- | --- |
| Paintable | Affordable |
| It can be stained and varnished | Easy to clean |
| Feel warmer during extreme cold | Better hygiene |
| Improved aesthetic appearance and natural look | Durable, strong, and long-lasting |
| Available in a variety of hinges from metal to plastic | Available in a range of different colors |
But which one to choose between the two, and whether the wooden toilet seat is better than plastic material or not?
The answer will come down to personal preference because both of these materials have their pros and cons.
Let's discuss them in detail below…
Enameled Wood Toilet Seats – Pros and Cons
One of the biggest advantages you will get with a wooden seat is its classy natural look and luxurious feel.
Enameled wooden toilet seats that are well-finished can add a warmth factor to make your bathroom look inviting.
Also, if you love to get traditional-style wooden seats, you can choose from a variety of different options like paints, stains, varnishes, and other finishes.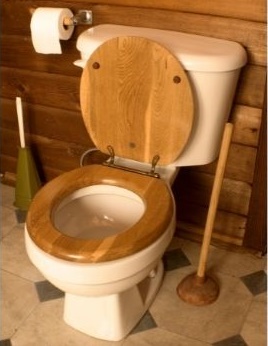 Another benefit you get with a wooden toilet seat is its capability to insulate.
Especially for homeowners who live in places below freezing point, wood can offer much more warmth and comfort than plastic.
One most important thing I like about wooden toilet seats is their variety of hinges. You can either choose the plastic ones that allow you to remove the seat for cleaning or can go with metal hinges that complement your bathroom décor.
The only drawback of selecting wood toilet seats is their low durability.
With the change of extreme temperature and humidity, wood will most likely warp, expand, or contract, which can make these seats get damaged faster than plastic.
Also, because wood is a porous material, the seats made of wood are less hygienic and hard to clean & maintain.
IMO, as the wood veneer gets older, the seats will tend to attract and hold more germs along with the odor of your bathroom.
This means you will need to clean and care for your wooden toilet seats more often at that point in time.
How to clean and care for your wooden toilet seat?
A mild detergent such as dish soap is the best cleaning solution for wooden toilet seats that can be used with warm water.
For disinfecting, you can use Hydrogen peroxide.
It's usually sold as a 3% solution which can be used straight from the bottle, or you can mix it with water for a diluted solution.
Leave it in the toilet seat and bowl for a few minutes, and then rinse.
Further, to clean and protect the wooden surfaces of the toilet seat, use a Murphy's Oil Soap which will keep the wood from drying out and warping over time.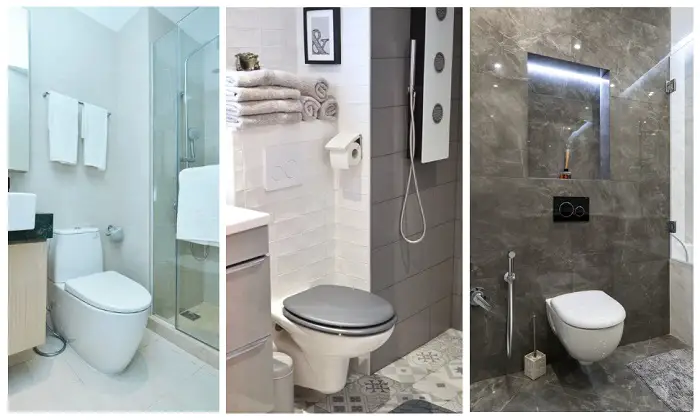 ---
Plastic Made Toilet Seats – Benefits and Drawbacks
Plastic toilet seats are the basic option that is widely popular.
Provided you choose a quality product, not only will they be lighter in weight but also highly durable compared to wood.
And because these seats are much more durable, they do not need replacement soon, making them more cost-effective than wood.  
Another best part of choosing plastic is it comes in various designs and in wide color options such as white, black, gray, pink, cream, and the list goes on…
Hygiene and better sanitation are other advantages because of which plastic seats are popular for toilets.
This also means plastic-made toilet seats are extremely easy to maintain and keep clean.
For cleaning a plastic toilet seat, you can simply spray the surface with a germ-killing cleaner such as Clorox Clean-up. Or smear the paste mixture made of baking soda and warm water onto the stained areas, let it sit for 15 to 20 minutes, rinse and wipe dry.
The only thing that plastic toilet seats lack is their comfort and luxury factor, especially if you choose the cheaper version. Plus, they can feel extremely cold in winter – which makes them less comfy.  
---
Factors You Need to Look At for Picking the Right Toilet Seat
Toilet seats are available in a variety of shapes and sizes.
Also, there is a wide range of materials you can choose from, like solid wood, thin wood veneer, molded wood, bamboo, MDF, ABS, thermoplastic, and many more.
Although both wood and plastic toilet seat materials are versatile, there are various considerations you need to keep in mind when you want to pick the right toilet.
Some of them include the following:
1- Weight
Because wood seats have a wood core, they also carry extra weight.  
But keep in mind the extra weight can be both good as well as bad for your toilet seat. It's good because the extra weight makes the seat feel premium and more durable.
On the other hand, since the overweight can cause the seat to slam down hard on the bowl, it can cause damage.
2- Hygiene
The material you choose for your toilet seat will also mean how hygienic it will be.
While a layer of enamel on the wooden toilet seat will provide a smooth, non-porous surface just like plastic, you will need to make sure that it does not get cracks over time.
If the wood gets cracked, it can trap germs and can even rot with time. This can cause sanitary problems in the future.
With that said, choosing plastic does not mean you are free from all the maintenance.
If you do not clean the plastic toilet seat regularly, the urine may remain on it for a while and can cause yellow stains which can be a problem.  
3- Durability
If it's about durability, you should choose the material that is easy to clean and does not get damaged fast with the change in temperature and humidity.
While plastic materials like Duraplast are resistant to scratches and chemicals, cheaper plastic materials and different types of wood veneers can get damaged soon.
Also, you will need to consider how durable and long-lasting is the hardware that is attached to the seat.
For instance, steel hinges can last much longer than hinges made of plastic.
4- Style and Comfort
The stylish design, premium feel, and comfort factor are important to look at when you are picking the best toilet seat, especially for someone who is suffering from conditions like back pain, obesity, or any disability.
Some of the features you get with premium quality seats include:
Soft-closing seats: for a disturbance-free and a noise-free experience
Self-deodorizing seats: for dealing with bad toilet odor after pooping
Lighted toilet seat: which makes moving and navigating the bathroom easier
Some seats are also extremely easy to clean because they come with built-in quick-removal hinges.
You can check them out if cleaning the toilet is what makes you go crazy.
5- Affordability and Price
With the premium features and designs, you should obviously need to pay more.
In other terms, the quality seats will not come cheap, and you will need to pay a premium price to get premium features.
That said, if you have a lower budget, you can always go with basic functionalities while choosing the less expensive material.
Which One to Choose Between Wood and Plastic Toilet Seat – Final Thoughts
Deciding between an enameled wood and a plastic toilet seat would not be a difficult task if you look at your personal preferences, home décor, budget, and location.
Personally, I love both of them and have installed them differently in my two different rooms.
The plastic toilet seat is what I use most commonly – it's installed on the ground floor.
The wood toilet seat is on my first floor, and I use it rarely, especially during the winter.
While both will resist wear, chips, stains, and water, when selecting, pick the one that is easy to clean for you.
Both materials can improve the aesthetic appearance and can perform well depending on how you care for them in the long term.  
Just make sure you do not go with the cheapest quality product on the market.  
Share the post "Enameled Wood Toilet Seat vs. Plastic: What's Better?"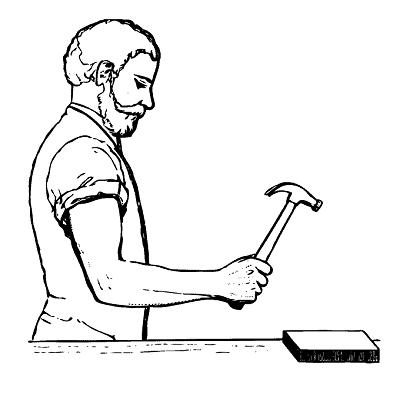 Hi, I am Mark Garner a professional carpenter, woodworker, and DIY painter. I live in the small city of Peoria, Arizona as a semi-retired woodworker. I have started this blog with a simple motive to help you with my wood experience in this sector. If you like to know more about what I love doing and how it all got started, you can check more about me here.