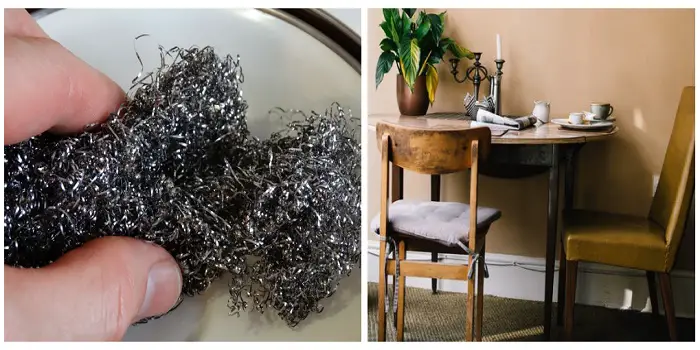 If you have never used this, steel wool is a collection of very thin steel wires bundled together in the form of a ball.
Steel wool is an excellent alternative to fine sandpaper for different sanding projects. Plus, it can be used for a wide variety of polishing and cleaning purposes.
Not only for polishing furniture made of wood, but you can also use this abrasive cleaner for buffing different metals and even surfaces like stone, glass, and others to give them a nice shiny finish.
Why Use Steel Wire Wool for Wood?
One key advantage of using steel wool in place of sandpaper is that the former can easily be compressed to almost any shape you want.
And this makes it easy for steel wool to sand hard-to-reach places and complex shapes like wood moldings and cedar sidings.
The only downside of using steel wool is that it can easily rust if it gets wet.
Also, the small pieces of steel wool can break off during the sanding process, which can later rust and leave rust stains on the surface.
You should therefore work carefully with the product and ensure proper cleaning.  
Knowing how to use steel wool to buff your wood furniture properly will also help overcome such problems.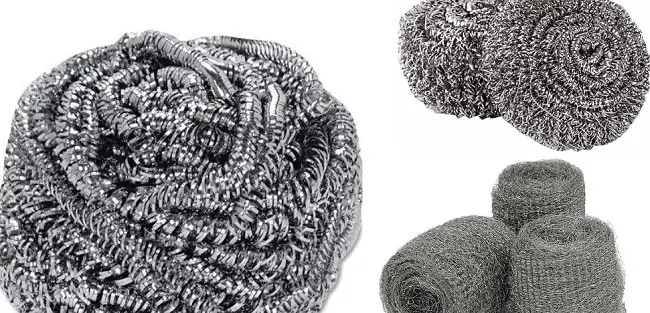 ---
Steps to Polishing Wood Furniture with Steel Wool
Many people think steel wool can damage the wood finish.
But if used correctly, it can actually provide a classic polished look to your furniture without proving harmful.
It does so by scraping off a very fine layer on the wood surface, leaving back a smooth hand-rubbed finish and a shine just like new.
Mostly the process is time-consuming, but it's useful and cost-effective when done for high-end expensive furniture pieces.
Step 1. Apply wood wax
Start by applying some wood wax onto a new wool pad.
You will need to apply it evenly over your table, chair, or other furniture pieces in a circular motion.
If natural grains are visible, work against the wood grains and apply enough wax to coat the surface lightly.
Continue rubbing the wood pad until you get a satin-smooth finish on the surface without any slickness.
Step 2. Let the wax set and buff
Allow a few minutes for the wax to set up on the wood surface.
Then buff the surface in a circular motion with a soft dry cotton cloth.
Use a furniture brush for buffing if you need to work on a piece with uneven surfaces or some nooks and crannies.
Step 3. Apply a second and third layer of wax
After buffing the wood surface lightly, apply a second layer of wood wax with a clean, dry cloth.
Rub in a circular motion and allow it to set up for an hour. Buff the surface again with a soft clean cloth.
Then apply a third layer of wax. And this time, let it set on the surface overnight.
In the morning, finally, buff the surface to get a good shine.
For most cases, three coats of wood wax are suitable to apply to get a beautiful finish with a great luster.
But if you desire to get less shine, two coats of wax will also do the job.
Make sure you allow the second wax coat to set overnight and then buff the surface in the morning.
Tips and Warnings:
The strands of steel wool are very thin and can hurt you. While putting in extra force, the fibers can pierce your skin and cause pain.
It, therefore, is recommended that you always wear gloves before working with steel wool.
Also, cut the piece to your desired size with scissors or shears when using steel wool. Never tear the wool piece as it damages the wool or can make uneven cuts that can harm the skin.
Do you use steel wool, wet or dry?
Steel wool should generally be soaked in vinegar when used for cleaning surfaces like metal, cookware, or wood surfaces.
If, however, you are using the wool for polishing, you need not soak it in vinegar but apply proper polish.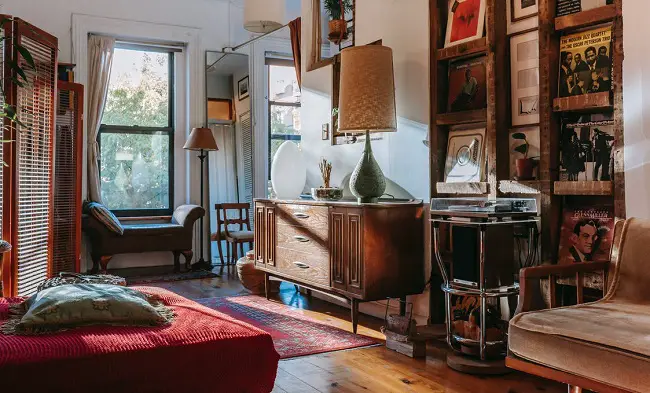 ---
Can Steel Wool Be Used for Finishing Polyurethane?
Steel wool of grade "00" can be used lightly on polyurethane for polishing after you have finished applying the sealer on the surface.
Ensure the sealer is already dried entirely and cured for at least 10-15 days before doing this. This will help bring extra smooth glass-like shine when rubbed and finished with dry rags.
Besides using steel wool for polishing and on painted furniture (for sanding and removing paint), you can also use it on metal surfaces for cleaning.
However, there are a few surfaces on which you should not use steel wool. These include well-finished oak wood surfaces and polished stainless steel. These can get damaged while rubbing.
What Grade Steel Wool Do You Need for Your Project?
Just like sandpaper grits, steel wool also comes in several gradings.
When buying the wood pad, check for the different grades available and choose the one that is most suitable for your project.
The grading of steel wool ranges from the finest grades (number 0000) to the coarsest (number 5).
| Number | Grade |
| --- | --- |
| 5 | Coarsest |
| 3 | Coarse |
| 2 | Medium coarse |
| 1 | Medium |
| 0 | Medium fine |
| 00 | Fine |
| 000 | Extra fine |
| 0000 | Superfine |
While the coarsest grades of steel wool are used for paint prep along with removing paint, varnish, and other finishes from wood, fine grades are generally used for delicate sanding work and polishing the final finishes.
If you wish to use steel wool for giving a final buffing to your furniture piece, you should use the finest steel wool for the job.
What Can You Use if You Don't Have Steel Wool Available?
Steel wool can sometimes leave behind bits of metal on the wood surface when rubbed vigorously.
Particularly, if you are working with furniture made of white oak, it can cause stains due to these residues.
Not to worry, substitutes such as non-woven abrasive pads (like Scotch-Brite) can be used to fix these issues if you don't have steel wool available.
But remember, although it's a great alternative to steel wool, it does not provide the same results.
So, it's not the best option that can always replace steel wool.  
As an alternative, you can also "burnish" wood to get a mirror-like finishing.
Burnishing wood is a process that is typically done by hand to achieve a glossy sheen to the wood furniture.  
Getting a burnished finished wood doesn't require too many skills.
All you will need is a piece of denim fabric (maybe from your old pair of blue jeans).
Fold a piece of denim to make a small pad.
Rub it vigorously on the finished/lacquered wood surface for a minute to polish.
Make sure you rub the denim making an oval shape no bigger than 4 inches in circumference.
Rubbing hard will warm the wood, making the wood finish blend deep into the pores, creating a shiny, polished look.
Final Thoughts
Steel wool is basically a pad spun with thin metal fibers.
It can remove paint, stain, polyurethane, and clear varnishes and give a nice polishing look to your old furniture – it works wonderfully if you need to sand your antique dining table chair set or want to polish your outdoor patio furniture.
Ensure you follow the above guidelines and steps to get the job done appropriately without trouble.
Share the post "How to Use Steel Wool for Sanding and Polishing Furniture?"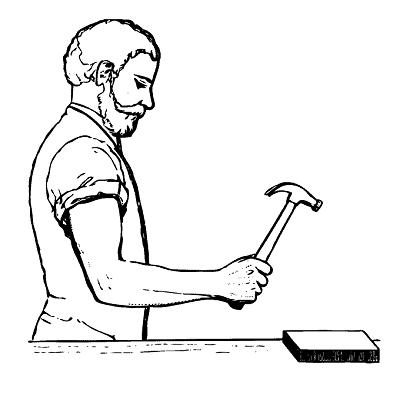 Hi, I am Mark Garner a professional carpenter, woodworker, and DIY painter. I live in the small city of Peoria, Arizona as a semi-retired woodworker. I have started this blog with a simple motive to help you with my wood experience in this sector. If you like to know more about what I love doing and how it all got started, you can check more about me here.