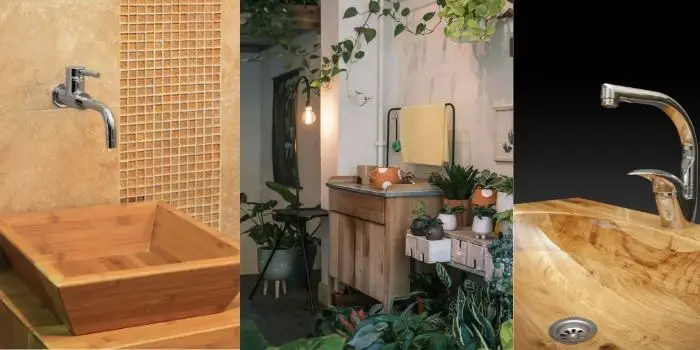 Are you looking to remodel your bathroom on a budget? Consider using wood for your sink and tub. Yes, you heard it right!
Wood can be used for your bathroom sinks, washbasins, and tubs – a great way to add a rustic, unique touch to your bathroom.
However, there are a few things you need to keep in mind when using wood in the bathroom.
In this post, I'll discuss the pros and cons of using wood in your bathroom. I'll also provide tips for installing and waterproofing your wood sinks and tubs to make them safe and last long.
So, read on to learn more if you are excited.
What Type of Wood Can You Use for the Sink and Tub?
There are pros and cons to using wood for your toilets, bathroom sink, or tub.
On the plus side, wood is a unique and stylish material. It can give your bathroom a rustic, natural look.
Wood is also durable and easy to clean. When properly sealed, it's water-resistant and can last for years.
Wood can be a cost-effective option for bathroom fixtures as well. But be aware that it's a porous material and can swell, crack and rot in water.
Wood is also susceptible to mold and mildew. You'll need to clean and seal it regularly to prevent these problems. So, not all kinds of wood are safe for bathroom use.
You'll want to use rot-resistant wood like teak, cedar, hinoki, or redwood. These woods are more expensive than other types of wood. But they're worth the investment because they'll last longer in your bathroom.
Hard to believe but true – for hundreds of years, aromatic hardwoods such as cedar, hinoki, and other scented woods have been used in Japan to create deep soaking tubs.
Teak is also a common choice for shipbuilders and sailors worldwide since it has long been used for its natural water resistance.
While wooden tubs are traditional in Japan and Denmark, they are still a novelty (that comes at a cost) in the countries like the United States and the UK.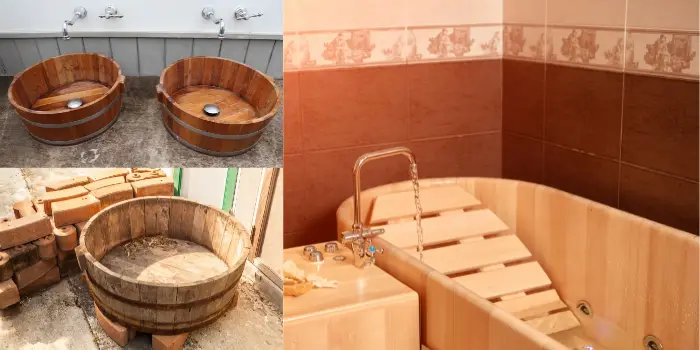 ---
Different Ways to Waterproof Wood for Bathroom Sinks and Tubs
There are different ways to waterproof wood for use in the bathroom.
The method you choose depends on the type of wood, the availability of sealer products, and your skill level.
1- Paint and stain
While wood stains and paints can waterproof the bathroom wood to a greater extent, they will also change its color.
If that's no problem for you and you do not wish to show off the natural beauty of wood grains, there are various waterproofing wood paints available on the market.
KILZ, Wolman, FolkArt, Majic Paints, and Diamond Brite are a few to name, but you can find many others to compare and choose from.
2- Wood oil for waterproofing
One option is to use a sealant like linseed oil or tung oil. This will create a barrier between the wood and the water, which will help prevent water damage and rot.
Give your wooden tub a rub down with linseed oil every few months and a daily rinse with tap water to maintain it in good shape.
3- Marine varnishes and sealants
Another option is to use sealants like marine varnishes on the sink or tub.
You can also use wood sealants that come in many other forms, such as clear polyurethane, varnishes, lacquer, etc.
Wood sealants for waterproofing wooden bathtubs can be used by following these steps…
Step 1. First, sand the wood to rough it up and give the sealant something to grab onto.
Step 2. Next, apply your preferred sealant with a brush or roller, making sure to get into all the cracks and crevices.
Step 3. Allow the sealant to dry completely before using the sink or tub.
Step 4. Re-apply the sealant every few months to keep the wood in good condition.
Can You Waterproof Wood in the Bathroom with Resin and Acetone?
Yes, your bathroom's wooden sinks, tubs, cabinets, vanity tops, etc., can all be waterproofed with resin and acetone. But it's not very common.
This method is often used for outdoor furniture or boats because it creates a solid, durable waterproof seal.
To make it work, mix the resin and acetone in a container. Then, apply the mixture to the wood with a brush or roller.
Allow the mixture to dry completely before you use your wood surface.
Final Thoughts
If you wish to spend a little extra on a luxurious bathtub and bathroom sinks that will elicit "oohs" and "aahs," go with one built of wood.
Just be sure to take proper care of it by sealing it regularly and installing a waterproof barrier around it.
This will adequately support and help prevent it from sagging or cracking over time while also protecting the wood from water damage.
Share the post "Can Wood Be Used in the Bathroom (Sink, Washbasin, and Tub)"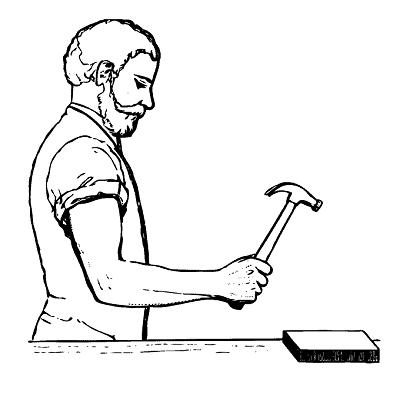 Hi, I am Mark Garner a professional carpenter, woodworker, and DIY painter. I live in the small city of Peoria, Arizona as a semi-retired woodworker. I have started this blog with a simple motive to help you with my wood experience in this sector. If you like to know more about what I love doing and how it all got started, you can check more about me here.