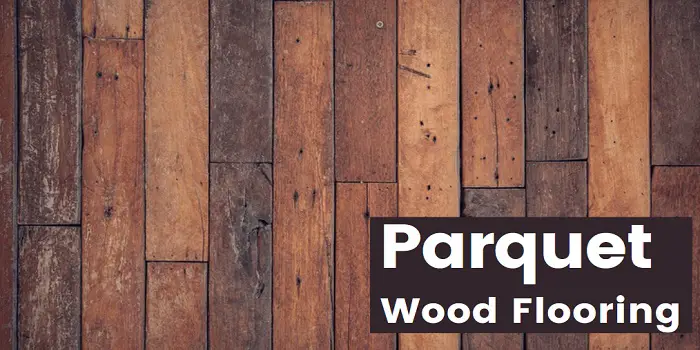 Parquet is a unique style of wood flooring made by arranging "slats" or wood strips in distinct and interesting patterns.
The geometrical patterns will often repeat, but any kind of design can be made.
The original idea of Parquet came from 17th century France where artists would design and cut individual pieces of wood and then fit them together, and then they would glue them to the floor.
It was a time-consuming process and required great skill to do it.
Only the wealthy had this type of flooring due to the cost, so it was a sign of wealth and prestige to have it.
Parquet Flooring Patterns
If you're considering a makeover with your flooring this year, it's good to know that there is a wide variety of Parquet wood flooring patterns you can choose from.
Some of the most popular options include:
Basketweave
Bordeaux
Chantilly
Chevron
Herringbone
Mosaic or finger strip
Parquet de Versailles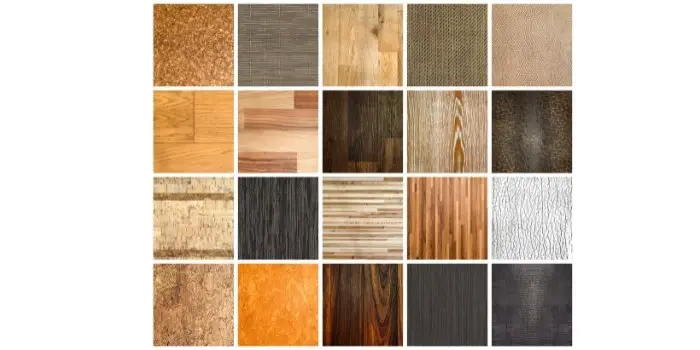 These days the designs come in larger tiles or slats, which are then glued or somehow bonded to the subfloor of your home.
Most Parquet is simply strips of hardwood with designs on them, so the looks, durability, and care of Parquet are almost identical to solid hardwood or laminate flooring.
Parquet flooring typically comes with its own set of benefits and drawbacks.
Let's check them below, followed by how you can seal and care for your flooring.
Advantages of Parquet Wood Flooring
Some of the main pros of parquet flooring are as below…
1- Thermal insulation for your home:
Wood provides natural thermal insulation, and when installed into your home, it will assist in keeping the cold out and the warmth in.
2- Acoustic noise canceling:
Wood flooring provides an excellent way, when installed correctly, to isolate acoustic noise from leaving your home and entering it.
You will also want to install insulating panels under the Parquet when installing it to get extra benefits.
3- Highly durable:
Prefinished Parquet provides excellent wear and tear protection due to the industrial finishing applied to the product.
However, it's often the unfinished Parquet that will have issues with scratches and require a lot of upkeep.
4- Increase the value of your home with Parquet:
Parquet and floor designs are not very common, and many people will be highly interested in this product.
By installing them, you're actually providing a unique, interesting, and often unseen art piece in a large area of your home.
5- Beautiful home:
Not just for resale value, but Parquet makes your home beautiful. People talk about centerpieces to start a conversation or put designs on their walls.
However, Parquet is an extraordinarily unique and, if done correctly, beautiful art concept for your home.
Parquet can come in almost any shape, design, and color imaginable. If you can think of it, then it can be designed to express your unique personality.
If you're on the nerdier side, you could even put the death star on your floor instead of painting a mural.
Disadvantages of Parquet Wood Flooring
Parquet floors do come with a few downsides. Some of them are:
1- It's Complex:
Parquet is not a common material, and while it's much easier to make than in the 17th century, it's still complex.
This is reflected in the price to buy or have it designed and even to have it installed. Nevertheless, it's certainly an investment in your home.
Installing Parquet will require a professional installer to ensure that it is done correctly.
It may be possible to do it yourself, but it may not be a wise choice due to the cost. So the prices will go even higher to have it installed.
2- Needs Regular Maintenance:
Unfinished Paquet requires constant maintenance. Most days, this is minimal and just requires cleaning and perhaps polishing.
However, there is continuous upkeep the older it gets, including sanding and refinishing it as often as every 2-5 years if there is a lot of wear and tear.
3- Can Scratch and Discolor:
Unfinished Paquet is also prone to scratches and marks being left on it.
Without the industrial finishing, there is a constant stream of traffic, feet, and furniture looking to scratch your beautiful flooring.
Unfortunately, sunlight can be a problem for Parquet; it can discolor in large chunks when exposed to the sun for long periods.
Having your Parquet exposed to the sun through an outside window may result in it being ruined.
Keep your shades drawn to protect your Parquet, but that will be the end of sunlight in that room.
4- Not for outdoors:
Parquet is susceptible to environmental conditions, and this includes a humid home or constant spills on it; even an extremely dry home can be a problem.
In addition, your Parquet may expand or shrink, and this could end up warping your flood.
Damage to a small area of Parquet may result in you having to sand and refinish the entire floor.
---
How Can You Seal Your Parquet Floors Correctly?
Before you start preparing work to seal your Parquet floors, consider if you have the necessary skills to do so.
And consider the cost involved in replacing the floors if anything goes wrong with refinishing.
You may be saving some money right now, but if you have to repeat the process soon or even damage the floors right now, then it may not be worth it.
Step 1- Prepare the Area for Sealing
Before starting anything, you need to remove everything from the area; there should be no furniture or other movable objects floating around where the floor will be sealed.
Next, ensure the entire floor is clean, and remove any debris, dirt, or anything else stuck to the floor.
Again, you want a nice flat surface to work with. Finally, give the floor a sweep and vacuum.
Step 2- Sand the Old Sealant Away
Now that you're working with a clean surface, you need to remove the old finish from the Parquet.
This will require complete removal from the entire floor and not just the section you had hoped to reseal.
Otherwise, you will have a strange-looking floor that doesn't match.
Start sanding from corner to corner so you can remove the wax and sealant from the floor.
You'll know when it's done, as the Parquet will look dull.
Step 3- Sweep the Floor
Sweep and vacuum the entire area to ensure there is no dust from all your sanding left over.
Use a lightly dampened cloth or wet mop to go over the entire area to ensure no more dust or dirt is left over from the sanding.
Then, give a second or even third clean to make sure it's looking good.
The floor must have no leftover debris or dust because it will be sealed in for the next many years.
Step 4- Wipe Down the Floor
Because we want to be ultra-clean before sealing, we want to give the floor a good wet wipe-down.
In the previous step, we were just trying to pick up dust with a lightly dampened cloth. You want a wet but not dripping cloth or mop to go over the entire area with this step.
Not only will you be cleaning, but you'll be opening up the grain on the Paquet so that the sealer can penetrate better.
Step 5- Seal the Parquet Floor
Don't rush at this stage.
Before you start, make sure that the Parquet has dried from the last step, which is important because the sealer won't stick if the floor is wet.
You'll know you started too soon if bubbles form in the sealer; then, you can wait for it to dry and start again.
Use a high-quality brand of polyurethane and pour it into a paint tray.
Go from corner to corner and roll the polyurethane onto the floors in even strokes, ensuring you get all areas and have an even layer of the polyurethane on top.
You're not trying to rub it in; simply layer it onto the Parquet.
Once you've finished and the area has dried, you can repeat the process so you get a second layer for added protection on the Parquet.
Once the second layer has dried, give it 24 hours before moving furniture or allowing people to run around on top of it.
If you see any bubbles, then you may have started the process too soon after washing everything.
---
How to Take Care of Your Parquet Wood Flooring?
You can't stop people from walking on or using your Parquet.
Otherwise, it just becomes an art piece, and you lose part of your home.
So use the area but take good care of the Parquet so it looks good for many years to come.
Don't allow spills or water to sit on the Parquet.
It's susceptible to moisture and even humidity. Instead, use a dry or slightly damp cloth to clean up any mess.
Don't use wet mops or steam cleaners on the floor; this can cause damage—especially steam cleaners.
Scratches on your floor are inevitable; however, you can decrease your chances of being upset and annoyed by putting furniture pads on all furniture in or near the room.
For example, consider a guest that comes; they need a chair and bring one in from another room; if that chair doesn't have furniture pads, then you might get scratches.
It's a quick and straightforward process, dust the area and sweep up any dust and dirt that may have formed during the day.
It'll keep the floor looking nice and stop any hard dirt or objects from traveling around the floor and scratching it.
When keeping your parquet floor clean, you don't need to vacuum every day, but once a week to get in any corners or areas where sweeping is just missing.
Use a good vacuum such as Dyson and choose the attachments that will work best on your floors.
You should also get in the habit of spot-checking your floor after every vacuum session to make sure that you don't miss any spots.
5- Use Specialty Cleaner Monthly
There are a variety of cleaners and polishes that you can use on your floor.
It will depend on what is available to you and what you feel like doing in terms of time on upkeep.
If you do use a cleaner, ensure it's for Parquet and don't saturate the area; just keep it damp and when finished, run a dry cloth or mop over the area to make sure there is no dampness or water left.
A Parquet wax polish may also be an excellent option to investigate to keep your floors looking good and add some extra protection from scratches.
6- Consider Refinishing Every 5 Years
At some point, you will need to refinish or research your Parquet floor.
It may not be five years if you've been very careful and kept it in pristine condition, but at some point, you'll need to refresh the area and make it look new.
The steps above will assist you in sealing your floor again; you may however want to get a professional to help.
Final Thoughts
Parquet wood flooring makeover and sealing are a must to protect it against moisture and dirt.
Not only will this keep your floors looking beautiful for years to come, but it will also make them much easier to clean.
If you're thinking of giving your home a little facelift, consider sealing your parquet wood flooring before undertaking any other projects.
It's a quick and easy process that can have a big impact on the overall look of your home. Have you sealed your wood flooring recently? Let us know.
Share the post "What is Parquet Wood Flooring – How to Seal Them Correctly?"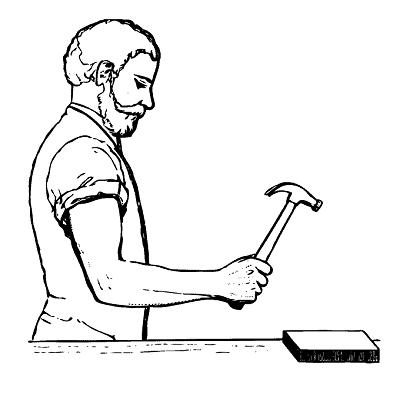 Hi, I am Mark Garner a professional carpenter, woodworker, and DIY painter. I live in the small city of Peoria, Arizona as a semi-retired woodworker. I have started this blog with a simple motive to help you with my wood experience in this sector. If you like to know more about what I love doing and how it all got started, you can check more about me here.