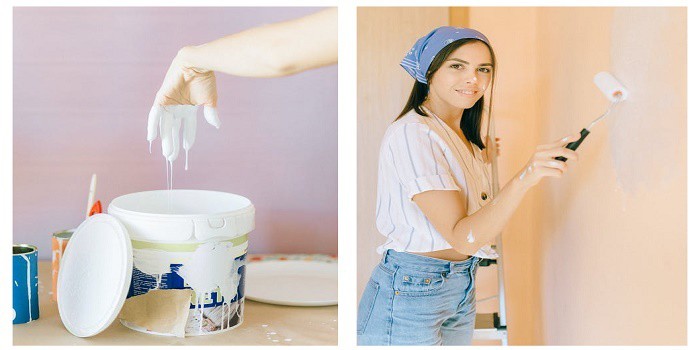 Alkyd enamel is a type of oil (or solvent-based) paint that is highly lustrous, smooth, and viscous.
The paint is generally made of three elements namely the thinner, the binder, and the pigment.
Although alkyd paint does not contain oil, it is many times also called oil-based paint. The reason is it uses chemical binders along with thinners.
The paint is generally produced from alkyd resins dissolved in a chemical liquid. And it dries when the solvent evaporates leaving just the alkyd resins behind.
As the resins cure and oxidize it leaves a long-lasting glossy appearance to the paint.
Knowing all these about alkyd enamels, you may be wondering whether it is a good choice for wood surfaces or not.
So, here is all that you should know about alkyd enamel paints, their pros & cons, including how to apply them on wood surfaces in the best way.
Why Use Alkyd Paint for Wood?
Conventional alkyd enamels can be used anywhere which requires highly durable and shiny paint.
They offer a mirror-like waterproof finish which makes them a great option for surfaces like wood cabinets, metals, glass, plastics, and even walls or plywood used in bathrooms and kitchens.
Doors, trims, and cabinetry made of wood are often the surfaces that are mostly painted with it because it treats the porous wood much more durable and long-lasting.
Pros:
High durability and tough to wear
Offers shiny and mirror-like finish
Washable and waterproof after cured
Cons:
Needs paint thinner for cleaning
May turn yellow with age and heat
Releases a high number of VOCs which leads to emission of carbon dioxide
Since the chemical solvent in conventional alkyd enamels diffuses a high volume of Volatile Organic Compounds which are hazardous to people and lead to carbon dioxide emissions, they are not a common choice in comparison to water-borne enamel paints.
---
How to Use Alkyd Enamel Paint on Wood?
In comparison to interior latex paints, alkyd enamel paint is thicker and more viscous. Hence, it can be tough to apply if you haven't done it before.
The key to getting success here is picking the right materials to apply the enamel paint.
Materials You Will Need
The very first thing is to select a rigid-bristled paintbrush that can help you to evenly spread the viscous enamel paint on the surface.
Make sure the brush you choose is clean and free from any dust or dirt.
Then you will need to select the most suitable primer for the kind of enamel you want to apply.
Oil-based primers will generally work great with enamel paints because they seal the bare wood of the trims and cabinets you may be working on, thereby allowing the enamel to stick well.
Based on the project, you will also require the materials such as:
Primer
Paintbrushes
Painter's tape
Painting respirator
Old sheets to cover the area
Sander, sand paper or sanding sponges
Also, for cleaning the surfaces (before and after the painting) you will require soap and water for hybrid enamels, and paint thinner for oil-based enamels.
Steps for Paint Application
No matter you are painting trim, cabinets, or doors, the application for enamel paint is relatively similar.
The steps you can follow are as follows…
Step 1. Protect
Put an old sheet below the wood furniture or other item to prevent staining the area you are painting on.
Also, do not forget to tape around trims and baseboards.
Step 2. Clean & Sand
If the surface already has a paint coat, wipe it off with a paint stripper.
Sand the surface, and clean the sand dust completely.
The random circular pattern is just what you need to sand wood properly.
There is a unique sandpaper disc on the random orbit sander. The disc is what smooths out the wood surface of your project without leaving too many swirl marks on it.
You'll get much better results this way than you would by manually sanding the wood with your hands. The results will come faster too.
If required, wipe the surface again with a cloth dampened in soapy water to make sure all the grime, grease, or black soot if any is removed.
Step 3. Apply Primer
After the surface is completely cleaned and dried, apply a high-quality oil-based primer.
If you are working on outdoor surfaces, make sure the primer is meant for exteriors and is labeled so.
You can use a paintbrush, sprayer, or roller depending on the surface area you want to cover.
Step 4. Apply the Paint
After the primer has been dried, it's time to apply the alkyd enamel paint.
Valspar Oil-Based Door and Trim Paint, Benjamin Moore ADVANCE, and ProClassic Acrylic Alkyd Enamel are some great options, you can choose from.
Sometimes you may get hybrid enamels with a mix of alkyd and acrylic or urethane resins. These offer additional hardness and lower yellowing to the paint when applied outdoors.
These will have no impact on the application procedure of the paint and will offer similar benefits without emitting high VOCs.
So, if you want you can pick them for indoor and outdoor applications. Just make sure that you thin the paint properly before application.
Penetrol is an oil-based paint additive that will perfectly thin the paint and give it the right consistency to make your work easier.
For getting brilliant results, apply at least two layers of enamel paint over the primer coat using a paintbrush. If required you should go for a third coat to get perfect finishing and shine.
Also, make sure that you take a gap of about 15-24 hours between the coats to dry them completely.
Step 5. Clean and Dry
In case there are any paint spills, clean it as soon as possible or it may be tough to remove when dry.
Make sure you clean the brushes (roller or sprayer) and dispose of the leftover paint properly.
Freshly painted surfaces with alkyd enamel paints can dry to touch within 24-36 hours but may take as long as a week or two to completely cure.
So, it's good to avoid any heavy use till the paint is completely cured.
Also, if you want to apply a clear coat or varnish, or polyurethane over the alkyd enamel, you can do so.
Just make sure that you do this after the paint is completely cured on the surface.
Tips & Warnings When Working with Alkyd Paints
It is important to note that if you are using traditional alkyd enamels for cabinets – it has higher levels of VOCs.
So, you should use a painting respirator during the paint application process. Also, select a well-ventilated open area to avoid inhaling toxins.
Enamel paints when applied on surfaces like wood cabinets can also leave brush marks. These can easily draw attention due to the glossy smooth finish.
One good way to avoid these brush marks while painting is by following the natural grain of the wood.
Use sandpaper (to sand the surface in the direction of the wood grain) to smooth the surface before painting and consider mixing a paint additive like Penetrol.
This will also allow you to adjust your strokes better and in hiding the imperfections, especially when you are painting over long surfaces like doors or decking.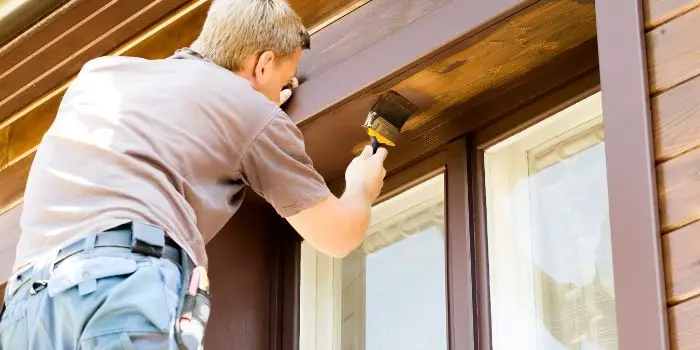 ---
Is Hybrid Enamel Paint and Alkyd Same?
Hybrid alkyd enamels combine the best water-borne paints with the best oil-borne paints.
These types of enamel paints typically make use of waterborne alkyd technology to suspend the resins in a water-borne liquid instead of a chemical liquid.
Hybrid enamels are similar to conventional alkyd enamels but show a less hard finish in comparison to oil-based enamels.
While both paints give the same feel and finish, the only difference is that hybrid enamels are simpler to clean.
They are generally odorless and can be easily cleaned with soapy water.
Their added advantage lies in low VOC release due to the fact that it's formulated with water-borne pigments and formulas.
Pros:
Hard and shiny finish
Water-proof after curing
Long-lasting and tough to wear
Can be cleaned easily with soap and water
Low VOCs release in comparison to conventional alkyd enamels
Cons:
Some variants are less shiny in comparison to oil-based enamels
Final Thoughts
Alkyd enamel paints offer a long-lasting glossy finish and are recommended for surfaces such as doors, kitchen cabinetry, baseboards, trims, metallic furniture, and appliances.
As they are waterproof, washable, and tough, you can use them for your bathrooms and kitchens as well.
Some of them even provide a great scratch-proof finish that can easily be cleaned with soap and water.
So, choose carefully whether you want to go for traditional alkyd enamel or hybrid enamel.
Make sure, you look for the amount of paint you will require, collect the materials needed, and follow the right procedure to apply the paint.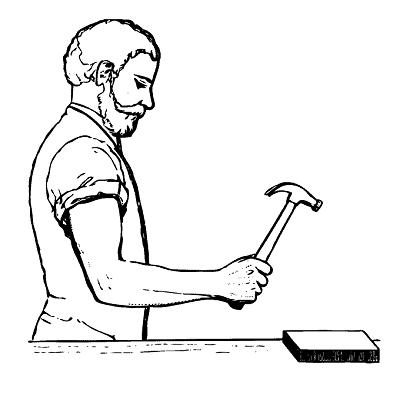 Hi, I am Mark Garner a professional carpenter, woodworker, and DIY painter. I live in the small city of Peoria, Arizona as a semi-retired woodworker. I have started this blog with a simple motive to help you with my wood experience in this sector. If you like to know more about what I love doing and how it all got started, you can check more about me here.