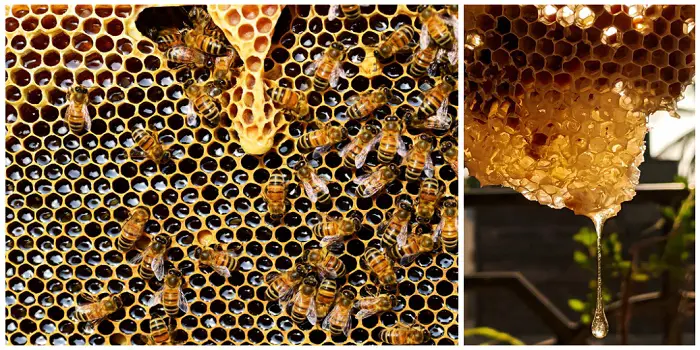 A dresser in the home can give you plenty of storage, no matter whether you plan to use them inside (in a kitchen, bathroom, or bedroom) or an old one outside (in the garden for storing tools).
If you have an old piece of dresser furniture lying around, it's time to get it polished and restored.
Fortunately, there are several treatment methods you can use to clean, buff, and refinish your old dresser.
And using pure natural beeswax is one of my top favorites among many.
The fact is, if you apply it right to your old wooden furniture items like cabinets, dressers, bureaus, drawers, etc., you can easily bring back the natural shine they once had.
So, how do you do it? Let's take a look.
But before we move to the steps, let us understand what beeswax actually does to your wood furniture and why on earth you should use this product.
Benefits Of Beeswax Furniture Polish
One key advantage of using beeswax on wood is it provides it an instant luster along with a natural layer of protection which makes sure that your wooden furniture always keeps looking at its best for a few months if not years.
Many of the beeswax furniture polishes are 100% natural and handmade.
This means if you use them to polish your antique furniture, floors, or other expensive wood items, they will only work to feed and nourish the wood and nothing else.
A regular application of beeswax on your already painted, stained, or varnished wood will add a tough, durable barrier that keeps the wood protected from dirt, water stains, or other external elements.
The other main reason why I love using beeswax block so much for buffing is it can be used as protection on bare, unfinished, and untreated wood like your cutting board in the kitchen.
When applied well, beeswax gets penetrated deep (into the grains and tannins) to seal the raw wood, along with providing it with a natural waterproof coating as well.
With that said, it should be remembered that beeswax as a polish is not a permanent finish.
You will need to reapply this wood treatment to your furniture again after some time if you desire to keep the shine and beauty.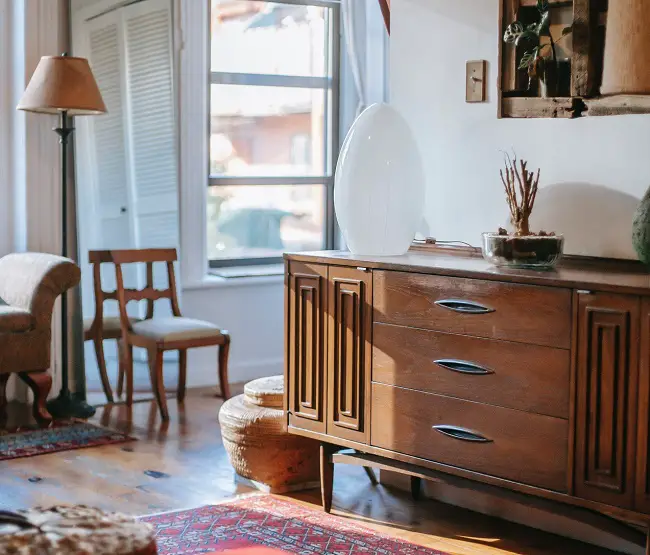 How to Apply Beeswax Finish On Wood?
Now that you know how beeswax works to benefit your wood, let's see in detail how to apply it to your wood items.
For beeswaxing your wood, first, you will need to gather these items:
Beeswax
Carnauba wax
Cotton rag
Polishing bonnet
Triangle scraper
Chisel or a carving knife
Electric orbital sander
Various grits of sandpaper
When you are ready with all the materials, it's time to prepare the surface for getting a waxed finish.
Step 1 – Clean the surface
Start by removing the drawer pulls, handles, or other fixtures with a screwdriver – keep them aside.
Now, before you add a layer of wax to wood, dirt, grime, or old peeling paint should be completely removed from the surface.
If you have a layer of cracked paint, it's good to use stripping products such as a scraper knife, heat gun, sandpaper, or a chemical-based paint stripper.
Once you have removed all the cracked paint, varnishes, polishes, or old wax residues, subsequent surface cleaning is important.
With warm water and some liquid soap, prepare a solution. Do not use any harsh chemicals or colored cleaners, as they can negatively affect the waxing process.
Dampen the piece of rag or a sponge in the prepared solution, and wipe the surface over to remove all the grime and residues.
After wiping, let your chest of drawers dry naturally for about half an hour.
Step 2 – Lightly sand the surfaces
Sanding the wood surface with fine sandpaper before waxing will ensure that the wood will absorb the wax well later. 
While a few pieces of sandpaper (with grit levels 120 to 180) will do the job for your dresser in the bedroom, using an electric sander is recommended, especially if the surface you are sanding is large, like your hardwood floor.
When sanding, make sure that you sand all the surfaces evenly, including all the drawers and top.
You will need to be very cautious while sanding carved wood surfaces, fine grooves, filigree shapes, fielded carved panels, moldings, inner corners, and strips.
So, for sanding the areas like these safely, use a carving knife and a triangle scraper tool.
Step 3 – Prepare the beeswax
The raw beeswax you will be buying from the store for your project will be available in the form of a hard stick, bar, or block.
For application, you will need to melt and prepare this raw solid beeswax by mixing it with some other ingredients.
Here's the recipe to prepare your own DIY beeswax furniture polish at home using solid wax…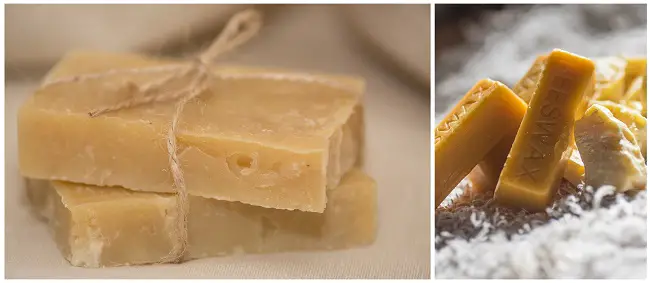 Put 100 grams of beeswax and 50grams of carnauba wax in a stainless-steel double boiler pot
Heat for about 10-15 minutes on a stovetop and allow the hot steam to melt the wax
Without letting them cool, mix around 500ml. of turpentine and stir the mixture
Pour the mixture into a wide-mouth mason jar and allow it to cook and cool down for sometime
Be very careful not to spill the beeswax mixture on the stove, at its flammable and can cause fire
Once the prepared polish mixture is cool, you can use it on the wood surface for buffing.
TIP: If you are preparing the beeswax polish to buff kitchen surfaces like countertops, cabinets, etc., use food-grade mineral oil instead of turpentine.
Step 4 – Apply the beeswax to the wood evenly
Buffing the wood with beeswax polish is a simple process.
With a cotton rag or a lint-free microfiber cloth, apply the prepared beeswax to the wood directly.
Use the cloth to buff the surface gently in small circular movements.
While rubbing the wax over the surfaces, remember to apply only a thin layer of wax and avoid applying a thicker layer.  
This will help the layer to dry fast and with even finishing.
Step 5 – Allow the beeswax to dry and recoat the dresser
Once you have buffed all the wood surfaces of the dresser and drawers, let the beeswax soak in and dry on the wood for about 1 hour (in most cases, it would take about 20 minutes to 1 hour).
After an hour, check that the coating is dry to the touch and not sticky. If it feels dry, reapply a coat of a thin layer of beeswax paste with a cloth or a rag as you did before.
Depending on whether your wood surface is already finished or not, you may need to apply a third coat to seal the pores of the wood well.
Once done, allow the wax polish to sit overnight. In the morning, gently buff off the excess with a clean cloth.

---
What is the Best Beeswax Polish?
Skidmore's beeswax furniture polish is one of the best high-quality wood treatments that can be utilized for finishing interior design projects like (dresser units, dressing tables, console tables, etc.) made of wood.
The thing I like most about Skidmore's liquid beeswax wood finish is it's extremely simple to apply, which creates a lovely, smooth shine that isn't overly glossy.
IMO, it's a wonderful solution for anyone who wishes to completely restore the wood while retaining some of the inherent beauty of untreated wood in their completed work. 
It's also ideal for anyone looking for a great finish that isn't so shiny that looking at it hurts the eyes.
Skidmore's beeswax sealer is a combination of natural oils and beeswax. It is a blend of beeswax and natural oil that creates a soft-to-the-touch finish with a warm glow.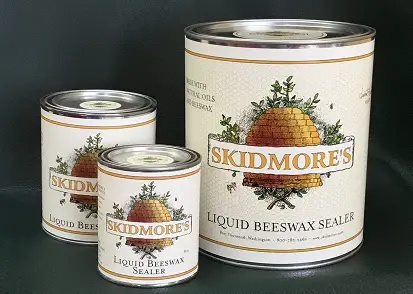 Here are some of the reasons why you should try this product.
The formula is organic, safe, and non-toxic
Created to bring back the detailing of the woodwork
It improves the wood's grain and also restores its hue
Enhances the inherent characteristics of wood
With numerous wood treatments available, Skidmore's Liquid Beeswax Wood Finish is a clear winner as its non-toxic and provides magnificent results.
Though it's accessible from various stores, purchasing from Amazon is the simplest process to get your hands on one of these. It's also reasonably priced, and shipment is prompt.
---
Can You Put Polyurethane Over Beeswax?
When beeswaxing your wooden dresser unit, keep in mind that you should Always Apply Wax Last.
It's much like waxing a car after a good wash.
Wax finish is the very last thing you apply and buff over to achieve a beautiful finish and a layer of protection.
It's the same thing for your wood furniture, floors, or wood stairs you want to wax.
Apply the poly first, and then apply your wood seasoning beeswax.
If you have already waxed your furniture piece only to find out that you prefer a polyurethane clear coat finish, you will need to remove the wax with some mineral spirits.
Mineral spirits are much like a paint thinner solvent, which helps in thinning and stripping of the finishes.
Remember, if you apply the poly over beeswax, the wax will not take it well and will repel the poly very soon. This may ruin your wood finish or can create a tacky layer that can be hard to fix.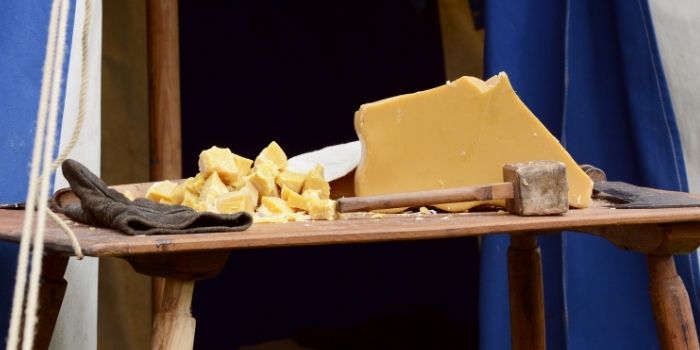 ---
What Are The Disadvantages of Using Beeswax Finish?
Beeswax is quite a useful finishing agent for wooden furniture because it not only offers a beautiful shiny surface but can also efficiently protect the surface from dirt, water, beverages, and even food stains.
With that said, beeswax finish comes with a few disadvantages as well, which you should know about.
1- Requires maintenance
Beeswax polish will easily attract dust, and the fine dirt particles can even get embedded in the wax surface, requiring regular clean-up.
This also means that the furniture finished with beeswax will require frequent re-application and high maintenance to retain its natural beauty
2- Vulnerable to heat damage
We know heat damages the wax finishes very easily.
So, during hot days if the temperature of the room becomes very high (reaches above 70 degrees Fahrenheit), the beeswax may begin to melt and drip.
This can also be problematic if you have beeswaxed furniture near the fireplace.
 3- Less durable compared to varnish
One of the greatest drawbacks of using beeswax polish on wood is it can easily be dented or scratched by sharp objects. 
Unlike clear wood varnishes such as polyurethane and shellac, it's not very durable and needs to be reapplied every few years.
Some of the other most common drawbacks of using beeswax on wood furniture include:
It's difficult to remove from your furniture once applied well
It can leave the wood surface sticky and slippery due to its excellent lubricant properties
It's not suitable for all types of wood materials and flooring, especially the raw unsealed wood
It penetrates deep into the wood and can cause staining (like white and yellow spots); this is usually a problem when the wax isn't applied evenly
FAQs
What is beeswax?
Produced by honey bees of the genus Apis, beeswax is an all-natural wax with yellow-brownish color.
It's typically a substance formed in the glands on the worker bee's abdomen, which is excreted by them (like poop) in or at the hive.
It's interesting to note that beeswax costs much more than the usual paraffin because of the quality it bears and its assiduous extraction process.
What is beeswax used for?
Depending on the processing method, beeswax can be distinguished into three types. These are yellow beeswax, white beeswax, and absolute beeswax. 
Besides its usage as a furniture polish, yellow and white beeswax is used as thickeners, emulsifiers, and as a stiffening agent in cosmetics.
Beeswax absolute is also utilized as a fragrance in the manufacturing of soaps and perfumes.
Can vanish be applied over waxed wood?
Wax is a versatile finish and can add a layer of tough protection to your bare wood.
However, applying any other finish over wax would not be feasible, and therefore you will need to remove the wax first if you want to apply a coat of clear varnish over the wood.  
Final Thoughts
Beeswax and other finishing waxes, if applied correctly on a wood surface, can last for an average of 3-5 years.
Regular application of beeswax can help sustain different wood finishes and can keep your dresser unit, bedside table, and other bedroom furniture in tip-top condition for longer.
When polishing, make sure you buy only the best quality natural beeswax and prepare it well without overheating.
It will truly make the surface resistant to scratches, even the ones that are caused by the claws of your loving cat or dog.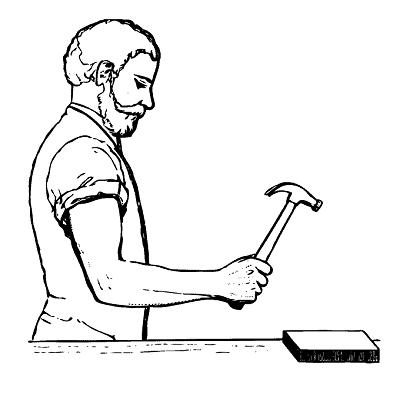 Hi, I am Mark Garner a professional carpenter, woodworker, and DIY painter. I live in the small city of Peoria, Arizona as a semi-retired woodworker. I have started this blog with a simple motive to help you with my wood experience in this sector. If you like to know more about what I love doing and how it all got started, you can check more about me here.