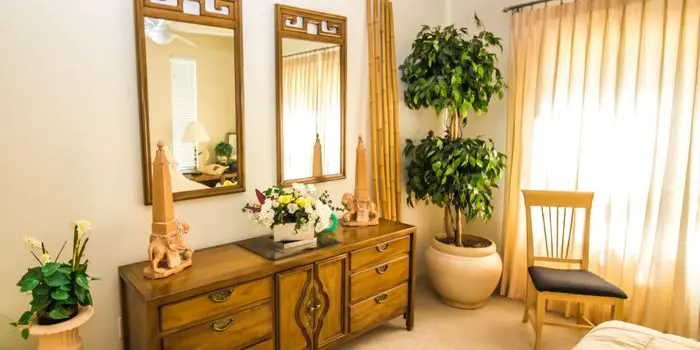 Because dressers have been in homes for centuries, they seem like an obvious choice. So obvious is the fact that many people are not aware of the alternatives. But you may ask why you need one.
The answer may be that you do not, but it is important to consider what a dresser brings to the home. Those with the most important qualities will offer the following. 
More Surface Space
Creates a Cozy Atmosphere
Ties the Bedroom Décor Together
Holds Important Items, such as your TV, for example 
The dresser is not only important but an essential item for the home. Its overall size, function, and use have made it a vital part of homes around the world. 
The dresser has served in the home of commoners and kings, the well-to-do, and those just getting by. But what if you do not have enough space for a small dresser?
The answer can be found in several different alternatives that serve the same purpose while taking up as little space as possible.
Dresser Alternatives for Smaller Rooms 
What follows are alternatives to consider when you need the functionality of a dresser but lack the space to put in a proper one.
1- Open Space
Instead of purchasing a single item, you can instead create your own unique storage solution in the open space of your room. 
This allows you to add what you need and minimize costs. Just purchase a few hooks, wall shelves, and perhaps some boxes to store your items properly. 
Start with the open space and what it provides. Visualize what it offers and then purchase the appropriate items to fill it. 
Start with the hooks, as that will hang your shirts and pants. Then, add a few shelves to store other items in the open. 
The best open spaces to utilize are in the corners of your room that otherwise remain empty. The larger the room, the more hooks and shelves you can add. 
You can even purchase rods to install on the hooks that create a stand-in dresser if you desire. 
2- Bedside Table
Not to be confused with end tables, the bedside table contains drawers that allow you to store important items in a small space. You can think of them as mini versions of dressers. 
This is perfect for those who do not have much space or do not have that many clothes to store. 
A good bedside table can run you well over $100, but they are worth it for the convenience they provide. 
The top part of the table can be used to hold your light, alarm clock, and other items. You can also add more tables if you desire, such as one for your partner on the other side of the bed. 
3- Cubicles
If you are looking for something relatively cheap, easy to install, and do not care much about aesthetics, then cubicles may be for you.
Of course, you may like the look of cubicles as they can complement a small room. 
You can purchase cubicle organizers to fit the space that you have available. Cubicles come in different sizes, and you can even mix and match sizes depending on your needs. 
The biggest advantage that cubicles offer is that you can store as many clothes as you like depending on the number of cubicles you own. 
They are small enough in size to make them easy to put inside a small room. 
Plus, they tend to be quite affordable, with cubicle sets going for $25 and up. If you choose a cubicle storage organizer, then be prepared to pay over $100 and up. 
Plus, if you need more storage, you can always add more cubicles. And if you need less, then you can use the excess cubicles to store other items. 
4- Laundry Storage
Perhaps the best alternative to a dresser is laundry storage areas.
These generally consist of shelves that are normally placed above a washer or perhaps above your bed, depending on the circumstances. 
Over the bed means you maximize space in your room which is especially useful in loft situations where space is a premium, and no washer exists. 
By having them over the washer, washing your clothes becomes a snap. 
In addition, they offer a way to organize your shirts and pants and particularly your shoes. The only real downside is that they are not designed to take up much weight. 
Laundry storage is really for clothes and shoes that you regularly wear. Think of it as the place for your work clothes or items you wear frequently put on when coming back home. 
Other heavier clothing belongs in a closet or separate space.  You can also design and paint the laundry storage shelves to suit your needs.
Whether simple or intricate, you can purchase or even build laundry storage to suit your needs, all for a relatively low price.  
5- Garment Rack
A garment rack is essentially a dresser in a smaller form. It can be said that a garment rack is a dresser without sides. 
You can use the open space provided to hang your shirts, blouses, or pants while using the shelves to hold your towels, shoes, and other clothing items. 
The advantages of the garment rack start with the price. You can often find cheap garment racks for $20 or even less. 
Plus, they can be quite attractive when placed in the room. Add to that the compact design, and they take up far less space than a traditional dresser. 
Underwear and socks will need cubicles or boxes to store on the shelves, which may not be that aesthetically pleasing, but that is a minor downside to the advantages that a garment rack has to offer. 
The only real issue is with garment racks that have no space for cubicles or boxes. You may want to shop for a somewhat larger size garment rack to include such options. 
6- Storage Bed
But what if you have money but not that much space? The space under your bed often goes unused, so why not purchase a storage bed?
The storage bed is a standard bed frame with storage drawers built underneath. 
This allows you to access your clothing and other items without adding any more items to the room. 
The big positive is that you can have a proper dresser that is also your bed. 
Because the drawers are seamlessly put in, many who enter your room will not notice the bed contains storage areas until they look directly at the drawers themselves.
Small bedrooms are the perfect area for storage beds. 
The downside, as you might have guessed, is the price. Storage beds can cost from $1,000 up to $3000 or more, depending on the size of the bed you choose.
Plus, they can be quite heavy and cumbersome to move, so you want to have them delivered and installed in your bedroom. 
7- Wall Hooks
Wall hooks are not only inexpensive, but they are also handy and quite versatile in their function. 
You often see wall hooks near entrances as they can be used to hang the jackets and coats of you, your family, and those who visit your home. 
But they can also be used in the bedroom to hang important items as well. 
If you are on a budget, wall hooks may be the answer. Plus, they can be combined with other inexpensive items, such as shelves, to create a complete look. 
8- Trunk
The clothing trunk is not just for the homes seen in many movies, such as westerns and those featuring mansions. 
The trunk is a simple, elegant solution to storing clothes that you either do not often wear or need a simple, larger furnishing that is both functional and attractive. 
You can purchase clothing trunks for as little as $50, but the good ones are priced closer to $100 and will add a touch of beauty to the room while still not taking up that much space. 
Having one big open space is both the main advantage and disadvantage of the clothing trunk. 
However, you can always pair the trunk with hooks that can hang clothes and other items while keeping your shoes and other clothing items safely in the trunk. 
There are other alternatives to dressers, but many will take up more space, be more expensive, or both. 
The armoire, for example, is a popular alternative to the dresser because it features a large cabinet that can easily hold hanging clothes.
The downside is that armoires tend to be big, awkward to move, and expensive. 
If a dresser is not suitable for your space or needs, then choose from the many available alternatives. 
Start by checking out the space you have available, setting aside the money for your budget, and purchasing one item at a time to fit it properly into your bedroom. 
The result should be the perfect way to store your clothing without having to purchase a dresser.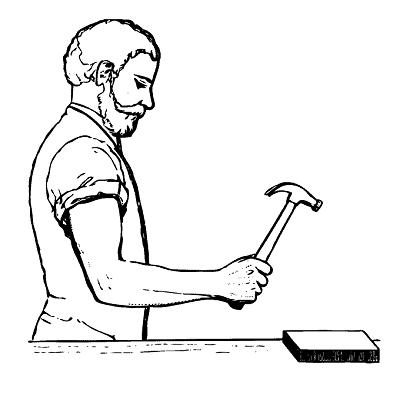 Hi, I am Mark Garner a professional carpenter, woodworker, and DIY painter. I live in the small city of Peoria, Arizona as a semi-retired woodworker. I have started this blog with a simple motive to help you with my wood experience in this sector. If you like to know more about what I love doing and how it all got started, you can check more about me here.