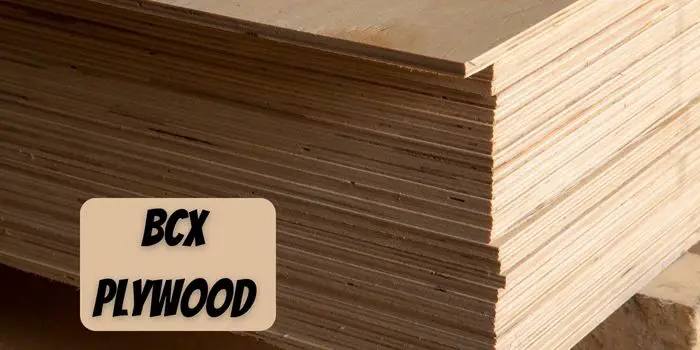 In simplest terms, BCX plywood is a kind of plywood made by bonding B-grade to C-grade ply with waterproof e(X)terior grade glue.
The sheets used in the making are smooth on one side and bumpy (or scratched) on the other.
BCX plywood can be used for outdoor projects, but it will last longer if you seal its exposed edges along with the ends very well.
So, what makes BCX plywood unique when so many other plywoods are available in the market for outdoor purposes?
Let's address all those answers in the article below…
What's BCX Plywood Made Of?
BCX plywood is one of the most preferred types for building outdoor projects like sheds, dog houses, birdhouses, etc., because of its material, affordability, and availability.
BCX plywood is made of two lower grades of plywood glued and pressed together to make a thicker panel.
Because of this, it's often challenging to determine the grade at a glance, and it's usually called 'composite-grade' plywood, which is usually created by gluing two different grades of ply sheets.
Plywood is typically available in four distinct grades: A, B, C, and D.
Plywood graded "A" has been smoothed down and leveled.
When it's graded "D," it is coarse, thickly knotty, and will have an unfinished look overall.
The first letter in BCX corresponds to the 'front face' while the second identifies the 'back face.'
An X in the BCX plywood refers to the water-resistant glue used to hold the layers together.
What is BCX Plywood Typically Used For?
BCX plywood is primarily used for building support structures (particularly those that do not have direct contact with water).
It's also ideal for high-humidity interior building areas, like sub-flooring and wall- and roof sheathing.
BCX plywood isn't appropriate for buildings that would be exposed to moisture in any way, like rainwater.
You might use it for projects such as indoor furniture or cabinets, but the rougher side must be smoothed out first.
Also, remember that the 'B' grade front-facing side is typically the only presentable side of this type of wood.
Therefore, if you do not cover the back side, your project's interior (like cabinets or wardrobes) will look scrappy overall.
However, using BCX for general building construction, this aesthetic problem is not typically an issue.
That's because the "B" side of BCX ply is outward-facing. And the "C" side faces inside and is generally hidden behind paint, putty, and plaster.
BCX vs. CDX vs. ACX Plywood – What's The Difference?
All X-stamped plywood can be used on indoor and outdoor structures, including buildings, siding, and trunk lining.
But the main difference between ACX, CDX, and BCX plywood is in terms of quality.
CDX plywood combines one 'C' grade and one 'D' grade ply sheet glued with quality water-resistant glue.
It's rougher than BCX plywood, so it is mostly used for sub-flooring than the siding or other visually appealing structures. Furthermore, because CDX is of lower quality, it costs less than BCX.
Another alternative to BCX is ACX plywood, which is generally used in applications where the face of the panel is visible.
When selecting between ACX and BCX (or even CDX and RTD) plywood, you must think about what you want to do with it and what project requirements you have.
While CDX is the lowest of the three, in many ways, ACX is superior to BCX, including its fantastic A-side.
In addition to a better A-side, ACX has increased durability and resistance to humidity and moisture, making it quicker and easier to clean.
And because of its quality, ACX is obviously the most expensive of the three types.
However, for projects where the plywood will not be visible, such as roofing, subflooring, or sheathing, BCX is a great, more affordable option.
All these plywood options can usually be found in the homeowner aisle at your local hardware store, so you can easily compare and contrast the different types before making your purchase.
Final Thoughts
BCX is a quality plywood choice that takes on water-based acrylic-latex paints well and can be used outdoors once sealed.
When deciding between ACX vs. BCX plywood, it depends on the project you're working on and your budget.
ACX is the best choice if you need high-quality, durable plywood that will be visible in your final project.
BCX plywood, on the other hand, is a more affordable option that is still durable and can be used for a variety of projects, including general building construction.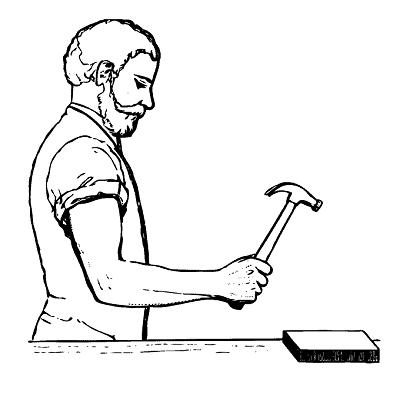 Hi, I am Mark Garner a professional carpenter, woodworker, and DIY painter. I live in the small city of Peoria, Arizona as a semi-retired woodworker. I have started this blog with a simple motive to help you with my wood experience in this sector. If you like to know more about what I love doing and how it all got started, you can check more about me here.