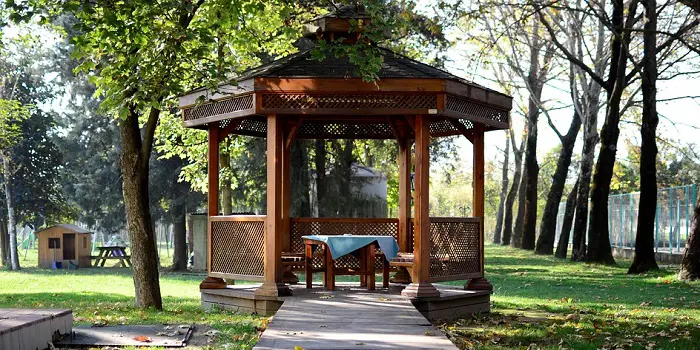 Pergolas and gazebos are the structures that can add beauty as well as functionality to your outdoor garden.
With these structures, you can build a seating area for a whole family or a place to gossip with your friends on weekends.
These wooden outdoor structures are fairly simple to construct with few beams and pillars with or without a roof as per your desire.
However, with so many choices, it can be difficult to narrow down to the right species of wood that is the most desirable for outdoor structures such as pergolas and gazebos.
With some types of wood being so desirable, scarce, and illegal in many places to purchase, it is generally best to stick to proven, legal species of wood to buy.
When it comes down to selecting the right wood for pergolas and gazebos, Western Red Cedar (WRC) and Redwood are the best options out there other than pressure-treated wood.
Between cedar vs. redwood, both types of wood are excellent choices for many different outdoor projects – simply because they are strong, durable, and have a pleasing appearance.
For indoor projects, both kinds of wood may be considered virtually equal since they are not being exposed to the elements.
But for pergolas and gazebos, each has its unique properties that you need to keep in mind. Let's check them over here in detail…
Differences Between Cedar and Redwood
While the similarities are quite striking, the differences between cedar and redwood are also quite apparent.
This is true when comparing the wood over time.
1- Color:
As you might guess from the name, redwood has a reddish-brown coloring that is quite distinctive.
Cedar offers a more yellowish hue to the red of the wood.
So, both types have red in them, but cedar is lighter and more yellow. However, when exposed to the elements over time, cedar will fade to a dull grey.
Redwood, on the other hand, is much slower to lose its coloring even when exposed to the elements as compared to cedar. This assumes that both kinds of wood are not stained.
Cedar is actually more suited to staining, which makes it better suited for outdoor projects such as pergolas and gazebos.
2- Durability:
The durability of wood is based in part on its hardness.
Redwood is almost 25% harder compared to cedar. This means that redwood is more resilient and tends to last longer under the same conditions.
Plus, the higher concentration of natural oils protects redwood better from pests, rot, and elements compared to cedar.
However, it is this higher resistance, combined with not being as available as cedar, that makes redwood considerably more expensive.
3- Grain:
There are over 30 different grades of grain found in redwood, while cedar has just 10.
But perhaps more importantly, redwood is not subject to knots, so the grain pattern is clear compared to cedar.
Redwood is also naturally smoother, though this is less of an advantage because sanding can smooth out most woods.
4- Maintenance:
Both cedar and redwood are relatively easy to maintain for your exterior structure needs.
Simple soap and water will clean both kinds of wood easily. If there is mildew, you can add a drop of bleach which will kill the organism while leaving the wood intact.
If you need to restore the color because of extractive bleeding or rust stains, there is a product that adds oxalic acid that can bring back the color of the wood.
Because redwood contains more tannin, it is more resistant to rot compared to cedar. Tannin not only repels insects, but it also gives redwood its distinctive coloring.
5- Sustainable:
For those who are concerned about using either wood in terms of its environmental sustainability, redwood is at a disadvantage.
While immensely popular in the early part of the 20th century, its slow growth combined with mass harvesting led to the trees being put near the brink of extinction.
Today, redwood has made a substantial comeback.
But it should be noted that both cedar and redwood take about 50 years to fully mature before they can be harvested.
Despite the slow growth rate, both trees are not in danger of being over-harvested. So, you can purchase either wood with the confidence of knowing it will still be around for a long time.
6- The Cost:
One thing to consider is not only the cost you pay upfront but also what you pay as time goes by.
Because redwood has less maintenance and a longer lifespan compared to cedar, you may wind up paying less over the next ten to fifteen to twenty years or more.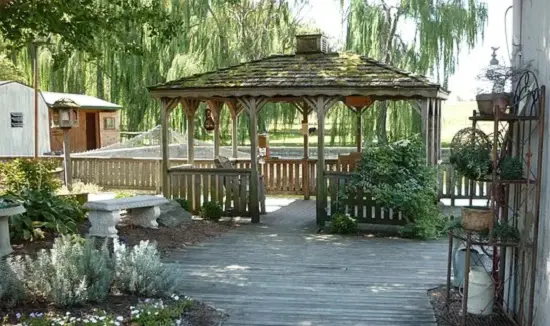 ---
Other Wood Options for Building Outdoor Pergolas
When building a pergola or a gazebo, the good thing is you can use just any wood you'd like and not just redwood and cedar. 
However, if external elements such as rain, snow, and harsh sunlight are your concern, you should certainly focus on some primary types that can help you build professional-looking structures with longer life.
A few wood varieties you can use as a substitute for redwood and cedarwood are:
1- European Green Oak
European Green Oak frames of pergola with light straw colors can make your yard aesthetically clean and pleasing.
Oak is a timber species that has been used for hundreds of years for structural construction, especially for framed buildings.
The reason it's the perfect lumber for outdoor pergolas is its highly strong, sturdy, and durable properties.
The timber is also known for its naturally resistant properties to insect infestation and rotting due to moisture. With just occasional treatment with preservatives, you can upkeep the grace of your oak pergola for years.
2- Pressure-Treated Wood
Pressure-treated wood is versatile, readily available, and easy to work with.
It's a good choice when the initial budget is your deciding factor for building a pergola or a gazebo.
Although the treatment process it undergoes makes it resistant to rot and pests, the chemicals pressurized into the wood are still toxic and can be a concern for people who are allergic.
Also, keep in mind that pressure-treated wood will most likely need to be stained, painted, or sealed more often, which makes it less economical in the longer run.  
3- Modified Wood
Unlike pressure-treated lumber, modified wood undergoes a thermal modification process which makes it highly durable and a great non-toxic alternative for outside home structures.  
Thermally modified wood is a natural wood product that's typically "cooked" in oxygen-free ovens with temperatures ranging above 400 degrees Fahrenheit.
During and after the process is completed, wood cell structures, along with natural grains, get enhanced beautifully, making them even more attractive than various tropical hardwoods.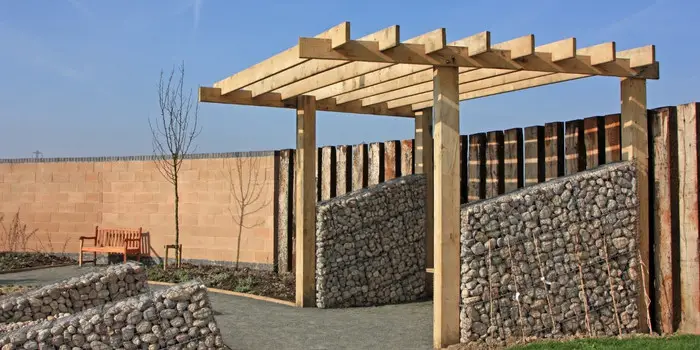 ---
What about Douglas Fir Wood for Pergola and Gazebo?
A popular alternative to redwood and cedar is the Douglas fir.
Douglas fir can grow to 300 feet and is quite abundant in the Pacific Northwest.
It also has deep furrows and blisters of resin and is gray in appearance.
Because it grows well on ground that has been burned, it is often used to replace the land that has been culled with trees.
The Douglas fir is quite strong and durable, which makes it a popular type of wood for many uses, including building pergolas, gazebo roofs, patios, decks, and porches.
But how does it hold up compared to the redwood?
Douglas Fir Vs. Redwood: Differences
With both trees being so similar, it may be difficult to choose the one that is best for your needs.
But in terms of building pergolas, redwood retains its superiority over Douglas fir.
This is because the natural oils present in the redwood make it far more resistant to the elements compared to the Douglas fir. This means that the redwood may last up to three times as long under similar conditions.
Plus, redwood is lighter than Douglas fir and has less of a shrinkage rate which means for your outdoor structures, the redwood is not as likely to warp or split when exposed to the elements.
And the advantages grow when you stain the redwood.
This is because the redwood is more porous than the Douglas fir, allowing the stain to penetrate the surface and provide additional protection.
However, despite all the advantages, redwood is considerably more expensive compared to Douglas fir. This means that pressure-treated Douglas fir is often the choice for those on a budget over the more expensive redwood.
If you are considering painting the pergola wood or using a good sealant over them, the Douglas fir may be the better choice, especially if it has been pressure treated.
FAQs
What is a pergola?
A pergola is a garden structure with a lattice of beams and crossbeams that supports climbing plants.
The word "pergola" originated from the Latin word "pergula," which means "projecting eave."
Pergolas are often used as patio covers or walkway covers and can be either freestanding or attached to a building.
A pergola can provide shade and shelter from the sun and rain and can also add visual interest to your garden.
Climbing plants can add color and fragrance and can attract birds and other wildlife. Pergolas can also be used to define a space or create an outdoor room.
How long do wood pergolas last?
With proper care, a wood pergola can last for many years. Cedar and redwood are especially durable types of wood, and they are also resistant to rot and insect damage.
If you live in an area with severe weather conditions, you may want to choose a different type of material, such as aluminum or vinyl.
To keep your pergola in good condition, regularly inspect it for damage and make repairs as needed.
Periodically clean the structure with a mild soap and water solution to remove dirt and debris.
If it's made up of wood, you may also want to apply a sealer or stain to protect the wood from weathering.
Pergola vs. gazebo: What's the difference?
A pergola is a garden structure with a lattice of beams and crossbeams that supports climbing plants.
A gazebo, on the other hand, is a freestanding, roofed structure that provides shelter from the sun and rain. Gazebos are often used as outdoor dining or entertaining areas.
Both pergolas and gazebos can add beauty and functionality to your outdoor space. However, they serve different purposes.
If you are looking for a structure to provide shade and shelter from the elements, a pergola is a good choice.
If you want an outdoor room that can be used for dining or entertaining, a gazebo is a better option.
Final Thoughts
Finding the right wood for any project will depend on what it will be used for, whether it is exposed to the elements, and if it is designed to last for a long time.
While redwood is the ideal choice for an outdoor pavilion, cedar is also good, tough wood that is relatively inexpensive and widely available.
Its advantages include resistance to elements which means it can hold up against rot as well.
However, it is not quite as weather-resistant as redwood and may not last as long without more maintenance.
The Douglas fir is also a viable option, particularly if you purchase pressure-treated wood that is more resistant to wear, the elements, and pests.
However, the Douglas fir is still not quite as durable, which is a strong consideration for your outdoor structure needs.
When you consider the resilience, weight, and overall strength of the wood needed for exteriors, redwood does have advantages despite its purchase price.
Share the post "What's the Best Wood for My Outdoor Pergolas and Gazebos?"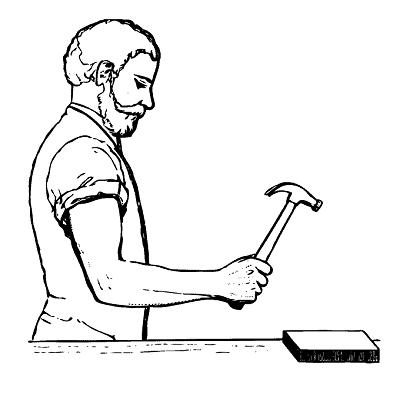 Hi, I am Mark Garner a professional carpenter, woodworker, and DIY painter. I live in the small city of Peoria, Arizona as a semi-retired woodworker. I have started this blog with a simple motive to help you with my wood experience in this sector. If you like to know more about what I love doing and how it all got started, you can check more about me here.