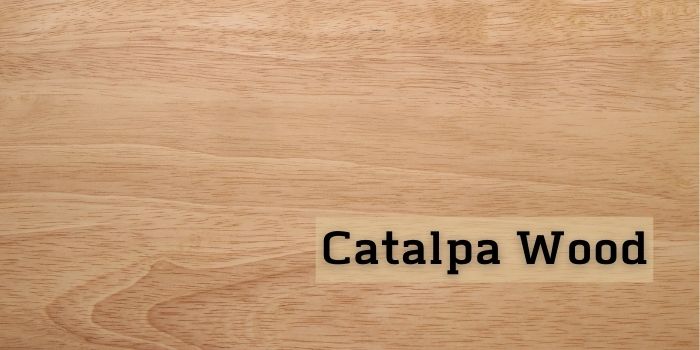 Catalpa wood is found in North America and is concentrated along the eastern side of the United States.
However, it can be found across the US since it has been naturalized to the area.
There are only 11 species of the tree in existence.
The name comes from the Catawba Indian tribe who named the tree. Alternate names include the Indian bean tree and the cigar tree because of their appearance.
You will not often find lumber available from the Catalpa tree.
Catalpa Wood
Scientific Name:
Catalpa spp. (C. speciosa and C. bignonioides)
Tree Size:
50-100 ft (15-30 m) tall
2-4 ft (.6-1.2 m) trunk diameter
Janka Hardness:
550 lbf (2,450 N)
Type:
Hardwood
Odor:
Faint and spicy smell
Specific Gravity (Basic, 12% MC):
.38, .46
Common Uses:
Fence posts, cabinetry, and carving
Appearance
Color
The heartwood of Catalpa ranges from a rich golden-brown color to tan that has hints of a neutral gray.
The heartwood itself consists of most of the tree which includes the trunk.
While the sapwood is rather narrow and has a pale gray coloring. The color of the sapwood resembles ash to a certain extent.
Texture & Grain
The grains of Catalpa are straight and uniform which is why the wood is a popular choice for many.
The texture is coarse and open, making it tough enough to withstand the elements at least to a certain degree.
You can detect a spicy odor from the wood, although it is rather faint. Allergic reactions are relatively rare but can occur with this type of wood. This is normally in the form of skin irritation.
It is recommended that you wear a long sled to clean your skin frequently if you are susceptible to an allergic reaction.
Catalpa Wood Workability
Overall, Catalpa is easy to work with using either hand or machine tools.
However, it is rather easy to create indentations or ridges when sanding the edges or sides of wood made from Catalpa.
The lighter areas of the wood tend to sand easier compared to the portions of earlywood.
Therefore, a sanding block that has a rigid back is recommended instead of just the sandpaper itself.
To get a smooth finish it is recommended that you fill the rather large pores of the wood.
Catalpa finishes quite well and can be glued rather easily. This makes it a solid wood to use on many different projects.
One big advantage is that the wood does not shrink much when drying out.
Although there may be some drying issues at first. This makes it quite stable and workable for different applications. 
What is Catalpa Wood Used for?
This wood is often used for outdoor projects because it resists decay quite well. It is why you often find it used for posts, carvings, and outdoor items.
This type of wood tends to be used for larger projects such as cabinetry, carvings, fence posts, and utility wood.
It can be used for a wide variety of items, but the large pores make it better suited for larger projects such as fence posts.
The wood itself is available, although not as consistently available as other types of lumber.
The prices tend to be moderate for boards, although you may have to pay more for specials, such as blocks or carving blanks.
While the tree is widespread, they tend to be scattered rather than growing in colonies which makes their availability difficult to predict.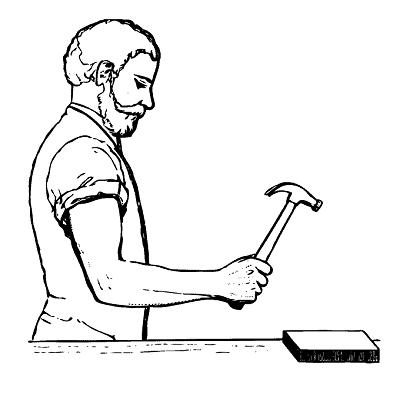 Hi, I am Mark Garner a professional carpenter, woodworker, and DIY painter. I live in the small city of Peoria, Arizona as a semi-retired woodworker. I have started this blog with a simple motive to help you with my wood experience in this sector. If you like to know more about what I love doing and how it all got started, you can check more about me here.