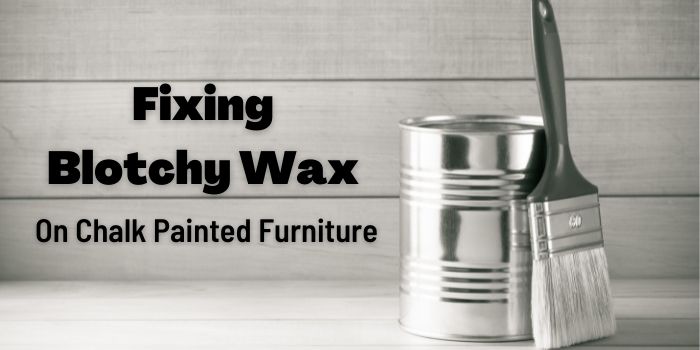 The chalk paint finish is fun to work with and is getting much more popular due to the distressed finish it provides.
But unless the surface is anything that's not going to be touched or moved frequently, you will need to wax it to avoid getting damaged and scratched.
However, the problem here is that the wax can become blotchy if not applied correctly.
Whatever may be causing the waxy look on your chalk paint, this article will help you figure it out and find ways to fix it. So, let's get into some details…
Why is the Wax Streaky on Chalk Paint?
There are various reasons why the wax may look this way:
First, you didn't do a good job when painting with chalk paint, and the wax only made it worse when you left the excess for a long without getting it off.
Second, you applied too much wax (in thick layers) on chalk-painted furniture, and it resulted in an improper application of a finish while leaving all the opaque lumps and streaks on your wood surface.
Third, if you wax over a dirty chalk-painted surface or have used a dirty wax applicator, it may result in dry and dirty wax build-ups that can be challenging to fix.
Other than the above, if you worked in sections and then didn't blend them at the end, it can also cause a problem.
And applying wax over chalk paint in direct sunlight is a recipe for disaster. The wax will start to harden quite quickly even under normal circumstances, so when you put it directly underneath the blazing sun, it could dry out immediately.
To achieve optimal results and avoid any unwanted issues with your project, make sure that you are not working in direct sunlight.
Different Ways to Fix Blotchy Wax on Chalk Paint
To remedy the streaky appearance regardless of its source, you can apply thin coats of wax to the surface of the wood and move it evenly using a wax brush or lint-free cloth, working on one small section at a time.
Then, put on more wax and remove any excess using long back-and-forth gestures to prevent brush strokes.
If the above method doesn't work, you can try to wipe it off using a clean cloth and mineral spirits. Once you have the desired results, you can put a thin coat of wax down to seal the chalk paint again. Below are all the details and steps you can follow.
1. Buff Out the Blotches
This is thought to be the easiest way to solve the blotchy wax situation.
Let the wax dry for about 24 hours when you're done to ensure it doesn't have a tacky feel when touched and that it doesn't shrink.
Then you will need a polishing buff brush and a lint-free cloth that you can use to buff the blotchiness.
Once you're certain the wax is dry, you can use firm pressure to rub over the blotchy area. If you are too firm, you may scratch the surface of the wax.
Buff the area using either back and forth motion or in circles. Check as you go to see if the blotch is evening out or fading.
If this process is fixing it, then continue to buff the rest of the wood to achieve an even finish. If it doesn't work, then you can try other methods.
2. Apply a Fresh Coat of Wax Over the Old
You can choose this method to fix the blotchy look on a chalk-painted surface. To do so, you'll need to use a chalk paint wax brush or lint-free rag and some wax. Just apply a thin layer of soft wax over the old wax.
Regardless of the way you choose to apply it, you'll need to make sure the new wax coat is evenly spread across the entire piece of wood.
Usually, applying a new coat of soft wax can be enough to fix the blotchy look of the wax, but if the blotchy wax still looks obvious even after these two methods, there are others you could try.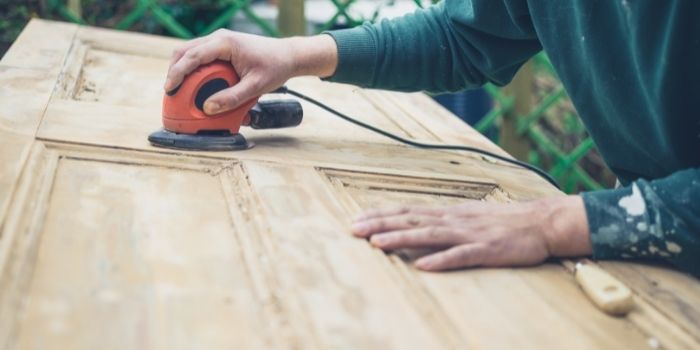 3. Remove the Old Wax and Reapply a Brand-new Coat
Gather the materials you will need to remove the wax from the product and then start at square one. A clean rag and mineral spirits are good for removing any wax from the wood.
Put a generous amount of white spirits on the cloth and then use it to remove all of the wax.
You'll know you're done when you can run your fingers over the surface and feel the chalk paint and its unique texture.
At this point, you can wipe the surface down using a damp rag. This will remove any lingering traces of the spirits.
Let the surface dry for about one hour, and then get a wax brush or clean cloth and reapply the wax to the wood, making sure to spread it out evenly.
Let the first coat dry entirely before going back over it with the second layer.
If this still hasn't solved your problem, you may want to think outside the box.
4. Get Creative and Think Out of the Box
You can just get crafty and deal with the blotchiness by making it a part of the furniture somehow.
If your furniture has some wax you just can't fix, you could cover the spot with paper scrap or fabric and use the area as a decoration instead.
You could also allow the blotchy wax to dry for 24 hours and stencil around it using a darker or brighter color of chalk paint than the one you used on the furniture.
Pick a flat or raised stencil pattern depending on what looks best on the blotchy wax. Be sure to let the stencil dry completely before you seal it with wax.
5. Strip the Chalk Paint and Start All Over Again
This can be your last resort option if the other methods haven't left you satisfied with the results.
It is labor-intensive and time-consuming, so be sure you try the other methods first before giving this a shot.
This method involves removing the blotchy wax, later followed by the chalk paint beneath it.
This will offer a clean, smooth slate for you to begin again and fix the problem at the base. You can remove the wax from the chalk-painted surface using a rag and mineral spirits.
Next, you can use your power sander and lightly sand the chalk paint. If you try to sand it with the wax still in place, it will clog the sandpaper and make the process slower.
Clean the sanded wood using a damp cloth and then apply a coat of fresh paint. Finally, you can wax it again.
If you notice the blotchy wax is only on one section of the project, such as on a drawer or cabinet door, you could just remove the paint and wax from this area, refinish it and leave the rest alone.
Just be sure to match it to the rest of the appearance of the waxed and painted furnishing.
That said, if the problematic blotchy wax is found all over the product, you will have to redo the entire furnishing.
How Many Coats of Wax to Put On Chalk Painted Furniture?
The number of wax coats you need to apply on chalk paint ultimately relies upon the type of wax product used.
Most products specifically manufactured for use with chalk paint are designed only to require one coat, while other popular brands might call for a minimum of two or three layers.
To guarantee optimal protection, it's essential that you consult your finish label before applying it over any chalk surface. However, knowing how many coats are just as important as understanding the right way to put them on.
When waxing chalk paint, it is important to buff off any excess product promptly with a cloth. Doing this once the formula is still fresh will make removing unnecessary residue more manageable.
If you wait too long for the wax to set, not only will you be stuck with an unpleasant streaky finish, but you will also have difficulty getting rid of that hardened layer without scratching your work.
So remember: when applying top coats like wax and polish on chalk paints – wipe away while wet.
Final Thoughts
Working hard on a chalk-painted furniture project, only to end up with blotchy wax, can seem disheartening. But don't despair.
There are plenty of ways you can make it right again and get the look you want – no matter what caused those unwanted patches in your finish.
For the next time, just remember the remedies that may do the trick for getting back perfect results from your projects.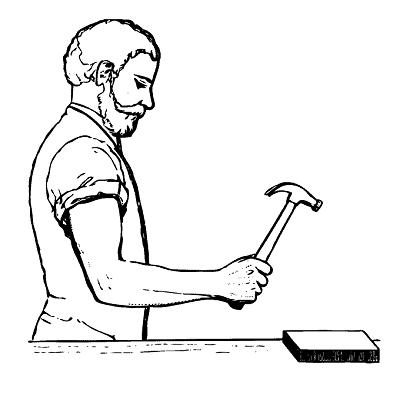 Hi, I am Mark Garner a professional carpenter, woodworker, and DIY painter. I live in the small city of Peoria, Arizona as a semi-retired woodworker. I have started this blog with a simple motive to help you with my wood experience in this sector. If you like to know more about what I love doing and how it all got started, you can check more about me here.