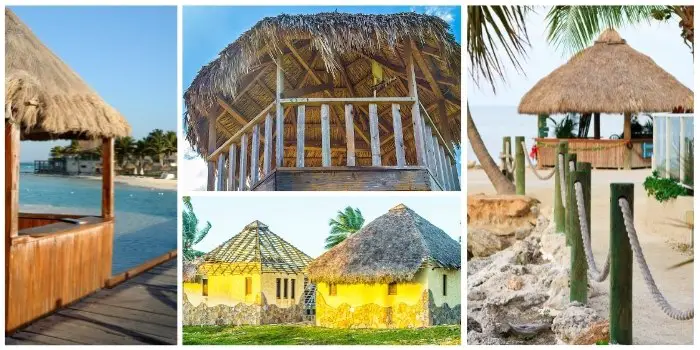 Tiki huts are simple yet durable and versatile structures that make attractive additions for backyards.
Most have a waterproof roof that lets them serve as protection against rain and sun when you're spending time outdoors.
To your surprise, Tiki huts have become increasingly popular as an alternative to gazebos these days.
But why?
Because they offer a lot of space and an attractive design, they can and are commonly used for various occasions.
You can host a birthday party, social gathering, anniversary party, and more all comfortably in your back yard.
Tiki huts are also easy to build in only a few days and need very little maintenance once they have been completed.
Using the right tools, you can also construct a tiki hut within a reasonable budget.
Of course, if you don't like DIY projects, you can always hire a professional to complete the job.
Regardless of which path you take, high-quality materials must be used in the construction to ensure the tiki hut will last for as long as possible.
Below, we'll talk about the different kinds of tiki huts as well as the various materials that are used in their construction.
Natural Materials for Tiki Huts
Natural thatch is perfect not only for Tiki huts but also temporary structures and anything else that you want to build with 100 percent authenticity.
This type of construction material is an environmentally friendly, stable, and cost-effective way to bring tropical, informal vibes to your outdoor space.
Thatch is capable of lasting indefinitely when used indoors, being able to stand for over a decade when used in a dry environment.
The typical life of thatch, however, can extend well past that single decade. Fake thatch roofs are not affected by weather like authentic thatch roofs.
When it comes to natural thatch, there are three main kinds: Tahiti thatch, Mexican rain cape, and thatch reed panels.
These different materials all bring with them different looks and features.
Each kind is made by drying out certain natural materials, such as palm leaves or reed grass, and then sewing them into panels.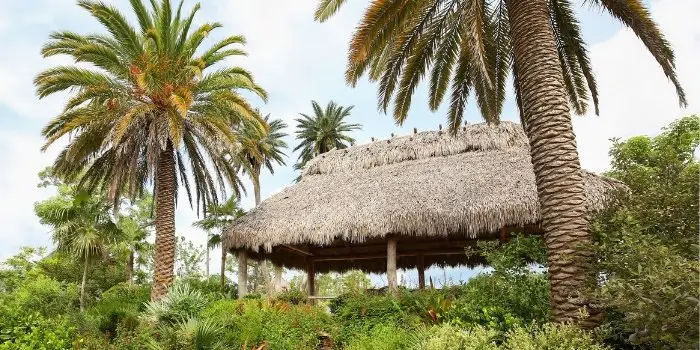 1- Mexican Rain Cape
This type of thatch is fabricated out of Mexican palm tree fronds and usually is available in a light tan hue.
They are installed in a natural way with uneven strands stretching over the roofline, giving the tiki hut a more natural look.
This is also one of the most budget-friendly kinds of thatch and is able to last for years and years indoors.
The one drawback of the Mexican rain cape is that it only lasts a year or two when used outdoors in humid or wet climates. In dry, hot environments, it can last for five years.
It is also good to know that the Mexican rain cape is not a waterproof material.
While it can offer a bit of protection against moisture, this material should be used primarily for decorative purposes or to provide some shade.
Mexican rain cape installation is straightforward and can be completed without any unique tools or special skills.
Zip ties or heavy-duty staples can attach the thatch to the roof of the tiki hut.
2- Tahiti Thatch
Also known as Tahitian palm thatch, Tahiti thatch is crafted from the fronds of desert palms that are sewn together with nylon rope to increase their durability.
It offers a sustainable, environmentally friendly, and rustic-looking option for your roof.
This type of thatch has a greater thickness than the Mexican rain cape. Beyond that, it is better for waterproofing.
It is 98 percent waterproof with a thickness that lets water roll right off of the roof instead of soaking through it.
This kind of thatch is also highly flexible and can be applied to uneven roofing lines or straight lines. It is especially well suited for an umbrella or round-style tiki huts.
3- Thatch Reed Panels
This type of panel has a more refined appearance that makes them popular with those who like modern aesthetics.
They boast a blend of tropical colors, including greens, browns, and yellows that make it a perfect complement to any outdoor decor.
Fabricated out of natural African reeds, they are the most waterproof and durable kinds of material available.
This rugged and long-lasting thatch style offers even more shade than its alternatives and can keep a tiki hut 10 degrees warmer or cooler depending on the season.
The thatch will also allow heat and moisture to rise and escape out the top of the hut to keep it well ventilated.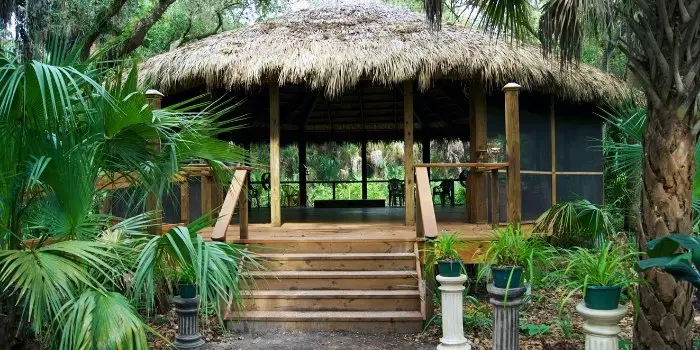 ---
Using Artificial Thatch for Tiki Huts
In the last few years, artificial thatch has had made a name for itself and has come a long way.
Compared to the natural thatch that is derived from dried-out grass and palm leaves, artificial thatch is crafted out of plastic.
The plastic doesn't affect the look of the thatch at all, instead only extends its lifespan.
From far away, it is next to impossible to even be able to tell the difference between natural and artificial thatch.
When you have high-quality artificial thatch, you won't need to worry about decay, insect damage, or mold.
Regardless of whether it's on the outside or inside, a tiki hut that contains artificial thatch won't require any maintenance.
Artificial thatch is the best choice for anyone building an outdoor tiki hut, especially in humid climates.
It is important to mention that high-quality versions of artificial thatch also often meet the UV, wind, and fire ratings of building codes in most areas.
Finally, if your outdoor tiki hut is going to require longer durability and a lower price, artificial thatch is your best bet.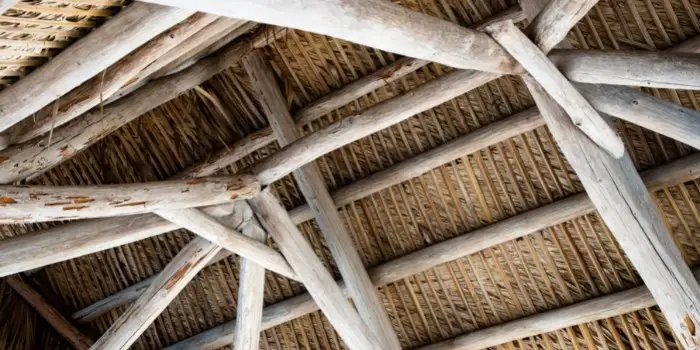 ---
What Wood to Use for Building a Tiki Hut?
There are different kinds of wood that can be used for your tiki hut. Ultimately, it comes down to your preferences for appearance and the specific qualities of each wood as to what kind of wood you choose to use.
Below, we will explore some of the more popular wood styles and a few types of wood you can consider when planning your tiki hut project.
a) Ipe
If your main goal is to construct a tiki hut that will last for a long time, Ipe is a good call.
This is a fast-growing, sustainable wood that is native to South and Central America.
The second hardest wood in the world, it is remarkably durable and tough with a high density that can withstand just about anything nature throws at it.
Its density also prevents it from floating, and it has the same fire rating as steel and concrete.
If you maintain a well-made tiki hut made of Ipe wood, it is possible for it to last up to 50 years or more—a life that is five to six times longer than almost all other pressure-treated woods.
You can extend its life even further to 75 years by giving it an oil treatment.
Still, to extend its life to its full capacity, it requires care and attention.
As one might expect, Ipe wood is much more expensive than cedar or oak, but it lasts much longer than both of these options.
b) Western Red Cedar
This is one of the most popular types of wood used in tiki huts. It is a kind of wood that comes in various colors from chocolate brown to light pink.
It is native to Canada and offers a high level of strength while also giving it natural protection from the elements.
Western red cedar is known for its durability and stability, especially compared to other kinds of wood. It is cut-, shrink- and warp-resistant, and its high resin content resists decay, rot, insects, and dirt.
Much like oak, cedar can be used both in exterior and interior applications without the need for wood treatments.
c) European Green Oak
Also known as fresh-sawn oak, European green oak is a durable and beautiful wood that has been used for hundreds of years in construction and building.
A tiki hut fabricated using European green oak will look beautiful in any backyard due to its light straw color and natural aesthetic.
Unlike some other types of wood that need chemical treatment to protect them from decay and weather damage, European green oak can be used for both exterior and interior applications.
This will not only lower the price of the wood but will also lessen the environmental impact compared to the use of some other kinds of wood.
European green oak is durable, sturdy, reliable, and lovely in appearance with natural resistance to decay, moisture, and insect infestation. In short, it ticks all of the right boxes.
Final Thoughts
Wood and trees have been a crucial part of the development of society and civilization over the course of time.
It is a natural material that is simple to work with, comes in many varieties, and is available in large quantities.
On top of that, it is also inexpensive these days compared to other materials. As far as tiki huts are concerned, some wood varieties are more sustainable than others.
Some building woods are capable of supporting heavy loads, while others can't.
Furthermore, some wood is able to resist the effects of sun, rain, and wind, while others aren't as well suited for this type of environment.
Before you start work on your tiki hut, take some time to research the different types of wood, how strong they are, and how easy they are to work with.
Knowing the kind of wood, you need for your tiki project will help save you plenty of time and money down the line.
Share the post "What are Tiki Huts Made Of – Building Materials & Tips"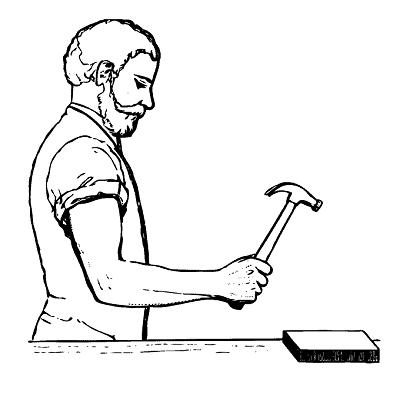 Hi, I am Mark Garner a professional carpenter, woodworker, and DIY painter. I live in the small city of Peoria, Arizona as a semi-retired woodworker. I have started this blog with a simple motive to help you with my wood experience in this sector. If you like to know more about what I love doing and how it all got started, you can check more about me here.