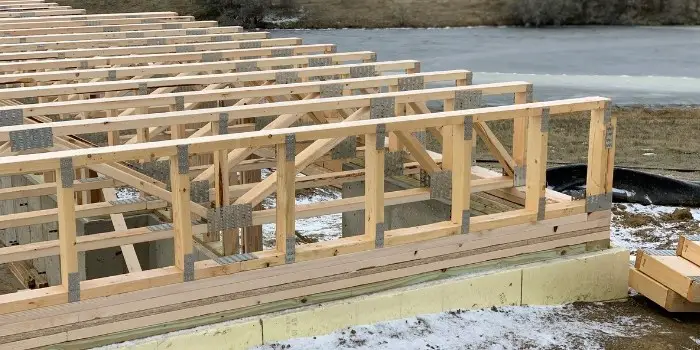 For building a house, storage, or other structure that has flooring, one of the considerations is whether to include floor trusses as part of the build.
While floor trusses are not always necessary, they can speed up installation time for plumbing, HVAC, and electrical systems.
What follows is an explanation of what floor trusses are, the different types available, the advantages of using them, and how to create and install a floor truss for your new home, building, or structure.  
In this article we will cover:
What are Floor Trusses?
Floor trusses consist of a top and bottom rail, sometimes known as a chord, which is separated by components that are both vertical and diagonal.
The result is a series of triangles are formed from which the floor can be constructed on top. The joints are all fastened with connector plates made from barbed heavy steel gauges.
The triangles create a webbing effect that not only supports the floor the trusses also allow for the placement of cables, plumbing, and vents.
In addition, the floor trusses help to minimize the recoil or bounce that comes from walking on the floor itself that is not supported above the foundation.
Typical floor trusses are created using 2" x 3" or 2" x 4" construction-grade lumber. Such lumber is more available compared to 10" or 12" versions.
Since floor trusses improve structure efficiency and can span greater distances, this means less material is used compared to other types of floor support.
Because the top and bottom chords are typically 2 ½" or 3 ½" wide, it makes fastening the trusses to the subfloors or the ceiling easier as well.
Their design makes it easier to support large loads as the weight is spread out evenly across the trusses.
The open design allows for the running of cables, vents, and plumbing without having to drill additional holes in the flooring.
The load transfers through the trusses to supports such as bearing walls.
Because they can reach further than I-joists or dimensional lumber, they help to speed up the construction process thanks to fewer internal supports.
This means that less material is needed to construct floor supports when trusses are used.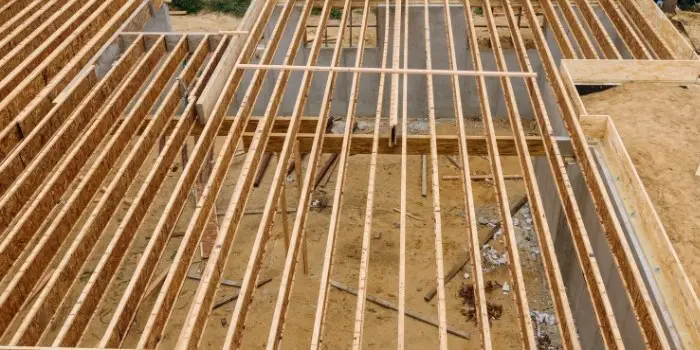 Different Types of Floor Truss
There are two basic types of floor trusses, the Pratt and Warren. Each one is similar in basic design, but there are some important differences.
The Pratt truss is distinguished by its "N" web shape.
That is, if you were to look at the truss from the side view, you would see a series of "Ns" in a row. The N configuration separates the top and bottom of the floor truss.
The Warren truss has a "W" web shape, which appears as a series of "Ws" if you look at the truss from the side view.
A popular variation of the Warren truss turns the Ws upside down to create a series of "M" shapes instead.
Of course, there are many variations of the floor truss, although virtually all are based on either the Pratt or Warren design.
Floor trusses can be designed with specific load-bearing in mind, such as from heavier objects, greater floor traffic, and the like.
This includes trusses that feature top chord bearing, bottom chord bearing, chase way, mid-block bearing, and either using or not using trimmable ends.
The trusses can also be created by using a ribbon notch which is built-in that ties together the different trusses that may help support an exterior wall or be used to close the platform edge of the outer floor.
Trusses can be customized using beam pockets along with headers that support a perpendicular run of floor trusses. In addition, such trusses can be used for greater load-bearing at the openings.
Such trusses can be keyed, so they join together in a specific manner. Plus, they can be customized for a shared bearing to ensure the alignment of different structural components.
Basically, many floor trusses are customized in some manner to meet a particular need. That is why basic floor trusses are popular because of their versatility.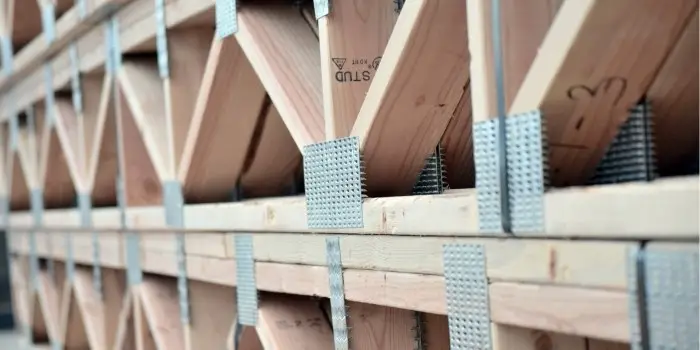 Advantages of a Floor Truss System
There are several benefits to a floor truss system. First and foremost, the trusses do not require standard interior supports.
The result is that a larger clearspan is possible which creates greater flexibility. But there are other advantages as well.
Fewer Building Materials are Required
Faster Building Time
No Steel Beams to Place
No Pads to Pour
Makes HVAC Ducts, Cabling, and Plumbing Easier to Run
In addition, the short nature of the lumber used in the trusses means less warping, twisting, or shrinking.
With exact measurements used to create the trusses, there is less waste as well.
Plus, the ability to steal large lumber joists is also reduced, making them less likely to be stolen in great numbers.
Other advantages include the design of the floor truss itself which allows for insulation to be put into place which reduces both impact noise and overall sound.
This means a strong barrier that reduces overall noise which otherwise travels through the floor.
Plus, no web stiffeners, squash blocks, rim or band boards, or blocking panels are required when using floor trusses.
How to Build and Install a Floor Truss?
Floor trusses are customized to the specific plans for a home, building, or structure.
Once the plan is created, the floor trusses are then designed to fit the allocated space.
The carpenters will construct the floor trusses, so they leave the designated space in-between the top and bottom chords.
The vertical and diagonal components are cut using a miter saw and set between the chords to provide support.
After all the components have been put in place, the connector plates or steel gussets are placed on the joints.
An automated roller is moved over the truss to press the barbs into the wood which attaches the connector plates.
Once that step is completed, the trusses are flipped over, the connector plates are tacked and the roller goes over the top to press the barbs into the wood on that side.
This allows both sides to be properly fastened to the connector plates. With that complete, the truss is now lifted and placed for shipment to its destination.
It is possible that the truss will be pressed one final time before it is sent out for shipping.
Related FAQs
How Much Do Floor Trusses Cost?
The cost of a floor truss will depend on several factors.
Most notably, the supplier and manufacturer who creates the truss. But it will also depend on the size, depth, width, length, and type of wood used.
Do not forget about shipping the truss to the site.
In addition, while most floor trusses are custom-built for each site, some home building suppliers may have several different lengths and depths in stock for builds that are of standard dimensions.
Generally speaking, the deeper the floor truss, the more expensive it will be.
In other words, you may pay upwards of $1.50 more per linear foot for 18" of depth compared to 11 ¼" of depth.
The less depth, the less you will pay per linear foot.
Since prices also fluctuate due to supply, time of year, and demand, you will need to account for all factors before you shop around. 
Floor Trusses Vs Floor Joists
The floor joist uses solid dimensional lumber that is limited in span based on the species of wood, its grade, depth, and other factors.
Typical floor joists will not span the same distances compared to floor trusses.
And in most cases, the floor joists will require support beams that are held on posts secured by concrete pads.
Floor joists will have smaller openings compared to floor trusses.
Plus, joists are more likely to crack, twist, and especially bounce compared to floor trusses. This is why floor joists require blocking to secure their position.
It is true that floor trusses tend to be more expensive compared to floor joists of the same size, the price tends to even out due to the trusses being less expensive to install.
Floor Trusses Vs I-Joists
Like floor trusses, I-joists are manufactured off-site to the specifications of the building.
I-joists have a top and bottom chord just like trusses, but the space is mostly filled with ½" or 5/8' plywood.
The result is that to run cables, plumbing, or vents, you will need to make cuts in the I-joists. That is not true for floor trusses.
I-joists can be cut on-site, making them slightly less expensive compared to floor trusses, but they require drilling to place cables, plumbing, and the like.
This means that the prices tend to even out. Plus, floor trusses are less bouncy and more secure compared to I-joists.
Floor trusses create large, open spaces between the top and bottom chords which makes them easier to install compared to floor joists and I-joists.
This means that for a typical space, floor trusses are the more economical choice.
Given the savings in material and labor, they are a popular choice for those constructing new homes and buildings that require cabling, venting, or plumbing.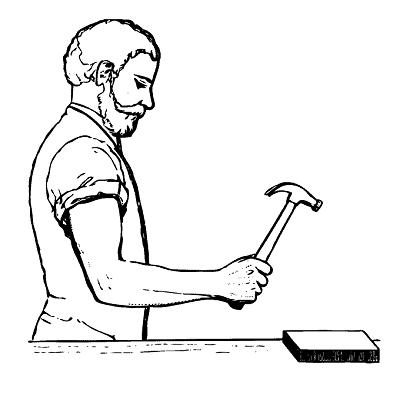 Hi, I am Mark Garner a professional carpenter, woodworker, and DIY painter. I live in the small city of Peoria, Arizona as a semi-retired woodworker. I have started this blog with a simple motive to help you with my wood experience in this sector. If you like to know more about what I love doing and how it all got started, you can check more about me here.