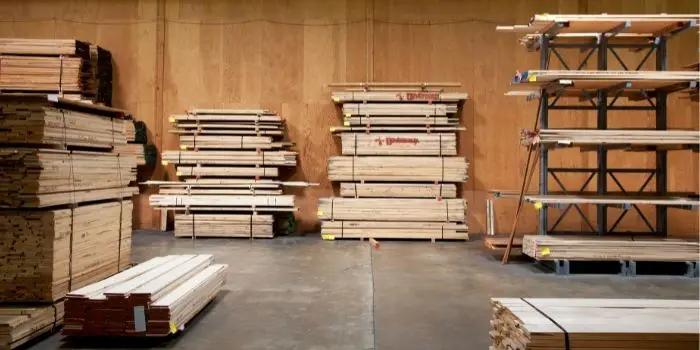 Marine-grade plywood is named so because it's made to withstand different environmental conditions like temperature, moisture, rain, snow, etc.
However, this isn't the only qualification that plywood needs to meet before it can be labeled "marine grade." There are a few other deciding factors, like, it can only be made from Western Larch or Douglas Fir wood.
The marine plywood should have five or more veneer layers tightly bonded with negligible air pockets. Depending on plies' thickness, strength, and orientation, they can further be classified into different types.
Some of these grades include:
Marine Plywood Grades
Properties
A-A Marine-grade:
½ inch thick
Available in 4×8ft or 5x12ft pieces
A-B Marine-grade:
¾ inch thick
Stronger and heavier than A-A
Available in the same length and width dimensions
B-B Marine-grade:
¾ inch thick
Available in 4x8ft
Allows some surface knots
Also called face-back marine plywood
MDO – Medium-density overlay:

Available in 4x8ft pieces
Thicknesses include ¾ inch, ½ inch, ⅜ inch, 1 inch, and ⅝ inch
HDO – High-density overlay:
Available in 4x8ft pieces
Thicknesses include ½ inch or ¾ inch
Of all these, MDO is highly durable and resistant to chemicals, weather damage, and scratching.
It's made with a resin-impregnated and high-quality thermosetting fiber overlay under heat and pressure, making this exterior-grade plywood very strong.
So, in short, if you need to choose the ply boards for exteriors, this is the one you should go with.
Any of the above should be acceptable for interior household purposes (like bathrooms, kitchens, and patios). However, the final decision can be made depending on the budget you have in mind.
How is Marine Plywood Made?
The five or more plies of Douglas Fir or Western Larch wood in marine plywood are arranged perpendicularly so that the grains alternate from vertical to horizontal.
While the piece of plywood can have a few knots in the exterior plies, there should be no knotholes. 
When all is set, the plies are bonded together under heat and pressure using waterproof glue.
Next, the water-resistant finish is added to the surfaces, which makes the plywood nearly waterproof (if not 100%).
All these unique properties and the way it is made increase the overall strength of marine-grade plywood.
The critical factor that makes marine plywood different from ordinary plywood is that it is made with several thin layers of high-quality wood plies, in contrast to later ones, which are usually made from fewer thicker layers of lower-quality wood.
Is Marine Grade Plywood and BWP the Same?
BWP (Boiling Water Proof) and BWR (Boiling Water Resistance) are the two waterproof exterior-grade ply varieties suitable for most home furniture.
Since both are resistant to boiling water, they are ideally used by interior designers and carpenters for building kitchen/bathroom cabinets where the contact of moisture is high.
On the other hand, Marine-grade ply is even better and is often used in the most demanding conditions where it needs prolonged exposure to water and other extreme weather conditions.
Therefore, it is an ideal choice for building boats, boathouses, ships, and other marine applications where it needs to get submerged in water for a long time.
Many times, people also mistake marine-grade plywood for pressure-treated plywood.
Although marine-grade plywood is technically "pressure-treated," it's not treated with special chemicals to make it resistant to pests, mold, or rot.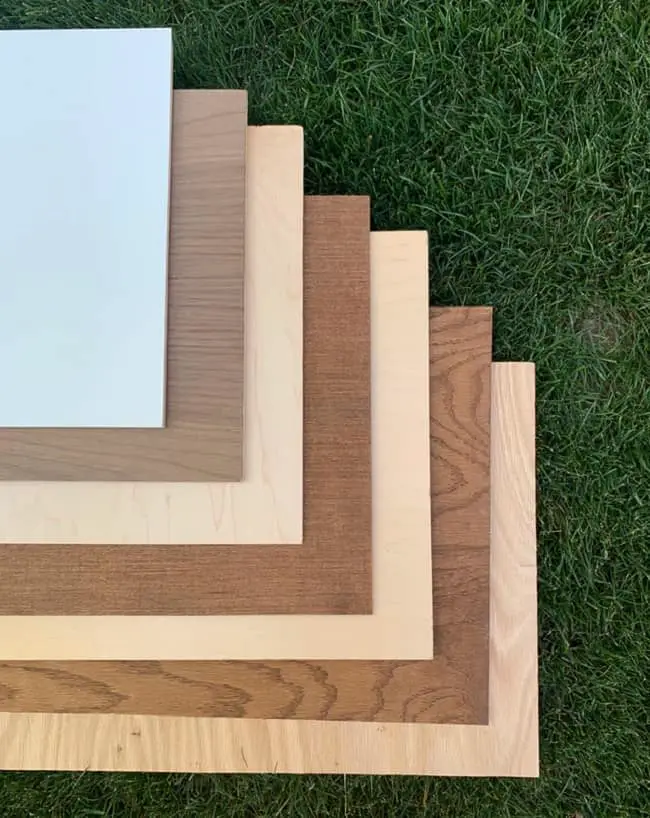 ---
How Can You Identify Marine Grade Plywood?
Although marine plywood is widely used for marine applications, it's difficult for a common man to identify it from other varieties available at a store.
To tell the difference and recognize authentic marine ply from other materials, here are some tips for you…
a) Weight
Unlike ordinary plywood, marine plywood is made by gluing thin solid hardwood veneers.
Since these high-density solid wood veneers weigh more, the overall weight of marine plywood is comparatively more than other plywood varieties.
Just check the weight of a single ply from a stack by lifting it from one side. You will most likely feel the difference.
b) Smoother finish
Unlike the surface of regular plywood, which is primarily rough, both sides of marine plywood are sanded and smooth to the touch.
The less splintery surface of the marine plywood is intentionally made smoother (while manufacturing) to keep the dust and moisture from attracting.
The key advantage of this property is that it can be used for making furniture and other construction works without the need to prime and paint.
c) Knots, Voids, and Gaps
Premium quality marine plywood has fewer knots, voids, and gaps.
These are the only factors that will help avoid moisture penetration into the plywood, making them durable and long-lasting.
d) Number of layers & bending capacity
As mentioned before, marine plywood comes with thin solid veneer sheets glued together.
The number can range from five to nine and will mostly depend on the thickness of the ply and the type.
When buying, you can check the side of the plywood for the different core layers that can be visibly noticed as thin straight lines.
Also, when you try to bend, premium quality marine-grade plywood will not bend much.
According to plywood experts, if the material can be bent over 18mm, it is weak and not of high quality.
e) Check the label, certification, and price
Checking the certification label provided on most plywood can also help in knowing what type and quality of material you buy.
BS 1088, for example, is for British Standard Specification Marine Plywood.
It's different from Australian Standard (AS/NZS 2272) and usually means that the plywood is made using high-quality adhesive and veneer sheets that make them highly resistant to rot, dry heat, and moisture.
Above all, the high price tag can also be a good sign to tell whether the plywood you are buying is a high-quality marine grade or not.
Typically, a 4×8-ft sheet of Marine plywood will cost anywhere between $70-$180 – which is two to four times more expensive than other interior and exterior plywood sheets.
Also, when buying, it's good to pick the best material only from a trusted shop in your town that you know well.
Since you are paying a hefty amount for marine plywood, you should ensure that the wood you are getting is genuine and exactly what you are paying for.
If required, ask for a small sample piece of marine plywood for checking before you buy a whole lot.
Share the post "Different Types of Marine Plywood – Which One to Choose?"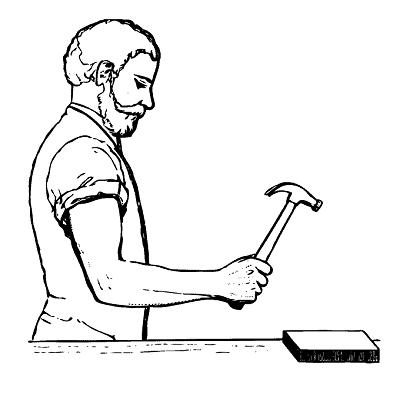 Hi, I am Mark Garner a professional carpenter, woodworker, and DIY painter. I live in the small city of Peoria, Arizona as a semi-retired woodworker. I have started this blog with a simple motive to help you with my wood experience in this sector. If you like to know more about what I love doing and how it all got started, you can check more about me here.