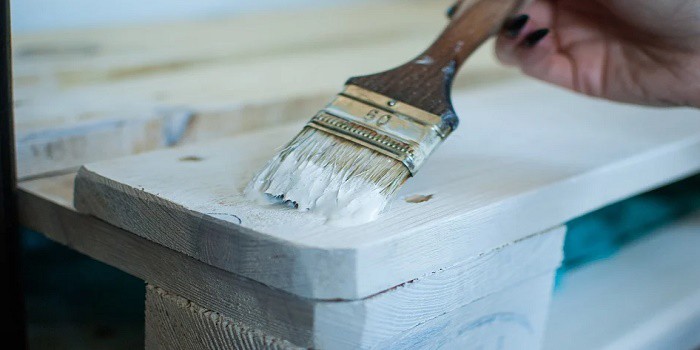 Yes, you can use emulsion paint on any wood, even as an undercoat.
But as these paints are water-based, I firmly recommend not using them as your first option.
An oil-based (not acrylic-based/water-based) undercoat is the most preferred solution for wood surfaces, especially for outdoors like your patio, decking area, garden furniture, etc.
In a pinch, you can use emulsion paint as an undercoat on indoor stair risers, spindles, railings, doors, windows, frames, etc.
And it works great!
Be sure NOT to use emulsion paints on your wooden floors and stair treads, as they can make the topcoat easily peel off due to heavy foot traffic and resistance.
Also, you should avoid emulsion paint applications on wood where it's prone to absorb moisture.
Like, the wooden cabinets in your bathroom, kitchen, basement, or garage that aren't waterproof.  
How to Use Emulsion Paint on Wood?
Sanding and painting wood pallets to use for floorboards is back in fashion.
But if you want to use your leftover vinyl emulsion paint on your floor as an undercoat to save some money, you will need to prepare the wood well.
First, keep in mind that undercoats should be applied after primer and before applying a topcoat.
If you want, you can use them as a topcoat for indoor projects as they are available in various colors and finishes, such as matt and silk!
No matter what color or texture you choose, you can finish your wood by following these essential steps…
Step 1. Prepare the surface
Before you start applying emulsion paint on your wood surface, carefully prepare the wood by cleaning, sanding, and smoothening the surface.
For cleaning all the dirt and dust from wood, use a dry cloth or a slightly dampened cloth in warm soapy water.
Then after drying the surface, use fine-grit sandpaper (for smaller projects) or an electric palm sander (if you have a larger project at hand).
Step 2. Repair the holes
After sanding, if you notice any cracks or nail holes in the wood, use a high-quality wood filler to patch up the holes and gaps.
You can also use a siliconized acrylic caulk for outdoor projects as it is waterproof.
This will allow better paint adhesion and a smoother undercoat finish.
Step 3. Apply the primer
After you have cleaned and repaired the wood surface, apply a coat of wood primer (like KILZ Original or Rust-Oleum Zinsser Bulls Eye) using a bristle paintbrush.  
If you are painting on a budget, you can use emulsion paint as a primer to save on your overall project.  
To prepare a DIY homemade primer from your emulsion paint, thin the paint with an equal amount of water in a 5-gallon bucket.
Make sure you apply the primer (or your homemade emulsion paint primer) evenly to the entire surface.
Step 4. Apply the emulsion paint
Once the primer coat is dry, you can use emulsion paint on the wood as an undercoat.
Keep in mind standard emulsion paints can be too thick to paint onto new and bare wood surfaces.
To fix the problem, you can use watered-down emulsion instead.
Typically, a 70/30 ratio of paint to water will be most suitable, but if the paint mix still appears thick (or you want to use it in an HVLP sprayer), you can add more water.
Use a paintbrush and apply the paint evenly as you have done while applying the primer.
Usually, a single coat will do a great job, as you will be applying the topcoat over it with enamel paint.
But if you plan to use the same emulsion paint for topcoats, a second coat or even a third coat is recommended for complete coverage and a proper long-lasting finish.
Step 5. Seal the emulsion paint (optional)
Although sealing emulsion paint on wood is optional, it should be done to achieve long-lasting shiny results.
Especially if you plan to apply emulsion paint to a wooden surface that can absorb moisture, you must seal the paint to avoid paint cracking, bubbling, and coming off.
This should be done by applying a matte, satin, or glossy varnish sealer (like Ronseal Varnish) so that water or moisture doesn't seep through the paint layer.
Before you apply the varnish on a freshly emulsion-painted wood surface, make sure that the surface is dry and clean.
Then start by applying a thin coat of emulsion sealer on the surface to make the emulsion paint waterproof.
Wait for the varnish to dry for about 1-2 hours, and then apply a second coat.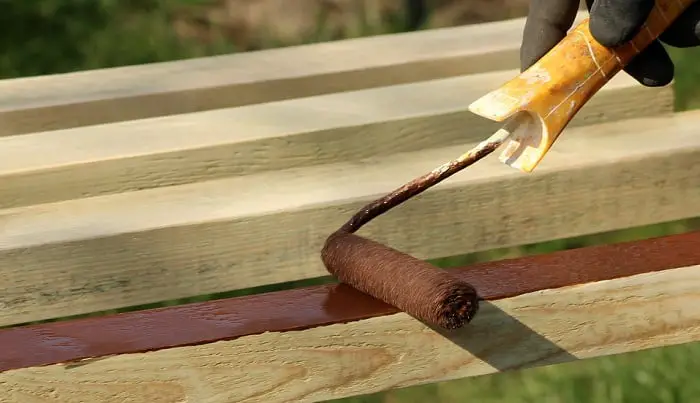 ---
Problems You May Come Across When Using Emulsion Paint on Wood?
Although emulsion paint can be applied on wood, it's not the best-recommended way to finish your wood surfaces.
The reason why I say so is you can face a few problems when you use emulsion paints on wood.
IMO, some of these most common problems include:
a). Paint dries quickly
Applying emulsion paint on highly porous household woods like MDF or Medium Density Fibreboard isn't an easy job.
This is because the paint dries on the MDF panels and plywood very quickly.
In fact, the paint will not stick properly and can even dry in a way to leave an uneven, blotchy film that blisters and flakes off fast.
b). It can raise the wood grain
Since you are applying the water-based emulsion paint, it will most likely raise the wood grains on the surface.
This happens because of the paint's absorbing nature, which makes the surface damp.
c). It will need several coats
To achieve the right finish by applying only emulsion paint on wood, you will probably need to apply three to four coats before you can see good results.
This is because most wood varieties (such as alder, basswood, birch, maple, willow, and Medium Density fiberboard/MDF) are porous and will absorb most of the paint during the application.
d). It doesn't provide enough coverage
Again, due to the porous and absorptive nature of the timber, it will need a large amount of water-based paint to achieve full coverage.
To fix all these related problems, it's good to apply a layer of primer, then emulsion paints as an undercoat, and finally finish the surface with oil-based paint.
e). It can be a hassle to dispose of the unused paint
To obey your local waste management laws and protect the environment, you must use a paint hardener to solidify the leftover paint before disposing of it.
A paint hardener is basically a product used to solidify liquid paints for safe disposal.
When mixed with emulsions, stains, latex, or acrylic paints, it hardens them much quicker, saving you a lot of time and effort.
If you want to keep the expense as little as possible, you can also use some of the most common ways (like sunlight, cat litter, and sawdust) to harden the paint at home.
Final thoughts
Using emulsion paint on wood can be risky due to its water-based and moisture-absorbing nature.
However, if done correctly and in the right places, you can spray emulsion primer paint as a good wood sealer that doesn't allow moisture to sneak into the painted surface.
If you do it right, you can make the protective layer of sealer over emulsion paint work better than a typical wood primer paint.
The main idea should be to follow the instructions properly and use the right products.
Sealing the wood with emulsion paint undercoat and topcoat shouldn't be a problem then.
Share the post "Can You Use Emulsion Paint on Wood – As An Undercoat?"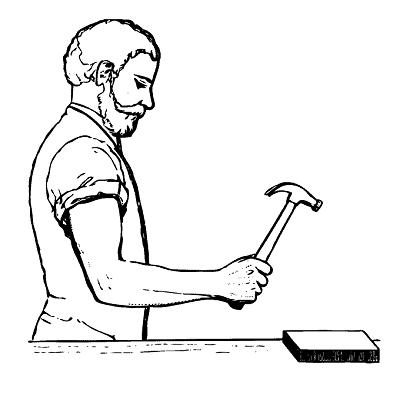 Hi, I am Mark Garner a professional carpenter, woodworker, and DIY painter. I live in the small city of Peoria, Arizona as a semi-retired woodworker. I have started this blog with a simple motive to help you with my wood experience in this sector. If you like to know more about what I love doing and how it all got started, you can check more about me here.