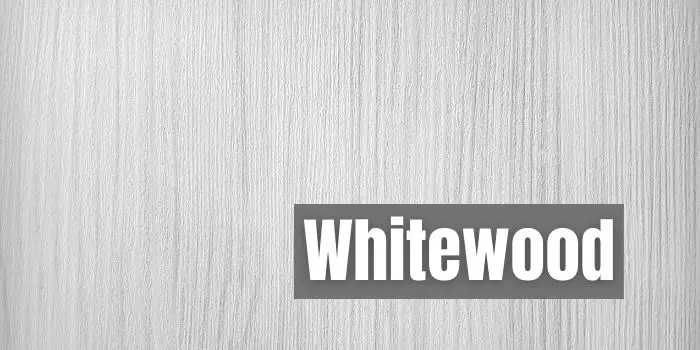 Whitewood is basically a wood that comes from the tulip tree, which is also known as yellow poplar, tulip poplar, fiddle tree, or American tulip.
This type of wood is sourced from the tallest hardwood trees that can grow up to 160 feet in height. The trees are commonly found in Connecticut and New York, with some instances of them growing in northern Florida.
Fortunately, whitewood trees proliferate and can be replenished. Their swift growth rates also mean they take less time to harvest. And also, the type of wood this tree produces is among the best quality lumber, making it in high demand.
Characteristics of Whitewood
Whitewood is the way to go for those who are concerned about the environment and want to make sustainable furniture.
The main characteristics of whitewood that make it such a popular choice among builders are as follows:
Tulip trees that produce whitewood feature straight, long trunks capable of growing over 160 feet in some cases.
The trees often grow as high as 200 feet when found in their natural habitat. Due to the height, a single tree can yield large amounts of lumber, meaning fewer trees that need to be cut down.
Whitewood is known to grow quickly, making it a sustainable and eco-friendly choice for builders.
It has a creamy white color that separates it from other light-colored woods. Plus, it has a soft texture that allows you to shape it in any way you like.
It is naturally resistant to both termites and fire, making it a remarkably reliable and durable choice for furniture-making.
One of the drawbacks of white wood is that it can easily absorb water and other moisture, leaving it at risk of warping if it gets too wet.
Is Whitewood the Same as Pine?
Whitewood is not pine; they are two completely different wood species. A few differences between the two are essential to keep in mind before purchasing either of them. These include:
1- Knots
One of the simplest ways to tell the difference between these two kinds of wood is the presence of knots. If you look at pine and whitewood side by side, you'll be able to tell that whitewood has relatively more knots.
For someone who commonly works with wood, telling the difference isn't hard, but it may take longer for an amateur to deduce.
2- Color
Because they both are light in color, it is tricky to tell the difference in hue between whitewood and pine.
Whitewood stands out because of its straight grain and creamy white color.
The yellow pine shares this grain and color, so it's hard to see the difference between these two kinds of wood. For this reason, yellow pine is sometimes sold as whitewood.
Because the appearance is similar, even those experienced with wood may find it hard to tell them apart. So, you'll have to consider some other factors, as you cannot go off of color alone.
3- Weight
If you pick up an equal length of both kinds of wood, you'll be able to feel the difference in weight between them.
Whitewood tends to be slightly lighter than pine in many cases. Both types of wood do have a slight difference in density.
You can measure the wood's density and pressure using the Janka Hardness Scale. When the scale shows a higher rating, it indicates that the wood is more resistant to dents and wear and tear because a higher rating means denser wood.
4- Water resistance
Neither type of wood is waterproof. Whitewood boards absorb water fairly easily, making them prone to cracking and warping. This is also true regarding pine, which is also remarkably absorbent.
5- Durability
Whitewood yields solid, durable furniture that is capable of lasting for years and years. Treating it with preservatives is capable of lasting an even more extended amount of time.
Using whitewood, you can create pieces of furniture that will stand the test of time and efficiently serve your needs for 15 to 20 years.
Pine is equally as long-lasting if you maintain it well. Even so, it tends to decay and rot easier than whitewood. For this reason, you'll need to be careful when working with pieces of pinewood.
This is especially true when the weather changes, even though it is quite strong and has a comprehensive grain structure. This type of wood is capable of lasting 10 to 15 years.
6- Applications and Uses
Whitewood is most commonly used for indoor furniture and other daily-use items. This includes doors, cabinetry, and even flooring.
On the other hand, pine is much more versatile. It is commonly used in flooring, furniture, and various building materials.
Remember that if you require wood that can be used outdoors, neither is a great choice. For outdoors, it's best to use a high-quality pressure-treated cypress wood that can withstand outdoor weather conditions.
7- Price
Whitewood tends to be less expensive than pine when it comes to cost.
While both the wood varieties are affordable lumber sources, pine tends to be slightly more expensive. This is primarily due to pine's versatile nature and many uses, as stated above.
Another main reason why pine is more expensive is that it's one of the hardest softwoods out there.
---
Different Types & Grades of Whitewood
Whitewood is broken down into different kinds of grades and types, as can be seen below:
Different Types
Whitewood can be sourced from various types of trees.
Because of this, whitewood tends to have a slightly different appearance from piece to piece, depending on the source.
Though the most common type of whitewood is sourced from tulip trees (the American tulip tree native to the US and the Chinese tulip tree native to China), other sources include silver fir, spruce, and yellow pine.
You can identify whitewood just by looking at the white grain separated from the sap.
Different Grades
Whitewood is available in different grades, such as SPF, SYF, and SYP:
SPF-grade whitewood includes Douglas fir, spruce, and white pine wood.
SYF-grade whitewood is taken from pine and fir. This type of whitewood is more common in Canada, England, and Sweden.
SYP-grade whitewood is taken from yellow pine, a common tree in North America.
---
Benefits of Using Whitewood and Its Uses
There are a few benefits that make whitewood stand out among other types of wood:
1- Easy to modify
With a Janka score of 540 lbf, whitewood is relatively soft. With that said, whitewood belongs to the hardwood category, and it's not softwood.
In fact, it's one of the softest hardwoods. This means you can easily modify whitewood to suit your taste. It can be sanded, painted, and stained, letting you change the look of your furniture often over time.
2- Strong and durable
The strength of whitewood makes it a long-lasting material that is capable of lasting for many years without much maintenance needed.
3- Easy to maintain
Unlike other kinds of wood, whitewood is simple to maintain. You only need to lightly wipe off the surface using a soft cloth to remove any dirt or dust that might settle on it. Be sure you avoid using water for cleaning, as this could cause it to warp.
4- Great decor
The light color that whitewood is known for makes it attractive on its own, so it's great for decor.
You can change your home's overall look and feel using whitewood furniture, even if you only include a piece of whitewood furniture in the space. It has a certain elegance and sophistication that is impossible to miss.
5- High value
The combination of color and the natural grain of whitewood gives furniture a unique touch, though it can come at a price. Even though it may be expensive, it is worth it, not only for its many qualities but also because it will last the years.
What is Whitewood Used For?
Whitewood is used for making a variety of different things – thanks to its light color and refined grains. Also, you can shape it into practically anything because of the soft texture.
A few of the primary uses for whitewood can be found below:
a. Furniture
One of the most popular uses of whitewood is furniture and wooden frames.
The gorgeous texture and creamy white color of the wood give the furniture a special touch that no other wood can.
When you use whitewood to build furniture, you can be sure it will last a long time.
Unlike other kinds of wood, this type is also naturally resistant to termites and fire, ensuring it can outlive other kinds of wood in case of either.
Whitewood furniture does not require you to spray chemicals for termites; instead, you'll need to apply a varnish occasionally to keep your furniture looking as good as new.
b. Flooring
Another everyday use of whitewood is to make flooring. Floors fabricated using this wood offer many benefits alongside beauty.
Whitewood floors tend to have a slightly different color than what is expected of standard whitewood, adding something special and unique to your floor.
This color of the wood floor matches modern decor quite well. So, whitewood is a welcomed addition to the overall design of a home that benefits from adding furniture or a rug to enhance it. 
c. Whitewood Oil
Certain therapeutic and aromatic oils are commonly made out of whitewood these days.
This type of oil is believed to lower body temperature and relieve feelings of nausea and beyond.
Whitewood oil is also known for its antibacterial properties that can eliminate harmful bacteria.
Those who have issues with their hair (like dryness or loss of hair) often use whitewood oil for control.
Finally, it is also believed to promote better circulation. There are also many other health benefits that you can enjoy from the use of whitewood oil.
Conclusion
When it all boils down, pine and whitewood are pretty similar to one another in terms of appearance and long life. But they have certain features that make them stand out.
Pine is a good choice if you're hoping for something more versatile. However, whitewood is better for you if you are more conscious about your budget.
When deciding between these two kinds of wood, keep in mind everything outlined in this article to help you decide.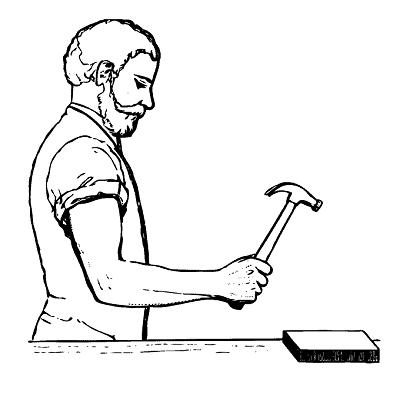 Hi, I am Mark Garner a professional carpenter, woodworker, and DIY painter. I live in the small city of Peoria, Arizona as a semi-retired woodworker. I have started this blog with a simple motive to help you with my wood experience in this sector. If you like to know more about what I love doing and how it all got started, you can check more about me here.