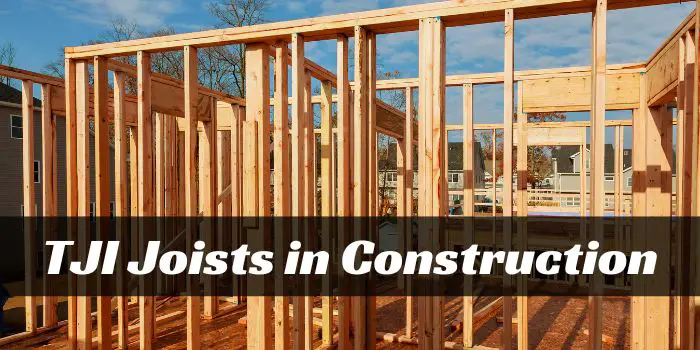 Both roofs and flooring need support to remain stable and to handle loads such as people, furniture, and items. While many think of using dimensional lumber for support, a popular alternative is to use TJI joists.
This is an engineered joist that remains intact while resisting warping, twisting, and shrinkage.
The result is that the floors and roofs are more rigid and less prone to bouncing or flexing, which might cause damage. 
What follows will be a breakdown of what TJI joists do, how they are used, and how they compare to other types of support for roofing and flooring. 
What does TJI Stand For?
Owned by Weyerhaeuser, TJI joists are a trademark of Trus Joist. This is an engineered wood in which TJI stands for "Truss Joist I-Joist." 
Because the wood is stronger and lighter compared to dimensional lumber of the same size, it can be used for trusses or joists. 
They can span greater distances and will not shrink like standard lumber. Plus, they are more resistant to warping or twisting, which can often damage flooring or roofing. 
The main advantage of TJI joists compared to using standard dimensional lumber is that because they are engineered, they use about half the amount of wood compared to standard lumber. 
What are TJI Joists Used For?
For the most part, TJI joists are used for trusses, headers, and interior floor joists to provide greater space for rooms.
Because they can span greater distances compared to standard dimensional lumber, the bearing points can be further apart. 
An additional advantage is that because greater spans can be achieved, the need for posts, footings, and beams may be reduced if not eliminated. 
The result is a faster installation while using less material which creates greater savings for the environment. 
The trusses can be constructed with openings in place so that the wiring, plumbing, and vents can be easily added. 
Plus, there is no need for the typical blocking or bridging that is normally required to prevent rotation of the subfloor sheathing. 
This means that a channel can be created to allow for direct servicing without having to uproot the flooring. All in all, this saves time in terms of construction and maintenance once it is all in place. 
If the TJI joist is to be used in the ceiling, a sheathing will have to be applied to the top rail. This creates the proper stability needed to keep the joists in place. 
But this is a minor issue as the use of TJI joists means less twisting, shrinking, warping, and bowing.
Plus, there are no unwanted planks to be removed since the joists are created with the dimensions in mind. 
Different TJI Joist Sizes & Dimensions
You can choose from several standard sizes that come in the following definitions depending on your location. 
TJI 110, 210, 230, 360, and 560
TJI s31, s33, and x47
The TJI 110 offers a suitable alternative to 2×10 and 2×12 dimensional lumber. The TJI 220 is larger at 2-1/16" in width.
It is identical to the TJI 230 in terms of depth availability. But the TJI 230 is 2-5/16" in width. 
The TJI 360 and TJI 560 have three depth options and a width of 2-5/16" and 3-1/2", respectively. In contrast, the TJI s31 and s33 are both 2-1/2" wide and have four depth options. 
How Far Can TJI Floor Joists Span Safely?
It depends on the spacing that is between the joists. Other factors include the following.
The ratio of deflection to the length of the joists 
The thickness of the sheathing 
Whether it is applied to the ceiling or not
A simple or continuous span
In addition, there may be other factors unique to the size, shape, and characteristics of where the TJI floor joists will be employed that come into play. 
A typical span may vary from the TJI 110 at 13.7' with centers of 24" to the TJI 560 with 12" centers. 
Such factors are normally determined by the calculations made by a structural engineer, the local building code, and the specifications provided by the manufacturer.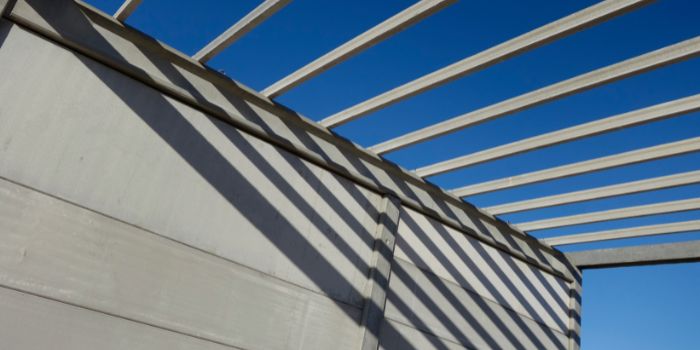 TJI vs. I-Joists
The comparison between the two is quite similar, mostly because they are essentially the same.
This is because engineered I-Joists have been around for a half-century while the TJI is a more recent development, but the design is practically the same. 
The differences are subtler, such as the TJI uses solid-sawn lumber or sometimes finger-jointed wood, while the I-Joists are made from Laminated Veneer Lumber (LVL) or lumber, which is solid. 
Otherwise, both the TJI and I-Joists are lighter in weight compared to solid wood. They both resist shrinkage, warping, twisting, and bowing. This means that both are superior to dimensional lumber. 
TJI vs. LVL
Both TJI and LVL are quite similar in terms of their size and construction. But overall, LVL or laminated veneer lumber offers a greater range of selections.
For example, the LVL joists can range up to 7" wide and 24" in depth, while TJI is limited to 3-1/2" wide and depths of 20" in total.
Although both TJI and LVL can be used for joists, headers, and trusses, LVL is more versatile because it can be used for posts, hip and valley rafters, rim joists, beams, and stair stringers. 
In addition, certain LVL products are made for exterior use, while TJI is strictly for the interior. 
TJI vs. 2×12
There was a time when 2×12 lumber was an economically sound choice. Today, the scarcity of old-growth lumber combined with the increasing costs makes them less suitable compared to TJI. 
Relying on thinner lumber in terms of dimensions for the flanges at the top and bottom, combined with the augmentation of finger joints, makes TJI the superior choice. 
It helps that TJI has perforated knockouts and cutouts and can be easily drilled for wiring, plumbing, and vents compared to 2×12. This means less work to create the openings that are required. 
In addition, the TJI is less subject to twisting, warping, bowing, and shrinkage, which affects 2×12 lumber. Another advantage is that TJI uses less wood to achieve a stronger foundation. 
The lesser weight translates to greater performance. This means you can save money and get better results when choosing TJI over 2×12 in almost every aspect. 
TGI vs. TJI
Keep in mind that TJI is a brand name for engineered joists, which is owned by Weyerhaeuser. However, its original owner was Trus Joist. The acronym is derived from Trus Joist I-joist.
TGI is an acronym as well, like BCI, BLI, and LPI, which are created by companies that sell joists with an important exception. There is no TGI sold by any company. 
What this appears to be is a mispronounced "J" of TJI that has somehow been misunderstood as a different brand name. The truth is that TGI is just TJI which has been mispronounced. 
Where to Buy TJI Joists -What Does It Cost? 
Although you can find many locations in the US and Canada that sell TJI, you will need to order them. This is because almost all locations do not have the space to carry the joists in their inventory.
Instead, you will order the size that you need along with any specifications for your build. This means the inclusion of cutouts or perforated knockouts to run wiring, plumbing, or vents. 
The cost will depend on how many you need, along with the length, width, and depth of each one. There will be additional cost factors as well during construction. 
While TJI is normally more expensive compared to dimensional lumber, an 11-7/8″ deep TJI 210, 230, or even a 560 will offer a substantial span at an affordable price.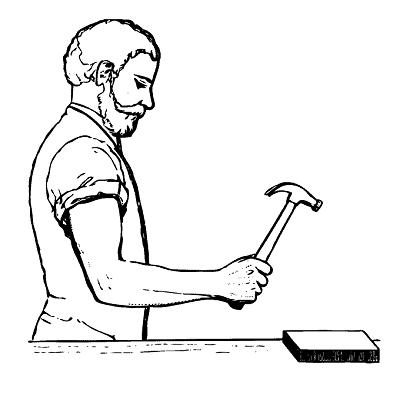 Hi, I am Mark Garner a professional carpenter, woodworker, and DIY painter. I live in the small city of Peoria, Arizona as a semi-retired woodworker. I have started this blog with a simple motive to help you with my wood experience in this sector. If you like to know more about what I love doing and how it all got started, you can check more about me here.