The introduction of machines or devices to complement hand tools has dramatically improved the speed and efficiency of woodworking.
The radial arm saw was a popular selection for carpentry workers thanks to its power, versatility, and speed.
A radial arm saw can be used to quickly cut and shape wooden pieces for woodworking.
But what is a radial arm saw, and how does it work in carpentry and woodworking situations?
As the name suggests, the radial arm saw attaches the saw blade to an extended arm.
Created by Raymond DeWalt a century ago, the radial arm saw proved to be quite popular thanks to its speed and versatility.
You can imagine it as a circular saw that has its circular blade attached to an arm that has pivots for placing.
While a circular saw blade on an extended arm may sound dangerous, safety guards are in place for protection in radial arm saws. And to operate your radial arm saw system safely, you will need to follow the right techniques.
Types of Radial Arm Saws
A radial arm saw comes in two basic types. These include benchtops and stationery.
Benchtop versions are fairly heavy but can be moved within your workshop.
These are less advanced and come at a cheaper price which also means that they are comparatively low-performing than heavier-duty models.
Stationary radial arm saws are most commonly used by professionals, although they are heavy and are designed to stand on the floor.
Many of them are over 200 pounds, but they are easier to maintain and tend to last longer.
How to Use a Radial Arm Saw?
You start by reading the instructions that come with the saw.
Be sure to familiarize yourself with all the set-up features, ensure that it is firmly locked down in place, and then understand how to use the saw in a safe manner.
The stock needs to be held securely against the fence. Do not try to freehand when using this saw.
Once it is set up, practice on some scrap wood to get a proper feel of the device and how it cuts.
While normally used as a crosscut saw, it also works well for ripping and creating moldings, dadoes, rabbits, bevels, and miters. You can even use the saw as a guide for routers.
Following are a few tips when you use a radial arm saw for different types of cuts…
1- For Bevels & Miters
You can cut bevels up to 90 degrees and miters up to 60 degrees, either left or right, but only in one direction.
This allows the radial arm saw to cut complex angles with a greater degree of versatility compared to the compound miter saw. However, it can be more difficult to get the proper angle.
Be sure that the clamping levers are locked in place before you start the cutting process.
2- For Crosscutting
You start by setting the depth just below the table surface.
You may wind up cutting some grooves first, but that is why you practice with the scrap wood until you get it right.
Pull the saw towards you and through the wood stock.
The rotation of the blade should be away from where you are standing.
Keep the pressure on the handle and maintain control.
This motion will tend to cause the saw blade to move faster toward you, but you should maintain a steady speed at all times.
This motion of pulling the saw to you and holding it, when necessary, will take some practice to get right.
You can start crosscuts with the blade coming forward while pushing the spinning blade back towards the fence. This will cut through the stock efficiently but will take a little time to fully understand.
3- For Dadoes & Rabbets
Crosscutting dadoes and rabbits is relatively easy with the radial arm saw. This is especially true when making tenons for shelves.
Start by raising the blade from the table, then install the stacked dado set to the thickness that you want.
You'll need to double-check to ensure that the proper direction is achieved for the blade rotation before you begin.
Once set and the blade guard is reattached, start with a scrap piece to fully understand the depth of the cut.
Make the adjustments when needed, and then you can start using the material to make dadoes and rabbits.
The dado set makes cutting dadoes, rabbits, and tenons easy, as you can use the same setup without having to make changes.
4- For Rip Cuts
Ripping is not as neat or clean as crosscutting with a radial arm saw, but it can be done.
You will have some limitations in terms of the widths that can be cut, but the process is not much different compared to using a table saw.
Be sure that the anti-kickback assembly is set up properly with the pawls and riving knife in place.
The riving knife will keep the stock from binding when it is on the table and being cut.
Be sure to set the riving knife and pawls to the size of the stock itself.
The blade might jam when doing rip cuts, which is why the pawls are in place to keep the stock from kicking back.
However, if you are using a plastic-laminated stock or melamine, for example, then the pawls might not grip the stock at all. So, you will have to be extra careful when ripping such material.
Safety & precautions when working
Although the Craftsman radial arm saw has a reputation for being dangerous, it is a safe saw to use if you follow the proper safety precautions. This is especially true for crosscutting, which the saw is designed to do.
Just follow the safety guidelines, wear the proper safety gear, and do not get distracted when working.
For ripping stock, you will need to be extra careful. This is when many of the accidents that occur with a radial arm saw will appear.
If you do not set up the guard properly or feed the material in the wrong direction, accidents will happen.
To avoid such incidents, follow the instructions.
Turn off the saw when setting the blade
Wear safety equipment: In particular, safety glasses and ear protection
Adjust the blade guard, so it is 1/8" from the surface
Use a dust collection system to keep the area clean
Use the riving knife during ripping
Use an anti-kickback mechanism when rip cutting
Use your hand to keep the stock securely on the table
If you do not keep your hand on the stock, it may fly upwards during a rip cut. This can create chattering marks on the stock.
---
Advantages & Disadvantages of Radial Arm Saw
The advantages of the radial arm saw machine starts with its familiarity.
Even if you have not used one, you have probably seen a radial arm saw since they have been around for a century.
It has a simple-to-use design, can quickly cut wood pieces and is rather flexible in nature.
Before the radial arm saw was invented, cutting wood with devices was rather limited.
The radial arm saw changed that, as carpenters and woodworkers could be far more flexible in the types of cuts they made.
However, the downside of the radial arm saw and why it is not as popular today as a few decades ago starts with its price.
The Drawbacks
Because of the complexity of its design, the radial arm saw tends to be considerably more expensive compared to other types of saws.
So high the cost that many woodworkers, carpenters, and commercial outfits choose not to purchase this type of saw.
Another con is that the saw takes extra maintenance. If the blade should go dull, that may drive it into the stock itself during the operation of the device.
This can be quite annoying and cause you to start over again.
Plus, while the radial arm saw works well for thinner pieces of wood, such as plywood, for example, it is not good at cutting thick pieces of lumber.
With such pieces, it is possible to accidentally cut through the table as well as the material.
---
Key Features and Considerations When Buying Radial Saw
If you are considering making a purchase, make sure you check some of the important features that come with your radial arm saw.
These include…
Adjustable arm
Heavy and wide base
High-end powerful motor
Circular blade protected by guards
Besides the above, you should pick from the top brands like Powermatic, Bosch, Dayton, Delta, DEWALT, or Metabo, which are known for building the most powerful and reliable woodworking tools around the world.
While not all of them sell radial arm saws, you should at least check them, as the tools sold by these brands come with a proper warranty and are worth your investment.
Also, remember that there are certain high-end options made by these brands that come with other special features and accessories like a dust bag, vacuuming technology, extra blades, etc.
It's good to check for them if you are in need of a more advanced version.
Final thoughts
A radial arm saw is not as easy to set up compared to similar devices.
That's why there are not many companies that make it and not many woodworkers who prefer to use it anymore, as per today's data.
They are most often found only in old workshops where they stay in one place for some large-sized projects.
Despite the issues associated with the radial arm saw, it is a worthwhile investment for the higher-quality versions.
Its versatility means you can still buy and use it in place of other saws, including the miter and table saw, which may save you money over the long run. But since it is a heavy, bulky piece of machinery, you should only go for it – if you really need it.
Share the post "What is a Radial Arm Saw Good For – Uses with Pros and Cons"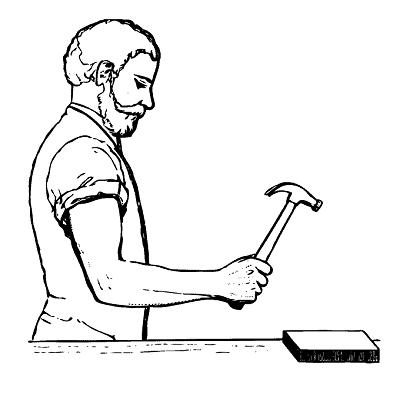 Hi, I am Mark Garner a professional carpenter, woodworker, and DIY painter. I live in the small city of Peoria, Arizona as a semi-retired woodworker. I have started this blog with a simple motive to help you with my wood experience in this sector. If you like to know more about what I love doing and how it all got started, you can check more about me here.