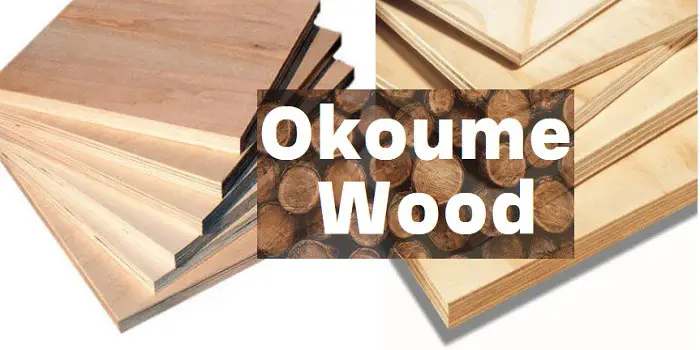 Okoume tree (Aucoumea klaineana) is typically a species native to west-central Africa, especially the regions such as Gabon, Equatorial Guinea, and the Republic of Congo.
The wood of this tree is also known by names such as Gaboon wood, Uume, Acoume, and Zouga.
In simple terms, Okoume plywood is a type of veneer/board processed from wood harvested from the Okoume tree.
Okoume plywood (also called Gaboon or Combogala and Okoume Mahogany) comes with a high strength-to-weight ratio and is graded as being compliant with BS-1088 British Standard for marine plywood. 
Okoume Wood
Scientific Name:
 Aucoumea klaineana
Tree Size:
100-130 ft (30-40 m) tall
3-6 ft (1-1.8 m) trunk diameter
Janka Hardness:
400 lbf (1,790 N)
Type:
Hardwood
Odor:
No smell
Specific Gravity (Basic, 12% MC):
.35, .43
Common Uses:
Boatbuilding, musical instruments, and furniture
Properties and Identification
You can tell the lustrous Okoume wood by its unique heartwood color, which is usually pinkish-brown to light red with a fine, uniform texture.
The sapwood of Okoume wood is typically pale and grayish, which is clearly distinguishable from the heartwood.
The grain of the wood can vary from straight to slightly wavy, which may sometimes appear to be slightly interlocking.
If you cut the wood and leave it exposed to air and light, it may darken with age.
However, unlike many other wood varieties like mahogany, pine, and a few others, the freshly cut piece of wood is not resinous and does not have any significant odor.
If you are in the market to buy Okoume plywood, keep in mind that it's available in a variety of sizes and thicknesses.
| | |
| --- | --- |
| Widths: | 48″, 60″, and many more |
| Lengths: | 98″, 122″, and many more |
| Thickness: | 3mm, 6mm, 9mm, 12mm, 15mm, 18mm, 25mm |
What is Okoume Plywood Used for?
While solid lumber is available around its native range and where it grows locally, imports to the US and other countries are mostly done in the form of veneers and plywood.
When processing Okoume plywood and veneer, its core can be made from pine and poplar to increase the timber's strength and durability.
Due to these unmatched properties, Okoume plywood is among the very first choices for racing boats, heavy furniture, kitchen cabinetmaking, joinery, and various other applications, particularly where extra weight is important.
1- Furniture
Okoume plywood comes with excellent durability and attractive looks.
It's, therefore, ideal for kitchen cabinets, decorative wood paneling, hollow-core doors, and other furniture items.
Not as good as mahogany, but Okoume is also used many times for acoustic guitars due to its lighter weight and dynamic tones.
2- Decking components
Okoume plywood is found to be very useful for building wooden decks, as moisture resistance and weight are important factors here.
Plus, it adds to the durability, which means you can live with this plywood for several decades without much maintenance.
Remember, since Okoume is a low-density wood that is very soft (with a Janka scale wood hardness rating of only 380), it is not suitable for flooring inside your home.
Wood flooring generally requires timber from much harder species like red oak
3- Kayaks and boat making
Okoume Marine Plywood is the best construction material for Kayaks boats.
In addition to being strong, lightweight, and water-resistant, Okoume marine plywood comes with properties that make it foldable.
It, therefore, is straightforward to build kayak boats, hydroplane racing boats, canoes, sailboats, hull components, and various other boat parts.
Okoume Marine-grade Plywood is also used for constructing escape hatches (small doors or openings in an airplane or spaceship) and for various other marine applications where the exterior surfaces must be exposed to moisture for a long time.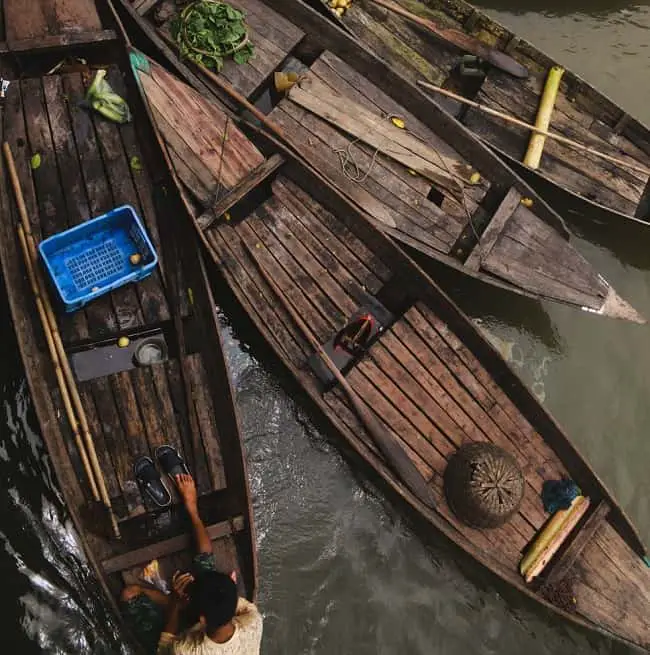 ---
Okoume Plywood – The Pros and Cons
Okoume is one of the tropical hardwoods that is great for exterior and marine applications.
With various benefits, lumber, however, has some drawbacks as well.
Advantages
Highly durable due to added strength
It takes the paint, stain, and glue very well
Cost-effective and needs less maintenance
It can easily be curved, folded, or cut in various shapes and sizes
Available in different thicknesses and sizes to pick the most suited one for the specific project
Disadvantages
Not suitable for steam bending
Not very good at holding nails or screws  
Can bend or sag if larger pieces are used without any support
Unlike treated wood, it's not resistant to rot, fungus and insects
It comes with high silica content, which can blunt cutting tools while working
Besides the above, Okoume marine plywood is often challenging to identify for an ordinary person who does not have enough knowledge about the timber.
To avoid getting cheated in the market, it's recommended that you buy plywood only from trusted manufacturers and resources that are well-known and experienced.
Share the post "What is Okoume Wood – Uses, Specifications, with Pros & Cons"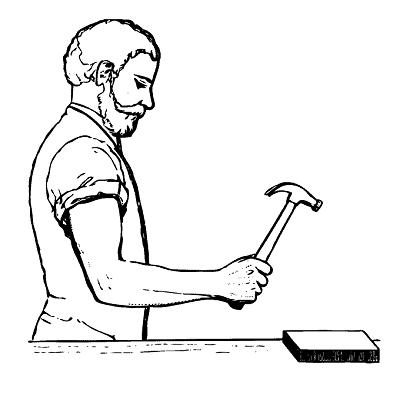 Hi, I am Mark Garner a professional carpenter, woodworker, and DIY painter. I live in the small city of Peoria, Arizona as a semi-retired woodworker. I have started this blog with a simple motive to help you with my wood experience in this sector. If you like to know more about what I love doing and how it all got started, you can check more about me here.