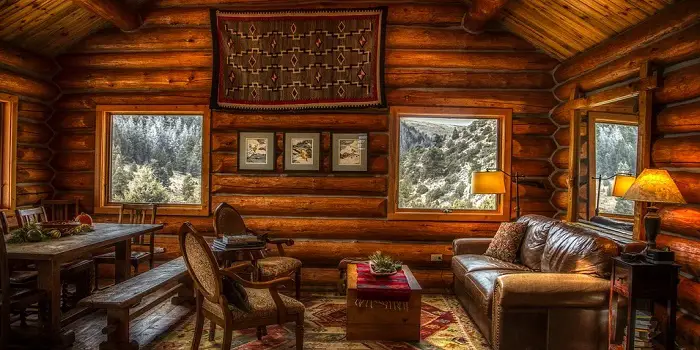 To caulk or chink your log cabin is one of the most important steps to keeping its integrity.
Chinking and caulking prevent decay and insects from penetrating the wood.
But for those who are not that familiar with either chinking or caulking, it pays to understand the differences.
While both products may appear quite similar, caulking is more elastic and has virtually no texture compared to chinking.
For smaller joints that are a quarter-inch to two inches wide, caulking is the superior choice thanks to its elasticity.
While chinking comes in a wide variety of colors and textures that help bolster the appearance of your log cabin.
What is Chinking – What it is used for?
Chinking a log cabin is akin to adding mortar to a brick home.
It is a synthetic sealant that is used to seal joints.
Chinking has been around for a long time. Originally, it was made from a combination of materials which include line, silt, sand, dirt, ash, and clay.
However, chinking today is made from acrylic elastic compounds that both stick to the logs while remaining flexible.
The different forms of chinking include the old-fashioned homemade materials, cement chinking, and the chinking synthetic which is the most popular.
Often called Elastomeric chinking, this substance will not chip like mortar.
Chinking is usually placed between the logs to seal any openings.
By doing so, it keeps the moisture out and this reduces potential damage from rot.
In addition to providing protection, chinking is also decorative thanks to its many colors and textures.
You can use chinking both on the exterior and interior of your log cabin.
To properly protect your logs, the chinking you use needs to be compatible with the stain.
To do this, purchase the chinking product from the same manufacture as the stain.
Since most chinking products are based on acrylics, look for a stain that is compatible with that substance.
When applied properly, chinking can last up to 20 years with few issues.
With a little annual maintenance in conditions that do not have extreme temperature variations, the chinking may last up to 40 years before it needs to be replaced.
Covering your cabin with chinking generally costs from $3 to $6 per linear foot.
The larger the gaps, the higher the gable wall is to the ridge, and the type of material used will cause the price to vary.
For a typical size cabin, you can expect to pay from $3,000 up to $7,000 to cover it with chinking.
However, the annual maintenance costs are often $200 or less depending on what damage needs to be addressed.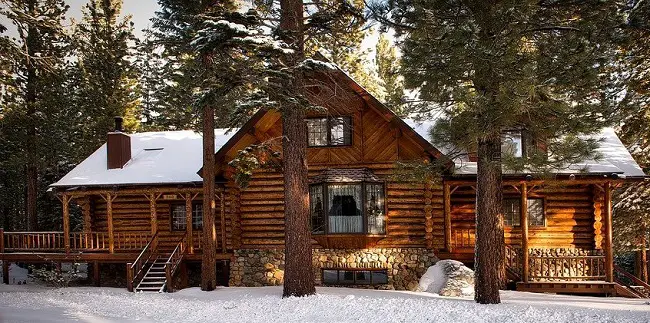 ---
What is Caulking – When and why to use it?
Most caulking that is used for log cabins is either water-based acrylics or urethane.
Just like chinking, you will need to use caulking products that are compatible with the stain of the wood.
This will ensure good adhesion and last for quite some time.
Urethane-based caulking products are more weather-resistant thanks to their chemical formula.
It's also temperature and pest resistant as well compared to water-based acrylics.
When applying, you can use mineral spirits to clean up any mistakes or flaws during the application process.
Another advantage of urethane-based caulking is that it can be sanded and painted or stained to create a more pleasing appearance.
This is not true of water-based acrylic caulking which will likely cause the paint or stain to simply slide away.
The downside of urethane-based caulking is the odor created from the toxic elements inside the product.
If that is a concern, then you can use acrylic-based caulking as it has no toxic properties.
However, you can always paint or stain over the urethane-based caulking to reduce or eliminate any odor.
When applying either caulking product, be sure the weather is good, and the temperatures are not extreme.
This means going at least three to four days without rain or extreme heat as the caulking may not stick properly.
Temperatures from 40 degrees F up to 90 degrees F are fine when applying either type of caulking product.
Caulking is generally best for sealing up smaller openings while chinking is better for larger ones.
If you have openings greater than two inches, you may need to address the logs themselves.
Share the post "Chinking vs. Caulking Log Home: What's the Difference?"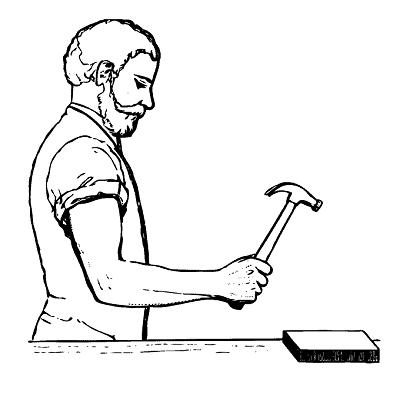 Hi, I am Mark Garner a professional carpenter, woodworker, and DIY painter. I live in the small city of Peoria, Arizona as a semi-retired woodworker. I have started this blog with a simple motive to help you with my wood experience in this sector. If you like to know more about what I love doing and how it all got started, you can check more about me here.