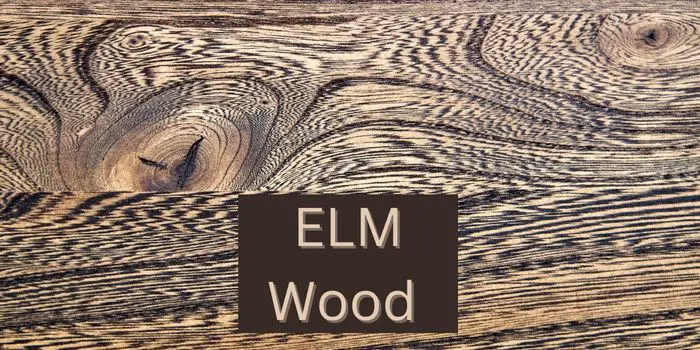 The American elm was once one of the most widespread species of tree in North America. It was often planted as a roadside tree in cities because it provided good shade.
Elm wood is strong and durable, making it a good choice for many different kinds of projects. It's also lightweight and low-density, making it easy to work with.
Some common uses for Elmwood include boxes, baskets, furniture, veneer, wood pulp, hockey sticks, and papermaking.
The downside, however, is that American elm wood is susceptible to rot and insect infestation. So it should only be used for indoor projects.
If you want to know more about this specific type of wood, in this article, I will discuss different species of elm, its general characteristics, the pros and cons of using this wood, and the things you can make out of this wood.
What is Elm Wood?
Ulmus is a genus of deciduous and semi-deciduous trees, including the elm. And more than 35 distinct species of genuine Elm are found in Western Europe and North America.
The Elm tree is beautiful, thanks to its attractive foliage, dark green leaves, and height.
You will commonly see them used as ornamental trees planted along the park and roadsides in North America, Europe, and Southern England.
The American elm is a large tree that provides a lot of shade. It has dense foliage forming a broad or upright, vase-shaped silhouette.
Color, Grain, and Appearance
Elm's heartwood is dark brown to medium reddish-brown, whereas sapwood is white to grayish-white.
Elm is particularly liked for its beautiful grain pattern. The grain of the wood is interlocked, meaning that it has a somewhat coarse and uneven texture.
But in some cases, it can also be smooth and straight-grained with a finely waved pattern.
Elm Wood Uses and Workability
Elmwood is known to have great strength, durability, toughness, and hardness, as well as being lightweight.
Although categorized as hardwood, the density of many Elm species is lesser than softwood species.
This means seasonal changes and insect attacks make it difficult to use this wood for outdoor purposes.
Even with extra care, this type of wood is not considered durable enough for most people. Also, elm is not a good wood for burning, smoking, or using as firewood.
That said, elmwood is an ideal choice for making:
Quality furniture, doors, windows, and trims
The wood pulp used in the manufacturing of paper
Boxes and baskets since the wood are lightweight and can carry heavyweights
Hockey sticks and wooden hilts for tools such as knives, swords, or daggers as the wood can withstand strong shocks
Veneers for truck bed floors and floorboards for wagons
When it comes to Elmwood's workability – it's excellent.
Because Elm Wood's density is lower, it may be worked with and carved with hand and machine equipment.
However, we understand that the grains of the Elmwood are interlocked. As a result, working with it might be difficult on rare occasions. Especially when it needs to be planed or when quarter-sawn surfaces are concerned.
Elm Wood can also be easily painted, stained, glued, or steam bent, and it does hold the nails and screws very well.
How Hard and Heavy is Elmwood?
Elm is typically a soft hardwood and is softer than many softwoods and hardwoods.
Its Janka hardness ranges from 810 to 1,540 lbf. The wood can be categorized into Soft and Hard Elm based on its hardness.
Soft Elm Species
| | |
| --- | --- |
| Soft Elm Species | Janka Hardness |
| Cedar Elm (Ulmus crassifolia) | 1,320 lbf (5,870 N) |
| Rock Elm (Ulmus thomasii) | 1,320 lbf (5,870 N) |
| Winged Elm (Ulmus alata) | 1,540 lbf (6,850 N) |
Hard Elm Species
| | |
| --- | --- |
| Hard Elm Species | Janka Hardness |
| American Elm (Ulmus americana) | 35 lbs/ft3 (560 kg/m3) |
| English Elm(Ulmus procera) | 35 lbs/ft3 (565 kg/m3) |
| Wych Elm (Ulmus glabra) | 38 lbs/ft3 (605 kg/m3) |
When it comes to relative density and weight, the lightest of the species is American Elm, whereas the heaviest is Rock Elm.
Generally, a 12% moisture content in Elmwood means that the average dry weight is about 36 pounds per cubic foot for an elm species.
Pros and Cons of Using Elm Wood for Furniture
As seen, Elmwood is such a versatile material that it can be used for a variety of purposes indoors.
But as great as it is, there are also some pros and cons to consider before using Elmwood for your next project:
The Advantages:
It's strong and durable
It comes with rich, warm coloring
It's a very beautiful wood with a unique grain pattern
It's resistant to stress and shocks
It doesn't split very easily when carved into furniture
Besides all, elm is easy to sand and polish; also, it bends conveniently when exposed to steam which makes it perfect for many projects that need bending of wood.
The Disadvantages:
Prone to insect attack and rot
Not a durable material for outdoor use
Many species are hard to work with due to interlocking grain
Furthermore, Dutch elm disease has caused the species to be endangered by deadly illnesses.
As a result, researchers are investigating the possibility of developing hybrid elms resistant to the fungus.
Final Thoughts
Even though elm trees are technically classified as hardwood because they are deciduous and lose their leaves every year, the wood from these trees is actually softer than other types of hardwoods. Therefore, elm trees are considered "soft hardwoods."
The numerous applications of elm wood emphasize the need to maintain this important resource. And no doubt this wood will continue to be plentiful for future generations as long as we keep the trees protected.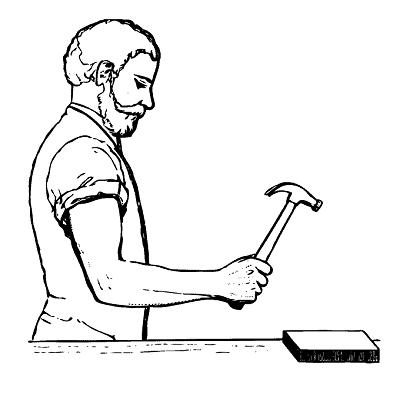 Hi, I am Mark Garner a professional carpenter, woodworker, and DIY painter. I live in the small city of Peoria, Arizona as a semi-retired woodworker. I have started this blog with a simple motive to help you with my wood experience in this sector. If you like to know more about what I love doing and how it all got started, you can check more about me here.