Wooden signs are a great addition to any home, garden, or business. Particularly if you want to make your farm or office look nicer, they can add a personal touch and be customized to say just about anything you want.
But mind it, if you're planning on putting your sign outdoors, you'll need to take a few extra steps to ensure it can withstand the elements like sun rays, moisture, rain, wind, and snow.
What follows are the basic steps you need to take to make an outdoor wood sign weatherproof. So, without any further ado, let's get started…
Weatherproofing Wooden Sign
The signs made of wood are easy to keep and don't require much maintenance.
But if you live in an area with high humidity or temperature changes, you might wonder how to make your wood sign weatherproof.
Here are some tips and ideas on ensuring your outdoor wooden sign lasts for years to come without needing them to be removed more often for touch-ups.
1- Choose the Suitable Wood for Your Sign
There are different types of wood, and each one has unique characteristics. Depending on your climate, some woods will be more suitable for your sign than others.
For example, if you live in an area with high humidity, you'll want to choose a wood that's not prone to warping or cracking, like red cedar, cypress, or redwood.
Treated wood is another option. If you can obtain it, try it out – just make your wood thicker for a more durable product.
Choosing the correct type of wood for outdoor activities is critical because it will be naturally more resistant to the elements.
When selecting ready-made wooden signage for outdoor use, you do not have to worry about picking the right wood.
Most of them are built to last and will not succumb to the elements quickly.
2- Prepare the Wood Sign for Painting
After you've selected the right type of wood or have purchased your ready-made signage), it's time to get it ready for staining or painting.
The first step here is to sand the wood sign's surface until it's smooth. Make sure to sand the surface nicely along the edges and corners too. And focus on the imperfections or scratches.
You may need to apply some wood putty or a filler with the help of a knife to make the edges of your wood smooth.
So not ignore the holes or cracks as they may cause bigger damage later if left as it is.
Taking time to sand the wooden sign will help the paint or stain to adhere evenly to the wood and create a professional-looking finish.
Once you've sanded the surface, clean the wood sign with a damp cloth to remove any sawdust or debris.
Let the sign dry completely (for about an hour) before proceeding to the next step.
3- Add a Water-Repellant Primer
Adding a water-based latex primer is crucial to ensure your paint job lasts for years, even in direct sunlight or other harsh weather conditions.
For best results, I recommend picking the Kilz 2® ALL-PURPOSE or ORIGINAL INTERIOR/EXTERIOR primers.
These come with water-repellant stain-blocking properties that are ideal for wood located outdoors.
Start by applying a primer to the sanded wood sign. Use a paintbrush or roller and apply the primer in long, even strokes.
Allow the primer enough time to dry completely (per the manufacturer's instructions) before proceeding to the next step.
4- Apply the Paint to the Wooden Sign
After the primer has dried, it's time to add paint or stain to your wood sign.
For weatherproofing your wood sign, the ideal paint type is latex paint. When these paints are still wet, they can absorb water, but they become water-resistant when dry.
Rust-Oleum 1974502 Painter's Touch or KILZ Exterior Siding, Fence, and Barn Paint are the ideal products I could recommend for outdoor wood surfaces, including signs and furniture.
You can pick any one of these, and I bet you would not be disappointed with the performance they offer.
Most painters and DIY woodworkers love the fast drying times, low VOCs, and color retention qualities of these latex paint which is an added benefit.
When applying latex paint to the wooden signs, always use a high-quality polyester brush or roller specifically designed for use with latex paint.
Apply the light coat of paint evenly across the surface of your wood sign in long, even strokes and allow the paint to dry completely.
5- Apply a Second and a Third Coat (If Necessary)
Well, I should warn you here – because you do not need to rush.
When applying multiple coats of paint to the wood sign, wait for the first coat of paint to dry completely before applying the second coat.
Giving each coat of paint enough time to dry completely before adding the next one is essential.
If you don't, the wet paint won't adhere properly and will start to lift or crack.
After the second coat of paint has dried, inspect your wood sign closely.
If you still see some brushstrokes or uneven areas or want the color to be a bit darker and more intense, add a third coat of paint.
Again, allow each coat of paint to dry completely before adding the next one.
Sealing Your Wooden Sign After Painting
Before you start with sealing your wooden signs, ask yourself a question…
Do you need to?
Well, since we are talking about the outdoor signs here – adding a coat of sealer is a must – they are continuously exposed to elements that can deteriorate the decorative paint and color.
But if it's a wood sign you would be displaying indoors, there's no need to seal them.
I do not suggest putting sealed decorative painted wood signs in your house. There's no need, mainly since a sealer is intended to protect the wood while preserving your artwork.
When sealing and waterproofing your large wooden outdoor signs, you can opt for excellent spray sealer products such as polyurethane or polyacrylic.
While polyacrylic is a water-based sealer that works best over water-based stains and paints, polyurethane is oil-based and works perfectly with oil-based stains and paints.
These products come in various finishes, from matte to high gloss, and are ideal for warm colors with rustic looks.
Apply at least two layers of wood sealer to the surface. Allow each coat to dry before adding another, and be careful not to make them too thick.
Add Plastic Edge Capping for Extra Protection
This is an optional step, but I recommend it if your sign is exposed to harsh weather conditions.
These plastic caps are ideal outdoors as they're resistant to water or moisture and will also enhance the look of your wooden signage.
These edge cappings will give your sign extra protection against the elements.
To put them on, simply measure the length of each side of your wood sign and cut the plastic edge capping to size.
Use a strong adhesive to attach the edge capping to the sides of your sign. Make sure the adhesive is compatible with both wood and plastic.
What About the Signs Made of Material Other Than Wood?
Besides wood, other materials like metal, aluminum, or plastic are used for building signs.
Since these materials are not porous like wood, you don't have to give much effort to make them waterproof – just use a little silicon, and they can be protected from water.
Also, you can use transparent tapes to make them water-resistant. Some excellent tapes can make any sign waterproof or rainproof. So, make sure to choose the good one after doing your research.
Backlit, Illuminated, pylon, and reader board signs are other options to get your business noticed.
They are tall and usually used at offices, churches, or schools.
Since most of them always come with waterproofing covers, you don't have to worry about weatherproofing them.
But if they have wood frames, you might have to waterproof them. In short, all the signs need some kind of weatherproofing, no matter what material they are made of.
If you have doubts, the best way to get your sign weatherproof is by consulting with the professionals or dealers from where you got your sign.
This way, you can get the perfect solution according to the type of sign and material it is made of.
Final Thoughts
That's all from my side on how you can make an outdoor wooden sign weatherproof.
I hope this guide will be helpful to you, and you'll be able to protect your sign from all the harsh weather conditions.
Share the post "Making a Weatherproof Wooden Sign Outdoors – Tips & Ideas"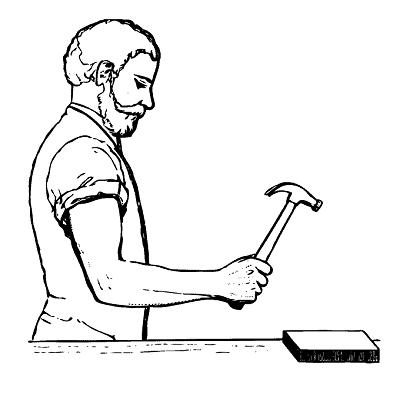 Hi, I am Mark Garner a professional carpenter, woodworker, and DIY painter. I live in the small city of Peoria, Arizona as a semi-retired woodworker. I have started this blog with a simple motive to help you with my wood experience in this sector. If you like to know more about what I love doing and how it all got started, you can check more about me here.