Ever since I was a little boy, I've always loved the smell of wood. There is something so natural and earthy about it that just makes me feel good. And as I've grown older, I've also come to appreciate the beauty of wood. The grain, the color, the texture… it's all so fascinating to me.
So, it should be no surprise that I also love wearing wood. No, I'm not talking about wooden clothes or anything like that. I'm talking about modern, contemporary pieces of wooden fashion accessories that are made out of wood.
Believe it or not, rustic wood pieces that can be worn on the body in different ways are actually quite popular these days. Not only they are beautiful and luxurious to look but are made comfortable to wear as well for different skin and body types.
With that said, if you're looking for a unique way to add some wood to your wardrobe, there are a few different ways to do it. So, let's check them out…
Wooden Fashion Accessories – Different Ways to Wear Wood
There are so many different ways to wear wood. Trying out various wooden fashion accessories is one of them. These accessories can be used as a statement piece or to add subtle texture and warmth to an outfit.
Here are a few of my favorite ways to style wood in an outfit.
1. Wooden Watches
A watch is such a classic accessory, and a wooden one is even more special. It's the perfect way to add a touch of wood to your outfit without being too over the top.
Wooden watches are made from, you guessed it, wood.
But not just any wood – usually, the wood used is sourced from sustainable forests, and it is a high-quality wood that has been carefully selected for its durability and beauty.
The wood is then cut into thin slices and formed into a watch face using a computer-controlled router. Once the watch face is complete, it is sanded smooth and finished with a protective coating to keep it looking like new.
Finally, the watch's movement is assembled and inserted into the watch's face, and the watch is ready to wear. Because each piece of wood is unique, each wooden watch is one-of-a-kind – just like the person wearing it.
2. Wooden Cufflinks
Cufflinks are another great way to add a unique touch to any shirt or blazer. And, they come in all different styles, so you can definitely find a pair that fits your personal style.
These stylish wooden cufflinks add a touch of sophistication to any outfit. Made from high-quality wood, they are durable and long-lasting.
The smooth surface is perfect for engraving, making them a great gift for any occasion. The simple design makes them versatile and easy to match with any shirt or suit.
Whether you're dressing up for a special occasion or just want to add a little something extra to your everyday look, these cufflinks are a great choice.
3. Wooden Bow Ties
Bow ties are a great way to add some wood to your look. And when talking about the wooden bow tie, it's a perfect accessory for any dapper gentleman.
Not only is it stylish and unique, but it also has a touch of rustic charm.
Whether you're attending a formal event or simply want to add a bit of flair to your outfit, a wooden bow tie is sure to make you stand out from the crowd.
The best part is that wooden bow ties are easy to care for – simply wipe them down with a damp cloth after use, and they'll be good as new.
So if you're looking for a way to add a little personality to your wardrobe, consider investing in a wooden bow tie. You won't be disappointed.
4. Wooden Lapel Pins
Lapel pins are small metal or plastic emblems worn on clothing, typically on the lapel of a jacket, blazer, or shirt. They are often used to show membership in an organization, support for a cause, or as a fashion accessory.
Today modern lapel pins can be made from a variety of materials, including wood. Wooden lapel pins have a unique look that can set them apart from other types of pins.
They can be carved into a variety of shapes and sizes and can be painted or stained to achieve the desired look.
Painted wooden lapel pins can then be worn in a number of ways. They can be pinned to a jacket or shirt like any other lapel pin, or they can be hung from a chain or ribbon and worn around the neck.
They can also be attached to key chains, backpacks, or other items as a way to show support for a cause or organization.
5. Wooden Scarf Pins
Scarf pins are a type of clothing accessory that can be used to secure a scarf in place.
They come in a variety of sizes, shapes, and designs and can be made from different materials such as wood, metal, or plastic.
A wooden scarf pin can be a practical way to keep a scarf from slipping or blowing away in windy weather.
It can also be used as a fashion statement to add a bit of style or flair to an outfit.
There are many different ways to wear your wooden scarf pin. The most common way is to fasten it through both layers of the scarf, near the neck.
This will keep the scarf in place and can be adjusted to create different looks.
Another way to wear a wood-made scarf pin is to fasten it through only one layer of the scarf. This allows the scarf to drape more freely and can create a more relaxed look.
Some people also like to wear scarf pins on the outside of their clothing, such as on a jacket or sweater. This can be a fun way to add some personality to your outfit.
6. Wooden Hats
A wooden hat is certainly a stylish accessory – if you're a garden gnome. For everyone else, they are best avoided.
It's not just that they're difficult to find (although that's definitely a problem) – it's also that they're decidedly un-fashionable.
Even if you can find one that fits, you'll probably end up looking like a character from Lord of the Rings. So unless you're in the market for a gnome hat, you should probably steer clear of wood.
7. Wooden Sunglasses
Wooden sunglasses are all the rage these days. You see them everywhere you go, from the beach to the city. But are they actually trendy? Or are people just following the crowd?
It's hard to say for sure. Wooden sunglasses definitely have a certain cool factor. They're unique and stand out from the sea of plastic and metal frames.
And let's be honest, they just look good. But are they truly trendy? Only time will tell. In the meantime, if you're looking for a new pair of sunglasses, why not try a pair of wooden frames? They might just be the next big thing.
8. Wooden Bags
We all know that trends come and go, but sometimes it's hard to tell what's just a passing fad and what's here to stay. Take wooden bags, for example.
These days, it seems like everyone is carrying around a wood bag, clutch, tote, or suitcase of some sort – but are they really in trend, or is this just a phase?
To answer this question, we need to take a closer look at the reasons why people are drawn to wooden bags in the first place.
For one thing, they offer a unique aesthetic that can't be found with other materials.
Wooden bags also tend to be very sturdy and durable, which is ideal for those who are looking for a long-lasting investment piece.
Plus, there's something about carrying a wooden bag that screams, "I'm fashionable, and I know it."
So are wooden bags really in trend?
It's tough to say for sure, but judging by the popularity of these bags among fashion-savvy individuals, it seems like they're here to stay – at least for now. Who knows?
Maybe wooden bags will eventually go out of style again… but in the meantime, we'll enjoy rocking this trendy accessory.
9. Wooden Shoes
Wooden shoes – or clogs, as they are sometimes called – have been around for centuries.
Though their popularity has waxed and waned over the years, they remain a staple of traditional Dutch culture.
But are they really comfortable to wear? The jury is still out on that one. Some people swear by them, claiming that they are far more comfortable than any other type of shoe.
Others find them incredibly uncomfortable and can't imagine why anyone would choose to subject themselves to the pain of wearing them.
Ultimately, it is a matter of personal preference. So if you're curious about wooden shoes, sandals, or chappals, the best way to find out if they are comfortable is to try them for yourself.
Just be warned – you may never go back to wearing regular shoes again.
10. Wooden Jewelry
Real luxury is not about brand names or flashy labels. It's about quality, craftsmanship, and attention to detail.
And that's exactly what you'll find in beautiful wooden jewelry. Every piece is unique; each wood grain has its own story to tell.
Wearing wooden jewelry is like wrapping yourself in nature's finest art. It's an experience that you'll never tire of.
So next time you're looking for real luxury, reach for the wooden jewelry. You won't be disappointed.
---
Different Types of Wood Jewelry You Can Choose
There are different types of jewelry you can pick from a wood-based accessory.
Here are some of the most popular:
a) Wooden Rings
Rings are another great way to add a little bit of wood to your look. They're simple, understated, and can be worn with just about anything.
b) Wooden Bracelets
Bracelets made of wood come in all different styles and caries a chick look, so you can definitely find one that suits your taste.
c) Wooden Necklaces
These necklaces are not only lightweight but also natural and Hypoallergenic. So if you are sensitive to metals, this might be a good option for you.
d) Wooden Earrings
Wood earrings are unique and can be made in a variety of different styles. If you're especially looking for something different, this might be the way to go.
e) Wooden Brooch
Brooches can be made from a variety of materials, including metal, plastic, and even wood. Many times wood brooches are adorned with gemstones or other embellishments.
If you're looking for a little bit of extra pizzazz, this might be the route for you.
f) Wooden Nose Piercing Pins
Nose-piercing pins or small wooden studs are a great way to add a touch of wood to your look without going overboard. And they're also perfect for people who are sensitive to the metal.
g) Wooden Belly Button Ring
Belly button rings come in all different shapes and sizes, but you can also find them made out of wood. These are a great way to add a touch of nature to your look.
h) Wooden Hair Accessories
There are all sorts of hair accessories made out of wood, from wooden hair sticks to hair combs and even hairpins. So if you're looking for a way to add a little bit of wood to your hair, this is definitely the way to go.
Besides the above, there are plenty of other ways to wear wood. It just takes a little creativity and imagination. Get out there and start experimenting. You might be surprised at how much you like it.
---
Reasons to Wear Wooden Fashion Jewelry for Men and Women
Well, if you're looking for a unique and stylish way to stand out from the crowd, then wearing wood jewelry pieces may be the answer.
It's not just a passing trend – people have been wearing wood for centuries. And there are plenty of reasons for it.
Below are a few main ones why I think both men and women should consider wearing wood-based jewelry:
1- Ages Well
Wood, as material, ages well over time. In fact, it can actually look better as it gets older.
The reason for this is that wood tends to darken with age, giving it a richer and more luxurious appearance.
2- Hypoallergenic Material
If you have sensitive skin or are allergic to certain metals, then wood-based jewelry is a great option for you.
Wood is a natural and hypoallergenic material, so it's unlikely to cause any irritation or skin reactions.
3- Lightweight and Comfortable
Many people are surprised to learn that wood is actually a very lightweight material. This makes it extremely comfortable to wear, even for long periods of time.
4- Inexpensive
Compared to other jewelry materials such as gold and silver, wood is actually quite inexpensive. This makes it a great option if you're on a budget.
5- Cultural Accessory
Wearing wood jewelry is also a great way to show your appreciation for other cultures, beliefs, or religions.
In ancient times, for example, wood was often used in religious ceremonies and was thought to have magical properties.
Nowadays, it's still considered to be a very spiritual material.
6- Express your Personality Uniquely
As I said before, wood is a very unique material. And because of that, it can be used to express your personality in a way that other materials simply can't.
No two pieces of wood are exactly alike, so you can be sure that your jewelry will be one-of-a-kind.
7- Looks Good with Anything
Wooden jewelry pieces can be dressed up or down, making them extremely versatile.
So whether you're going for a casual or more formal look, you can be sure that your wood jewelry will fit right in.
8- Can be Used for Special Significance or Memory
Another great thing about wooden jewelry is that it can be used to represent special significance or memories.
For example, you could wear a piece of wood jewelry that was made from a tree that was special to you. Or you could wear a piece of wood jewelry that was made by a loved one.
Also, if you want to keep the memories of your pets or loved ones alive, you could consider wearing wood jewelry that's made from their ashes.
9- Can be Used as an Essential Oil Diffuser
The great thing about wood jewelry that I like is that it can be used as an essential oil diffuser.
This means that you can enjoy the benefits of aromatherapy wherever you go.
To use your wood jewelry as an essential oil diffuser, simply add a few drops of your favorite oil to the wood and enjoy the scent throughout the day.
10- It's a Sustainable Material and Can Support Local Artisans and the Environment
Last but not least, I think it's important to point out that wood is a sustainable material.
This means that it can be grown and harvested without damaging the environment.
As you probably know, sustainability is becoming increasingly important in the fashion industry.
And one of the best ways to be more sustainable is to support local artisans and businesses.
When you buy wood jewelry, you're not only helping to preserve the environment but you'll be supporting local artisans who are using sustainable practices to create their products.
FAQs
Is wood comfortable to wear?
Yes, wood is a very lightweight material, so it's extremely comfortable to wear.
In products like shoes, softwood is often carved and used, which is known for its comfort factor.
How can you clean wooden jewelry?
There are a few different ways that you can clean your wood jewelry, but the most important thing is to be gentle.
You don't want to use harsh chemicals or abrasive materials, as this could damage the wood.
One way to clean your wood jewelry or other wooden items is to simply wipe them down with a damp cloth.
If you're using essential oils, you can also add a few drops of oil to the cloth to help clean and polish the wood.
You can also make your own cleaning solution by mixing equal parts of water and vinegar. This solution can be used to clean a variety of different materials, including wood.
Just be sure to rinse the jewelry off after cleaning it with this solution.
How long does wood jewelry last – how to care for it to last longer?
With proper care, wood jewelry can last for many years. However, it's important to keep in mind that wood is a natural material, so it can be susceptible to damage from the elements.
Since wood is not a waterproof material, it's important to take care when wearing it in the shower or pool.
If you do get your wood jewelry wet, be sure to dry it off as soon as possible to prevent water damage.
To help extend the life of your wood jewelry, be sure to store it in a cool, dry place when you're not wearing it.
You may also want to apply a natural oil to the wood to help protect it from the elements.
Final Thoughts
As you can see, there are so many different ways to wear wood. And each one is unique and stylish in its own way. So, if you're looking for a stylish way to add some wood to your wardrobe, choose from the plenty of options I have listed above.
Which one of these looks is your favorite? Do not forget to let me know.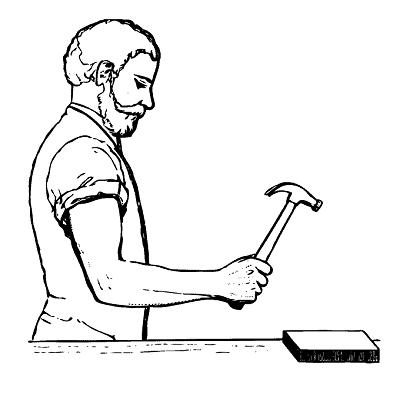 Hi, I am Mark Garner a professional carpenter, woodworker, and DIY painter. I live in the small city of Peoria, Arizona as a semi-retired woodworker. I have started this blog with a simple motive to help you with my wood experience in this sector. If you like to know more about what I love doing and how it all got started, you can check more about me here.