When you are looking for a way to decorate your walls, it is normal to want to shake things up a bit. 
Many options include the usual suspects, such as paint and wallpaper, but that can get old and boring quite quickly. 
Many homeowners are looking for a fresher way to complete their walls, and they are turning to vinyl flooring. 
Using vinyl flooring on walls is good for providing a nice accent, color, or texture and opening your room up to greater design possibilities.
Below, you can learn more about using vinyl flooring on walls.
Can Vinyl Flooring be Used on Walls?
It is indeed possible to use vinyl flooring on your dull, boring walls. It is quite an affordable option as well, making it an increasingly popular choice. 
A lot of people choose to combine the vinyl with other materials such as tile or marble to spruce it up even more.
There are various types of vinyl flooring that you can consider for use on walls. 
The main types are vinyl planks, peel and stick vinyl, and vinyl sheets:
If you want to use the vinyl flooring on a smaller area, such as a backsplash or accent area, vinyl planks are a good choice. 
Peel and stick vinyl flooring is good for areas that aren't subjected to heat or moisture and are the easiest to install.
Vinyl sheets are better for covering a large surface at once.
Perks of Vinyl Flooring on Walls
There are many benefits to using vinyl flooring on walls.
A few of the main ones are as follows: 
Vinyl flooring offers plenty of design possibilities in terms of style, pattern, color, texture, and material.
Vinyl flooring is quite affordable, especially when you compare it to materials such as ceramic tile, which isn't even all that expensive, to begin with.
It is easy to install and is not a messy process.
It is easy to maintain and clean. Since there are no crevices to worry about, you can just wipe it down with a cloth or sponge and a gentle cleaning product.
This flooring is versatile and durable. With proper care, it can last for a long time and be used on various walls in the home. 
How Do You Install Vinyl Flooring on Walls?
Installing vinyl flooring on the walls isn't as complicated as you might think.
Before diving in, be sure that you have the proper materials to get the job done. This includes: 
Enough Vinyl plank flooring to cover the area
Sandpaper that is between 40 and 60 grit 
Saw or utility knife
Mask
Glasses
Level or chalk line
Pencil
Adhesive
Gloves
Screwdriver
Tape measure
Primer (Optional)
Step 1:
To begin, clean the wall thoroughly. Ensure that it is clean and dry without any debris left on it, so the vinyl can properly stick to the wall. 
Then, sand the wall to make it as smooth as possible. If you'd like, you can apply a layer of primer to ensure the adhesive sticks well. 
Step 2: 
Once the wall is cleaned and sanded, you can prepare the rest of the space. Remove any electrical outlet covers, decorative items, or any other features on the wall. 
If you are working around crown molding, you can start thinking about how to install the flooring material from the top down. 
Step 3: 
Now you can measure the space to figure out how much vinyl flooring you will need.
You can do this before purchasing the planks to ensure you have the proper amount. 
Begin by measuring both the width of the planks and the width of the wall. Divide up the wall width with the width of one of the vinyl flooring planks. 
This will yield the number of rows that you will need to apply to the wall. 
Keep approximately 1.5 inches of space between the floor and the final plank, so you can accommodate contracting or expansion of the material with temperature changes. 
You can use a level or chalk line to indicate where you are starting if you plan to install them from the bottom up. 
Step 4: 
Begin to install the vinyl flooring planks by first laying down construction adhesive. It is important to ensure the adhesive is evenly spread out.
Press the plank against the wall and hold it there for a second or two to make sure it sticks. 
Complete this process again and again by placing the planks without any space between them. Do an entire row across the wall before moving on to the next one.
Step 5: 
If you want to achieve the best look, installing the rows in a staggered way can ensure there are no perfectly straight lines going up the wall. 
Stagger them by beginning from the opposite side of the wall on each row. You may need to cut a few into different sizes to put on the ends using a utility knife. 
Caring for Vinyl Flooring on Walls After Installation
After you have installed the flooring on the walls, you should take care to properly maintain them, so they can serve their purpose and look their best for years in the future.
Below are some tips on accomplishing this: 
Be sure not to install the vinyl in direct sunlight as it may warp or become sun bleached
Use only non-abrasive, mild cleansers to clean the vinyl flooring that won't leave marks or scratch the surface
Clean stains as soon as you notice them; do not let them sit, or they may set into the vinyl and never come out
Use a pink eraser to remove scuff marks from the vinyl
How Much Does It Cost To Install Vinyl Flooring on Walls?
The price of vinyl flooring can change depending on certain features such as style and thickness.
You can generally expect the flooring to cost between $2 and $4 for each square foot. 
If you plan to do the project on your own, you will also need to buy the adhesive, primer, and any tools you may need to install it, so that should be factored into the price. 
Similarly, if you have a professional install it, you will need to pay them for the job. 
This usually costs substantially more. If you go this route, you can expect it to be around $3 to $5 per square foot. 
FAQs
Can Vinyl Flooring Be Used As a Backsplash?
You can also use vinyl flooring as a backsplash. In cases such as this, you can use peel and stick vinyl or vinyl planks. 
There are many different styles of vinyl flooring, so you can easily find one that matches the aesthetic of your kitchen. 
Keep in mind that a vinyl backsplash near the stove may, over time, deform the material.
Can Vinyl Flooring be Used on Shower and Bathroom Walls?
You can use vinyl flooring on a bathroom wall so long as what you are using is waterproof. For this reason, peel and stick vinyl is not an option. 
To get the most durable type of vinyl for this type of installation, it is recommended you get high-quality "luxury" vinyl flooring so that it will last longer in wet conditions. 
Using vinyl flooring in the bathroom may also help stop mildew and mold from forming and is much easier to clean than tile. 
Final Thoughts
For many homeowners, the thought of using more paint or wallpaper to decorate their walls is quite boring.
After so long, it all begins to look the same and can leave the home feeling outdated. 
With vinyl flooring, you can drastically change the look and feel of your walls.
Though it may seem unconventional at first, it is a creative way to add a new texture, pattern, or color to your walls. 
Safe for use in kitchens, bathrooms, and beyond, you can bring the benefits of using vinyl flooring to any room in the house.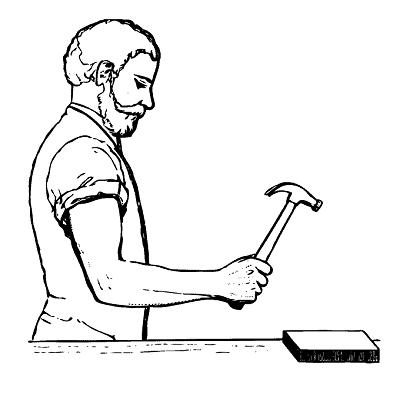 Hi, I am Mark Garner a professional carpenter, woodworker, and DIY painter. I live in the small city of Peoria, Arizona as a semi-retired woodworker. I have started this blog with a simple motive to help you with my wood experience in this sector. If you like to know more about what I love doing and how it all got started, you can check more about me here.