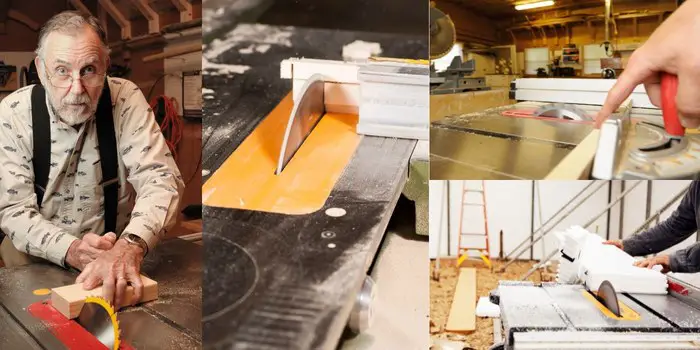 Working at maximum speed and efficiency while maintaining a safe environment means finding the right tools for the job.
That is quite true when discussing table saws. Whether you are working in construction, at a woodshop, or doing your own work at home, the table saw will probably be the centerpiece of your cutting efforts.
But table saws are not all the same – there are many different types of table saws available on the market to choose from.
In fact, each type of table saw has its benefits along with issues. This means that you will need to choose the right one that is best suited to the work you mostly do.
This article aims to provide you with the major choices so you can make the best-informed decision about which one to purchase.
Different Table Saw Types
Before getting into specific types, there are two basic categories of table saws, stationary and portable.
If you are on the move, then a portable table saw should be considered.
For those who will put the table saw in one place and keep it there, then the stationary models are preferred.
Now we can proceed to the specific types of table saws available on the market starting with the portable versions.
1- Mini table saw
The mini table saw is like a dream come true for those who want a portable table saw for their work.
Lightweight, portable, and powerful, the mini table saw is perfect for making sharp, straight cuts. However, they are not suited for larger pieces. This type of table saw is primarily designed for detail work.
Plus, their small size makes them the perfect starting saw for those who are just getting into woodworking.
For DIY projects, arts and crafts, and making small repairs, this is a perfect saw at an affordable price.
2- Benchtop table saw
Not quite as small as the mini, but it does have more power and durability, the benchtop is a great solution for those who have sawing needs on a smaller scale.
It's not powerful enough to rip up large boards to size, but you can make simple home repairs quickly and easily using this saw.
You can purchase blades that will cut through either metal or plastic. Plus, the 20" rip capacity of certain benchtop saws makes them a great choice for job sites.
This is the perfect saw for repairing small furniture, creating small construction projects such as installing small pipes or building a doghouse, decorative woodwork, and arts and crafts.
3- Compact table saw
A step up in size from the benchtop, the compact version is quite popular thanks to its power and size.
It is large enough to do small construction jobs, yet lightweight and portable enough to make it relatively easy to move from job site to job site. The added size does make it sturdier than either the benchtop or the mini.
This table saw is most often used for creating furniture, small to medium size DIY projects, and small construction projects.
4- Jobsite table saw
As the name implies, this is a table saw designed to be used on most job sites. That means it is a device better suited for professional carpenters and construction workers.
The power, size, and durability make it a great option for most job sites. This table saw normally comes with its own built-in stand and can handle many types of jobs typical at most job sites.
The uses for this table saw include creating medium to large furniture, heavy-duty home improvement, and DIY projects, and professional construction and carpentry uses.
If you are not going to move the table saw around and you have plenty of room, then a stationary table saw is probably the best bet.
What follows are several choices of stationary table saws…
5- Contractor table saw
Although you will find this type of table saw used at job sites, it's not a portable model. Its size and weight mean that it takes two people to lift it.
However, thanks to its weight you can make precision cuts with a saw that is considerably more powerful compared to the portable models.
While the contractor table saw has seen better days in terms of popularity, it is still quite powerful with a 52" rip capacity. This means that it will stand up to tough jobs thanks to its durability and reliability.
You will find this table saw used for creating medium to large furniture, professional construction and carpentry jobs, heavy-duty home improvement projects, and DIY.
6- Hybrid table saw
Perhaps because its size, weight, and functions fall between the contractor and cabinet table saws, this version is called a hybrid.
Basically, this version is a more compact and affordable cabinet table saw that maintains strong reliability.
Using low-vibration motors that are belt-driven, the hybrid does not have the sheer power of a cabinet table saw, but it is a popular choice for those who work from home or have their own woodshop.
Popular uses of the hybrid table saw include any construction project where precision cuts are desired, large home repair projects, and woodworking jobs of all types.
7- Cabinet table saw
The biggest, and perhaps the best, cabinet table saw is the top dog of all table saws. The massive rip capacity, the sheer power, and the accuracy of the cuts make this table saw second to none.
You can often find this table saw as the centerpiece of woodworking shops around the world. Of course, they are also the biggest, most expensive table saws around that are not portable.
The most common uses include all types of furniture making, woodworking at the professional level, large construction projects, and anything requiring accuracy and precision in terms of cutting. 
Choosing the Right Type of Table Saw Blade
Table saw blades specialize in crosscutting and rip-cutting of wood. They are fast, accurate, and reliable when performing this task.
That is why virtually all professional workshops that deal in plywood have different types of table saws with different blades on their premises.
When it comes to selecting the blade type for a table saw, there are four basic types available determined by the grind of their teeth. These are:
Flat top grind (FTG)
Alternate top bevel (ATB)
Combination (ATBR)
Trapezoidal or Triple-chip grind (TCG)
Besides the type of grind, table saw blades are also categorized based on shape, coating, and usage. Some of the most common types include Rip blade, Crosscut, Dado, Thin Kerf, Hi-ATB, Glue-Line Rip, etc.
So, depending on your purpose, and the type of material you're working with you need to select the right blade in order to get a clean and accurate cut.
For example, if you want a smooth cut on sheet materials such as plywood, then opt for a 100-120 tooth Plywood blade. Alternatively, to get the best possible cross-cutting results on lumber without putting too much strain on your saw, I recommend selecting an 80-teeth Crosscut Blade instead.
Of course, if both of these aren't necessary and you just need something general purpose, then the 40 Tooth Combination Blade should suffice.
While it's critical to consider the sheer number of teeth, one must recognize that the angle and material of those teeth matter just as much.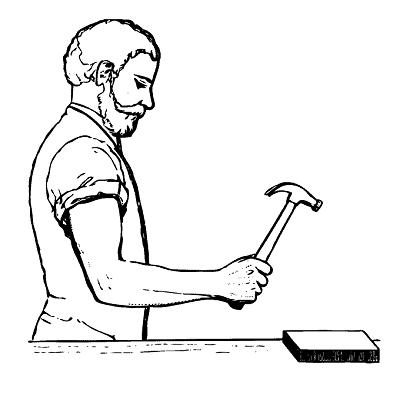 Hi, I am Mark Garner a professional carpenter, woodworker, and DIY painter. I live in the small city of Peoria, Arizona as a semi-retired woodworker. I have started this blog with a simple motive to help you with my wood experience in this sector. If you like to know more about what I love doing and how it all got started, you can check more about me here.