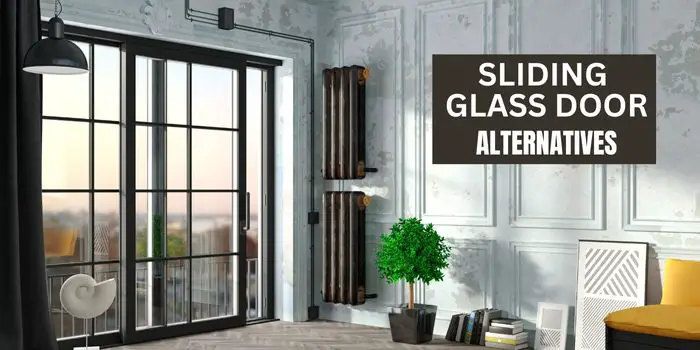 It's a beautiful day outside, and you want to let the fresh air and sunlight into your home. But when you open your sliding glass door, you face resistance. The door is hard to open, and it seems like it's getting harder every day.
Worry not; you're not alone. Sliding glass doors are notoriously difficult to maintain.
The same happened to me last year, and I was fed up with how much time and effort it took to keep my door operational.
Sliding glass doors are also a major source of energy loss in homes since they're not as well insulated as other types of doors. So, in the end, I decided to replace my sliding glass door with something easier to use and maintain.
What were those alternatives I have researched and looked at, and what did I choose for my home finally?
I will discuss all that and more in the following guide…
Alternatives to Sliding Glass Doors
Although sliding glass doors are a common choice for many homeowners for their patio doors, they come with a few drawbacks.
Not only are they expensive, but they're also less durable than other types of doors and require more maintenance.
If you're looking for an alternative to sliding glass doors that can add more function, privacy, and enjoyment to your home, check out some of these great options:
1- Accordion Doors
If you're looking for something unique, try accordion doors. These lightweight options are playful and come in many materials like wood, vinyl, or fabric.
You can find bright, bold colors and natural-looking styles to match your space.
Accordion doors are unique because they open by pushing them to the side of the frame, perfect for creating an opening between indoor and outdoor areas.
They're popular because they allow you to enter and exit while keeping your hands free, especially if you're loading up bags of groceries or putting up a picnic.
While they aren't as attractive as some other sliding glass door choices, they are visually appealing compared to other sliding glass doors.
2- Bamboo Doors
Bamboo doors are earth-friendly and stylish, adding privacy and natural beauty to your home.
These beautiful doors can range in style from traditional to contemporary and work well in any type of space.
Bamboo is a strong and durable material that can withstand heavy use.
But before purchasing a bamboo door for your backyard, investigate where the bamboo is coming from to ensure no harm was done to the environment during production.
Various styles are available, such as ones on hinges, pivot doors, or push-to-open doors.
Consider what kind of ambiance you want in your backyard – whether it's a bohemian chic Tulum vibe or simply a tiki getaway – and choose the style of door that will match it best.
3- Bi-Fold Doors
Folding doors are excellent for rooms that open out to the patio. However, they don't have to be large all of the time.
You may build smaller versions of these doors based on your demands, such as those in closets. With interior bi-fold doors, you may have a more flexible living space.
Even though separating your kitchen and living room is not always the greatest idea, these useful doors are still versatile enough to be used as a deck door or in a patio enclosure.
The rough glass also adds some flair to it.
4- Center Swing Patio Doors
If you're looking for an attractive yet affordable patio door, center swing doors are a great option.
These doors function similarly to the French doors we have listed below but with the added benefit of keeping one door shut while the other is open.
They're also available in a variety of designs and styles if you want something that deviates from traditional sliding doors.
The greatest advantage of center swing patio doors is their low cost. They're simple to purchase and set up. They look wonderful, and they perform well as well.
These are long-lasting and are preferred as a patio door entrance.
You may even add mesh sliding curtains to these doors for added ventilation while keeping bugs out. It's an excellent option for a sliding glass door in comparison.
There's just one issue. Some people dislike being restricted to only one entrance at a time. If you can make it work, though, these are fantastic solutions.
They're preferable to figuring out how to keep a sliding glass door secure.
5- Dutch Doors
Did you know that Dutch doors are excellent patio door alternatives as well? There is something dreamlike and delightful about Dutch doors.
Split in the middle, the upper part of a Dutch door can be opened separately from the bottom half.
Usually found as side doors leading to backyards or gardens, they occasionally come in French door sizes—making them great patio doors for families with little children and pets who need containing indoors.
6- French Doors
French doors are a common style for patio doors. They are ornate and give the house a lush appearance.
However, they can also be simple, elegant, and understated. They are, however, rather pricey.
 Not all the options to replace a sliding glass door will be inexpensive; nevertheless, they will appear and operate far better than what currently exists.
French doors not only look great, but they also are fantastic for insulation.
Most come with double-glazed glass, making them energy efficient and ideal for regulating the temperature in your home – keeping it warm in winter and cool in summer.
French doors also have a gorgeous curve at the top, which feels smooth and elegant. So, if you do not want a "plain vanilla flavor," you can go with them, which will look nicer.
The good news is that French doors are easy to find and install if you ever have any issues or want to change up the look.
However, depending on your current door type, you may need to do some work beforehand.
For example, since French doors open with a hinge, you'll need to add one onto the doorframe- but no worries. Installing these types of doors is usually pretty straightforward.
Plus, professionals everywhere can help get sliding glass door alternatives without any trouble.
7- Glass Roll-Up Door
If you're searching for a way to replace sliding glass doors that is more stylish, this is one of the most attractive glass doors available.
The design is modern and basic, and it looks great on a large front. They appear to be garage doors and can be rolled up in the front into the frame.
It will take some effort to replace an existing sliding door. You'll need to modify your frame somewhat to accommodate the new door.
You'll also need to make room for the entrance within the walls. A glass roll-up door is a simple DIY home renovation project to undertake.
So you'll have to consider the financial and time expenses involved. If you don't have any prior experience, you'll require expert assistance for it to happen.
So be prepared for this possibility as well. After all, the mechanism of the door is fascinating. It offers the same level of comfort as a sliding door does.
In some cases, customers have reported that it was more valuable than a sliding door.
8- Pivot Doors
Pivot doors are nothing more than a facade. They have an elegant, high-end, and sleek look thanks to their almost floating appearance.
The doors rotate about the pivots at the top and bottom of the door, which are solely powered by two pivot systems or boxes.
Traditional doors do not rotate around an axis separate from their side hinge; instead, they spin on their axis via their pivots.
Pivot doors offer a few significant advantages over other types of doors. Most notably, they are incredibly sturdy and tend to be very durable.
They are also great at sealing drafts and keeping the heat in, making them very energy-efficient.
And, because they don't have any exposed hardware outside the door, they are very low-maintenance and easy to keep clean.
9- Revolving Doors
It just isn't correct to state that hotels are the only ones with revolving doors.
You might give your odd house some personality by being the only house on the block with a revolving door.
It would be an excellent addition to any backyard patio. A revolving door is a way to go if you live in an apartment.
The best thing about these doors is that they open up fully, so you won't have to worry about a thing.
They're great for high-traffic areas and will ensure everyone gets in and out without trouble.
The only downside is that they can be a bit more expensive than other types of doors.
10- Shoji Sliding Screens
Shoji sliding doors are a type of door that originates from Japanese architecture.
These doors typically have a wooden frame with frosted glass panes and a sheet of paper in between the two plates.
They are commonly used on hot summer days due to their sunshade properties, without the need for curtains or blinds. In addition, they provide privacy in crowded spaces.
This one is for you if you want to keep the idea of sliding doors. The shoji sliding doors offer a beautiful new look to your home without having to alter the frame's mechanism or anything else.
You can continue using the same methods, but they're better and more efficient now.
11- Sliding Barn Doors
Many people haven't considered barn doors an option for sliding glass doors, but they work pretty well.
Barn door revivals are becoming increasingly popular, so now is an excellent time to consider them as alternatives.
They can be used indoors or outdoors and look great, but the downside is that you won't get natural light like you would with other options.
However, they can still be helpful in places where you want more privacy, like movie rooms or bedrooms.
The barn door looks stunning with the light brown floors. For an especially rustic atmosphere, search for reclaimed or salvaged wood.
The only disadvantage with these doors is that they may be rather heavy and might become tiresome after a while.
12- Swinging Doors
Swinging doors are probably the most popular type of door, and for a good reason. They're easy to use, don't require a lot of space, and can be very stylish.
The downside is that they're not as energy-efficient as other types of doors, so they might not be the best choice if you're trying to save on your energy bill.
However, they can be a great addition to any home, and with the right design, they can make a statement.
Check this out if you don't need the door to cover from head to toe and are open to the idea of your door being more open.
Old-school swinging doors, such as those seen in every Western film, are a classic example.
The amusing aspect about these doors is that you can experiment with design and style since there are no limits on how much they have to fill.
13- Wrought Iron Doors
Wrought iron makes a stunning door frame and is available in various shapes, colors, and textures.
A wrought iron screen is a way to go if you want something more industrial, sophisticated, or elegant.
These doors are built to last a long time and look fantastic. Experiment with the form of the doors to achieve the appearance you desire.
The main advantage of using wrought iron is that it will give your home an antique look.
If you live in an old house, this can be a great way to make it look even more like a historic home. However, if you're not careful, it can also make your home look dated.
The wrought iron doors are a great example of how you can incorporate different materials into your door.
This is a great way to do it if you want to add more style and personality to your home.
14- Glass Block Walls
A glass block wall is a type of door made entirely from glass blocks. It's a great way to let in natural light and create a beautiful, unique look for your home.
However, keep in mind that these doors are not particularly energy-efficient.
Therefore, if you're endeavoring to reduce your energy bill, selecting a different type of door might be best.
The style of glass block walls can range from traditional to contemporary, so it's a good idea to look at some pictures online to get an idea of what you like before making a purchase.
You can find glass block walls at most home improvement stores.
Final Thoughts
If you want your glass sliding door to be unforgettable, adding some simple wooden doors might not suffice. You could always go for a more daring route and make a statement.
Something fancy and exquisite, like a bright-colored door with lots of detail and extras that will grab people's attention.
Also, check out some of the examples I have listed above, and I am sure you'll find one you love. There are many options available, so don't be afraid to experiment a little bit. Have fun and enjoy your new door.
Share the post "I Hate My Sliding Glass Door – What to Replace it With?"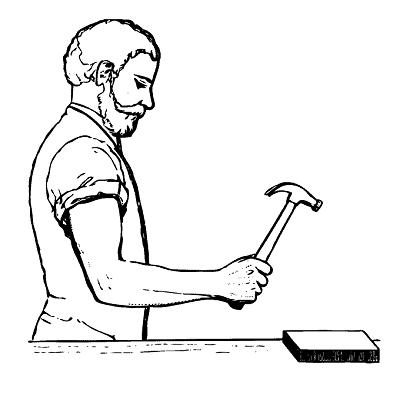 Hi, I am Mark Garner a professional carpenter, woodworker, and DIY painter. I live in the small city of Peoria, Arizona as a semi-retired woodworker. I have started this blog with a simple motive to help you with my wood experience in this sector. If you like to know more about what I love doing and how it all got started, you can check more about me here.